Week 7: Ranking the 10 Most Valuable Players in the National Football League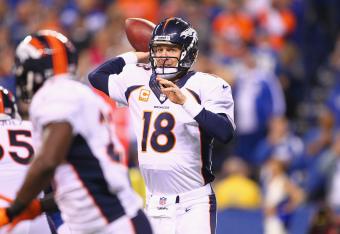 Dilip Vishwanat/Getty Images
It really does feel like the NFL season just started a couple of weeks ago, but in reality, it's almost halfway finished.
The race for the Most Valuable Player award seemed to be all but finished just a month into the season. But while Peyton Manning is still playing at an elite level, the door has opened for another player in the league to steal the award from him with a dominant second half.
As of the conclusion of Week 7, here are your top 10 MVP candidates. As always, this list is dominated by quarterbacks.
1. Peyton Manning, Quarterback, Denver Broncos (Last week: 2)
Last week's No. 2 player has reclaimed his status as the most valuable player in the National Football League.
It's okay that Denver lost a game. The Broncos weren't going to go undefeated, and Manning still played a great game, throwing for 386 yards and three touchdowns despite taking a vicious hit from Robert Mathis near the goal line.
This season, Manning has tossed 25 touchdowns against just three interceptions. That would be the best touchdown-to-interception ratio in league history if the season ended now. He's on track to also break the single-season record for passing yards and passer rating, and he's engineering an offense that is scoring an unheard-of 42.6 points per game.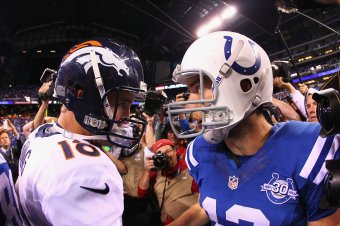 /Getty Images
2. Andrew Luck, Quarterback, Indianapolis Colts (Last week: 4)
The near-unanimous choice as best young quarterback in pro football rose to the occasion on Sunday Night Football. He led the Colts past the previously undefeated Broncos by tossing three touchdowns and running for a fourth.
In fact, the Colts have now defeated three of the best teams in the league: San Francisco, Seattle and Denver.
You won't find Andrew Luck at the top of many statistical categories. Like last season, his performance can't be explained by just mere numbers. It's the leadership and poise to hold together a Colts team that has lost running backs Ahmad Bradshaw and Vick Ballard, tight end Dwayne Allen and now star wide receiver Reggie Wayne to season-ending injuries.
3. Philip Rivers, Quarterback, San Diego Chargers (Last week: 3)
A lot of the credit for Philip Rivers' career revival at the age of 31 should go to rookie head coach Mike McCoy. But the majority should still go to Rivers, who is playing like an elite quarterback this season for the first time since 2009.
The biggest aspect of Rivers' game is his completion percentage, a 73.9 percent rate that would shatter the old single-season record (71.2 percent by Drew Brees in 2011). His passer rating is 111.1, which would be the seventh-highest total in history. And he's taken just 11 sacks in seven games despite a patchwork offensive line, just a year after taking 49.
Even without his two best receivers, Rivers has the Chargers at 4-3 and in the middle of the AFC wild-card race.
Who is the second-most valuable player in the NFL this season?
4. Tom Brady, Quarterback, New England Patriots (Last week: 1)
The numbers aren't there for Tom Brady this season. He's completing just 55.2 percent of his passes, he's thrown only eight touchdown passes and his 75.3 passer rating ranks near the bottom of the league.
But he's holding together a team that is decimated by injuries on both the offensive and defensive side of the ball.
The Patriots are 5-2. Without Brady, they would be lucky to have three wins.
5. Drew Brees, Quarterback, New Orleans Saints (Last week: 5)
It's been just a typical season for Drew Brees. He's averaging 326 passing yards per game along with 14 touchdowns and a 102.9 passer rating. Throw in a 6-1 record for the Saints and you have a dark-horse MVP candidate if he continues his dominant play in the second half of the season.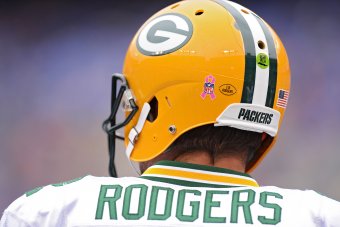 /Getty Images
6. Aaron Rodgers, Quarterback, Green Bay Packers (Last week: 8)
Aaron Rodgers appears to be unfazed by the team's injuries. The Packers have lost Randall Cobb, James Jones and now Jermichael Finley. Against Cleveland in Week 7, he connected with undrafted free-agent wide receiver Jarrett Boykin for eight catches, more than 100 yards and a touchdown.
He's thrown for 13 touchdowns against just four interceptions, and this is his fifth straight season with a triple-digit passer rating. The Packers are rolling at 4-2, good for first place in the NFC North.
7. Tony Romo, Quarterback, Dallas Cowboys (Last week: 7)
At age 33, Tony Romo might be having the best season of his career. He's thrown for more than 2,000 yards in just seven games, plus 15 touchdowns and a 101.6 passer rating. His Cowboys are 4-3 and appear to have the easy route to their first NFC East title since 2009.
8. Cam Newton, Quarterback, Carolina Panthers (Last week: NR)
Newton has been absolutely dominant over the past two weeks, completing 35 of 43 passes for 446 yards and four touchdowns. The Panthers' defense has been playing out of its mind, but if they make a late-season push for the postseason, it'll be because of Newton's stellar play.
/Getty Images
9. Jamaal Charles, Running Back, Kansas City Chiefs (Last week: 9)
Jamaal Charles' rushing numbers are actually down this season. He's averaging just 4.2 yards per carry, significantly below his career mark of 5.5. But he's third in the NFL in both carries (135) and yards (561) and he's added 36 catches for 337 yards. His eight touchdowns are tied for the most in the NFL.
10. LeSean McCoy, Running Back, Philadelphia Eagles (Last week: 6)
LeSean McCoy's worst game of the season couldn't have come at a worse time, as the Eagles scored just three points in a disappointing home loss (their ninth in a row) to the Dallas Cowboys.
Yet McCoy has still been the team's most valuable player this season. The Eagles have gone through two quarterbacks (three if you count Barkley's limited role on Sunday) and many struggles at wide receiver.
But it's McCoy who leads the NFL in carries (141), yards (685) and total yards from scrimmage (952).
To view last week's rankings, click here. And go here to follow me on Twitter.
This article is
What is the duplicate article?
Why is this article offensive?
Where is this article plagiarized from?
Why is this article poorly edited?