6 Players, Coaches and Teams to Watch in Week 9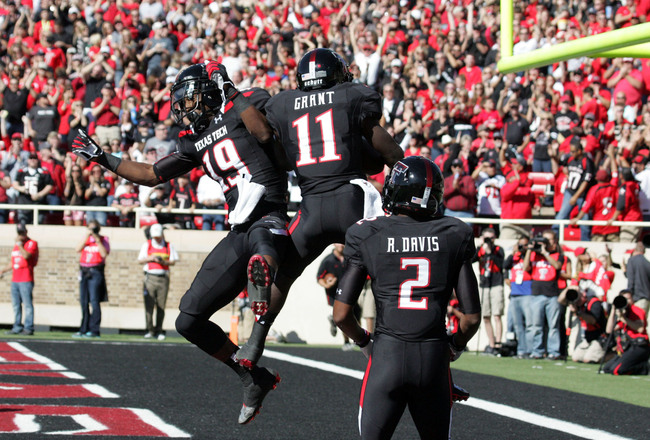 Can the Red Raiders' perfect season continue?
Michael C. Johnson-USA TODAY Spo
With a weekend full of exciting matchups, there are several coaches, players and teams to keep an eye on.
Some will be looking to perform when faced with adversity. Others will look to keep a good stretch of play going. And for one, an undefeated season lies in the balance.
All in all, several names will be under the microscope this weekend.
Here are six of the ones to pay attention to.
Player: QB Dylan Thompson (South Carolina)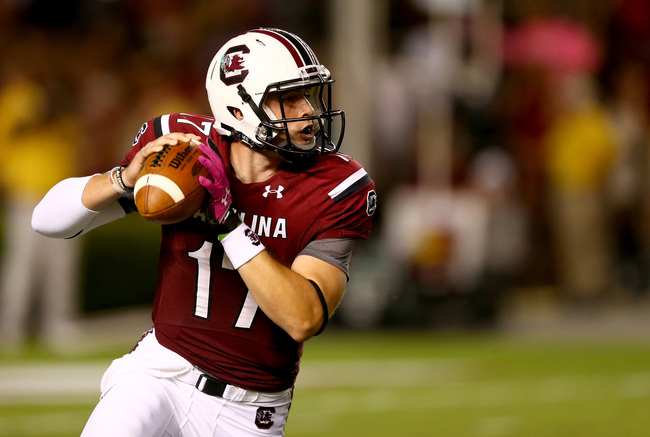 South Carolina's conference hopes rest on the arm of Thompson.
Streeter Lecka/Getty Images
Week 9 Matchup: at No. 5 Missouri (7-0), Oct. 26, 7 p.m. ET on ESPN2
The Skinny
The Gamecocks were slated to be the underdogs against the Tigers this weekend regardless. But now, with starting quarterback Connor Shaw ruled out, via GoGamecocks.com, the team just became a long shot.
Consider this: Following Shaw's injury last weekend in a 23-21 loss to Tennessee, South Carolina only managed 15 total yards over the final 15 minutes of play.
The offense doesn't stand a chance with backup Dylan Thompson under center.
Sure, the junior led the Gamecocks to a 28-25 win against UCF on Sept. 28 in his only other start this season. However, that was a win that wouldn't have been possible without the play of running back Mike Davis—26 CAR, 167 YDs, 3 TDs.
Against a Missouri defense that allows just 116.6 yards per game on the ground, that'll be a tough feat to replicate.
Instead, South Carolina will have to rely on Thompson to take on a unit that ranks first in the SEC in sacks (23) and leads the nation in interceptions with 14.
Coach: Ed Orgeron (USC)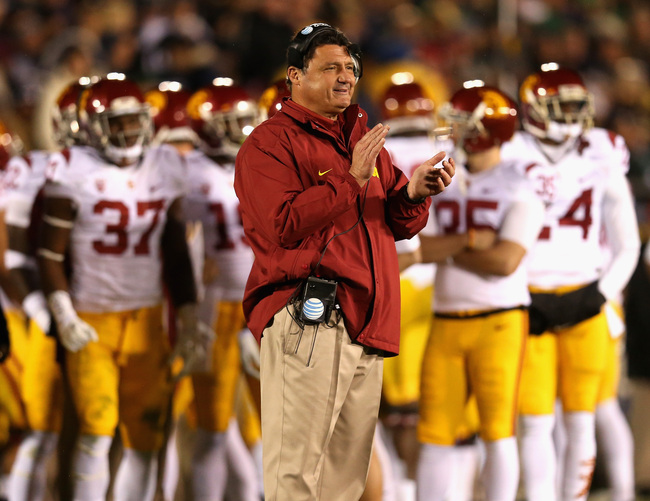 Orgeron needs another solid performance from his squad.
Jonathan Daniel/Getty Images
Week 9 Matchup: vs. Utah (4-3), Oct. 26, 4 p.m. ET on Pac-12 Network
The Skinny
After being praised for the Trojans' offensive display in his debut—a 38-31 victory over Arizona—interim head coach Ed Orgeron watched his team struggle immensely against Notre Dame last weekend in a 14-10 loss.
Not only did USC manage just 121 yards of total offense in the second half, the team also was only 2-of-13 on third-down conversions. That includes going 0-of-11 after converting the first two on the opening series.
Quarterback Cody Kessler followed up an impressive performance against the Wildcats with a mediocre showing against the Irish—20-of-34, 201 YDs, 0 TDs, 1 INT.
It will be interesting to see how Orgeron handles the Utes this weekend. A team that recently upset then-No. 5 Stanford and gave UCLA and Oregon State close calls.
The Trojans are another loss a way from likely facing more outcry over its head coaching system.
This is a must-win for USC and Orgeron.
Team: Texas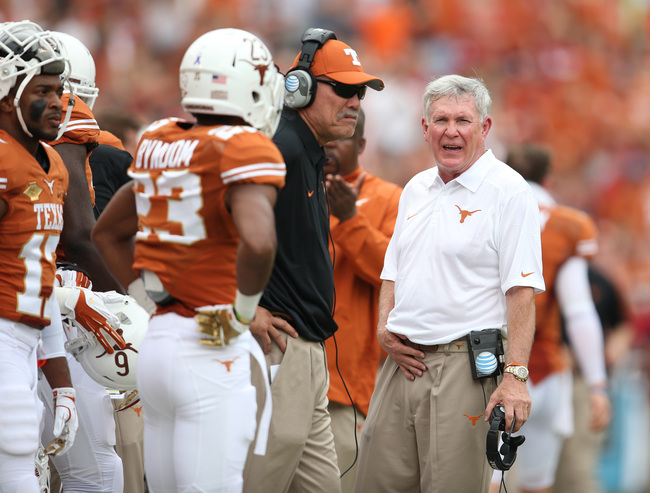 Mack Brown (right) and Texas can breathe easy...for now.
Matthew Emmons-USA TODAY Sports
Week 9 Matchup: at TCU (3-4), Oct. 26, 7:30 p.m. ET on FOX Sports 1
The Skinny
The Longhorns' season was supposed to be over.
After dropping two of its first three games—including conceding a school-record 550 yards on the ground to BYU—the team was quickly becoming the biggest laughing stock in the Big 12. A close call against 1-5 Iowa State didn't help matters much.
That brought up the Red River Rivalry against Oklahoma—a contest Texas was supposed to lose badly.
Instead, the team pulled off a magical upset, beating the Sooners rather easily, 36-20.
The defense finally looked solid—holding Oklahoma to 263 yards of total offense and 2-of-13 on third down—the offense looked good, and the Longhorns may have finally found their quarterback. Case McCoy put together a fine performance, throwing for 190 yards and a pair of touchdowns on 13-of-21 passing.
Not only did it revitalize Texas' season, but it just may have saved head coach Mack Brown's job.
It will be imperative for the team to keep that run going.
Player: QB Brett Hundley (UCLA)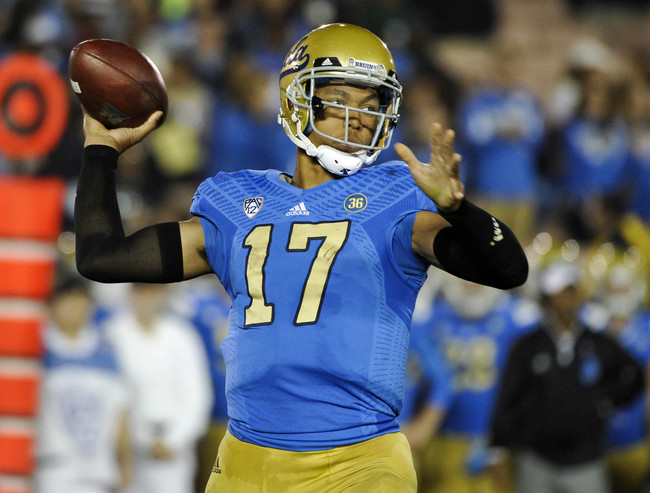 Hundley will look to rejuvenate the Bruins' season in Eugene this weekend.
Robert Hanashiro-USA TODAY Sport
Week 9 Matchup: at No. 3 Oregon (7-0), Oct. 26, 7 p.m. ET on ESPN
The Skinny
Bruins quarterback Brett Hundley will be walking into a lion's den on Saturday.
Sure, the team boasts one of the nation's top offenses, averaging a little over 500 yards of total offense per game. However, with leading rusher Jordon James' status still up in the air, via Bruin247's Evan Barnes, all of the responsibility falls on the arm of Hundley.
That could be a little too much for the sophomore to handle this Saturday.
Last weekend against Stanford, Hundley looked lost without James. He threw for a season-low 192 yards and a pair of touchdowns as UCLA suffered its first loss of the season to Stanford.
It doesn't help that Hundley now faces a defense that allows just 17.3 points per game while holding opponents to 16 or fewer points in five of its seven contests this year. Furthermore, the unit also leads the nations in turnovers gained with 21.
For the majority of the season, the Bruins benefited by keeping defenses guessing with both a strong pass and run game.
It's blatantly obvious that the team must rely on Hundley.
Can he step up to the challenge?
Coach: Kliff Kingsbury (Texas Tech)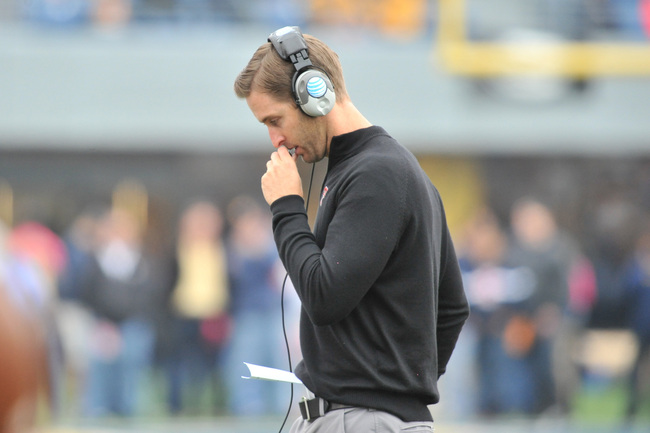 Will Kingsbury sink or swim at Norman this weekend?
Dan Friend-USA TODAY Sports
Week 9 Matchup: at No. 15 Oklahoma (6-1), Oct. 26, 3:30 p.m. ET on FOX
The Skinny
Red Raiders head coach Kliff Kingsbury has his squad rolling. In fact, the squad is off to its best start since 2008.
That year, Texas Tech got off to a 10-0 start only to fall to the Sooners on the road.
Next up for the Red Raiders? A trip to Norman to face Oklahoma.
It will be an interesting affair, as both teams' strength will be tested.
For Texas Tech, the team ranks No. 2 in passing behind strong play from quarterbacks Baker Mayfield (65.7 CMP%, 1,488 YDs, 8 TDs, 5 INTs) and Davis Webb (60.8 CMP%, 1,427 YDs, 11 TDs, 5 INTs). On the other sideline, the Sooners boast the nation's top pass defense, allowing just 149.7 yards per game through the air.
Something's got to give on Saturday.
For Kingsbury, his team hasn't had to face much adversity during its 7-0 start. It helps when your seven opponents have a combined record of just 18-28.
However, playing Oklahoma at home—85-5 under Bob Stoops—is easily the Red Raiders' toughest challenge.
In a game that his team will likely face adversity, it will be interesting to see how Kingsbury handles it.
Team: Stanford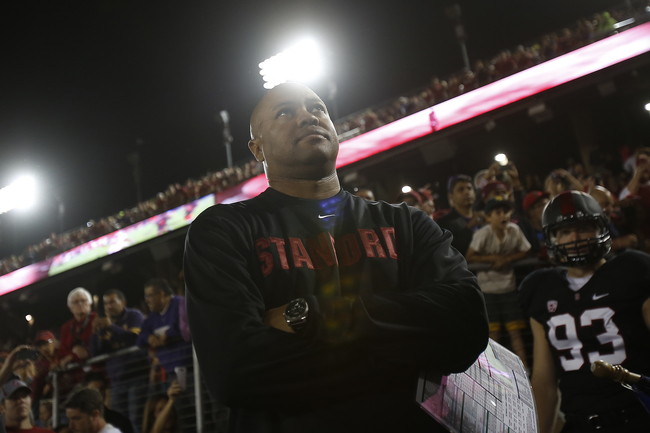 Shaw will have to get his squad ready for a major test against the Beavers.
Stephen Lam/Getty Images
Week 9 Matchup: at No. 25 Oregon State (6-1), Oct. 26, 10:30 p.m. ET on ESPN
The Skinny
It's been a tale of two teams for the Cardinal this year.
On one hand, you have a team that lost to unranked Utah. A team that made careless mistakes on offense and looked confused and vulnerable on defense.
On the other hand, you have the team that has won consecutive home contests against tough ranked opponents. The defense made key stops and the offense managed the game to perfection while making big plays when needed.
Which Stanford will we see this weekend in another tough road matchup?
On Saturday, the Cardinal square up with the Beavers and the nation's No. 1-ranked passing attack led by quarterback Sean Mannion (68.6 CMP%, 2,992 YDs, 29 TDs, 3 INTs, 170.6 RAT, 427.4 RAT).
Oregon State comes in riding its longest winning streak in nearly 13 years and Mannion is one upset away from launching a serious campaign for Heisman. Not to mention, the team will have thousands of screaming fans behind them at Reser Stadium.
If Stanford has any hopes to hold onto its already slim BCS title hopes, the team can't afford to lose this one.
All stats and rankings used in this article are courtesy of NCAA.com.
For complete coverage and everything college football, you can reach Sebastian on Facebook, on Twitter and via e-mail at Sebastian.LenaBR@gmail.com
Keep Reading