Which 5 Los Angeles Kings Will Have the Best Plus-Minus Stats in 2013-14?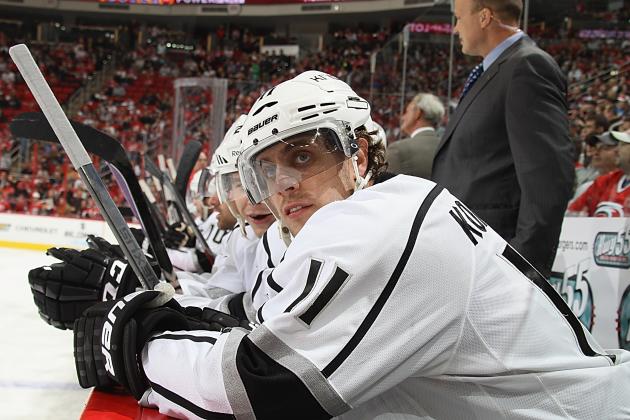 Gregg Forwerck/Getty Images

The Los Angeles Kings struggled through parts of their first 10 games, but managed a 6-4-0 record. Just six L.A. players have a positive plus/minus rating. What exactly does that indicate? Well, opinions vary.
Some believe it shows how effective a forward is defensively. Others, like Brian Burke, dismiss it completely.
Regardless of how you view plus/minus, it remains one of the major NHL stats aside from goals, assists and points. As for the 2013-14 Kings, the majority of their players should be on the positive side by season's end.
With that said, here is a look at which five players will have the highest plus/minus rating this season.
Stats courtesy of NHL.com

Begin Slideshow

»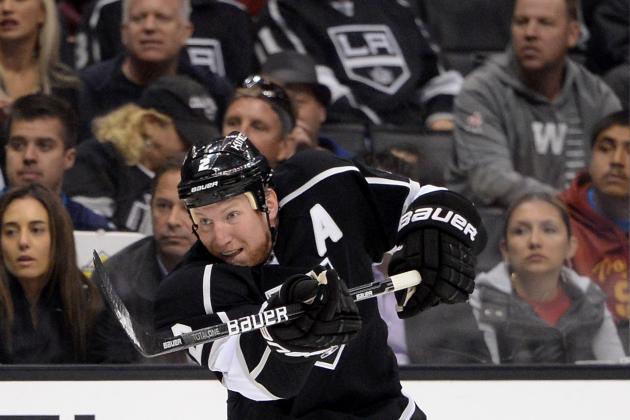 Harry How/Getty Images

Plus/minus after 10 games: Plus-four
Prediction for end of season: Plus-nine
Matt Greene leads the team with a rating of plus-four and surprisingly has been one of the Kings' best players early in the season.
He's averaging 17 minutes of ice time per game, which is well behind the top four L.A. defensemen. He should continue to benefit from playing 15-17 minutes per game for most of the season without facing the opposition's top lines on a regular basis.
Greene is a gritty, shutdown defenseman who has had a positive plus/minus in five of his past six seasons. However, his career high is just plus-four.
He should top that mark this season, but won't crack the Kings' top five.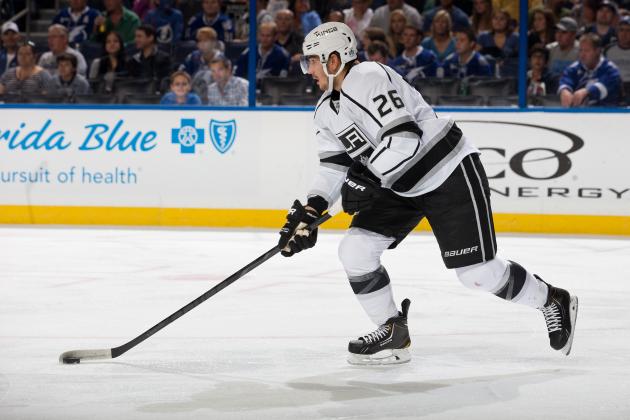 Scott Audette/Getty Images

Plus/minus after 10 games: Minus-three
Prediction for end of season: Plus-11
Slava Voynov won't be a minus player much longer.
The 23-year-old Russian defenseman has made huge improvements to his game since joining the Kings in 2011-12. He was plus-17 over his first two seasons, playing in 102 games. He's been even more impressive in the postseason, notching 16 points and a plus-10 rating in 38 games.
As for his slow start this year, general manager Dean Lombardi isn't worried. "I think he knows that he can be better and that's the most important thing," Lombardi told Lisa Dillman of the Los Angeles Times.
Playing alongside the always-reliable Willie Mitchell will help Voynov defensively, while his offensive output should increase as the season goes on.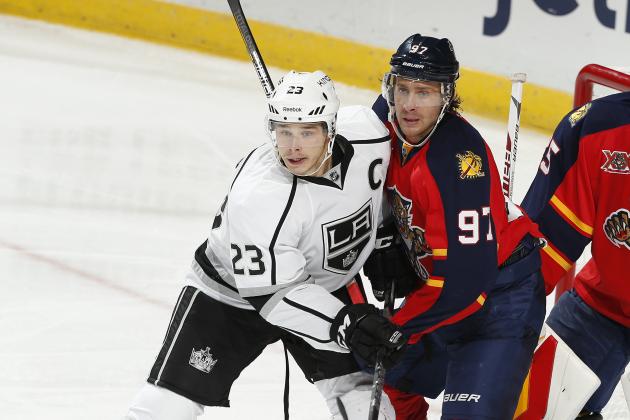 Joel Auerbach/Getty Images

Plus/minus after 10 games: Plus-one
Prediction for end of season: Plus-17
Don't let Dustin Brown's career minus-23 rating fool you; he will easily post a positive rating in the double digits this season. The captain of the Kings was a minus player throughout most of his early NHL years, but in the past three seasons, he has been a combined plus-41.
Brown was hampered by a hamstring injury entering the season, which could be the reason why he's off to a slow start and playing only 16-17 minutes per game.
Moving forward, Brown's ice time and offensive production should increase significantly.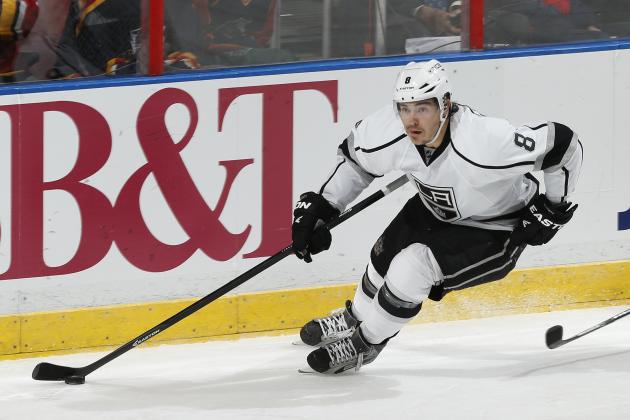 Joel Auerbach/Getty Images

Plus/minus after 10 games: Minus-two
Prediction for end of season: Plus-18
The 23-year-old defenseman has all of the tools to be one of the NHL's best. Nominated for the Norris Trophy in 2009-10, Doughty notched 16 goals and 43 assists for 59 points to go along with a plus/minus rating of plus-20.
He's averaging a team-high 25:16 in ice time and playing in all game situations. With a combination of strong, responsible defense and aggressive play in the offensive zone, Doughty should have a positive rating in a few games.
With Robyn Regehr's help, Doughty should come close to matching his career-high plus/minus rating while also working his way into the Norris Trophy conversation.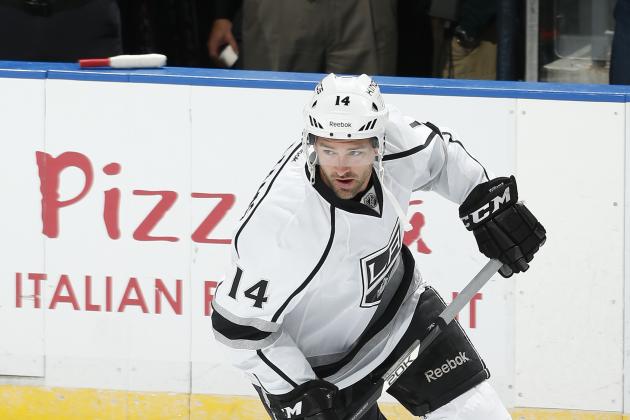 Joel Auerbach/Getty Images

Plus/minus after 10 games: Plus-one
Prediction for end of season: Plus-20
Despite playing on the first line, Justin Williams seems to have become one of the most underrated L.A. players in recent years.
He registered 33 points in 48 games in the lockout-shortened 2013 season and topped the 50-point mark in 2011 and 2012. And he's been a plus player in 10 of his 12 NHL seasons.
He has four goals and two assists thus far this season, and his plus-one rating is tied for third on the team. Williams is a proven two-way forward who occasionally plays on the penalty kill. He's also able to get the puck to the net and isn't afraid to mix it up along the boards.
With that in mind, look for Williams to finish just ahead of Brown and Doughty in plus/minus.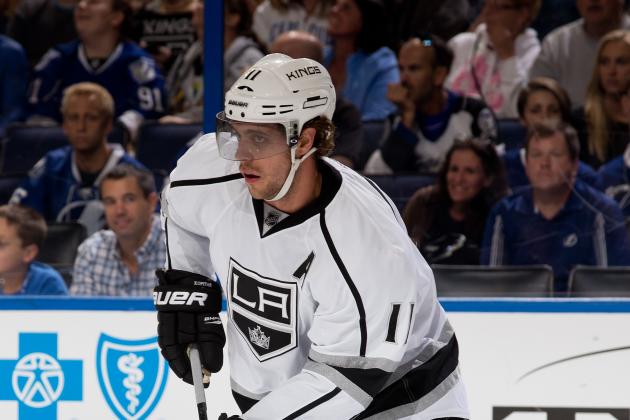 Scott Audette/Getty Images

Plus/minus after 10 games: Plus-one
Prediction for end of season: Plus-23
Much is being made of Anze Kopitar's goalless drought, which extends back over 25 regular-season games to last season. However, with eight assists, he still leads the team in points, just as he has for each of the past six seasons.
Kopitar should make it a seventh consecutive season as the Kings' scoring champion, while also recording the highest plus/minus rating on the team.
The 26-year-old Slovenian isn't playing his best hockey and yet he's still one of L.A.'s most reliable forwards each night. He's averaging over 21 minutes per game, including more than three minutes on the penalty kill. He's also winning over 53 percent of his faceoffs.
As soon as Kopitar begins to get more quality shots on net, he will see his scoring touch and plus/minus rating skyrocket.