Complete 2013-14 Scouting Report and Predictions for Tony Parker
October 26, 2013

Although the 2012-13 campaign ended in heartbreak for San Antonio Spurs point guard Tony Parker, he sure had a heck of a season.
Parker put forth an MVP-caliber performance, averaging 20.3 points on 52.2 percent shooting and 7.6 assists, while posting .206 win shares per 48 minutes. 
Now, the Frenchman enters his 13th year in the league (has he been around that long already?) in search of his fourth championship. On a Spurs team that still houses Tim Duncan and Manu Ginobili and has improving young players such as Kawhi Leonard and Tiago Splitter, that title window remains wide open.
Can Parker help San Antonio hang another banner in 2013-14?
Biggest Narrative: Staying Healthy
A few things come to mind when you think of Tony Parker: blinding quickness, teardrops, big performances in big spots and, unfortunately, injuries.
Parker missed 16 games during the 2012-13 campaign, and he was nursing a bad hamstring that clearly hampered him throughout most of the finals. 
That is nothing new for Parker, who has played a full 82-game season only once over the course of his career. Taking it a little further, Parker hasn't even hit 80 games since 2005-06.
Does the 31-year-old have to play all 82 contests in 2013-14? Of course not. However, it would be huge if he were able to play 70-plus games to help the Spurs secure a high seed (in an improving Western Conference, home-court advantage could make all the difference) and be healthy for the playoffs.
The problem with Parker is that his aggressive style of play is not all that conducive to durability. He is constantly throwing his small frame at larger defenders with reckless abandon, and while that is what makes him such a special player, it is also what frequently puts him in street clothes.
Perhaps Parker should tone things down a bit in 2013-14. That isn't to say that he should change his game completely, but merely that he should be more careful and prudent. If Parker is more judicious, he may not only buy some extra games that he would normally miss during the regular season, but he will conserve much-needed energy for the playoffs.
Fortunately, the young Leonard looks poised to break out this year, so that could take a considerable amount of pressure off of Parker offensively. Let's also not forget that San Antonio this offseason signed Marco Belinelli, yet another weapon for the Spurs to incorporate into their already-explosive offense.
What's On the Line for Parker and the Spurs?
Parker: Point Guard Supremacy

Let's be honest: there really isn't much more that Parker needs to prove. He has won three championships, owns an NBA Finals MVP and has been considered an elite player in the league for a couple of years running. If there is anything left for him to do, it's to convince everyone that he is the best point guard in the game.
That is no easy task, as the competition from the likes of Chris Paul, Rajon Rondo, Derrick Rose, Russell Westbrook, etc. is stiff. However, what Parker does have are those three rings, so another great regular season capped by a potential title run could vault him to the top of everyone's floor-general rankings.
The thing with Parker is that he was never known as a "pure" point guard for the majority of his career. However, over the past two seasons, that perception has changed. The veteran averaged a career-best 7.7 assists in 2011-12 and followed that up with 7.6 dimes in 2012-13. And this is someone who owns a career average of only 6.0.
So, clearly, Parker's "point-guard skills" have been improving.
Not only that, but along with Parker's outstanding field-goal percentage, he shot a career-high 84.5 percent from the free-throw line last year. His lifetime average? 74.8 percent.
It's rare that a player starts getting better this far into their NBA tenure, but Parker is doing just that. If he continues to augment his game and hoists another Larry O'Brien trophy at the end of 2013-14, there might not be as much of a debate as to who the best floor general in the league is.
Spurs: Legacy

No matter what Duncan, Parker and Ginobili do in the remainder of their time with the Spurs, they are going to go down as an all-time great trio. After all, they have captured three titles together and were mere seconds away from making it four last June. However, earning that elusive fourth championship would allow them to reach a level that is almost unprecedented.
It's not too far out of the realm of possibility, either.
Say what you want about the Oklahoma City Thunder's duo of Kevin Durant and Russell Westbrook, the flash and flare of the Los Angeles Clippers, the Golden State Warriors' "Splash Brothers" or the star power of the Houston Rockets, but San Antonio remains the best team in the West.
Again, youngsters like Leonard and Splitter are only getting better, and that should compensate for the aging legs of the Spurs' Big Three. Plus, Belinelli really was an awesome offseason addition, and he should fit seamlessly into Gregg Popovich's system.
While San Antonio may not be remembered as a "fun" ballclub to watch by the casual NBA fun, true basketball junkies are going to remember just how great of a squad it was even if it doesn't win another title.
But if the Spurs do hang another banner? We're talking about a whole different stratosphere of greatness.
Scouting Report for 2013-14 Season
Breaking Down Parker's Signature Move
We all know what Parker's signature move is by now: the teardrop. It may look easy, but it really is a very difficult shot to make and takes pinpoint judgment on the part of Parker.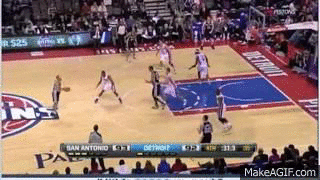 It's not like Parker always takes the same angle, either. He does not just shoot "straightaway" floaters. Sometimes, he tries an even harder teardrop from the side of the basket. Try going to your nearest basketball hoop (wherever that may be) and attempting to make as many floaters as you can from that area of the court. It's not an easy feat, even with nobody defending you.
What makes Parker's shot so deadly is his quickness. He utilizes his speed to get into the lane with ease, and a very quick release renders his teardrop virtually impossible to block. The result is often fruitful for Parker, and opponents consistently find this out the hard way over the course of a game.
The worst part? There is very little they can do about it.
Breaking Down Parker's PER
Outside of an injury-plagued 2009-10 campaign, Parker has posted outstanding player efficiency ratings over the past five seasons. Last year, Parker ranked ninth in the league in that category.
It's no surprise, as Parker is an incredibly efficient player. In 2012-13, for example, he recorded a true shooting percentage of 58.8 percent. Impressive.
You don't just generate the idea that Parker is an MVP candidate by simply watching him (although he is a joy to watch). His stats support that argument, too.
How to Defend Parker

This is much easier said than done.
There really is no one foolproof way to defend Parker, but the best method is blitzing pick-and-rolls and not allowing him to get any space to slash into the lane.
Now, this could obviously burn you as a defense, too. For example, if you overplay or mistime your blitz, you may as well roll out a red carpet for Parker to get into the paint and do his business. If done successfully, however, a well-timed blitz can throw Parker off of his game.
The Miami Heat were able to do this fairly well during the 2013 Finals, but let's remember that Parker was hobbled by a bad hamstring and was lacking his usual explosiveness. So, if you're a coach trying to devise a scheme to shut him down, you should certainly reference film from the Heat series, but don't expect it to work regularly against a healthy Tony Parker. It just won't.
Packing the paint is another way to prevent Parker from getting off his floaters, but given the rest of the offensive weapons that the Spurs have at their disposal, that's kind of a double-edged sword, and Parker has a deadly mid-range jumper to boot.
A defense's best bet is to try its luck blitzing the screen-and-roll. It's high-risk, high-reward.
Biggest Strengths and Weaknesses
Parker has many strengths, some of them coming in forms that you can't measure. For starters, let's begin with strengths that can be proven by statistics.
First of all, he is efficient. He is a 6'2", 180-pound point guard who boasts a career field-goal percentage of 49.4 percent. That is truly amazing, and when you take into account that he has shot over 50 percent four times in his career (including shooting an otherworldly 54.8 percent in 2005-06), you will feel even more blown away.
You want to see just how efficient Parker was in 2012-13? Take a look at his shot chart.

That is a whole lot of green. Not only did he shoot nearly 60 percent at the rim, but his mid-range game was simply impeccable. Plus, even though he is not known for his three-point shot (which will be discussed later), he hit corner triples at a 41.7 percent clip.
Parker is also exceptionally quick with the basketball, and that certainly helps his lofty percentages. He is able to weave through defenses at will and beat his opponents to the rack. Parker's deceptive toughness also aids him greatly.
Finally, we get to his intangibles.
Parker has an extraordinary basketball IQ, and he has absolutely no fear of the moment (as evidenced by his trio of championship rings). You can have all of the talent in the world, but if you aren't a smart player, it won't get you very far. Fortunately, Parker has the intelligence to go along with his ability.
All of that being said, even Superman has a weakness, so, obviously, Parker does, too.
Let's start with his lack of a three-point jump shot. Yes, he shot the ball well from the corners in 2012-13, but it's not like he has done that with regularity throughout his career. 
Parker is a lifetime 31.3 percent shooter from deep, and while he shot a respectable 35.3 percent from there last season, you still don't want him taking too many trifectas. The good news is that Parker seems to realize his limits from long range: the most threes he has attempted in a single season since 2004-05 is 70.
Parker's other "weakness" is his defense, and I placed the word weakness in quotations for the simple fact that he is not terrible on that end of the floor; he is just not great.
The veteran floor general is fortunate enough to have Duncan playing behind him to clean up any of his potential messes, so a lot of the mistakes he makes defensively are hidden. Still, it's not like Parker is Steve Nash; he just won't be making any All-NBA Defensive teams.
Conclusion

Once again, Parker does not have much left to prove. We all know he is a great player who has been part of a great franchise for many years. However, I'm sure Parker doesn't think that, and why should he? He was that close to winning his fourth title last year, and something like that has to motivate you.
Fret not, Tony: your team is going to be in the running for a championship yet again in 2013-14.
Duncan is still elite, Leonard and Splitter are getting better, Danny Green has developed into a very reliable sharpshooter and Belinelli can help compensate for the declining Ginobili. Of course, another ingredient is Parker himself.
Is that roster stacked or what?
Prepare for another MVP-caliber season from Parker. He might not average 20 points per game again, but expect him to average 18-19 points and potentially post a career high in assists. The weapons he has around him are lethal, and they could lead to eight or nine dimes a night from him.
I'll predict 18.6 points and 8.3 assists per game. The fact that Parker's field-goal attempts will likely decrease this year due to the emergence of other players on the Spurs will lead to even stronger shot selection overall. The result? Another insane shooting clip for Parker. I'm projecting that he'll shoot 53 percent for the year.
Parker's best-case scenario is that he finishes top five in MVP voting and leads San Antonio to another title, and you know what? Anything else would be considered a failed season.
The worst-case scenario is that he deals with injuries all year long, never gets healthy for the playoffs and sees his Spurs bow out to a younger, sprier team in the second round.
Regardless, it should be a ton of fun watching Tony Parker in 2013-14.