Yaya Toure Threatens World Cup Boycott After Racist Chants from CSKA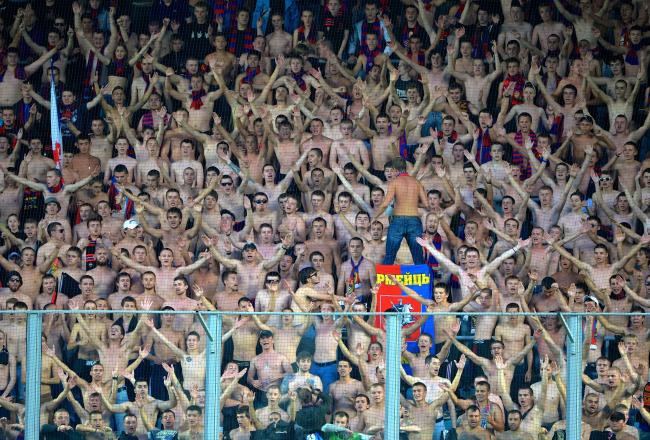 Fans of CSKA Moscow have crossed the line in the club's Champions League match against Manchester City with a number of racist chants.
Yaya Toure was particularly upset about what he heard during the match, according to both BBC Sport and Telegraph Sport:
#MCFC's Yaya Toure, when asked if he'd heard racist chanting: "I told the ref. I think it was unbelievable & very sad. We want to stop that"

— BBC Sport (@BBCSport) October 23, 2013
Yaya Toure on racist abuse in Moscow: "I was quite disappointed. It was unbelievable and very sad on my part... Uefa have to do something."

— Telegraph Sport (@TelegraphSport) October 23, 2013
They will be forced to play their next Champions League game with a section closed to the fans.
From Rob Harris of The Associated Press:
Just in from UEFA: CSKA Moscow will have to play next Champions League home game with section closed for fans after Man City racial abuse

— Rob Harris (@RobHarris) October 30, 2013
According to a report from The Guardian, CSKA striker Seydou Doumbia has denied that he said Toure over-reacted:
However, in comments on Doumbia's Facebook fanpage on Friday, the striker insisted that he had never said anything of the sort. "I want to clarify my position after my Ivory Coast team mate and friend Yaya Touré accused CSKA fans of racism," read a statement posted in both English and French on the page, which appears genuine. "I want to insist that I did not talk to any journalist about these facts so none of the quotes you read in the press came from me."
UEFA President Michel Platini has asked that the organization review the incident to determine why procedures were not followed. Per the report:
Further to the opening of disciplinary proceedings against PFC CSKA Moskva following the alleged racist behaviour of some of their supporters at the UEFA Champions League match between CSKA and Manchester City FC on 23 October, UEFA President Michel Platini has requested that the UEFA administration immediately conduct an internal investigation to understand why the three-step protocolestablished to deal with incidents of a racist nature was not implemented.

First step: if the referee becomes aware of serious racist behaviour, or is informed of it by the fourth official, he shall, as a first step, halt the game and ask for an announcement to be made requesting the public to immediately desist from such racist behaviour.

• Second step: if the racist behaviour does not cease once the game has restarted, the referee shall suspend the match for a reasonable period of time, and ask the teams go to the dressing rooms. A further announcement shall be made to the public.

• Third and final step: if the racist conduct does not end after the game has then resumed, the referee shall definitively abandon the match as a last resort. The UEFA delegate will assist the referee, through the fourth official, in determining whether the racist behaviour has stopped, and any decision to abandon the fixture will only be taken after all other possible measures have been implemented and the impact of abandoning the match on the security of the players and public has been assessed.
John Edwards of the Daily Mail provides Yaya Toure's latest quotes:
It is a real problem here, something that happens all the time, and of course they need to sort it out before the World Cup. Otherwise, if we are not confident coming to the World Cup in Russia, we don't come.

From Dan Roan of the BBC:
Man City confirms it has issued a written formal complaint to UEFA regarding the events of last night's game against CSKA Moscow

— Dan Roan (@danroan) October 24, 2013
The Guardian provides us with UEFA's full statement on the incident:
A Uefa statement read: "Proceedings have been opened against CSKA Moscow for racist behaviour of their fans (article 14 of the UEFA disciplinary regulations) and for setting off of fireworks (article 16) at last night's Uefa Champions League group stage match in Moscow against Manchester City.

"The case will be dealt with by the Uefa control and disciplinary body on 30 October."
Meanwhile, CSKA Moscow released the following statement, also courtesy of The Guardian:
CSKA have already denied that their fans directed monkey chants at Touré saying they are "surprised and disappointed" by Manchester City's response. Their forward Seydou Doumbia even claimed that his Ivory Coast teammate was "clearly exaggerating" over the abuse.

A club statement said: "Having carefully studied the video of the game, we found no racist insults from fans of CSKA. In many occasions, especially during attacks on our goal, fans booed and whistled to put pressure on rival players, but regardless of their race.

"In particular, this happened with Alvaro Negredo and Edin Dzeko. Why the Ivorian midfielder took it as all being directed at him is not clear."
From Rob Harris of The Associated Press:
UEFA will deal with discliplinary case against CSKA Moscow for "racist behaviour of their fans" next Wednesday

— Rob Harris (@RobHarris) October 24, 2013
From Dan Roan of the BBC:
UEFA open disciplinary proceedings against CSKA Moscow for alleged racist behaviour of their fans during last night's game v Man City

— Dan Roan (@danroan) October 24, 2013
BBC Sport's official Twitter account reports:
Footballers' union Fifpro say Uefa match officials failed to carry out protocol over racist chanting during Man City's match at CSKA Moscow.

— BBC Sport (@BBCSport) October 24, 2013
The Guardian provides the latest:
[CSKA Moscow's] deputy media manager, Michael Sanadze, told Sky Sports News that "nothing special happened" despite the midfielder (Yaya Toure) complaining of sustained racial abuse from the crowd during his side's win.

"There is no subject to discuss," Sanadze said. "Nothing special happened. There was a lot of noise in the stadium. Nobody else, other than Yaya Toure, heard anything. The only trouble that has come about was because Yaya Toure heard something."
Here's what Toure had to say about the incident:
Original Text
Toure later took to his Twitter account to comment on the fans:
I believe in football institutions, I know decision makers will take their responsibilties and show A RED CARD TO RACISM

— yaya toure (@Toure_yaya42) October 23, 2013
Vincent Kompany also mentioned the issue on his personal Twitter account:
Racist chants again in Moscow today.. We've all said enough. @UEFAcom, @GovernmentRF, CSKA, all eyes are on you now.. #StopRacism

— Vincent Kompany (@VincentKompany) October 23, 2013
The club has since confirmed it will make an official complaint to UEFA over the chants, via Luke Reddy of BBC Sport:
#MCFC confirm they will make official complaint to UEFA over alleged racist chanting aimed at Yaya Toure. #CSKA #ManCity #City

— Luke Reddy (@LukeReddy) October 23, 2013
It remains to be seen what type of action UEFA will take against the squad and its supporters. As Grant Wahl of Sports Illustrated notes, these fans will be on an even bigger stage in a few years:
Racist monkey chants from Moscow fans toward Yaya Touré. World Cup 2018 is in Russia.

— Grant Wahl (@GrantWahl) October 23, 2013
Manchester City won Wednesday's road match 2-1 thanks to a brace by Sergio Aguero. This puts the English Premier League club in good position to earn a spot in the knockout stage of the prestigious tournament.
However, the loss alone is not enough of a punishment. It is up to a governing body to take action to show that this incident will not be tolerated.
Last season, a Serie A match between AC Milan and Roma was suspended due to racist chants toward Mario Balotelli and Kevin-Prince Boateng. Italian football rules permit officials to stop matches when these types of issues arise.
UEFA recently decided to prevent Lazio fans from attending a Europa League match against Apollon Limassol at Stadio Olimpico in response to previous offensive chants by the fans, though the decision was eventually reversed, per Henry Jackson of Goal.com.
In a high-profile, televised match like this one, however, it is hard to imagine UEFA allowing Moscow to get away unpunished.

Follow Rob Goldberg on Twitter for the latest breaking news and analysis.
This article is
What is the duplicate article?
Why is this article offensive?
Where is this article plagiarized from?
Why is this article poorly edited?