NASCAR: News, Notes, and Pictures from Charlotte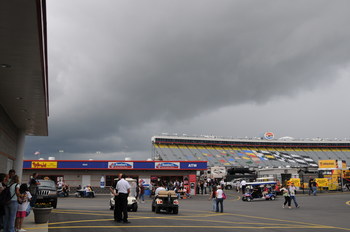 Weather is going to be a factor for tonight's race.
Sprint Cup final practice has been canceled due to weather.
Morning practice saw Denny Hamlin topping the speed chart, with Greg Biffle, Casey Mears, Kyle Busch a nd Brian Vickers rounding out the top five.
Other notables were Mark Martin in sixth, Dale Earnhardt Jr. in eighth, Jimmie Johnson 13th, Ryan Newman 16th, Jeff Gordon in 24th and Tony Stewart 33rd.
Speeds were a bit faster this morning as overcast skies and the constant threat of rain kept the track cool for practice.
Carl Edwards is on the pole for the Nationwide Series.
Miss America is here to sing the National Anthem for tonight's race.
Coca-Cola held a barbecue on Friday in honor of the season's longest race.
The grill used was over a quarter of a mile long, holding over 7,000 pounds of charcoal.
Coca-Cola Family drivers were on hand to serve lunch for thousands of fans.
US Senator Jim DeMint will wave the green flag for Sundays race.
Keeping with the green, this Sunday's pace car will be a Toyota Camry Hybrid. The first time ever a Hybrid car has been used as a pace car.
House Speaker Seth Hammett has been named Honorary Race Director.
Coca-Cola has dedicated this race to the American Armed Forces.
Dark skies take over the speedway in this first picture.
All pictures are copyright David Yeazell
Employee's Matter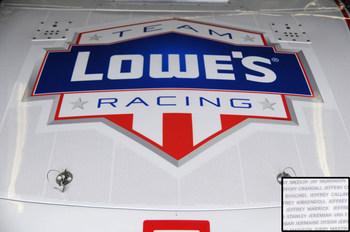 The hood of Jimmie Johnson's Lowes Chevrolet has the name of every Lowes employee on it.
My Back Doesn't Hurt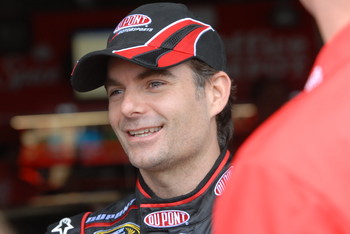 Jeff Gordon is all smiles as he chats with some fans before morning practice.
Dude: Where's My Car?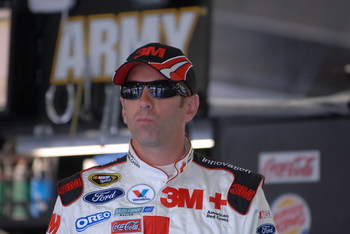 An empty garage is reflected in Greg Biffles sun glasses.
Ever Been Sparking?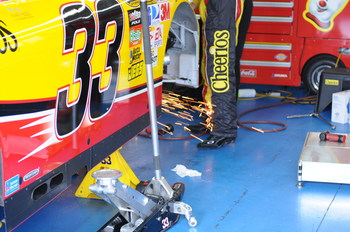 Sparks are flying on Clint Bowyer's leg as his crew grinds something on the front of his car.
The Wheels On the Car Go Round and Round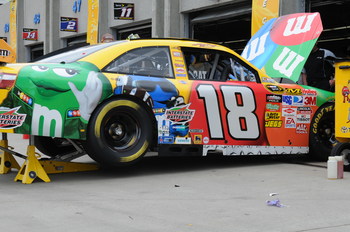 Kyle Busch's car gets a treadmill work out before morning practice.
Pole Dancer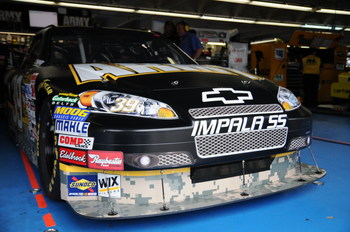 Ryan Newman's car sits quietly in the garage, patiently waiting for a driver for morning practice.
Lo e's?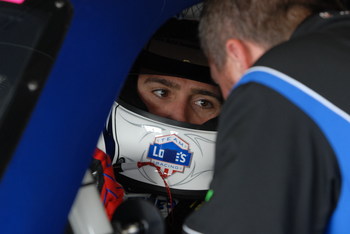 Jimmie Johnson gets a few last minute instructions before heading off to morning practice.
Its Time for Practice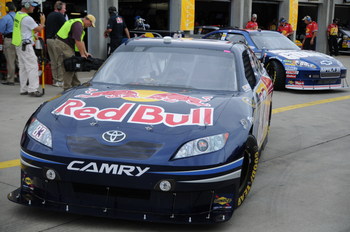 Brian Vickers leads Dale Earnhardt Jr. out of the garage stalls in route to the race track for morning practice.
No Standing Zone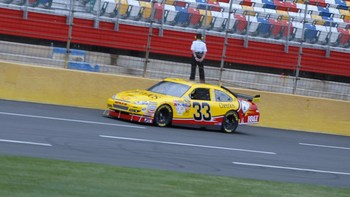 A security guard seems to be standing on top of Clint Bowyer's car as he exits turn four of Lowes Motor Speedway.
Can I Ask.com You Something?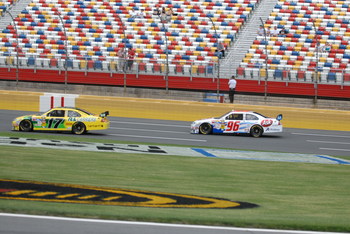 Matt Kenseth blows by Bobby Labonte on the front stretch during morning practice.
Are You Insured?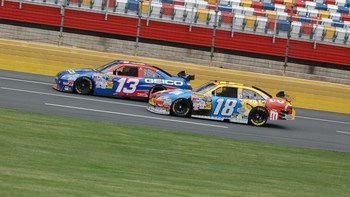 Kyle Busch spars with Max Papis during morning practice.
Red Bull and Corn Flakes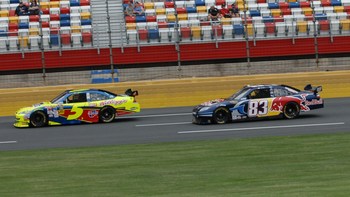 Mark Martin and Brian Vickers create the breakfast of champions during morning practice.
Mixed Drinks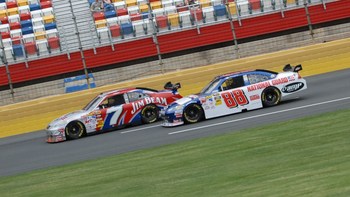 Robby Gordon and Dale Earnhardt Jr. mix it up in early practice.
Duck Duck Goose!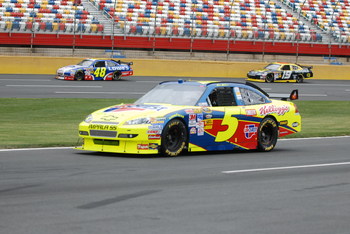 Jimmie Johnson leads Elliot Saddler as Mark Martin comes in for some adjustments.
In Need of Service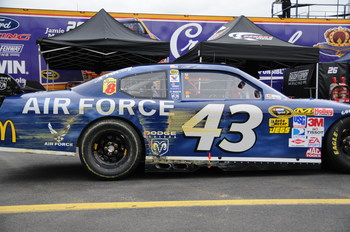 This weekends race is dedicated to the US Armed Forces.
Reed Sorenson's No. 43 Air Force Dodge will need a little work after making contact with the wall.
Employee, Employer
David Reutimann pulls in ahead of Michael Waltrip as morning practice winds down.
Left Work Early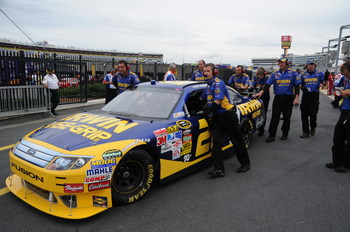 Jaime McMurray drove his car the wrong way down pit road, stopped, got out, looked under the front valance, then disappeared into the garage area, leaving his crew to push the car back.
Has Anyone Seen Greg Biffle?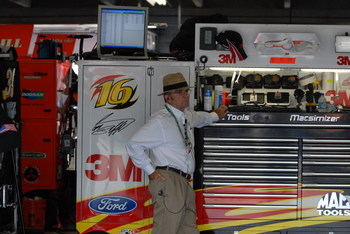 Jack Roush stands in Greg Biffle's empty garage stall during morning practice.
Keep Reading