Power Ranking the Toughest Matchups in College Football for Week 9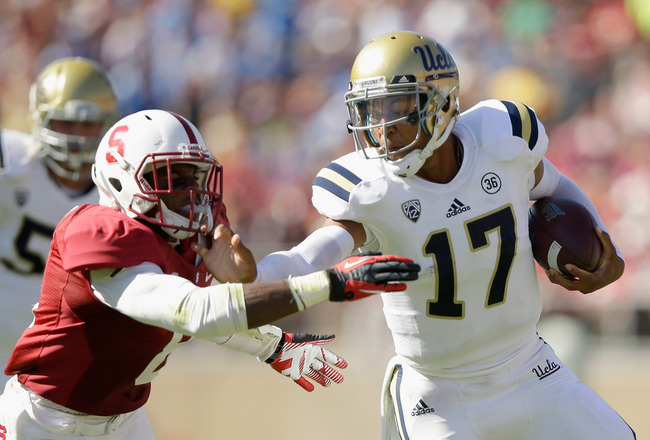 Hundley (right) will try to right the ship for the Bruins.
Ezra Shaw/Getty Images
After a weekend full of upsets, Week 9 of college football offers up plenty of interesting games of its own.
Several ranked opponents will square off against each other. An undefeated squad will try to hurdle its first true test on the road. A fallen contender will try to get its season back on the right track.
All this and more make up the various storylines for this weekend.
But here are the five teams that face the toughest matchup.
5. Tennessee (4-3) at No. 1 Alabama (7-0)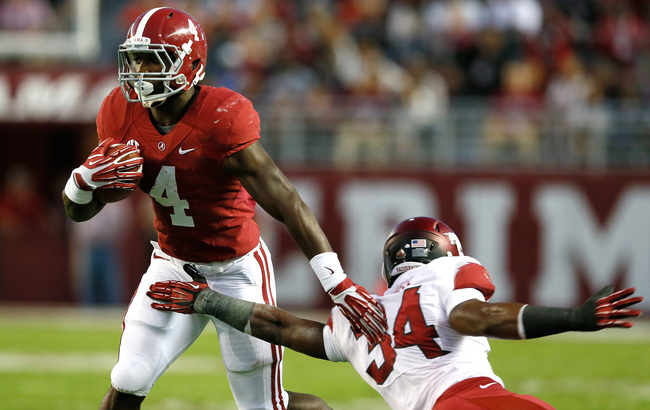 Yeldon (left) has helped the Tide exert its muscle on the ground.
Kevin C. Cox/Getty Images
When: Oct. 26, 3:30 p.m. ET on CBS
The Skinny
After nearly stunning Georgia and upsetting South Carolina last weekend, the Vols will look to continue their momentum.
Unfortunately, this is just not the game that will do it for them.
The Tide have averaged a little over 270 yards per game over their last four games. That's a significant improvement over the 132 the team averaged through its first three contests.
The running back tandem of Kenyan Drake (49 CAR, 402 YDs, 7 TDs) and T.J. Yeldon (100 CAR, 657 YDs, 7 TDs) are a large reason for that.
Furthermore, Alabama has won six straight against Tennessee. In those matchups, the Tide have averaged 174.5 yards per game while scoring 13 touchdowns on the ground.
It doesn't help that the Vols enter this weekend allowing 181.7 yards per game in the run game. That includes conceding 456 over the last two matchups.
Did we mention that Tennessee has lost 10 straight games on the road dating back to 2010?
Yeah, you can likely chalk this one up for an Alabama win.
4. No. 6 Stanford (6-1) at No. 25 Oregon State (6-1)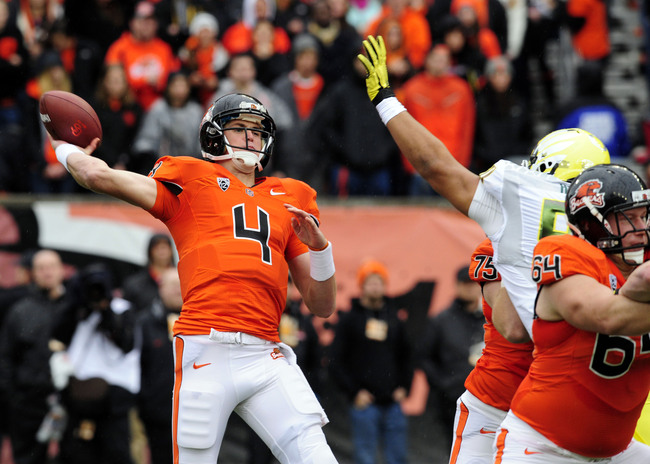 Can the Cardinal slow down Mannion and the nation's best passing attack?
Steve Dykes/Getty Images
When: Oct. 26, 10:30 p.m. on ESPN
The Skinny
The Cardinal rebounded quite well from a shocking loss to unranked Utah by toppling previously undefeated UCLA 24-10 last weekend. It was a win that propelled the team back into the Top 10.
Now, the team goes right back on the road.
This time, Stanford is faced with an even tougher test: The Beavers and their No. 1-ranked passing attack.
On the year, the secondary has been an issue for the Cardinal. The team ranks No. 87 against the pass and has conceded 12 touchdowns through the air already.
That's music to the ears of Oregon State quarterback Sean Mannion.
The junior currently leads the nation in passing yards (2,992), yards per game (427.4) and touchdowns (29). Furthermore, he rarely makes mistakes, throwing just three interceptions through seven contests.
Not to mention, Mannion is coming off a 481-yard, four-touchdown performance against Cal last weekend.
Can Stanford continue its rise back into BCS title contention or will the team once again prove vulnerable against an opponent it should have beaten?
3. No. 10 Texas Tech (7-0) at No. 15 Oklahoma (6-1)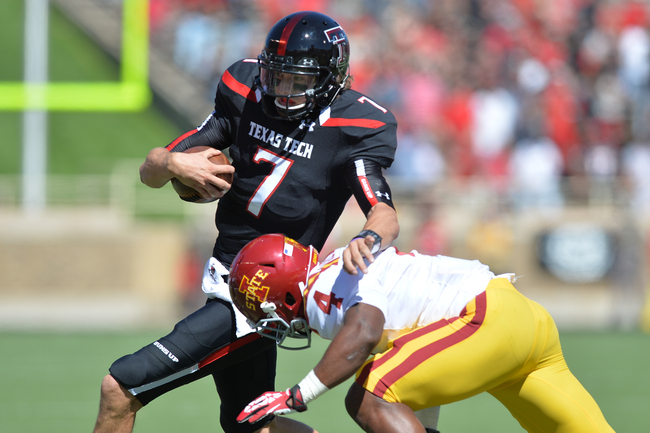 Can Webb (left) pull off the upset at Norman?
John Weast/Getty Images
When: Oct. 26, 3:30 p.m. on FOX
The Skinny
The last time the Red Raiders got off to a start this good was in 2008. Back then, the team raced out to a 10-0 start before falling to the Sooners in Norman.
This Saturday, history stands a good chance to repeat itself.
For Texas Tech, the team prepares to finish off the season against five opponents with a combined record of 23-6. In comparison, the Red Raiders' first seven opponents were just 18-28.
This weekend, it will come down to a battle of strengths.
Behind quarterbacks Baker Mayfield (65.7 CMP%, 1,488 YDs, 8 TDs, 5 INTs) and Davis Webb (60.8 CMP%, 1,427 YDs, 11 TDs, 5 INTs), Texas Tech boasts the nations No. 2-ranked passing attack. The team currently averages a little over 41 points per game.
On the other hand, Oklahoma will bring the nation's top-ranked pass defense into the matchup.
Through seven games, the unit has allowed just 149.7 yards per game. That includes limiting Kansas to just 16 yards through the air last weekend. Furthermore, the Sooners have conceded just five passing touchdowns while holding opposing quarterbacks to a rating of 96.2.
But don't underestimate the Norman mystique.
Under head coach Bob Stoops, Oklahoma is an impressive 85-5 at home. Against ranked opponents, that record is 14-2.
It doesn't look good for the Red Raiders.
2. No. 21 South Carolina (5-2) at No. 5 Missouri (7-0)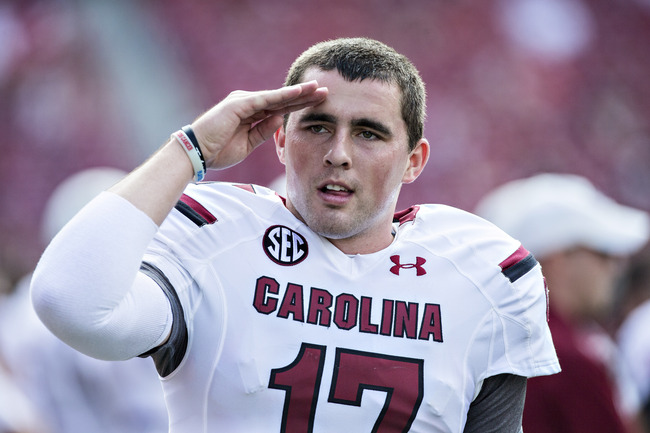 Thompson will face the toughest test of his season this weekend.
Wesley Hitt/Getty Images
When: Oct. 26, 7 p.m. on ESPN2
The Skinny
Last season, the Gamecocks handled the Tigers with ease 31-10. Quarterback Connor Shaw was deadly accurate through the air, throwing for 249 yards and a touchdown on 20-of-21 passing.
Unfortunately, South Carolina won't be able to rely on Shaw's trusted arm on Saturday, as the senior has been ruled out, via GoGamecocks.com, after spraining his knee in last weekend's 23-21 loss to Tennessee.
The injury couldn't have come at a worse time for the Gamecocks. Trailing Missouri by two games in the SEC East, the team has no choice but to win this matchup if it has any aspirations of winning the conference.
Like there wasn't already enough pressure on backup quarterback Dylan Thompson to begin with.
Due to a previous injury to Shaw, the junior already has one start under his belt in 2013. However, it certainly wasn't one to brag about, as he threw for just 261 yards and an interception on 15-of-32 passing during a 28-25 victory over UCF on Sept. 28.
Now, he faces a stiffer test against a Tigers defense that leads the SEC in sacks with 23. The unit also leads the nation in interceptions, picking off opposing quarterbacks 14 times already.
It's a situation that could prove very problematic for Thompson.
1. No. 12 UCLA (5-1) at No. 3 Oregon (7-0)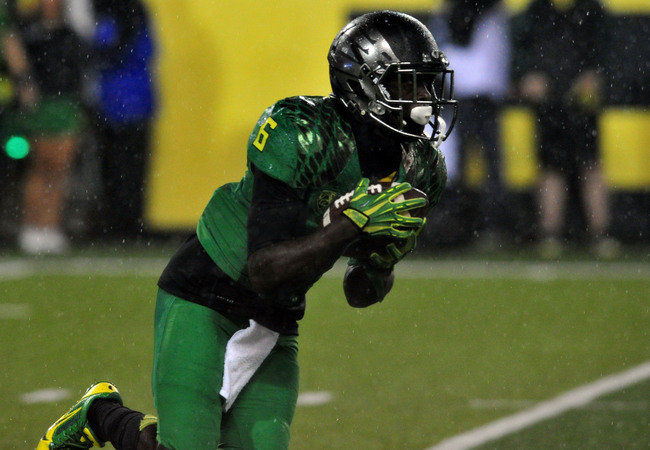 The return of Thomas could pose major concerns for the Bruins.
Steve Dykes/Getty Images
When: Oct. 26, 7 p.m. on ESPN
The Skinny
Playing the Ducks in Eugene is never an easy task. One that gets a lot tougher if you're without your leading rusher.
That's the scenario the Bruins will likely be facing this weekend with the status of running back Jordon James still up in the air, via Bruin247's Evan Barnes.
In the four contests he's played, James racked up 463 yards and five touchdowns on 74 carries. Unfortunately, he suffered an ankle injury and has missed UCLA's last two games.
While quarterback Brett Hundley managed fine against Cal—410 YDs, 3 TDs—the loss of James was too much for him to overcome against Stanford last weekend. The sophomore threw for a season-low 192 yards while throwing two costly interceptions as the Bruins dropped their first game of the season.
The going gets tougher this weekend against an Oregon defense that has conceded just 17.3 points per game while holding opponents to 16 points or fewer in five of seven contests. The unit also leads the nation with 21 turnovers gained.
The Ducks rank No. 2 in both scoring (57.6 PPG) and total offense (643.1 YPG). The return of explosive running back De'Anthony Thomas, via ESPN's Kevin Gemmell, is sure to add a little boost as well.
It could be a long night for the Bruins.
All stats and rankings used in this article are courtesy of NCAA.com.
For complete coverage and everything college football, you can reach Sebastian on Facebook, on Twitter and via e-mail at Sebastian.LenaBR@gmail.com
Keep Reading