Bryan Vasquez vs. Rene Gonzalez: Preview and Prediction for Title Fight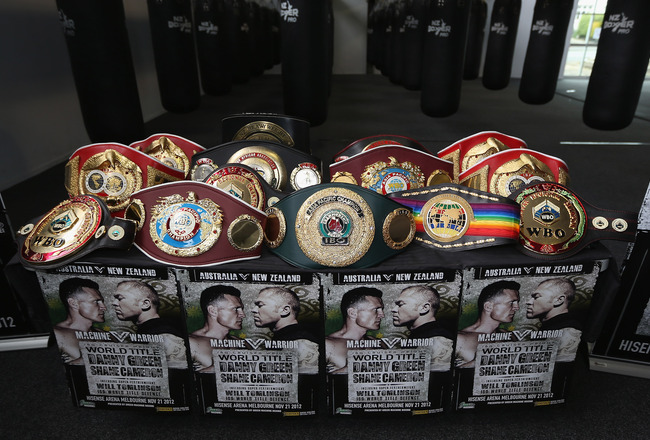 Sandra Mu/Getty Images
On Saturday night in San Jose, Costa Rica, Bryan Vasquez meets Rene Gonzalez for the interim WBA super featherweight championship. Since Takashi Uchiyama of Japan just defended the WBA belt last May, I'm not sure why the WBA feels the need to designate an interim champ.
Of all four major promotional organizations, the WBA is possibly the worst offender when it comes to the ridiculous proliferation of "world" titles.
The 130-pound division is very much a weight class in flux, with no clear-cut top dog. Mikey Garcia moves up from featherweight later this year. Uchiyama has the look of a potential breakout star due to his exciting punching power.
Vasquez and Gonzalez are hardly on the radar, but after Saturday, one of them will be a "world champion."
Vasquez will be fighting in front of his hometown crowd, and Gonzalez is from Nicaragua, so the fight at least has a lot of regional significance in Central America.
Tale of the Tape
| | | |
| --- | --- | --- |
| Per Boxrec | Bryan Vasquez | Rene Gonzalez |
| Record: | 31-1, 17 KOs | 31-5-1, 23 KOs |
| Height: | 5'5" | 5'5" |
| Reach: | 66.5" | unlisted |
| Weight: | 130 pounds | 130 pounds |
| Age: | 26 | 30 |
| Stance: | Orthodox | Orthodox |
| Hometown | San Jose, Costa Rica | Managua, Nicaragua |
| Rounds: | 155 | 183 |
Vasquez is an experienced fighter for 26. He's fought around the globe but also frequently at home, which is where he has developed into a popular attraction. Now, he will be bringing a world title fight to the local crowd.
The Nicaraguan journeyman Gonzalez has fought throughout Latin America. He's competed more often at lightweight and held some minor titles there.
Main Storylines
As I mentioned in the introduction, I consider it pure hyperbole and hype for the WBA to bill this fight as a world title affair. But Bryan Vasquez is legitimately on the bubble for the top 10 at 130 pounds, and Rene Gonzalez is a respectable and well-traveled journeyman fighter.
There have certainly been less qualified world-title challengers than these two. There have also been less qualified world-title challengers this month.
Vasquez's only professional loss came in Japan against Takashi Uchiyama in July 2012 by Round 8 TKO. Uchiyama is 20-0 with 17 KOs.
I think at some point in 2014, Uchiyama is going to be one of boxing's new big things for awhile, so Vasquez's loss against him should not cause fans to be dismissive. Vasquez was game in that fight but simply overwhelmed.
Gonzalez is a journeyman who has lost to other journeymen, but he's won a lot more often than he's lost. He's held minor titles in Latin America and even fought in Europe. He's a solid veteran fighter.
If this was a main event on ESPN2's Friday Night Fights, I'd be staying home to watch it. I won't really consider the winner to be a world champion, no matter what the WBA says, but I'll view him as a legitimate contender.
Strengths
Bryan Vasquez
He's a sturdy, 130-pound fighter. He throws a sneaky lead right that he sets up with a distracting jab.
Vasquez does a good job of controlling the center line in close range. This gives him very good angles for landing his lead hook and a compact overhand right.
He also has good timing. When his opponents attack, Vasquez is very slick at moving back slightly out of range as well as catching them with the right uppercut as they come in.
Rene Gonzalez
Gonzalez is moving down from lightweight, so he should be a strong fighter at 130 pounds.
He is a fluid puncher. He's got a nice jab, and he throws a good lead hook off from it. In a flurry, he varies his straight punches and sweeping hooks, making it tough for his opponents to react defensively.
Weaknesses
Bryan Vasquez
Vasquez has a dangerous tendency to end up in a bad position after he misses with a power shot. He gives an opponent far too many opportunities to catch him when he's poorly balanced.
This poor transition from offense to defense was disastrous for him against Takashi Uchiyama. Trading in close range when he was fatigued in Round 8, he got caught big against the Japanese star and was pounded down before the referee stopped the action.
Rene Gonzalez
He looks to me like he has some problems with his footwork. His movement is very predictable, mostly in forward and backward lines.
Vasquez is good at timing a come-forward opponent, so Gonzalez will need to be cautious when he attacks.
Bryan Vazquez Will Win If...
Bryan Vasquez looks to me like the quicker and more athletic fighter out of these two. I think Vasquez should look to parry down or duck under Rene Gonzalez's jab and then stun him with the overhand right.
Vasquez should look to engage in close quarters. He should shift angles on Gonzalez and then unload with short hooks and overhands before moving back out of range.
When Gonzalez is on the attack, Vasquez should slip back and score with the right uppercut. As he throws that punch, he should be stepping back into the phone booth so he can rough up Gonzalez again in close range.
Rene Gonzalez Will Win If...
Rene Gonzalez should look to establish a stiff jab, and he needs to keep Bryan Vasquez at the end of it. Vasquez fights well when he's in a comfortable rhythm, and the best way for Gonzalez to disrupt that rhythm is to put his left fist in Vasquez's face.
If Gonzalez can get Vasquez moving backwards, he should look to hook off his jab and then unload his straight right. Gonzalez is good at building his punches off from each other, and he's probably going to need to do this against Vasquez. He needs to look to score with the second, third or even fourth punch of a combination.
It will probably be impossible for Gonzalez to completely stop Vasquez from getting off first. Gonzalez should be ready to duck or slip a punch and then capitalize if Vasquez throws himself off balance.
Prediction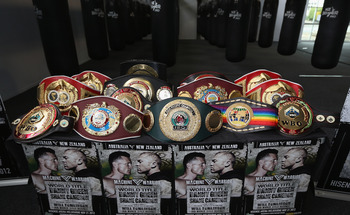 Sandra Mu/Getty Images
This is a fight Bryan Vasquez should win. He's consistently beat similar opponents in the past, and if he beats Rene Gonzalez here, he'll be an interim world champion once again.
It should set him up for a pretty good fight next year against a top-10 opponent at 130 pounds. Vasquez is an experienced fighter for 26 and has enough talent to make himself a factor at super featherweight.
For this fight against Gonzalez, I predict Vasquez will win a relatively easy unanimous decision. I see something in the neighborhood of 118-110 or 117-111.
Keep Reading