Ranking Every Test-Playing Nation's Most Important Player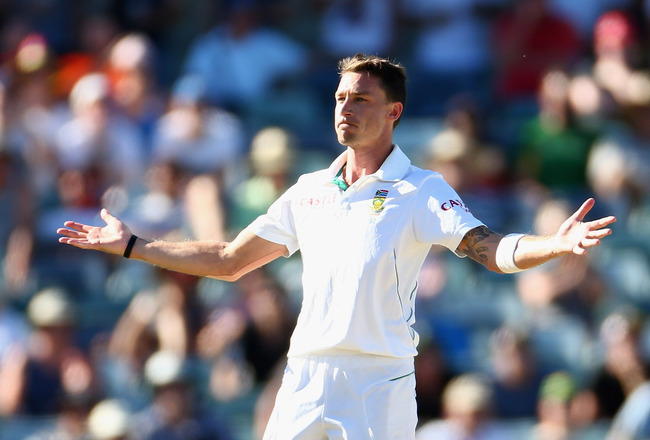 South Africa's MVP?: Is Dale Steyn the Proteas' most important player ...?
Robert Cianflone/Getty Images
Every country has a star man in their setup, the player who makes the side tick and can always be relied upon time and again to extricate them from a hole and who, when absent from the starting lineup, automatically gives the opposition a huge lift in confidence.
And we have both identified exactly who each Test-playing nation's most valuable player (MVP) is, and then ranked those star men in order of importance, starting with the nation that is least reliant on their MVP.
So, tell us whether you agree or not with our choices and the order we have placed them in …
South Africa: Hashim Amla
Although you could make a strong argument for putting paceman Dale Steyn's name forward, as currently both the world's best Test and one-day international (ODI) batsman, it is fair to say that the Proteas No. 3 is actually their most valuable player.
However, it is also reasonable to suggest that Amla's absence, such is South Africa's extraordinary batting strength at present, would not actually have that great an impact on the team.
India: Virat Kohli
A real tough one to nominate, with the likes of off-spinner Ravichandran Ashwin and skipper and wicketkeeper MS Dhoni both running the silky-smooth middle-order batsman close.
But in the end, the 24-year-old's influence on this new, young India team under coach Duncan Fletcher has grown so much in recent times that he is now not only Dhoni's only real obvious successor as captain but also the side's most important member.
However, like Amla before in the South African lineup, India also have an embarrassment of riches in the batting department and so would be able to cope without his presence in the side.
England: Kevin Pietersen
Now 33, the swashbuckling South Africa-born batsman is still his adopted country's MVP, especially as KP is one of the few England players to now be selected in all three forms of the game.
And when Pietersen's name is missing from the England teamsheet, the side's aura starts to fade a little, while their crucial ability to score quickly is also badly affected by his absence.
But as we have seen on numerous occasions in the past few years, when the Surrey batsman has been absent from the England side, they have managed to cope, just ….
New Zealand: Daniel Vettori
Even after 112 Tests, 275 ODIs, 33 Twenty20s and 16 years of international cricket, the bespectacled Kiwi left-arm spinner remains his country's most influential player.
And this fact has only been re-emphasised over the course of the past 18 months by the 34-year-old skipper's injury-enforced absence from the Black Caps' Test lineup, despite stand-in Bruce Martin's brave attempts to cover for Vettori.
However, it is more in the spin department than as captain that the tweaker has been most missed, with Brendon McCullum having taken over as skipper with aplomb, otherwise this ranking would have been quite different.
Zimbabwe: Brendan Taylor
Ever since the batsman became skipper of the national side in the summer of 2011, Taylor has been Zimbabwe's most impressive performer, recording a remarkable four hundreds in his first seven Tests at the helm, after managing only one ton in his 10 previous Tests.
On top of that, he also registered centuries in both innings in a Test against Bangladesh earlier this year, in the process becoming the first-ever Zimbabwean to achieve that feat, and one wonders where the country would be right now without their captain.
Sri Lanka: Kumar Sangakkara
A toss-up in the end between "Sanga" and the Sri Lankans' other old stager Mahela Jayawardene, with virtually nothing to choose between the two.
However, in the end the 35-year-old just edges it. And what's more, his significance to the Sri Lanka side is shown by simply removing him from their lineup, with the end result being a totally different team because his influence is that strong.
Bangladesh: Tamim Iqbal
Similar to with Sri Lanka previously, a real hard one to pick between skipper and key all-rounder Shakib Al Hasan and Tamim, but it is the latter who has emerged ahead of Shakib as his country's most important player.
The big-hitting left-hander is now the man the rest of his teammates really look up to for inspiration, and without the 24-year-old opening the batting and showing the other less experienced players how it should be done, Bangladesh would not be half the side they have become of late.
Australia: Michael Clarke
Without doubt, as we have heard on many occasions in the past, the Aussies' key man with either bat or ball, and someone head coach Darren Lehmann just cannot afford to be without for any game, not matter who it is against.
However, it is not just with the bat that Clarke's importance is felt, although with 27 Test tons and an average of 52 removing "Pup" from Australia's middle order would be akin to ripping the heart out of the side.
And it is for those two very reasons that Clarke is considered absolutely vital to the fortunes of this current Aussie side.
West Indies: Shivnarine Chanderpaul
Unlike in the '80s, the boys from the Caribbean currently have very few world-class players to call upon, barring perhaps opener Chris Gayle, and without doubt the immovable object known as Shiv Chanderpaul.
The limpet-like Guyanese has been taking guard for his country for the past 19 years, with the left-hander still just as hard to dislodge from the crease now as he was back in 1994.
However, with the whole side able to bat around Chanderpaul safe in the knowledge that the opposition bowlers will find it near on impossible to remove him, the crab-like middle-order batsman still remains, even after all these years, the key member of the West Indies team.
Extract him from the lineup, and boy does the makeup of their team take on a different complexion.
Pakistan: Saeed Ajmal
To call Pakistan a one-man team would be grossly unfair on the other members of the side, especially after their stunning recent upset win over South Africa.
But then again, it also needs to be recognised just what an absolutely key role the mystery off-spinner has played of late in their successes across all three forms of the game, as befits the world's best tweaker.
And while as always Pakistan can call upon a number of other high-class spin bowlers, none have the guile, threat or skill that Ajmal possesses, meaning he really is that important to their whole setup.
And that is why the veteran 36-year-old is not only his country's most valuable player by some distance, but also, when it comes to this ranking, the most important player to any of the 10 Test-playing nations.
Keep Reading