After the Washington Redskins' loss to the Dallas Cowboys in Week 6, Redskins quarterback Robert Griffin III admitted that he was beginning to feel like himself again as he started to run more out of the pocket.
Following the loss to his team's NFC East rival, Griffin told Mike Jones of the Washington Post that he had to turn into the playmaker he was last season before suffering a torn ACL and LCL.
That's what I've always had to do. You've got to use every ability that you have. Broke the pocket a couple of times, broke the pocket and hit some guys downfield as the defense was closing in on me, and then there were times when you just take off and go, and a healthy mix of that and a healthy mix of just executing the plays that are called.
In Washington's Week 7 clash with the Chicago Bears, Griffin backed up those comments by gaining 84 rushing yards, which was his season-high and his largest total since Week 11 of last season against Philadelphia.
Seventy of those 84 yards came out of the zone-read option, which was a career-high for the second-year star out of Baylor:
Robert Griffin III: 8 zone-read rushes for 70 yds last week, both career highs. (41 yds on 8 zone-read rushes in 5 gms combined before Sun.)

— ESPN Stats & Info (@ESPNStatsInfo) October 22, 2013
Griffin also went 18-of-29 through the air with 298 passing yards against the Bears. His yardage per completion was 10.28, which bested his previous 2013 high—an 8.0 average against Green Bay in Week 2—by over two yards.
Not only did Griffin have his best all-around performance of the season at FedEx Field on Sunday, he also led the Redskins to their second win of the season.
Can the Redskins Win the NFC East with RGIII Firing on All Cylinders Again?
Griffin and the Redskins will now try and carry their newfound momentum into a three-game stretch that sees them take on two AFC West opponents (Denver and San Diego) and the Minnesota Vikings before they delve back into division play against the Eagles in Week 11.
Early on in the season, opposing defenses were able to put plenty of pressure on the Washington offensive line because of the lack of mobility Griffin had, as he was still finding his feet in game action.
Now the 11 players who line up on the opposite side of the Redskins offense have to deal with a quarterback that is finally at full strength and who has plenty of weapons surrounding him.
By having to once again be seriously concerned about the running threat of Griffin in the zone-read option, opposing defenses will have to prepare for the threat of the 23-year-old quarterback and running back duo of Alfred Morris and Roy Helu Jr., who combined for 136 yards and three touchdowns in Week 7.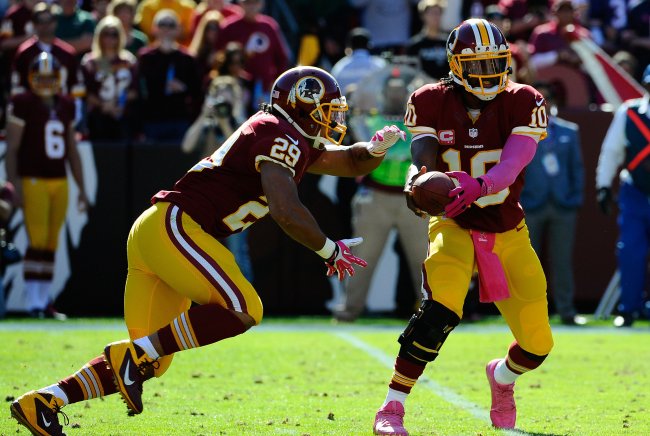 Brad Mills-USA TODAY Sports
Adding to the Redskins' offensive arsenal last week was rookie tight end Jordan Reed, who had a breakout performance with nine receptions for 134 yards and a touchdown.
If the Redskins find a way to incorporate wide receivers Pierre Garcon, Leonard Hankerson and Aldrick Robinson every once in awhile in the passing attack, as well, the upcoming teams on Washington's schedule will be quivering in their boots when they prepare for the Redskins.
Regardless of who Griffin hands the ball off to or throws to, the Redskins quarterback has announced his presence as one of the marquee signal-callers in the NFL once again, which is something that could easily turn the Redskins into the favorites to the win the NFC East in the coming weeks.
Follow me on Twitter, @JTansey90.