UFC Fight Night 30: 3 Under-the-Radar Contests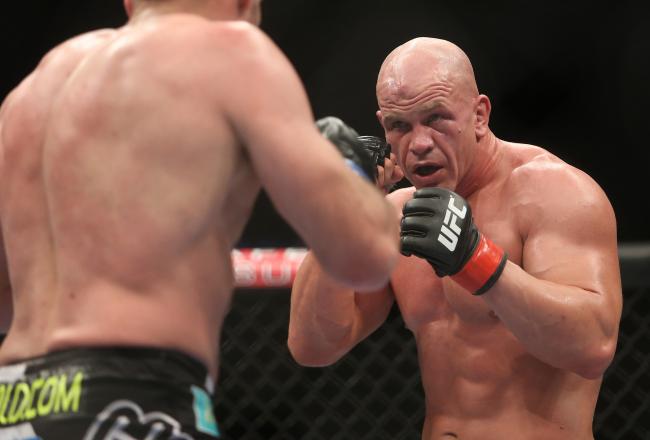 Tom Szczerbowski-USA TODAY Sport
With UFC Fight Night 30, another night of fights is almost upon us. Hot on the heals of UFC 166, once again we wonder which bouts are going to stand out and maybe, if we are very lucky, delight us as much as Gilbert Melendez and Diego Sanchez did.
Of course, bouts like Melendez vs. Sanchez are very rare. It helps when two men are proven warriors, yet it is still hard to gauge if their styles will mesh in a way that favors an all out slugfest.
But as fans, that is what we do: We look at the events hard and let our imaginations run wild in the search for the next big brawl.
At UFC Fight Night 30, we will see Mark Munoz welcome Lyoto Machida to the middleweight division, while Melvin Guillard meets Ross Pearson. Even though these fights may or may not be barn burners, they top off a card with some potential, including three potential fights that may just yield the kind of excitement we are hoping for.
Jimi Manuwa vs. Ryan Jimmo
Jimi Manuwa is as of now a perfect fighter as far as his record. He is undefeated at 13-0, and none of his fights have gone to decision. He has 12 KO/TKOs and one submission victory—a clear prelude to what he brings into his contest with Ryan Jimmo.
Jimmo is the more experienced of the two, boasting a record of 18-2, gaining the finish in exactly half of his posted victories (seven via KO/TKO, two via submission). His knockout of Anthony Perosh at UFC 149, coming at the seven-second mark of the first round, is the fastest KO in the history of the light heavyweight division in the UFC.
Both men possess heavy hands, although the clear advantage in KO power should belong to Manuwa, who has 10 finishes inside of the first round.
For as long as this lasts, it should be exciting. If both men are eager, this bout could end fast with either man scoring via KO, and in that scenario, I predict Manuwa to be the victor.
However, if both men are content to be cautious and respectful of each other's power, Manuwa may end up seeing Round 3 for the first time in his career. Should this fight go the distance, I predict Jimmo will see his hand raised, as he has gone the distance and claimed victory nine times in his career.
It should be quite entertaining for as long as it lasts.
Al Iaquinta vs. Piotr Hallmann
One of the favorable aspects of the fight between Al Iaquinta and Piotr Hallmann is that both men have been active as of late. Iaquinta will be fighting his second fight in 56 days and Hallmann his second fight in 52 days.
This could very well translate into both men coming in at the top of their games, ready to go.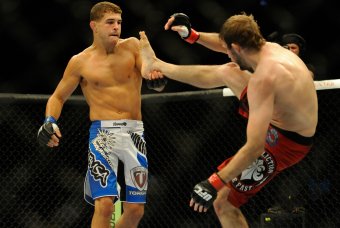 Benny Sieu-USA TODAY Sports
While Hallmann has more experience (14-1), Iaquinta made a good accounting of himself on season 15 of The Ultimate Fighter and should be more acclimated to fighting on the big stage.
Hallmann may very well try to take this bout to the floor early, as Iaquinta has two defeats on his record, both coming via submission. Ideally, Iaquinta will be ready for this strategy, but after seeing Junior dos Santos succumb to Cain Velasquez via the same strategy the champ used to dethrone dos Santos the first time, one never knows.
Still, I predict Iaquinta to be the man that wants it more, taking the victory via unanimous decision in a grinding kind of fight.
Andy Ogle vs. Cole Miller
If ever there was a time for Andy Ogle to make it statement, it would be against Cole Miller.
Miller possesses the submission skills to catch Ogle on the ground, but since he has dropped down to featherweight, he is 1-3. This could bode well for the gritty Brit; Ogle is not overly good in any one area, but he is gritty as hell and has enough power in his hands to keep Miller on his heels if he can get inside.
Miller, for his part, always fights with a kind of subdued fury that really only seems to come out at the moment he is about to finish his opponents. He'll need to deploy this fury if he wants to break out of the decision-loss slump he seems to be in. He's a tough fighter who enjoys a good brawl, but so was Leonard Garcia, who was eventually bounced from the promotion.
I think this fight is the sleeper of the night and predict Ogle to win in an exciting back-and-forth fight that will see both men rocked and bloody by the end.
This article is
What is the duplicate article?
Why is this article offensive?
Where is this article plagiarized from?
Why is this article poorly edited?