David Moyes did not offer a categorical denial that Javier Hernandez will leave Manchester United in January, but he said enough on Tuesday to suggest Tottenham will be frustrated in their pursuit of the Mexican striker.
Carl Eldridge of the Daily Star recently reported Spurs' interest in Hernandez, but Moyes gave the topic short shrift during his pre-game media duties ahead of United's Champions League clash with Real Sociedad.
"It is not a question for now," Moyes commented, per Richard Arrowsmith of the Daily Mail. "He will play a lot of games before the end of the season."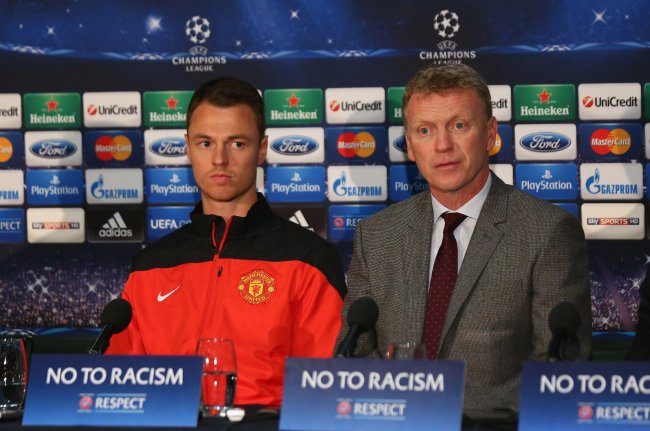 /Getty Images
Moyes' decision not to discuss Hernandez's future can be taken in two very different ways. Either he does not even entertain losing the forward, or he simply wants to brush over the potential transfer of a fan favourite.
However, Moyes' promise that Hernandez "will play a lot of games before the end of the season" provides a stronger hint that he intends to use the instinctive goal poacher, lessening Spurs' chances of doing a deal.
The importance of Hernandez is highlighted by United's current predicament.
Danny Welbeck failed to train on Tuesday ahead of United's clash with Sociedad, as reported by Sky Sports, so the Mexican is needed as striking cover for Robin van Persie and Wayne Rooney.
Team news from Moyes: "There are a few knocks & niggles. Vidic & Rio are making progress, Welbeck & Cleverley have a chance to play." #mufc

— Manchester United (@ManUtd) October 22, 2013
However, Hernandez is growing frustrated with life as a substitute at Old Trafford, as recently reported by David McDonnell of the Daily Mirror:
I strive for that [to start more games]. I am working towards that—earning a spot as a starter.

I know that my performance on the pitch will allow me to achieve that goal someday either here [in Manchester] or elsewhere for any other club.
For a player who is closing in on 100 goals for United, per ESPN FC, Hernandez knows he is too talented to waste his ability on the bench.
The World Cup looms next summer if Mexico can get past New Zealand in a playoff, so Hernandez needs to make sure he is in top form to impress on the world stage.
Tottenham's biggest problem, other than Moyes' apparent reluctance to sell the player, is the fact they also may struggle to offer Hernandez guaranteed first-team football.
Which team is best for Hernandez?
Andre Villas-Boas likes to set his team up with two central midfield players, two wider players and then a creative spark like Christian Eriksen behind the striker. That striker is Roberto Soldado.
A £15 million capture of Hernandez would either dictate a change of tactics towards a straight 4-4-2 or the unsettling of another forward—Soldado—who also has World Cup aspirations.
Hernandez's more likely move would be to try a new league, perhaps in Spain, where Atletico Madrid are reportedly showing interest, per McDonnell.