Jose Mourinho has admitted an improper conduct charge following his dismissal against Cardiff but questioned Anthony Taylor's decision to send him off, according to ESPN.
The Chelsea manager was quoted as saying:
What the referee wrote is true. I was not aggressive, I was not offensive. I just had a disagreement.

That in the game is resolved with 'shut up and sit down'. (You) don't need to go to the stands.

I accept the fine and against Manchester City I can work.
As Mourinho suggests, his admission of wrongdoing should leave the Chelsea boss with a fine and allow him to return to his dugout duties for Saturday's crunch Premier League game against City.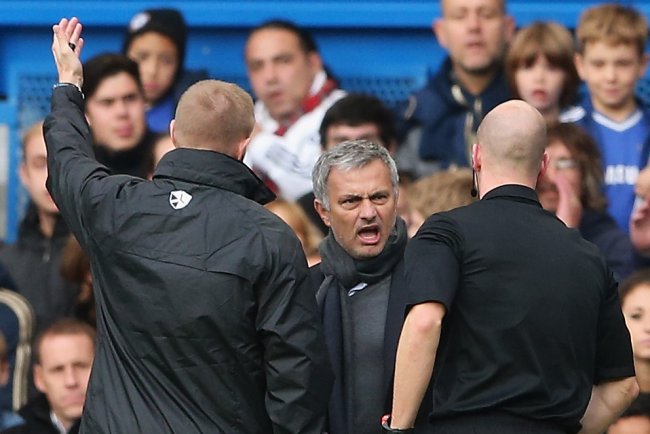 /Getty Images
The incident arose after Taylor warned Branislav Ivanovic against time-wasting at a throw-in.
This provoked a fiery response from Mourinho, who felt Cardiff's players had been guilty of persistent time-wasting themselves, prior to Chelsea's lead.
He was critical of the Welsh side's approach, as Dominic Fifield outlined in The Guardian, insisting their delaying tactics were a waste of money to fans.
Mourinho claimed it took Cardiff "a median of 21.5 seconds" to put the ball back in play, which he felt is breaking the rules.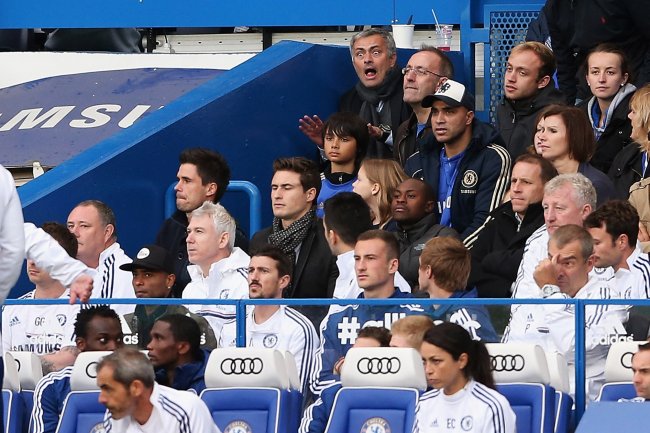 /Getty Images
Mourinho's sending-off forced him to watch the closing stages among the fans, which only endeared him further to the Stamford Bridge faithful.
Such an episode is certainly not uncommon for the Special One, who will often deliberately steal the attention in an attempt to reduce the pressure on his team.
His side faced a tough trip away to Schalke on Tuesday, in their third Champions League tie, but went into it without the usual levels of scrutiny.
Terry, Ramires + now Cahill being whistled for time-wasting. Schalke's fans obviously don't know Mourinho's zero tolerance for such things.

— Rory Smith (@RorySmithTimes) October 22, 2013
Having already lost at home to FC Basel, another defeat would have complicated their hopes of qualification, putting them six points behind the Germans.
Was Mourinho's sending-off a deliberate ploy?
However, Chelsea ran out comfortable 3-0 winners, perhaps helped by the media glare being focused on Mourinho and well away from the team.
The much-maligned Fernando Torres registered a brace, and Eden Hazard scored what was surprisingly his first Champions League goal, as Chelsea re-established themselves in Group E.
While he may seem distinctly unimpressed by this whole process, increased adoration from fans while his side quietly record two key wins will leave Mourinho quietly satisfied with recent events.