Why Alex Smith Must Get Dwayne Bowe More Involved in Chiefs Offense
October 23, 2013

Jamie Squire/Getty Images
People will always find something to complain about in life. It's inevitable.
At times, sports serve as the mecca of overreaction, and handfuls of fans become prisoners of the moment who are shackled to mind-numbing amounts of ignorance. 
Ask Brandon Jacobs.
If one player makes a mistake and proves his mortality, heaps of hollow-headed people will emerge from Twitter's bottomless pit and remind you why aspirin was invented.
Personally, I don't think you should be allowed within 50 feet of a keyboard if you tote the restraint of Cujo and the IQ of a fruit fly, but that's just me. 
Last week, the Kansas City Chiefs were marching down the field on the Houston Texans defense, and Dwayne Bowe dropped a pass (the horror!).
Twitter erupted with self-righteous fantasy owners rashly tweeting with tears streaming down their cheeks like No. 82 just traded their puppy to Cruella De Vil for a can of WD-40.
Bowe isn't Calvin Johnson. However, he's playing better than the majority of his detractors would believe. 
Block Party

/Getty Images
Andy Reid is the king of 3rd-and-hopeless conversions. It seems like every Sunday, the Chiefs offense finds itself in a critical juncture of the game while squinting to spot a first-down marker that's a half-marathon away. 
Then Alex Smith snipes a five-yard pass to a receiver—usually Donnie Avery or Dexter McCluster—running a drag route, and they laterally bolt across the field before rounding a corner and darting past the chains. 
The ball-carrier is submerged in praise, but the play hinges on Bowe's blocking.
Rewind to Week 3 at Philadelphia. 
Here, Kansas City's facing the uphill hike known as 3rd-and-19. The offense breaks the huddle with trips to the right—Bowe aligned on the edge—and Avery isolated on the opposite side of the field. 

Reid guesses (correctly) that the Eagles will deploy Cover 3 and drop the second-level defenders into zone. Due to their assignments, the weak-side linebacker and cornerback cover an empty third of the field and are rendered ineffective. 
Smith leads Avery on a drag, and the sixth-year blur hurriedly sprints by the marker. If you glue your eyes to Bowe, you'll notice that he sets the edge by driving the outermost cornerback (and defender) back into the teeth of the defense. Doing so, he also forces another pursuer into an ineffective angle. Two Eagles, one stone.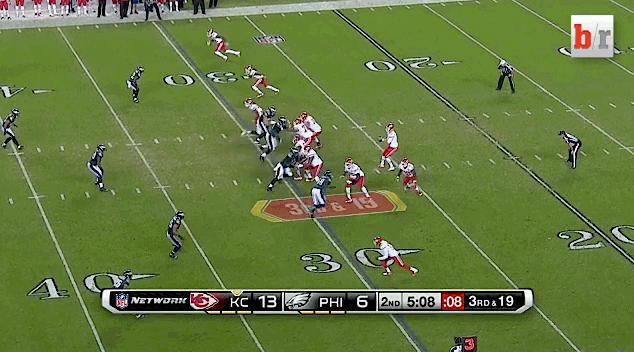 Last week? Same formation and underlying concept; different personnel and defense. Only this time it's a wide receiver screen to McCluster on the strong side.
If Bowe simply blocked straight ahead, McCluster would be left with no choice but to rush back inside and be subsequently flattened by a rumbling Ed Reed.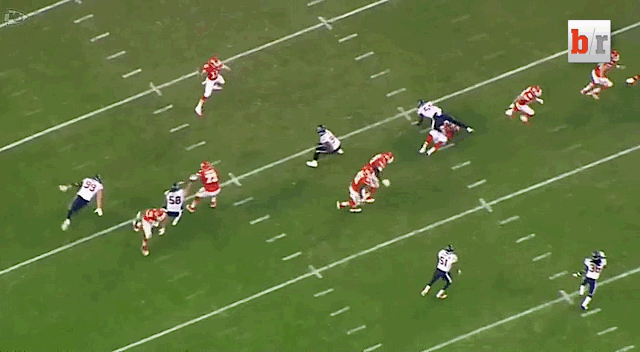 However, No. 82 gains outside leverage to seal the edge, then bullies Kareem Jackson into the ground before morphing into a 221-pound speed bump and depleting Reed's oxygen supply. 
Whiff-le Ball
/Getty Images
Claiming Bowe is a dependable receiver among his critics is akin to calling Nick Saban a Communist in a rural Alabama town-hall meeting. You'll be staring at a pack of red-eyed megaphones and witness at least one person grow fangs. 
To be fair, Bowe did combat drops early in his career, but critics are now just chasing demons of football past.
Kansas City's longtime wideout dropped 9.2 percent of catchable passes in 2012. Only 13 receivers finished with a lower percentage. Among those who accounted for a higher rate of drops? A.J. Green, Brandon Marshall, Calvin Johnson and Dez Bryant. 
This year, the aforementioned percentage has been trimmed to 3.9 (eighth lowest, partly because he's not getting mauled due to Matt Cassel's inaccuracy anymore). Last week's drop that popped blood vessels in so many fantasy owners' heads was also his first one of the season. Bowe reeled in the remaining 25. 
With that scapegoat debunked, let's take a look at why the Chiefs offense excels when he's cradling the ball. 
Kansas City's No. 1 receiver has only 25 receptions to his name in 2013, tying him for 41st among receivers. However, Bowe has authored seven missed tackles. Only one of his receiving cohorts, Golden Tate, has churned out more. 
Thirty-nine wideouts have snagged more receptions but forced less missed tackles. 
Nickels and Slots

/Getty Images
Going forward, you should see Smith connecting with the former Pro Bowler more frequently, and you can thank Kansas City's sagacious Kool-Aid Man.  
In the past three weeks, Bowe has periodically been moved to the slot, while a receiver like McCluster has anchored the flanker role normally occupied by the No. 1 receiver. 
A number of reasons make this an astute adjustment. 
For one, Bowe isn't going to dust many cornerbacks on go routes, and even if he did, Smith doesn't tote a rocket launcher for his right arm. Asking passers with average velocity to sling it across the field is tempting fate. 
So, more times than not, Bowe deals damage while running various routes across the middle, and one glimpse at Smith's passing chart reveals that he's also more efficient tossing between the hash marks. 
Alex Smith's 2013 Passing Chart
Left
Middle
Right
20-Plus YDS
1-7, 41 YDS
2-3, 75 YDS
1-3, 18 YDS
10-19 YDS
4-10, 65 YDS
14-21, 251 YDS, 2 TD
4-13, 94 YDS, TD, INT
0-9 YDS
15-23, 115 YDS, TD
59-86, 551 YDS, 3 TD, 3 INT
15-26, 129
Total
50%, 221 YDS, TD
68%, 877 YDS, 5 TD, 3 INT
48%, 241, TD, INT
Pro Football Focus (excludes attempts behind line of scrimmage)
Sliding the pass-catcher inside accomplishes three things: It offers more space for Bowe to work with, allows him to chip edge-rushers (depending on the formation) and creates mismatches in the secondary.
Here, due to his proximity to the pass protectors, Bowe chips J.J. Watt (who's ultimately greeted by a double-team and drilled into the ground by Anthony Fasano) before moving the chains on a 21-yard slant. 
On this play, the Chiefs line up with trips to the left, and all three receivers—Sean McGrath, A.J. Jenkins and Bowe—all run synchronized in-routes. Because Tennessee is in zone coverage, Bowe is eventually matched up with a safety, George Wilson, who doesn't react quickly enough and whiffs on the would-be tackle.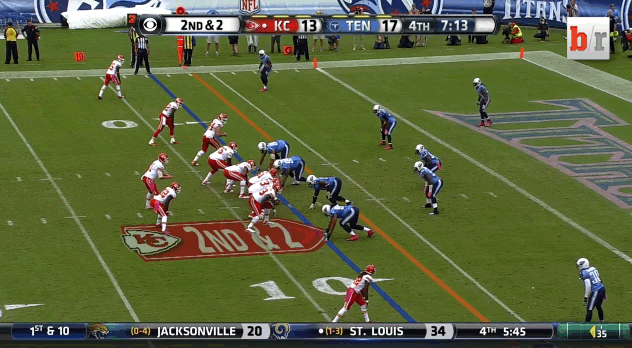 In the final example, the Chiefs playmaker is covered by nickelback Brice McCain (another lopsided matchup). 
Avery streaks down the sideline hoping to distract the deep safety, while Fasano grabs the attention of Reed. Smith looks off the middle linebacker, Brian Cushing, by briefly locking onto Fasano, which opens up the middle of the field for Bowe's short post. 
Simply put, Kansas City's star receiver has been markedly efficient and effective when the football's within arms' reach. And although his blocking won't grace the stat sheet, it has routinely bailed out the offense in bleak circumstances. 
In a West Coast offense with an equal-opportunity distributor like Smith at the helm, Bowe isn't going to surpass his gaudy 2010 numbers.
If you dig deeper than face value, though, he's still every bit as important.
Statistics provided by Pro Football Focus (subscription required). 
Follow me on Twitter: Follow @BrettGering

Email: gering.brett@gmail.com