Why Has the Eagles Running Game Fizzled in Recent Weeks?
Use your ← → (arrow) keys to browse more stories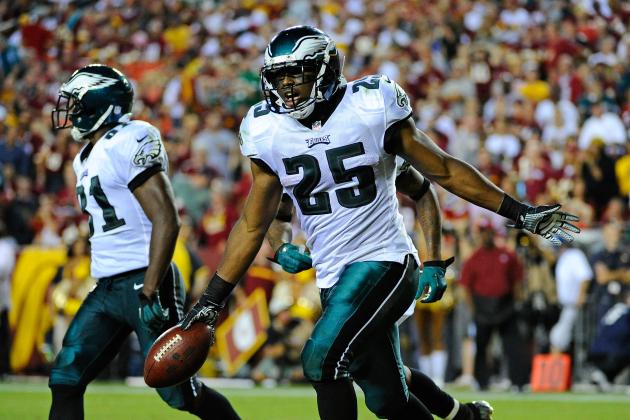 Brad Mills-USA TODAY Sports

LeSean McCoy has completed seven consecutive weeks as the NFL's leading rusher going all the way back to beginning of the season. With 685 yards on the ground, he's averaging just south of the century mark (97.9 YDS) on a per-game basis—also tops in the league—while his 4.9 yards per carry are second only to Washington's Alfred Morris among running backs.
Yet, despite the sizable edge in production—107 yards ahead of second place—McCoy has not taken over many games of late. In fact, Shady has eclipsed the 100-yard milestone only once in the Philadelphia Eagles' last four contests, and he has not broken off any gains of 20 or longer during that span.
If this keeps up, McCoy may only maintain the league lead for…another 3-4 weeks probably.
LeSean McCoy's Rushing Statistics (2013)

| | | | | |
| --- | --- | --- | --- | --- |
| Weeks 1-3 | 395 YDS | 6.4 AVG | 41 LNG | 2 TD |
| Weeks 4-7 | 290 YDS | 3.7 AVG | 19 LNG | 1 TD |
| | | | | |
| | | | | |
NFL.com
More importantly, the fifth-year back being held in check more often than not could become increasingly problematic for an offense that's already hampered by a sporadic passing attack. As Nick Foles was struggling to complete 37 percent of his passes in a 17-3 loss to the Dallas Cowboys on Sunday, McCoy was limited to 55 yards on 18 carries (3.1 AVG), his longest run going for 10 yards.
A big play or two on the ground could've jump-started the offense, but it wasn't there. The question is why? Where have the holes disappeared to for LeSean McCoy in recent weeks? We investigate what defenses have been doing differently as the season wears on.
Bringing a Safety into the Box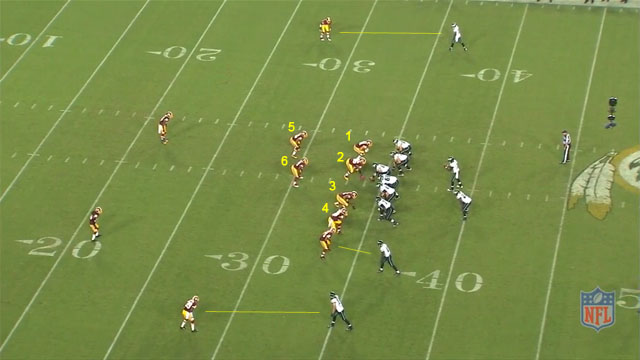 The most obvious change since Week 1 in Washington is defenses will often put an extra body near the line of scrimmage. Head coach Chip Kelly's tendency has been to use three-receiver formations, so with a traditional two-safety look over the top and a corner for every man split wide, that leaves six-on-six in the box. The Eagles anticipate winning that battle every time.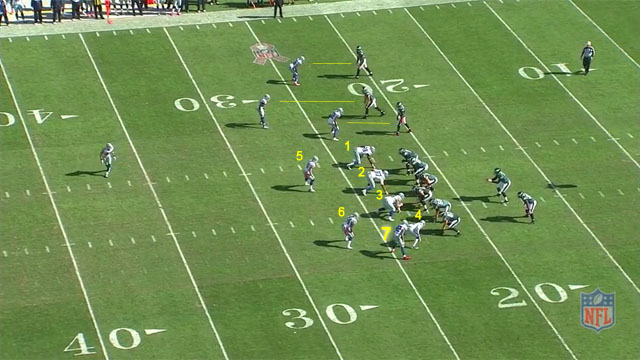 The problem is, several defenses have been able to successfully implement press-man coverage on the outside. Philly's receivers struggle to get off the line of scrimmage, while a single safety over the top shadows the only true deep threat in DeSean Jackson. That leaves a second safety free to line up inside the box, and now, it's six-on-seven.
The solution is to occasionally win some of those battles in the passing game. We've seen Michael Vick set a new career high with 428 yards through the air in Week 2, while Nick Foles played the best game as a pro in Tampa Bay in Week 6. Unfortunately, neither quarterback has been consistent, so defenses are going to continue stacking the box with some frequency.
Not Concerned with Foles' Keeper
McCoy's best outing in the past month actually came with Foles under center. "Shady" ran for 116 yards on 25 carries versus a fairly stout Tampa Bay run defense (fifth in the NFL), which should have dispelled any notion the ground attack can't be successful without a mobile quarterback in the backfield—as if no back had ever produced huge yards with a pocket passer at the helm.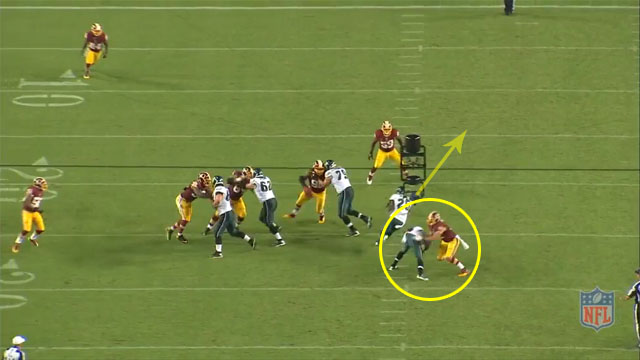 There's no denying, however, that Chip Kelly's reliance on the read-option or even the threat of the read-option does hinder the running back, somewhat, when Foles is in the game. Look how the mere possibility Vick could keep the football and take off can draw a defender's attention.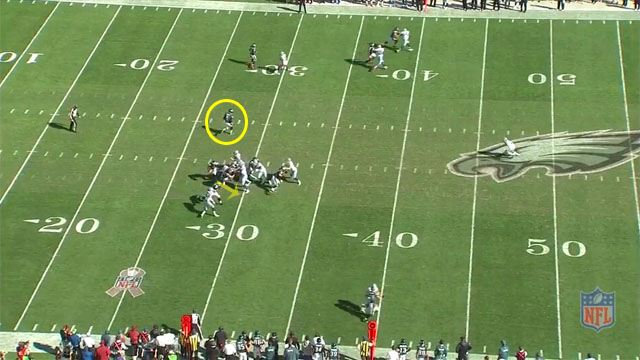 Foles, on the other hand, doesn't draw so much as a second look. Even if he keeps the football, the safety at the top will almost certainly get to the cumbersome Foles before he reaches the sticks, so the linebacker isn't even worried about backside contain. If that's Vick in the exact same situation, he might not stop running until he crosses the goal line.
Besides Vick opening things up for Chip's brand of offense, he's also a major contributor in the running game himself. The four-time Pro Bowler is averaging 61.4 yards per game with his legs, which is yet another big reason why Philadelphia ranks first in the NFL in rushing.
One quick note on the read-option: It would be refreshing if Kelly would utilize more running plays that aren't based around the concept when Foles is in the game. For a coach who claims he's not attached to one specific system, he couldn't seem to adjust to the fact that the Cowboys paid no mind to the possibility of Foles taking off.
Defenses Diagnosing Play Calls
If you can remember back to Week 1, you may recall the defeated expression on Washington defensive coordinator Jim Haslett's face in the press box as the Eagles were walking all over his unit. Now there are multiple weeks of tape on Philadelphia under Chip Kelly—not just Oregon—and NFL defenses generally appear to be better prepared.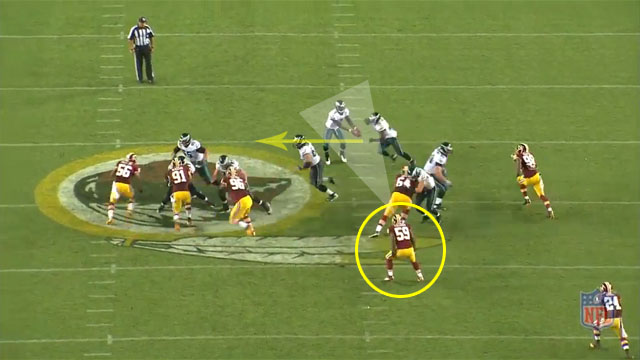 Look at Washington in Week 1 against the outside zone read. Interior linebacker London Fletcher is slow to react to the handoff and hasn't even taken his first step. The defensive line is going every which way. This is a play where the Birds tipped their hand, putting the tight end on the play-side for an extra blocker.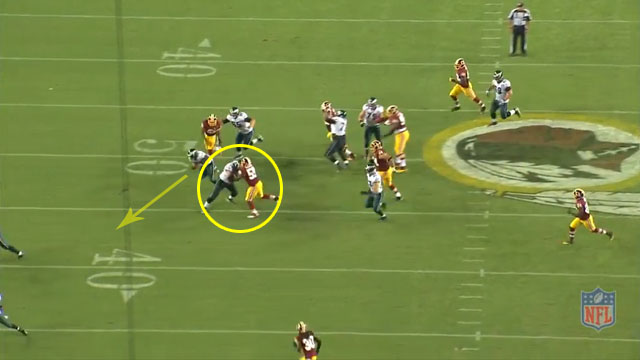 That split-second hesitation by Fletcher is going to cost him, the Eagles have enough blockers for every defender and McCoy is going to get to the corner with ease.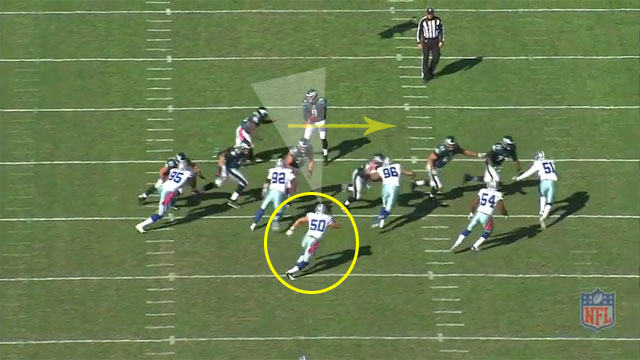 Now see Dallas in Week 7. Middle linebacker Sean Lee instantly recognizes what this play is and where it is going. The defensive line is in sync, all crashing toward the ball-carrier as one unit. This time, the Eagles do not have an extra blocker on the play-side, so it's up to McCoy to beat the unblocked man.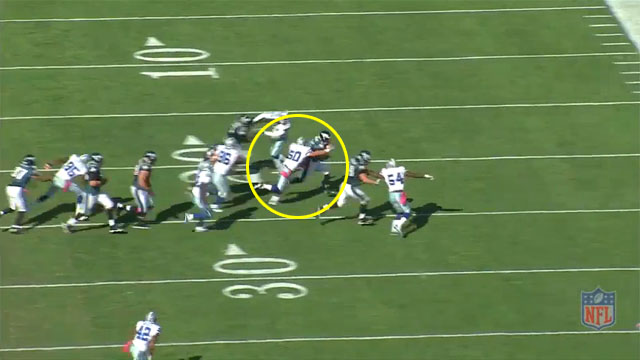 The Cowboys all do a great job of staying in their gaps, and that extra step Lee got on the snap really pays dividends as he wraps up Shady in the backfield for a three-yard loss. This was all confidence in diagnosing the play call.
Just Missing the Big Play
The truth is, LeSean McCoy is in fact human and makes some mistakes, too. The All-Pro back was critical of his own performance against Dallas, and you could understand why. Sometimes, Shady gets a little too shifty for his own good when he should just explode through the crease that's available.
In all honestly, though, it's likely only a matter of time before McCoy kicks it back into high gear again. McCoy isn't some overnight sensation. We're talking about one of the best backs in the league—the NFL's leading rusher actually. He'll have to up his game in order to keep pace for his first rushing title, but defenses can only keep No. 25 bottled up for so long.