College Football Week 9 Predictions: Picking All Top 25 Games Against the Spread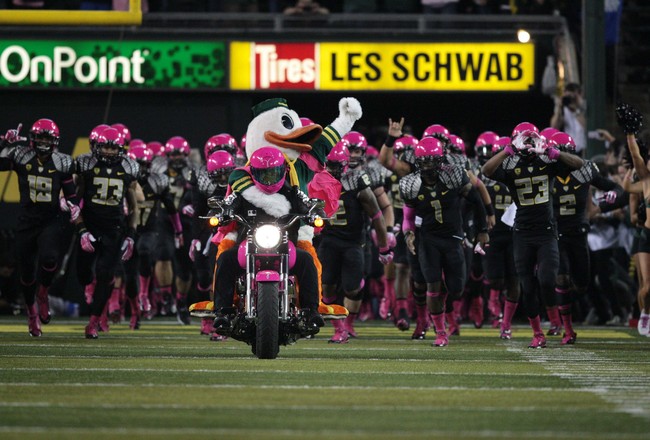 Scott Olmos-USA TODAY Sports
We've reached the point of the season where motivation starts to become a significant factor. Teams have suffered key losses—many of which were on display during Week 8—and expectations suddenly shift with the finishing line coming into focus.
I know. I'm scared too.
Determining which teams respond following key victories and defeats can be easier said than done, although it's a challenge that has to be taken head on in Week 9.
With the upsets that unfolded, there is no choice.
Last week's picks navigated choppy waters to another solid week above .500, although it's time for a breakout moment. Given the intriguing slate, now would be a better time than ever.
The games featuring the AP Top 25 this week have a handful of interesting wrinkles. The 40-point spreads return with a break in the conference action, while Oregon and Baylor continue to get incredible respect from the oddsmakers.
Let's handicap motivation en route to more winners.
Spreads courtesy of VegasInsider.com.
Record Against the Spread Entering Week 9: 84-61-2
No. 24 Nebraska (-10.5) at Minnesota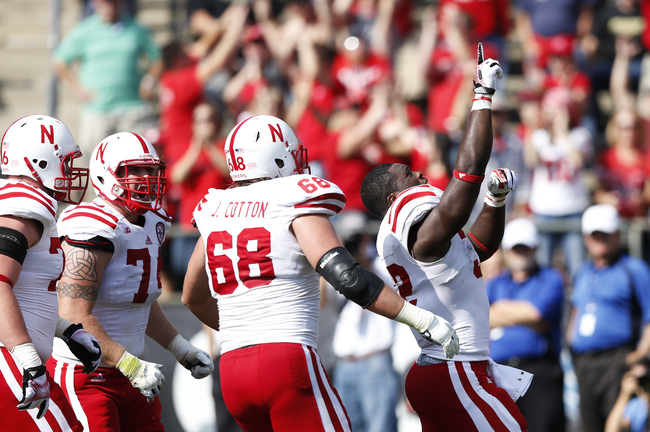 Joe Robbins/Getty Images
Outside of one half against UCLA, it's been a surprisingly decent season for Nebraska. Well, that and minus that whole Bo Pelini secret audio thing. That wasn't much fun either.
The Cornhuskers got their bye at the right time, giving quarterback Taylor Martinez time to heal. T-Magic's status is still somewhat uncertain, although the backups have done well for the most part in his place. Running back Ameer Abdullah has done than that, and he's run for nearly 500 yards in his last three games.
Minnesota beat a beat-up Northwestern team as a 12.5-point underdog last Saturday, snapping a two-game losing streak. The Gophers have confidence and will get this game at home, although the resume beyond one week isn't ideal.
And for that reason, we're going to lay the points, with or without Martinez.
The Pick: Nebraska (-10.5)
No. 23 UCF (-22.5) vs. UConn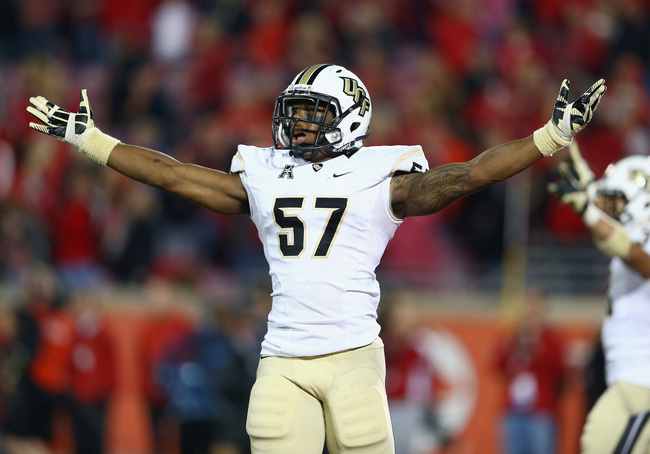 Andy Lyons/Getty Images
The numbers aren't favorable for Connecticut, and this is being kind. The Huskies have yet to win a game, and they're currently 1-5 against the spread. They haven't scored above 21 points and have scored a combined 38 points against Buffalo, South Florida and Connecticut and Cincinnati over the past three weeks.
Yuck.
Central Florida has delivered basically the opposite. The Knights are flying high after beating Louisville as a two-touchdown underdog, and the lone loss came in a close game against South Carolina. UCF has also delivered a solid 5-1 record against the spread.
Everything—and I mean everything—points to Central Florida being the play, although I'm curious to see if there's a letdown following the biggest win in quite some time. I believe there will be.
UCF will win but maybe by only three scores and not more. Well, maybe.
The Pick: Connecticut (+22.5)
No. 20 Louisville (-20.5) at South Florida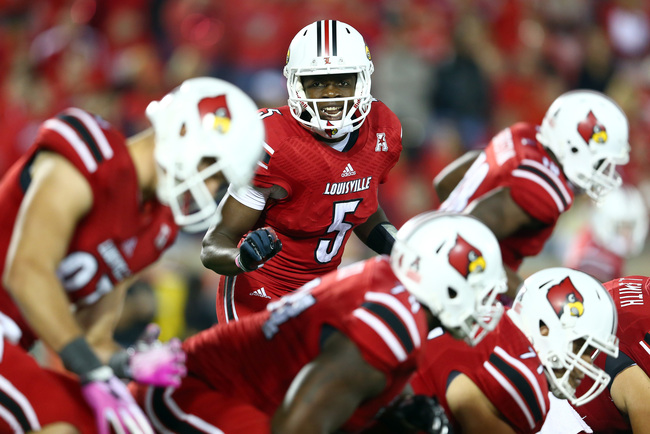 Andy Lyons/Getty Images
Remember that motivational pep talk? Well, here it comes. After the week that was, a handful of teams will move forward without the same enthusiasm that they once had thanks to a first or second loss.
The loss for Louisville against UCF, however, did plenty of damage, and how this team responds will be intriguing.
South Florida has, at the very least, put out a good portion of the flames on a large dumpster fire. The Bulls have won the past two games outright despite being an underdog. It's worth noting that those wins came against Cincinnati and UConn. We're all about full disclosure here.
Will Louisville pack it in with its slim title hopes crushed? No.
Teddy Bridgewater is still there, and look for the Cardinals to cover for the first time in a month.
The Pick: Louisville (-20.5)
No. 19 Oklahoma State (-13) at Iowa State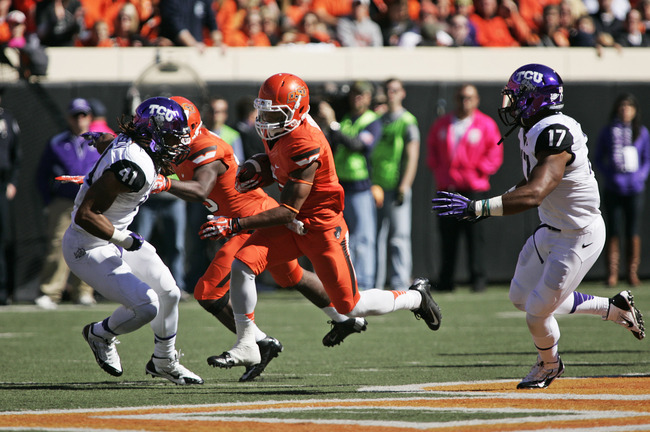 Brett Deering/Getty Images
If you can look past Iowa State's last game against Baylor, the Cyclones have been a solid play from a Vegas standpoint over the past month. That's like asking you to enjoy the beautiful flowers next to a train sitting on its side, but Paul Rhoads' team will return home after getting Briled. (That's a new word, and yes, it should be in the Dictionary soon.)
Oklahoma State has yet to hit stride this year, and the offense has looked very non-Oklahoma State-ish. The defense has been much improved, although the Pokes aren't perfect.
Still, Iowa State just lost by 64 points. Why is the point spread only 13?
The Cyclones are a much better team at home—just ask Oklahoma State from a few years ago—and the OK State offense isn't Baylor's. Don't be surprised if this one is closer than many believe it will be.
The Pick: Iowa State (+13)
No. 18 Northern Illinois (-30) vs. Eastern Michigan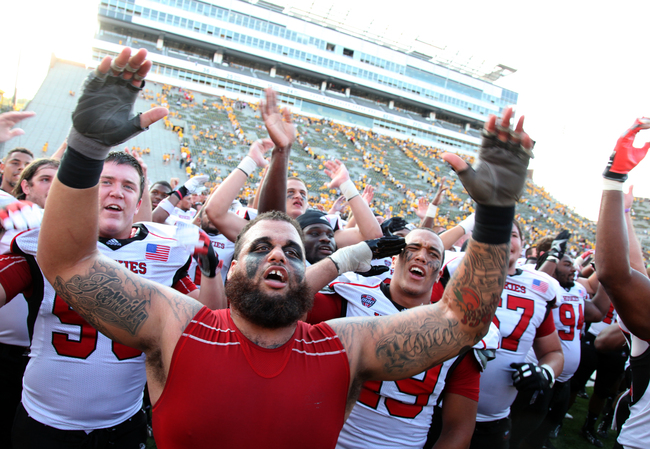 Matthew Holst/Getty Images
If you've bet Eastern Michigan every game this season, well, that was probably not the best idea. The Eagles are 1-6 against the spread—also 1-6 on the year—and the only win in 2013 came against football power Howard.
Northern Illinois has yet to lose a game and is currently 4-3 against the spread. The Huskies haven't necessarily looked dominant at all times, although quarterback Jordan Lynch just ran for 316 yards last weekend against Central Michigan.
I'm not sure how that factors in, but it feels important.
Here's a perfect spot for NIU to get some BCS brownie points. Thirty points just isn't enough here.
The Pick: Northern Illinois (-30)
No. 17 Fresno State (-8.5) at San Diego State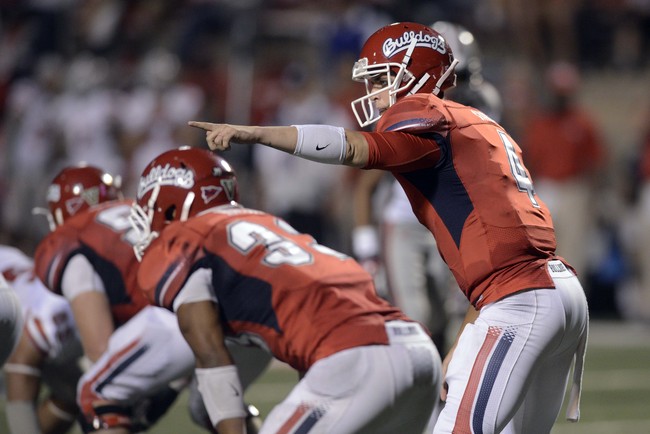 Kelvin Kuo-USA TODAY Sports
There's something about this game—and more specifically, the point spread—that tells me this one will be closer than it needs to be. Given the way Fresno State has scored and the points San Diego State has allowed to quality opponents, I thought this number would have been a bit on the higher side.
Well, perhaps the Bulldogs' woeful record against the spread (1-5) has something to do with it. Or perhaps it's the fact that this will be far and away their most difficult road game to date.
San Diego State also appears to be trending upward. The Aztecs have covered in three of their last four games and enter this week at .500 after starting off 0-3. Also helping their cause is the fact that they'll be coming in off a bye.
There are a lot of reasons to like San Diego State this weekend—beyond the confidence that Vegas seems to have. All trends point to this one being uncomfortably close.
The Pick: San Diego State (+8.5)
No. 16 Texas A&M (-18) vs. Vanderbilt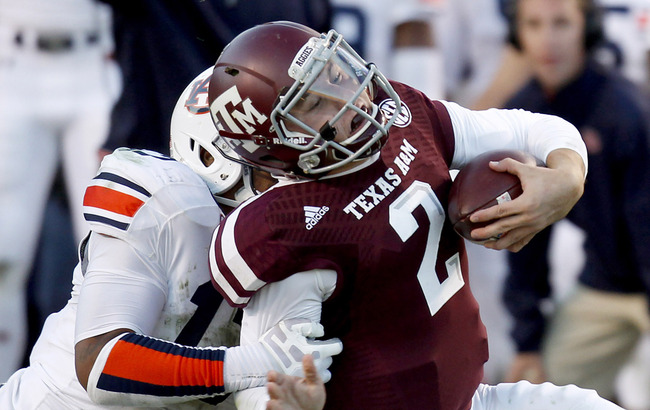 Thomas B. Shea/Getty Images
Las Vegas folks believe that Johnny Manziel will play in this game, and they believe he will play well. That's exactly what this 18-point spread tells us, even though the quarterback has been spotted in a sling since injuring his shoulder on Saturday.
It's Johnny Football; he'll be fine. He's made of some sort of undiscovered super-metal anyway.
Texas A&M, however, has issues, especially on defense. These issues were obvious in the team's loss against Auburn, and suddenly the Aggies have dropped three straight against the spread.
Vanderbilt just upset Georgia as a seven-point underdog at home, and the offense has gotten going in recent weeks. With A&M seemingly ripe for the taking, however, this number says otherwise. A&M gets back on track here in a big way.
(Also, the over looks mighty fine here. Consider that a bonus play.)
The Pick: Texas A&M (-18)
No. 14 Virginia Tech (-13.5) vs. Duke
Kevin C. Cox/Getty Images
Somewhat quietly, Duke has put together a really solid season. The Blue Devils are 5-2 on the year, and more important for these purposes, they have the same record against the spread.
The Hokies have also been on a roll of late, winning every game since the opener against Alabama. Virginia Tech has now covered the number in the last three, slowly but surely creeping up the rankings as many other teams have stumbled.
Offensively, Duke is the better overall team. The problem is that it will be going up against one of the nation's better defenses.
Still, 13.5 points seems like quite a bit for a team that can break a big play on any play, and the Va. Tech offense still isn't trustable. Duke doesn't win, but it keeps it close enough.
The Pick: Duke (+13.5)
No. 13 LSU (-47) vs. Furman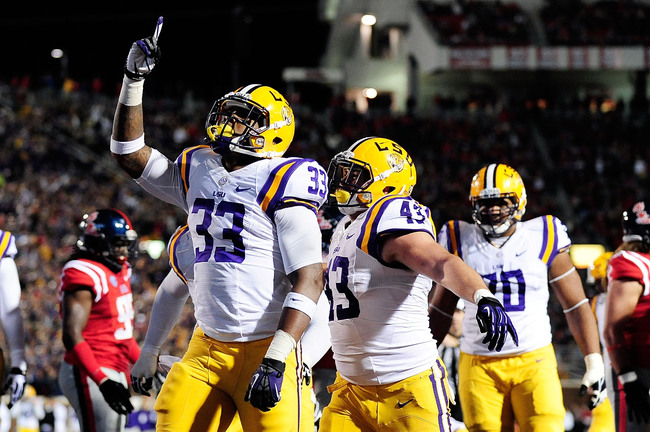 Stacy Revere/Getty Images
And you thought you were past 40-point spreads, eh? Think again, friend.
LSU comes home without its national championship hopes, an unexpected development after a loss against Ole Miss as a 10-point favorite. This week's opponent is a slight drop in class—and "slight" might not be enough. (It's not.)
Furman just beat 1-6 Appalachian State 27-10, although the Paladins lost to Elon a few weeks prior.
Google it, it's a real school.
Here's what it comes down to, as it does in most of these games: How much does LSU want to win by?
The Tigers might not be completely up for this game after their second loss (see: motivation), but it won't matter. Let's set the over/under on Furman points at 6.5 and assume LSU takes out its frustration on the next team up.
The Pick: LSU (-47)
No. 11 Auburn (-24.5) vs. Florida Atlantic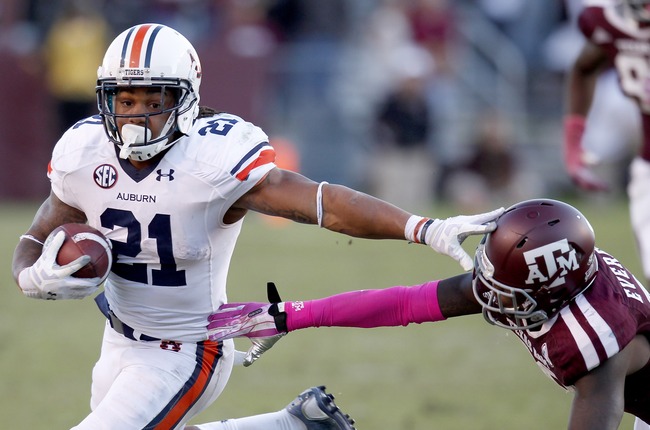 Thomas B. Shea/Getty Images
This is why gambling is great. Well, there are many reasons why gambling is great, but this is reason 9,765 why gambling is great. Florida Atlantic might be a sorry 2-5 on the season, but the Owls are a beasty 6-1 against the spread.
They're content just covering, thank you. Now, if only you could qualify for a bowl game this way.
Auburn has been this biggest surprise this season, and last week's victory over Texas A&M as a 12.5-point underdog helped cap off a week of SEC upsets. But how will the team respond this week after a monstrous victory for the program?
Although the Tigers can't match the Owls' 6-1 mark, they're not far behind at 5-2 against the spread. Auburn should have no issues coming away victorious at home, but the spread feels a bit lofty considering the celebration is likely still going on.
Can't blame 'em, either.
The Pick: Florida Atlantic (+24.5)
No. 10 Texas Tech (+6.5) at No. 15 Oklahoma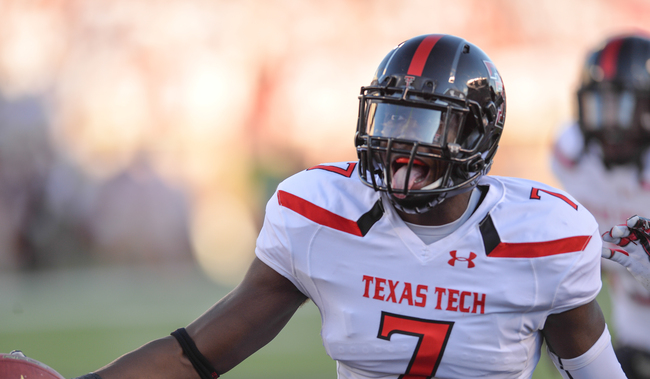 John Weast/Getty Images
Oh, Texas Tech burned me good last week. West Virginia (+4) was shaping up to be a celebration, and then a late Red Raiders touchdown put those hopes to rest.
It's been that kind of season for Kliff Kingsbury and Co., and the start has gone well past our wildest expectations.
While Texas Tech stayed undefeated with an impressive win in Morgantown, Oklahoma got down to Kansas (yes, Kansas) early on. The Sooners have not looked impressive since beating Notre Dame, and their 0-3 record against the spread since says a lot. Still, they enter with only one loss and are getting plenty of respect from the oddsmakers here.
Now, has this respect been earned, or is it being added to the point spread because of name value alone? It's a fair question and one we won't know the answer to until the game is done.
Home field in a game like this is huge, especially going up against a young team.
The Pick: Oklahoma (-6.5)
No. 9 Clemson (-14) at Maryland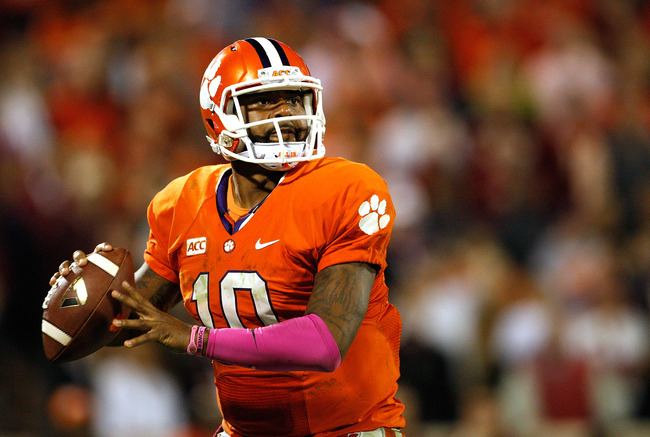 Tyler Smith/Getty Images
After delivering a dumpster fire of a performance at home, Clemson will head on the road in what only could be described as a "do we really have to play this?" game. The Tigers indeed enter with only one loss, although somehow what Florida State just did feels like more.
Which Clemson team will show up? Does anyone show up?
The news isn't much better on the other side for Maryland. In fact, the last three performances have been abysmal. The Terps have not covered a spread since September 21, and the 34-10 loss to Wake Forest last weekend came at a bigger price. Wideouts Stefon Diggs and Deon Long were lost for the year with broken legs.
As bad as Maryland has been, never underestimate motivation, or more specifically, a lack thereof. Clemson should win, but it won't be pretty.
The Pick: Maryland (+14)
No. 8 Baylor (-35.5) at Kansas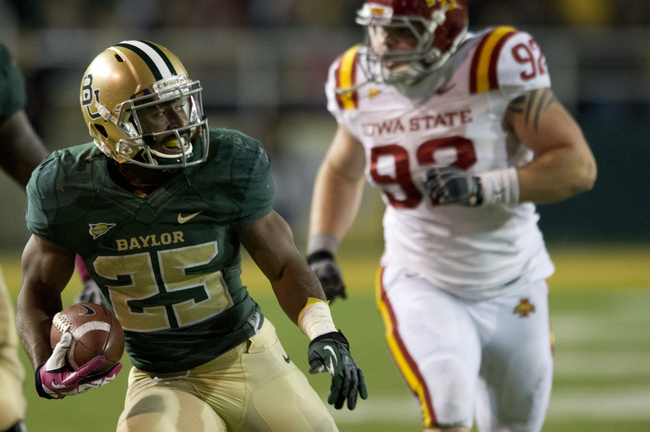 Cooper Neill/Getty Images
On the surface, five touchdowns in a mismatch and for an offense like this feels like a gift. And perhaps that will be the case.
Baylor just hit the 70-point threshold for the fourth time this year, making it look easy. The Bears crushed Iowa State, covering for the fifth time in six games. Kansas put forth a game effort against Oklahoma, easily covering the three-touchdown spread in the loss.
The problem? The Jayhawks lost for the fourth time in six games.
If there's any concern to have with Baylor at this point, it's the unfamiliarity on the road. Art Briles' bunch struggled in the lone road trip to Kansas State, the team's only non-cover of the year.
Kansas isn't Kansas State, this much we know, but five touchdowns on the road? That's hard to lay, even with Baylor coming to town.
Famous last words.
The Pick: Kansas (+35.5)
No. 7 Miami (-22) vs. Wake Forest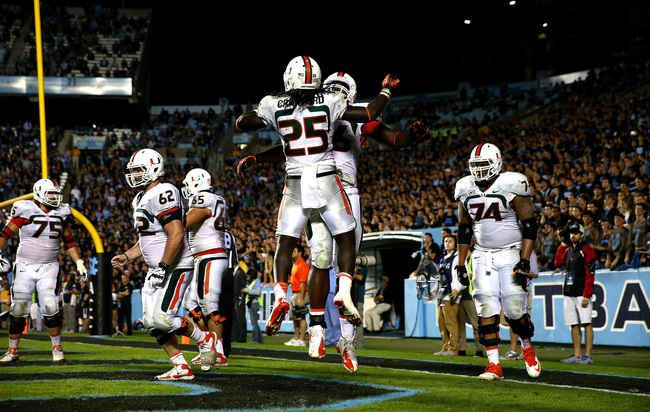 Streeter Lecka/Getty Images
Miami has already covered one game this week. The Hurricanes were a slight 3.5-point underdog against the NCAA, and they easily covered this number with a big second half. Congrats to those who bet on the live dog.
Now a beat-up Miami team will welcome Wake Forest, although the point spread doesn't exactly show it. Wake is coming off back-to-back impressive victories (and covers) over NC State and Maryland. Miami did not have an impressive showing at North Carolina, and it took a late score for the Hurricanes to stay unbeaten. Running back Duke Johnson will return, however, which is huge for the offense.
The spread looks for too large given the way Miami played in its last outing, although it's large for a reason.
Don't go for the bait here, otherwise you'll get hooked.
The Pick: Miami (-22)
No. 6 Stanford (-4.5) at No. 25 Oregon State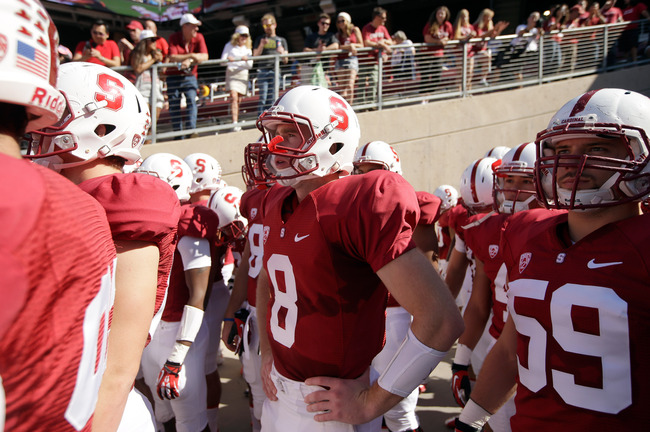 Ezra Shaw/Getty Images
Sean Mannion has thrown for 29 touchdowns and only three interceptions, and no one seems to care. The Oregon State quarterback has been absolutely brilliant, and the Beavers have now won their last six and covered in four of the last five.
Stanford responded to the Utah loss nicely last weekend, beating UCLA at home and covering the four-point spread that many felt to be too large. For the season, however, the Cardinal are still just 3-4 against the number, and on the road—where they will take to this week—David Shaw's team has only covered once.
Is a letdown possible following UCLA? Perhaps, although at this point I don't believe anyone will sleep on Oregon State. The Beavers are playing outstanding football, and offensively this group could prove to be too much with Stanford playing out of its element.
The Pick: Oregon State (+4.5)
No. 5 Missouri (-3) vs. South Carolina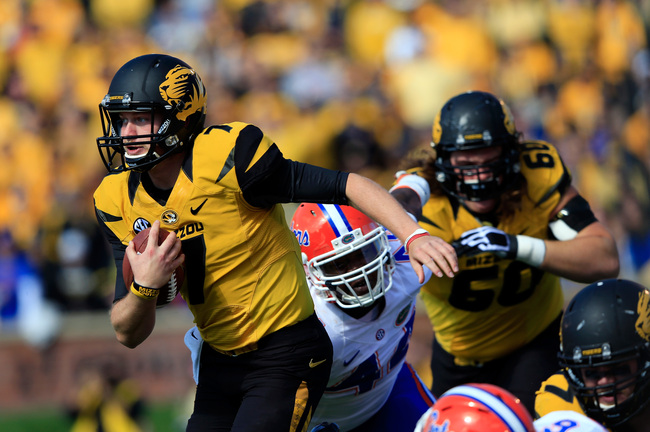 Jamie Squire/Getty Images
Never in one million tailgates did I think I would look at this game and scream from the mountaintops, "Missouri should be favored by more." At this point, however, that reaction feels appropriate, even though the Tigers are operating with their backup quarterback.
Maty Mauk looked more than capable against Florida, delivering quality balls throughout much of the afternoon. With the win, Missouri stayed undefeated on the season and against the spread, a feat matched by no one else.
For South Carolina, the status of quarterback Connor Shaw is the story to follow. Shaw was hurt in last weekend's loss to Tennessee and could very well miss this game. If that's the case, it'll be up to the capable Dylan Thompson.
Something doesn't look right, but I'm going off of feel. Missouri is playing extraordinarily well, and this one will be played in front of the home fans.
Unbeaten stays unbeaten.
The Pick: Missouri (-3)
No. 4 Ohio State (-14.5) vs. Penn State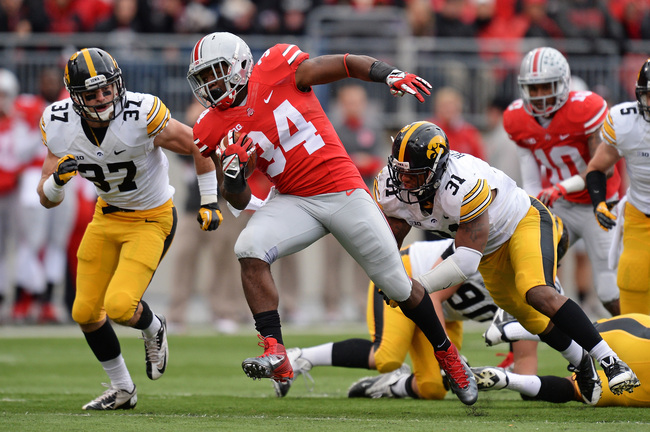 Jamie Sabau/Getty Images
The Buckeyes closed as a 19-point favorite against Iowa last week, and the spread proved to be far too generous.
The Hawkeyes entered halftime with the lead, but eventually Ohio State battled back and got the win. Still, Iowa was able to connect on a few big plays throughout the game, and the Ohio State secondary continues to be a weakness.
Enter: Penn State's Christian Hackenberg, freshman quarterback with incredible talent. (I refuse to say arm talent because we have simply killed this term.)
The Nittany Lions will be coming off a bye, which is good news when you have a young QB readying for his first trip to Columbus. And although it's impossible to predict how the freshman might respond, look for him to make enough plays to keep this interesting for a while.
The Pick: Penn State (+14.5)
No. 3 Oregon (-22.5) vs. No. 12 UCLA
Oregon played its worst game of the season last week and still almost covered the enormous spread against Washington State. Even in the ultimate sandwich-game scenario, the Ducks showed they can pretty much do what they please.
UCLA also didn't play its best game last week, although the results were slightly different. The Bruins never got going offensively against Stanford, and the result was their first loss of the season. Offensively this group looked out of sorts, and this should remain a concern heading into a hostile road environment yet again.
Also, the Pac-12 schedule-makers are evil, apparently.
Laying 22.5 points against quarterback Brett Hundley doesn't feel right, but it feels better knowing that you're laying them with Marcus Mariota.
The covering machine gets back on track.
The Pick: Oregon (-22.5)
No. 2 Florida State (-31.5) vs. NC State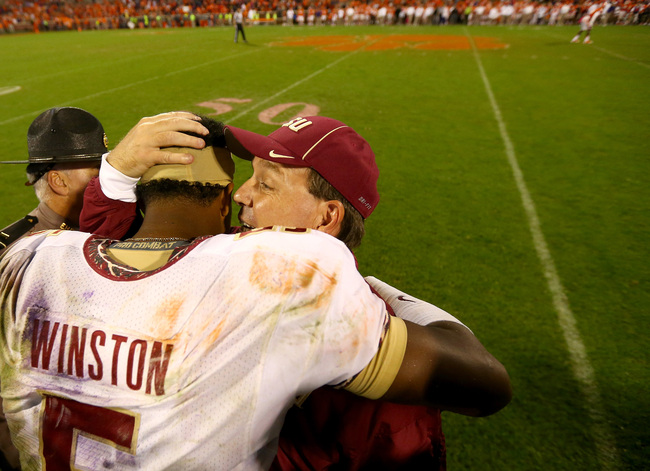 Streeter Lecka/Getty Images
To me, this is probably the most difficult game to assess in Week 9. The point spread is massive for a conference opponent, and it has been moving fast. Florida State opened as a 27.5-point favorite, and the line has been bet up gradually.
NC State will be coming off the bye, although this is the only bit of good news. The Wolfpack scored a combined 23 points in the last two games against Wake Forest and Syracuse, which—as you could have assumed—were losses.
Florida State, of course, just beat Clemson by roughly 7,000 points, easily covering the 4.5-point spread that was bet up late in the week. Someone knew something, and someone was right.
Jameis Winston was brilliant, the wideouts were great, and the defense played pretty much flawless. In fact, the win was so good that the Seminoles are probably just going to coast here to a four-touchdown win.
Not a five-touchdown win, just four.
The Pick: NC State (+31.5)
No. 1 Alabama (-28) vs. Tennessee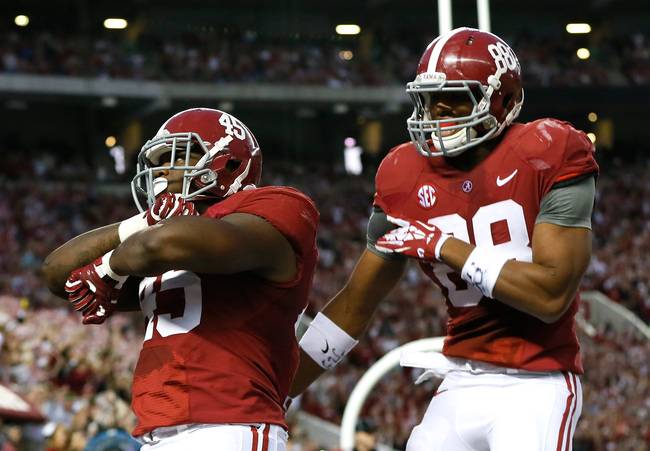 Kevin C. Cox/Getty Images
Since Alabama gave up approximately 2,845 yards to Johnny Manziel, the turnaround has been staggering. The competition hasn't exactly been fierce, but Nick Saban's group has given up one touchdown and outscored opponents 201-16.
I don't care if you're playing a large gathering of stray cats, that's still impressive.
Despite the dominance, Alabama is still only 3-2 against the spread since that game and 4-3 ATS on the season. Tennessee is also 4-3 against the spread, although the Vols have covered their last two games against Georgia and South Carolina.
Butch Jones' team certainly has improved, but the road is a different story. So is the opponent. And although the four touchdowns are awfully tempting—especially considering the small spreads Tennessee has been dealt the last few games—it isn't good enough.
Alabama is only starting to hit stride.
The Pick: Alabama (-28)
Keep Reading