Ranking the Top 10 Leadoff Hitters on the 2014 MLB Free-Agent Market
Ronald Martinez/Getty Images
Free agency is almost upon us in Major League Baseball and excitement abounds...well, at least for the 28 other teams that are not currently playing in the World Series.
With the World Series scheduled to kick off on Wednesday, every team not named the St. Louis Cardinals or the Boston Red Sox is looking at what they must do to give themselves a chance to be better in 2014.
For many teams, it all starts with a leadoff hitter. A prototypical leadoff hitter is one that gets on base a lot and has speed. The 2014 free-agent class has many guys who fit the mold, although they might struggle at times in one area or another.
A few of them are about to get paid handsomely this offseason, while others are expected to get decent-sized contracts because of their abilities at the top of the lineup.
Before we get into the rankings, it should be noted that Coco Crisp will not be among the players mentioned on this list. According to Susan Slusser of The San Francisco Chronicle, the Oakland Athletics will be picking up Crisp's $7.5 million team option.
With that said, here's a look at the top 10 leadoff hitters that will be on the market this offseason along with a few teams that could possibly be interested in each of their services.
Note: All stats obtained from Baseball-Reference.com unless otherwise noted.
10. Skip Schumaker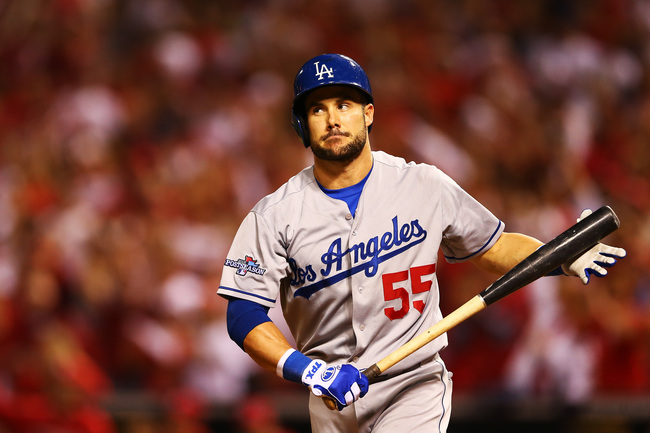 Elsa/Getty Images
Skip Schumaker isn't normally thought of as a leadoff hitter, but he gets on base. Schumaker had a .263 average and a .332 on-base percentage this season.
He doesn't steal bases, as he only had two this season, and the other knock on him is that he had a .209 average and .254 on-base percentage when batting first this year.
Teams may not look at him as a leadoff hitter, but it's something that he has the ability to do. However, don't expect that to happen on Opening Day in 2014.
9. Roger Bernadina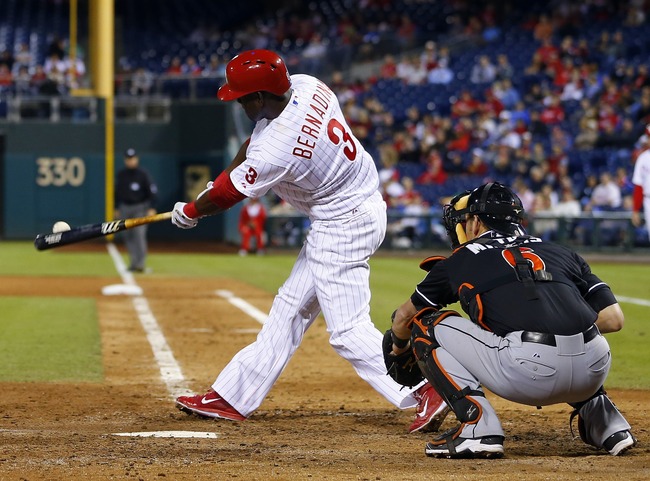 Rich Schultz/Getty Images
When I think of Roger Bernadina, I don't think of the guy who batted .181 in 2013 with an on-base percentage of .250.
Instead, I think of a guy who had a stat line of .291/.372/.405 in 2012 with 15 stolen bases. Now, that may not be a lot of stolen bases, but the on-base percentage is good.
Part of Bernadina's problem this year was the Nationals acquiring Denard Span from the Twins. While it was a move that was viewed as something that would help the Nationals at the top of the lineup, it didn't do anything to help Bernadina. Instead, he was limited to 85 games with Washington before they released him in August.
If given a chance to start and be the leadoff hitter, Bernadina can put up good numbers for a club. He's not going to blow you away, but he does get on base.
8. Brian Roberts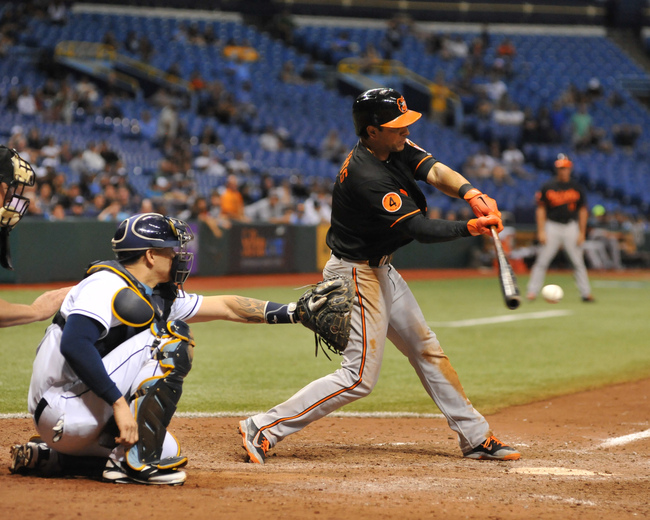 Al Messerschmidt/Getty Images
Brian Roberts does have an injury history, but the potential is still there.
It's been four years since Roberts played a full season, but one has to wonder what he could really do if it weren't for the injuries. Of course, that's something that has to be taken into account when looking at signing a player.
In his last full healthy season (2009), Roberts had a stat line of .283/.356/.451 with 16 home runs, 79 RBI and 30 stolen bases.
Those days are long gone, though, as Roberts has a stat line of .246/.310/.359 over the last four years with 15 home runs, 78 RBI and 22 stolen bases.
If Roberts can stay healthy, he could provide decent numbers from the leadoff spot. It's not going to be anything that jumps off the page, but a .330-.350 on-base percentage wouldn't be out of the question.
7. Rafael Furcal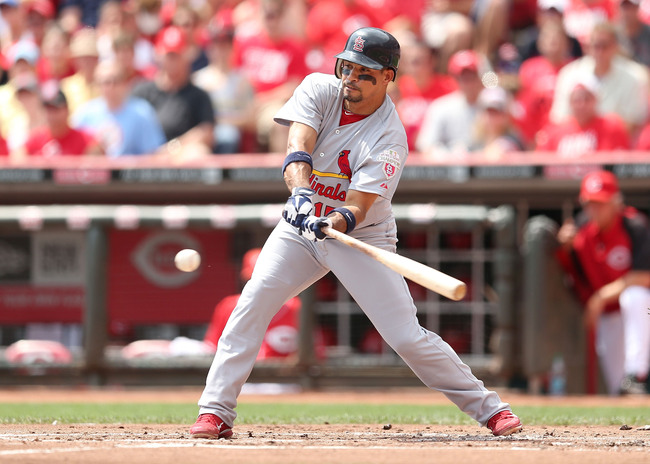 Andy Lyons/Getty Images
Rafael Furcal has dealt with a lot of injuries over the last four years, but it seems that he may finally be healthy.
After missing all of this season after Tommy John surgery, Furcal is on the market and looking to show what he can do when healthy.
In his career—mostly batting leadoff—Furcal has batting .284/.349/.411 with 280 stolen bases. Now, his better days are likely behind him, but let's also remember that Furcal hasn't put a ton of mileage on his legs over the last few years. That means there still may be a bit more speed left in them.
Projecting Furcal is really a crap-shoot, but given his history, some team will take a chance on him.
When healthy, Furcal can be one of the more dangerous leadoff players in the game. He just needs some team to give him a chance.
6. David DeJesus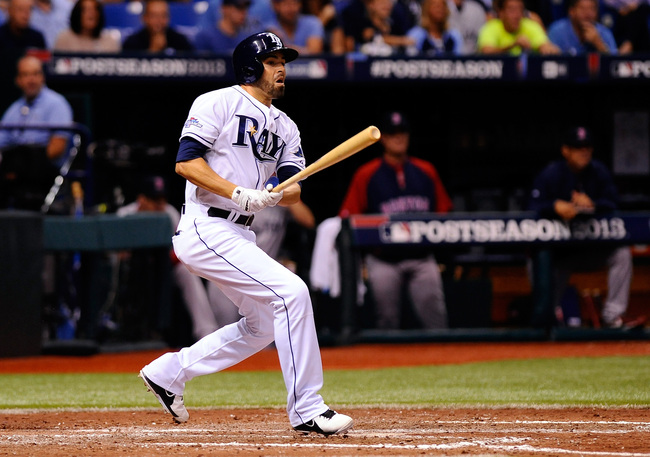 Brian Blanco/Getty Images
David DeJesus spent time with three teams this year, batting a combined .251/.327/.402 with eight home runs and 38 RBI.
From the leadoff spot, DeJesus batted .265/.344/.417 with seven home runs and 31 RBI, a spot from which he batted in four of the five playoff games for the Rays this postseason.
In his career as a leadoff hitter, DeJesus has hit .287 and has an on-base percentage of .362 in 3,819 plate appearances.
Like Roberts and Schumaker, DeJesus isn't much of a base-stealing threat, but his ability to get a lineup going is something that teams will notice.
5. Juan Pierre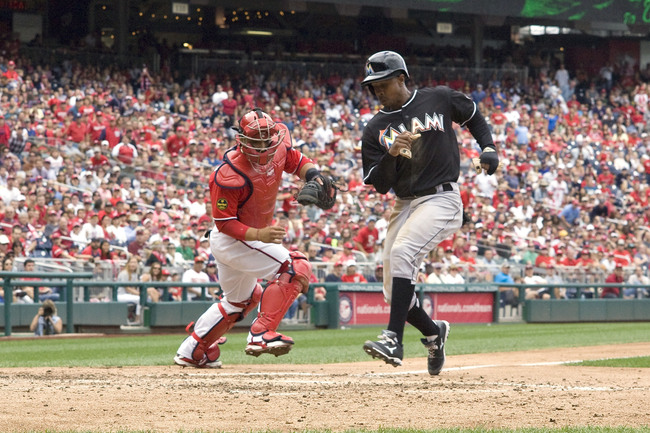 Jonathan Ernst/Getty Images
Even though he'll be 36 next year, Juan Pierre is still a legitimate threat to not only get on base but swipe a few bags as well.
In 2013, Pierre hit .247/.284/.305 with 23 steals. In fact, it was only in 2010 when he stole 68 bases. The speed is there and will always continue to be.
The only question is: will the bat still be there?
Pierre's .247 average and .284 on-base percentage this season were the worst of his career. But in 2012, his .307 average and .351 on-base percentage were some of the best of his career.
MLB.com's Joe Frisaro reports that Pierre is unsure of his future:
I'm fine. I understand the situation, Pierre said. I still love to play, that's no secret. I still work out like I'm going to be out there every day. I hope to get a chance to get a job for next year.

If not, and this is the last hurrah, I can't complain one bit. I can honestly say I never thought I'd play over 13 years in the big leagues. I'm grateful for every opportunity. Physically and mentally, I still feel like I can play at this level.
Given what he can still do on the basepaths, some team will sign him for next year.
4. Nate McLouth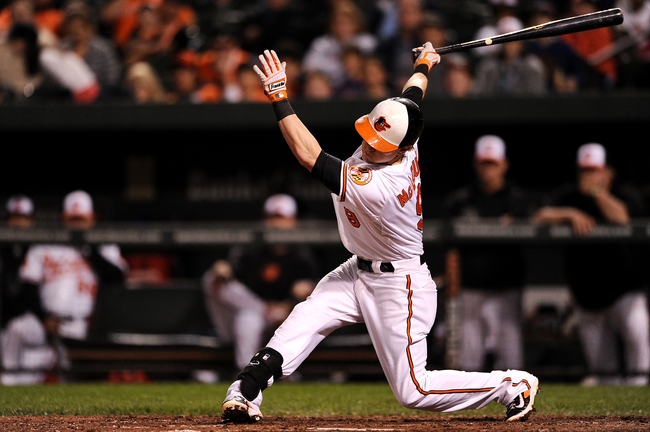 Patrick Smith/Getty Images
It's been four years, but Nate McLouth finally played a full season and had good results.
In 146 games, McLouth batted .258/.329/.399 with 12 home runs, 36 RBI and 30 stolen bases. From the leadoff spot, his numbers were better, batting .261/.334/.385 with 28 stolen bases.
McLouth has an advantage over many on this list in that he's still in his early 30s. That gives him an advantage over many other leadoff-type hitters, as he has fresher legs and still has a few more good years left.
Tim Dierkes of MLBTradeRumors.com believes McLouth will get somewhere in the neighborhood of two years and $10 million:
As a short-side platoon bat with little defensive ability, Jonny Gomes set the bar last winter with a two-year, $10MM deal. Part-timers such as Scott Hairston, Ty Wigginton, and Jack Hannahan also received two years. Another good example is David DeJesus, who was signed to a two-year, $10MM deal with a club option by the Cubs as an outfielder who would be benched against many southpaws. Ultimately I think McLouth will land that same two-year, $10MM deal.
3. Rajai Davis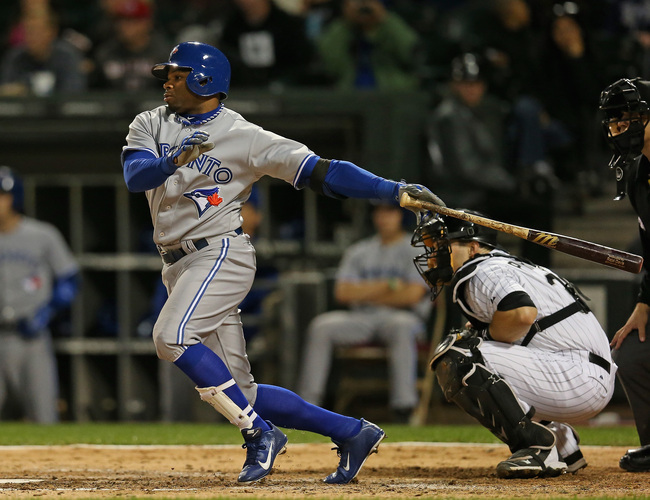 Jonathan Daniel/Getty Images
Rajai Davis gets overshadowed in Toronto, but he's a legitimate leadoff hitter and theft artist.
In only 108 games this year, Davis batted .260/.312/.375 with 45 stolen bases. The on-base percentage is what has concerned people the most, but when he does get on base, he can do a lot of damage.
In the last five years, Davis has 216 stolen bases and has a stat line of .271/.317/.382.
And even at 33 next year, Davis should steal 40-plus bases again and be within the top five in the league in that category.
MLB.com's Gregor Chisholm reports that Davis may not find a full-time starting position on the free-agent market, but teams are looking for guys who can do damage on the basepaths:
He's expected to look for at least a two-year contract with an annual salary that could go upwards of $5-million. His lack of success against righties will be a cause for concern, but there's always at least a couple of teams looking for an impact player on the basepaths.

Davis has established himself as one of the elite base-stealing threats in the game. He was caught just six times in 51 opportunities this year and has now has four seasons in the past five years in which he has surpassed the 40 stolen base plateau.
The market for Davis will be slow with teams that lose out on the two top leadoff hitters looking to fill that role with someone who has speed.
2. Shin-Soo Choo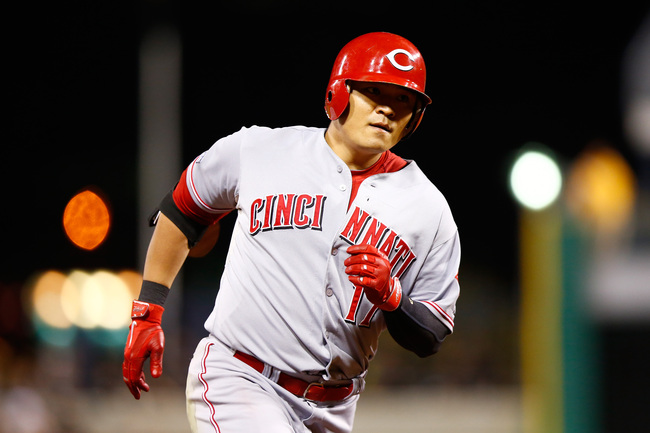 Jared Wickerham/Getty Images
Shin-Soo Choo is going to be a steal for any team that signs him.
In his only year with the Reds, Choo batted .285/.423/.462 with 21 home runs, 54 RBI and 20 stolen bases. He batted from the leadoff position in 143 games, demonstrating the Reds' confidence in his ability to get on base.
Now, Choo is on the market and looking to cash in on some big bucks. He has a .300 career average from the leadoff spot with a .413 on-base percentage, showing that he's not a one-year wonder.
CBS Sports' Jon Heyman reports there are a lot of teams interested in Choo's services:
No surprise, Reds general manager Walt Jocketty has said they intend to try to keep Choo. The Rangers, Cubs, and Mets have been mentioned as other potential suitors, with the Giants and Red Sox possibly needing outfielders in the event free agents Hunter Pence and Jacoby Ellsbury leave, and the Yankees always are a wild card, especially if they ditch their current plan to get below a $189 million payroll.
Pence has already re-signed with the Giants, so that takes one team out of the bidding.
Still, once Jacoby Ellsbury—who should be the first free-agent position player to come off the board—lands somewhere, the market will belong to Choo.
1. Jacoby Ellsbury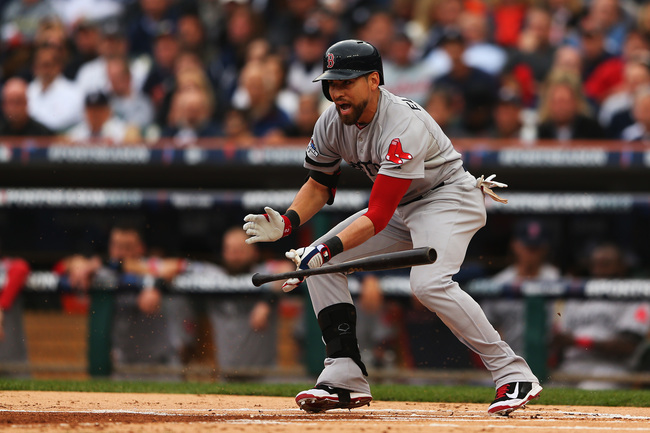 Mike Ehrmann/Getty Images
It's obvious why Jacoby Ellsbury is the top leadoff hitter on the market.
He batted .298 with nine home runs, 53 RBI and 52 stolen bases this season. He has also shown a consistent ability to get on base (.355 OBP) and has a lot of speed on the basepaths.
Add in the fact that he hit .321/.376/.552 with 32 home runs, 105 RBI and 39 stolen bases in 2011, and you have a player who has done it more than once.
Ellsbury isn't likely to hit for that much power again, but 50 stolen bases isn't out of the question over the next five years.
Nick Cafardo of The Boston Globe believes the Tigers would be a great fit for Ellsbury:
That's the one team we haven't heard Ellsbury's name mentioned with, said one American League general manager. We've heard a lot about the Mets, Mariners, Rangers, but the Tigers make perfect sense. They are a big-market team with big resources. There's a relationship with Scott (Boras) and Mr. (Mike) Ilitch. They've done business before and there's no reason they can't do business again.
The list of possibilities is endless for Ellsbury. And once he signs, the rest of the dominoes will fall into place as teams who missed out on Ellsbury will look to get somebody in that leadoff spot.
Keep Reading