Two months ago, no one could have dreamed that that New York Jets would be in the position that they find themselves in now. At 4-3, on the heels of a win over a Patriots team that has dominated the division for over a decade, the Jets have a good chance to at least be in the playoff hunt come December.
While the Jets have every right to feel good about themselves for the first time in a long time, they cannot get carried away when examining just how close they are to winning a championship.
The Jets are strong underdogs—but they're not contenders. And they shouldn't act like they are.
As the trade deadline approaches and teams are looking for the final puzzle piece, the Jets have been said to be remotely interested in acquiring Browns wide receiver Josh Gordon.
.@Gil_Brandt sees Josh Gordon headed to the Jets. Would much rather see him on the 49ers (and not in the AFC East). http://t.co/pHgOZ0n0gY

— Patrick Crawley (@pecrawleynfl) October 16, 2013
Gordon is a tremendously talented player who would be a huge asset for the Jets. Adding him to their depleted wide receiver corps would give their offense a much-needed boost. Even if he is a parking ticket away from a year-long suspension, the Jets (and anyone else) would welcome him to their team.
Nonetheless, the Jets have no business trading for players like Josh Gordon at this point in their rebuilding process.
Even Gordon, a young 22-year-old still working on his rookie contract, is not worth the high draft pick the Browns are likely asking for (via Chris Wesseling of NFL.com), even if one is willing to overlook his suspension risk.
Buying Name, not Production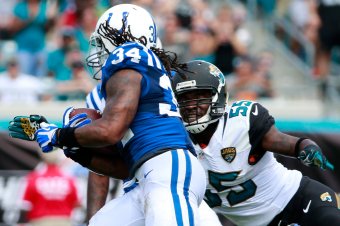 /Getty Images
Unlike sports like baseball or hockey, trading players midseason rarely equates to success. Because football teams are so reliant on scheme and chemistry to win, the nature of the sport makes it extremely difficult for a team to get a fair return on its investment when it doesn't have an entire offseason with the player.
As soon as the Colts paid a hefty price of a first-round pick to the Browns earlier in the season for running back Trent Richardson, the immediate reaction was that the Browns were foolish to trade such a talented player. After all, the Browns traded up to draft Richardson third overall in the 2012 draft—a move that is almost unheard of in today's NFL.
After watching him practice and play over the last year-and-a-half, the Browns knew that Richardson's name and collegiate reputation was worth more than the amount of yards he gained on Sunday afternoons. He averaged just 3.6 yards per carry as a rookie.
Since being traded to the Colts, his average per-carry numbers have only dipped to 3.0 as he gradually loses carries to Donald Brown.
Perhaps too early to declare Browns as winners of Trent Richardson trade, but he had just 37 yards on 14 rushes and a lost fumble Sunday.

— Jeff Darlington (@JeffDarlington) October 21, 2013
Richardson's case is a perfect example as to why trades in the NFL rarely work out for the team acquiring the player. In the NFL, youth, upside and chemistry trump name value almost every time.
Why is this the case? Not only do players need to learn an entirely new playbook, but they must adapt to working with new teammates and coaches. They need to pick up their lives and move to a new part of the country, causing more off-field distractions that could affect on-field play.
Contenders? Not so Fast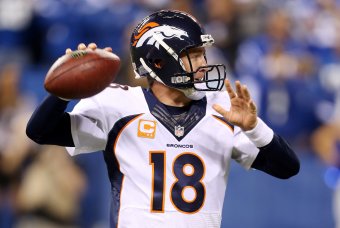 Brian Spurlock-USA TODAY Sports
There is some room for trades in the NFL—but only for certain teams in certain positions in their rebuilding process.
The criteria for teams that could truly benefit from a trade beyond their jersey sales figures are incredibly specific.
First, a team must not only be in a true position to contend, but expectations of a championship must be omnipresent. Just because a solid team, such as the Jets, can potentially make the playoffs does not mean that they are in a position to mortgage the future to desperately upgrade their roster.
If the Jets were to make a move for Gordon, or another offensive weapon, there is a slim chance that the move would propel them to championship heights.
If the Jets are not going to win a championship this year (after all, no one truly believes that they can upset a team like Denver or Indianapolis), why not just wait until next offseason to attack the position, where the Jets have an open market and seven rounds of the draft to work with?
The only teams that should be in the trade market at this time of year are contending teams that are expected to win immediately and have a massive hole at a position. Even then, the trading team must be certain that they are one transaction away from winning a Super Bowl (which is rarely the case)—otherwise, why make the trade?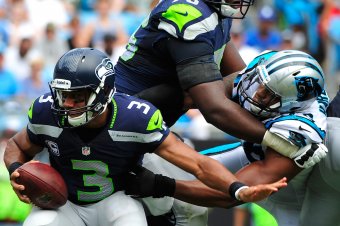 /Getty Images
Last year, the Seattle Seahawks easily made the playoffs behind rookie quarterback Russell Wilson. They too could have used help at wide receiver, but they held off on making any moves until the following offseason.
After splurging in free agency and using all of their draft picks, they are one of the favorites to represent the NFC in this year's Super Bowl with their team's future still intact.
One of the reasons former Jets general manager Mike "Trader" Tannenbaum was fired was because he spent too many picks on "win-now" pieces rather than building his roster more meticulously.
The Jets should learn a lesson from the Seahawks (where Idzik used to work) and their own history and hold off on making a big splash until they are certain they are within arm's length of a Super Bowl berth.
The Bill Eventually Comes
Usually, most trades involve a veteran player with limited time on his contract on a team attempting to get a late draft pick.
Players like Josh Gordon, however, are a unique case. Gordon is still in just his second NFL season. At the age of 22, he is essentially a proven rookie. Right?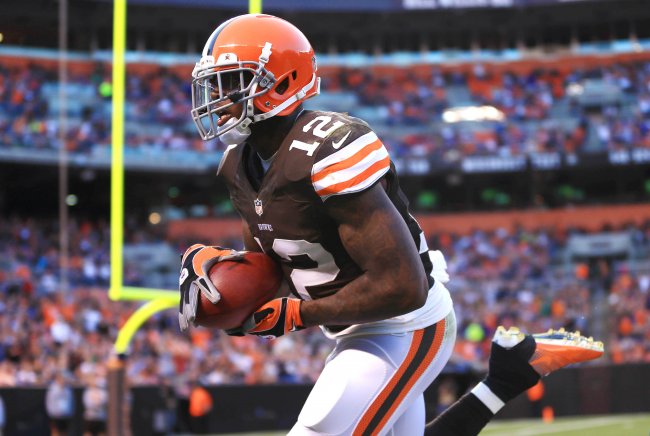 Andrew Weber-USA TODAY Sports
Not so fast.
Gordon may be a young player, but whichever team is willing to trade for him is paying more than whatever the Browns are asking for in terms of draft pick compensation.
Whoever is willing to pay the price for Gordon's rights must also be interested in handing him the long-term contract he will eventually want.
After all, if he never earned the long-term contract in a two-year span, the trade was never worth it in the first place.
The Jets find themselves at 4-3 in large part because of their young nucleus of players—who will all want long-term extensions if they continue to play at a high level. Adding Gordon just gives the Jets one more bill at the end of 2014 season that they won't be able to afford.
Key Upcoming Jets Free Agents

| | | |
| --- | --- | --- |
| Player | Position | FA Year |
| Muhammad Wilkerson | DE | 2015 (option year 2016) |
| Antonio Cromartie | CB | 2015 |
| Jeremy Kerley | WR | 2015 |
| Antonio Allen | FS | 2016 |
| Quinton Coples | OLB | 2016 |
| Stephen Hill | WR | 2016 |
| Demario Davis | ILB | 2016 |
| Santonio Holmes | WR | 2016 |
nyjetscap.com
Gordon may not be at the end of his playing career, but for a Jets team that is going to have enough star players to retain, he may as well be.
Therefore, instead of adding a costly commodity like Gordon, the Jets would be better off finding talent through the draft. Besides, there is no telling where the Jets will be as a franchise when next year's rookies are up for their second contract.
Stick to the Plan
So far, John Idzik has done a stellar job keeping the Jets competitive on the cheap with a combination of low-risk, high-reward contracts and a strong draft class.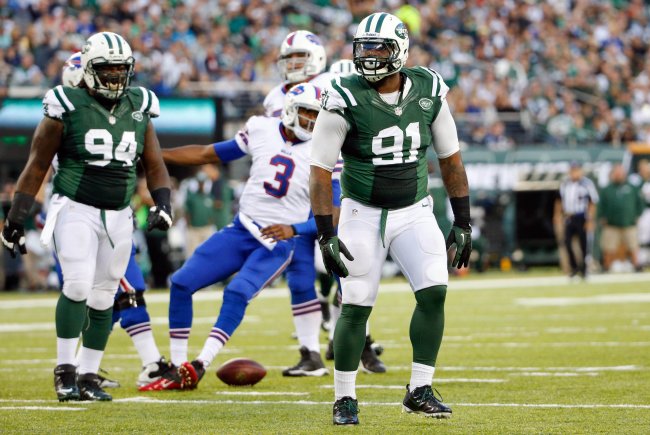 Anthony Gruppuso-USA TODAY Sport
The Jets have had good fortune so far, but they should not let their success get to their heads, even if they were finally able to beat the Patriots last week. After all, if the Jets lost the game in overtime, would they even be considering making trades to win in the immediate future?
The Jets are playing with house money this year; anything positive that can come from this season is a bonus at this point. But they should be careful not to abuse their success at the price of their future.
As soon as the Jets start to get delusional about where their team is in it's rebuilding process, they will get the same result as the last regime—build a quick, desperate winner that is followed by rapid deterioration before anyone knew what happened.
There will come a time when the Jets will be in position to make sure a move for a player that will help get them their first championship in over 40 years, but now is not that time.
Advanced statistics provided by ProFootballFocus.com (subscription required).