NFL Power Rankings Week 8: Breaking Down Where Every Team Stands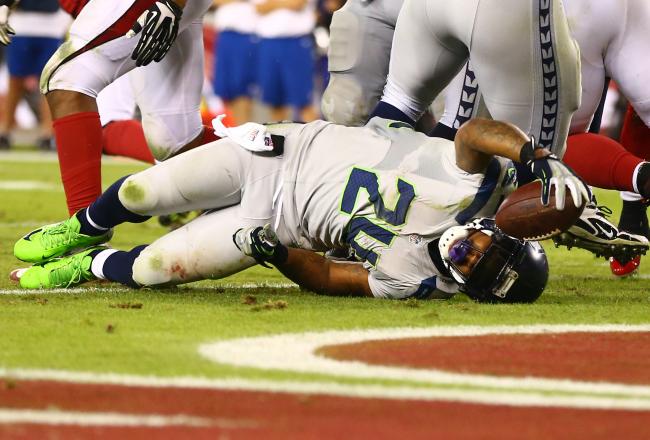 Mark J. Rebilas-USA TODAY Sports
The NFL power rankings shifted all over the place after a telling Week 7 of the regular season, which gave a lot of signs about how the remainder of 2013 will unfold.
With the injury bug attacking so many teams last week, the changes should only continue as many squads will be without key players for the foreseeable future, if not the entire rest of the season.
Let's break down every team in the latest Week 8 power rankings.
1. Kansas City Chiefs (7-0)
It's hard to believe, but can't be ignored any longer—the Chiefs are atop the league after seven weeks.
Led by a suffocating defense that is letting up a league-best 11.6 points per contest and 35 sacks, Kansas City is near impossible to build a lead against as game manager Alex Smith continues to have success offensively.
With Cleveland, Buffalo and a bye week looming, chances are Andy Reid's Chiefs will be going to Denver well rested with a perfect 9-0 record.
2. Indianapolis Colts (5-2)
The _____ are the NFL's top team after Week 7.
The Colts got a golden opportunity on Sunday Night Football to knock off one of the league's two undefeated teams in the Broncos, and they took advantage.
Losing Reggie Wayne for the season will be a killer for an offense that relies heavily upon him, but Andrew Luck is the type of quarterback who will offset that by stepping up his game even more.
3. Denver Broncos (6-1)
Despite a lot of defensive issues, the Broncos entered Week 7 as the unquestionable best NFL team before being knocked off in Indy.
It's hard to make a case that anyone is better than Peyton Manning's crew, but until the defense figures itself out and adjusts to having Von Miller back, the star QB may have to end the season as well as he started it for Denver to reach the Super Bowl.
4. Seattle Seahawks (6-1)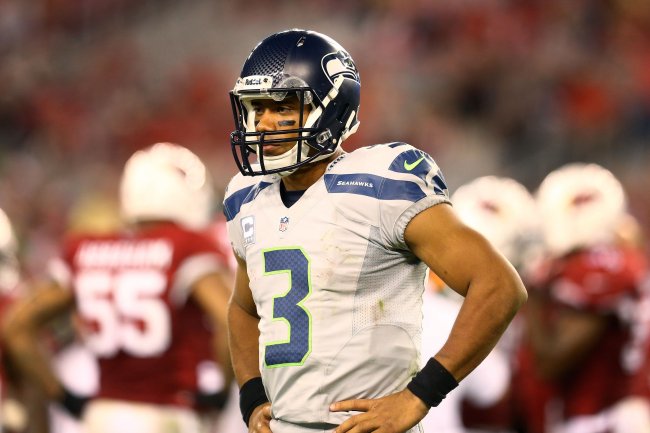 Mark J. Rebilas-USA TODAY Sports
After the Colts beat them in Indianapolis, Seattle followed up its first loss of the season with two hard-earned wins over Tennessee and Arizona.
Percy Harvin's return will be a shot in the arm for an offense already rolling, which should do nothing but scare the rest of the NFL's elite. He returned to practice this week, per the team's website.
5. San Francisco 49ers (5-2)
Colin Kaepernick looked like the 2012 Colin Kaepernick against the Titans, running all over the place against an underrated defense and allowing that to propel his backs to effective performances.
It's hard to tell what happened there early on in the season, but San Francisco has turned it around quick and looks to be right in the thick of things atop the NFC moving forward.
6. New Orleans Saints (5-1)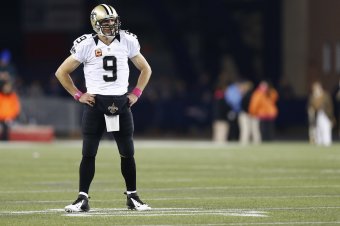 Mark L. Baer-USA TODAY Sports
The Patriots effectively shut down Drew Brees' offense at times in the Saints' loss in Week 6, but that's about the only thing going against Sean Payton's return to New Orleans.
The Saints defense is leaps and bounds above last year's squad, and along with a quarterback who can put up points in a hurry, this team will be making a serious playoff push.
7. Cincinnati Bengals (5-2)
I was really worried about Cincinnati and struggling quarterback Andy Dalton. Then he threw for 300-plus yards in two straight games.
Off the heels of two straight game-winning field goals, the Bengals will be tested mightily in Week 8 against a Jets team that continues to impress.
8. New England Patriots (5-2)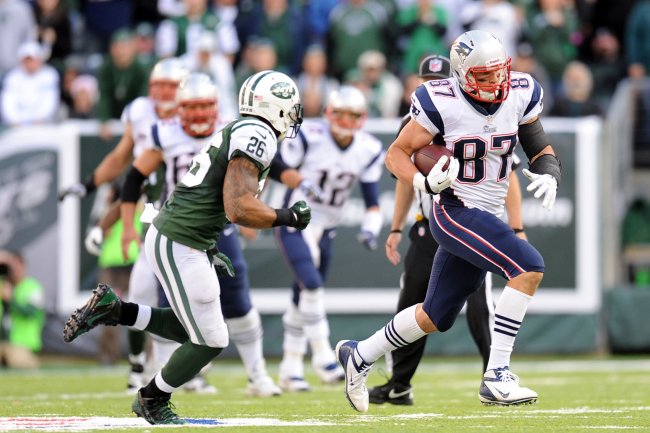 Joe Camporeale-USA TODAY Sports
The return of Rob Gronkowski made its impact felt, but it didn't result in a Patriots win, as Tom Brady continues to have trouble finding other guys to throw to.
They're only an impressive performance or two away from climbing back up, but a recent loss to the Jets only makes New England's struggles that much more real.
9. Green Bay Packers (4-2)
The Packers' passing attack continues to be depleted without Randall Cobb and James Jones, but this team can finally run the ball to preserve a lead—a mere impossibility in recent seasons.
Over the last three weeks, Eddie Lacy has led the NFL in rushing and has turned into a much more reliable chain-mover since returning from a concussion.
10. Dallas Cowboys (4-3)
As is usually the case in Dallas, the Cowboys are hot and cold this season. It just so happens that they're on fire right now after two wins over NFC East foes.
The Cowboys shut down a potent Philadelphia Eagles offense in Week 7, a surprising development after their 51-point debacle against Denver two weeks prior.
11. San Diego Chargers (4-3)
San Diego was expected to be one of the NFL's worst teams. Instead, they've quietly become one of the biggest surprises.
Philip Rivers is having one of the best years of his career, and the Chargers defense has played awfully well while holding a lead for him.
12. Detroit Lions (4-3)
The Lions had victory snatched on Sunday by way of a game-winning Bengals field goal, but don't let that distract you from the season they're having.
Once again, Matthew Stafford is throwing for gaudy numbers, and the inclusion of Reggie Bush in this offense has really taken it to the next level.
13. Baltimore Ravens (3-4)
Will Baltimore make the playoffs?
Surprisingly enough, this team has been average this season and can't string together wins. Since two straight early in the season, they've lost three of four.
An optimistic 3-2 is now a head-scratching 3-4 after losses to Green Bay and Pittsburgh, and Joe Flacco has just eight touchdowns in seven games.
14. Chicago Bears (4-3)
No team in the league will suffer more in the immediate future from Week 7's injury-fest more than the Bears, who lose quarterback Jay Cutler for at least four weeks with a muscle tear in his groin.
To make matters worse, Lance Briggs is out at least six weeks with a shoulder fracture. With divisional matchups against Green Bay and Detroit upcoming, the Bears could see their season evaporate before Cutler and Briggs come back.
15. New York Jets (4-3)
Rex Ryan made us all look stupid this season—no, that's not a joke.
The Jets were widely expected to be in the NFL's cellar, but rookie Geno Smith has led a resurgent offense that just knocked off Tom Brady and the Patriots. Don't look now, but they're in the thick of the playoff hunt.
16. Tennessee Titans (3-4)
The Titans started the season off 3-1, playing inspired football, but got the meat of their schedule at the worst possible time—right when Jake Locker got injured.
Three losses to Kansas City, San Francisco and Seattle later, and now the Titans are licking their wounds over the bye week and trying to turn their season around.
17. Miami Dolphins (3-3)
Not even the Titans have fallen further in the last three weeks than the Dolphins, who started off 3-0 before losing three straight.
Ryan Tannehill hasn't imploded over those three losses, which gives Miami fans a lot of encouragement heading into winnable games against New England and Cincinnati.
18. Philadelphia Eagles (3-4)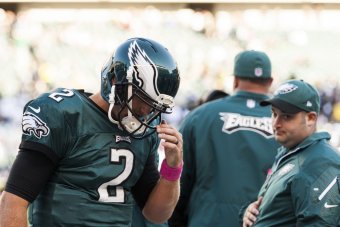 Howard Smith-USA TODAY Sports
Off an encouraging Week 6 win over Tampa Bay, the Eagles gave Nick Foles a chance to earn himself the starting job in wake of a Michael Vick injury.
Instead, he practically gave Vick his job back in a 17-3 loss to Dallas. Vick is expecting to play this week, per NFL.com, so rejoice, Philly fans. His rushing attack is the only chance that Chip Kelly's offense will be successful this year.
19. Carolina Panthers (3-3)
Cam Newton has been scorching in recent weeks, going 35-of-43 in his last two games, and takes that into a Thursday Night Football showdown against 0-6 Tampa Bay.
But it's been early leads and stingy defense that has paved the way for a promising Panthers start, ranking top five in opponents' passing and rushing yards.
20. Atlanta Falcons (2-4)
One of the most underwhelming teams to start the season, the football gods didn't do the Falcons any favors as Julio Jones went down for the season after the Patriots loss.
Atlanta rebounded well by taking down Tampa Bay and inserted wideout Harry Douglas well—149 yards and a touchdown—but it's unclear how it'll replace Jones down the stretch in 2013.
21. Buffalo Bills (3-4)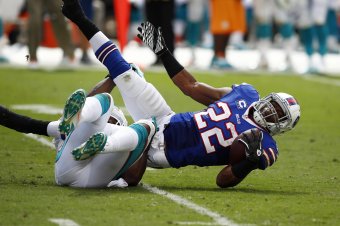 Robert Mayer-USA TODAY Sports
The Bills' two-headed rushing attack of Fred Jackson and C.J. Spiller is one of the league's best, but no E.J. Manuel has stunted this team overall after a really promising start.
With Manuel still out for another 4-6 weeks, per Fox Sports, things don't look good for the Bills, who play New Orleans and Kansas City in their next two games.
22. Cleveland Browns (3-4)
The Browns strung off three straight impressive victories before getting walloped by NFC North opponents Green Bay and Detroit, and they look to be back on the decline.
If the defense gives Brandon Weeden games that he can win, Cleveland might be able to rip off a few more victories, but this looks like a lost season despite an encouraging 3-4 record.
23. Washington Redskins (2-4)
The Redskins notched an impressive victory over Chicago last week, but the defense is tanking again after showing signs of improvement.
However, Robert Griffin III is getting back to playing like he did as a rookie, and that means nothing is impossible with this Redskins team.
24. Pittsburgh Steelers (2-4)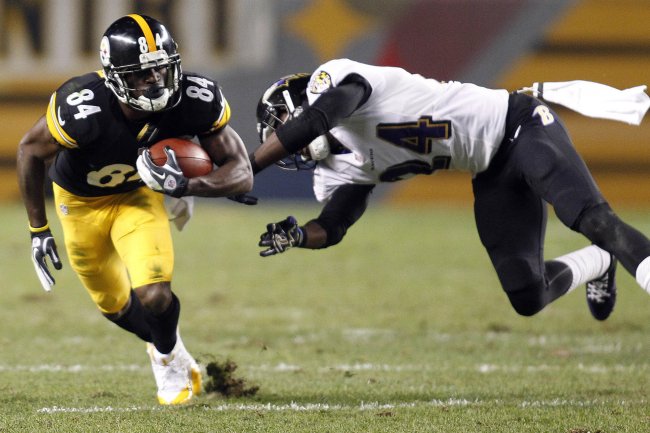 Charles LeClaire-USA TODAY Sport
Sound the alarm—a Steelers running back rushed for nearly 100 yards Sunday. Against the Ravens, no less.
Two straight wins have come on impressive defensive performances and being able to run the ball when is absolutely needed, and that's a sharp contrast to how Pittsburgh started the season.
25. Arizona Cardinals (3-4)
Welcome to life in the NFC West. The Cardinals had their two-game win streak snapped by consecutive losses to the Niners and Seahawks.
Carson Palmer was supposed to bring stability to the offense but has instead thrown 13 interceptions to just eight touchdowns.
26. Houston Texans (2-5)
The Texans are a mess.
Head coach Gary Kubiak reaffirmed Matt Schaub is the starter when he's healthy, per the Houston Chronicle, but given Case Keenum's encouraging play in a Week 7 loss and the no-need-to-mention unpopularity of Schaub, that may be a bad thing.
27. St. Louis Rams (3-4)
While Sam Bradford wasn't having the best of years, his ACL tear is a crushing blow to St. Louis, who struggled to a 30-15 loss against Carolina.
With Bradford's injury along with a lethargic run defense and questions abound in their own run game, the Rams are losing ground in an NFC West that is tough to keep up in.
28. Oakland Raiders (2-4)
The legs of Terrelle Pryor contrasted with Darren McFadden have given the Raiders offense life, but Pryor continues to struggle throwing the ball downfield.
Coming off a bye week, a home test against Pittsburgh will be a decent measuring stick for just how bad the Raiders truly are.
29. New York Giants (1-6)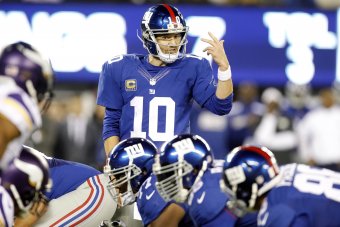 The Star-Ledger-USA TODAY Sports
Fresh off an embarrassment of a Monday Night Football game, the Giants finally have their first win and likely don't care that it was far from pretty.
It's encouraging that New York's defense held the Vikings offense scoreless, but more of that had to do with Josh Freeman's ineptness than anything else.
30. Minnesota Vikings (1-5)
Having the NFL's best rusher can't really get you anywhere when teams are stacking nine in the box.
The Vikings have plenty of quarterbacks to choose from and didn't have much luck on Monday Night Football with their newest addition. If the passing game doesn't improve drastically, Minnesota will be competing for the league's worst record.
31. Tampa Bay Buccaneers (0-6)
As if this season wasn't hard enough already on the 0-6 Bucs, star running back Doug Martin looks to miss a good chunk of time—or possibly the rest of the season—with an injury.
Rookie Mike Glennon has the keys to this offense, and nothing other than his continued improvement will keep Tampa Bay from going winless on the year.
32. Jacksonville Jaguars (0-7)
There's bad, and then there's Jacksonville. The Jags rush for just 63 yards a game and have failed to put up 10 points on four different instances this season.
Up next: San Francisco. Buckle your chinstraps.
This article is
What is the duplicate article?
Why is this article offensive?
Where is this article plagiarized from?
Why is this article poorly edited?