Utah vs. USC: Live Score and Highlights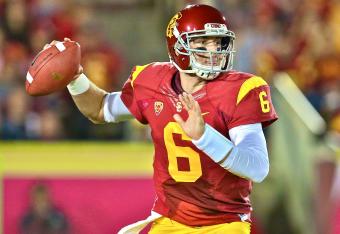 Getty Images
USC 19

Utah 3

FINAL

USC (5-3, 2-2 Pac-12) used a swarming, stifling defense and just enough plays on offense to record a 19-3 win over Utah (4-4, 1-4) at the Los Angeles Coliseum.
Official stats can also be found at NCAA.com. Stick around for a few final thoughts on the game, then check back a little later for a look at 10 things we learned from the Trojans' victory.
Dion Bailey took a pain injection so he could play second half #USC

— InsideUSC (@InsideUSC) October 26, 2013
Talk about dedication. After being in street clothes in the first half, Dion Bailey suited up to fill in for Su'a Cravens in the second half.
Some final thoughts on this...thrilling game:
* Considering how many players are hurt for USC, especially in the skill positions, any win is a positive. Style points aren't necessary at this point.
* Utah's upset of Stanford a few weeks ago is looking more and more like a random fluke. Since then the Utes lost at Arizona, giving up more than 300 rushing yards while struggling on offense, then looked even worse today.
* Ed Orgeron deserves a real look as USC's permanent coach. He's not an offensive guy, he's a defense-first person. That won't fly in L.A., so if he were to be considered for the head gig he'd need to assure the brass he can bring in a high-octane offensive coordinator. Either that or he should be the Trojans' D-coordinator.
With 6 sacks on the day, USC has caught Utah for the @pac12 lead in the category.

— USC Trojans (@USC_Athletics) October 26, 2013
Defense reigns supreme for the Trojans, who hold Utah to 201 yards of total offense.
If Utah can score here, an in-the-bag game for USC suddenly becomes a nail-biter. So it goes when you have no real offensive production to speak of.
J.R. Tavai gets USC's sixth sack (from six different people) today.
This needs to be said as many times as possible. Entering this drive, Utah has TWENTY-TWO yards of offense in the second half. And just 152 for the game.
One of players of the game for me today is Darreus Rogers, with five catches for 62 yards #USC

— InsideUSC (@InsideUSC) October 26, 2013
The contributions are coming from a variety of unsung and unheralded players for USC.
Leonard Williams' first sack is USC's fifth. Utah is back at its own 5, down 16 with four minutes left. Not looking good...
How is this just the 10th punt of the game?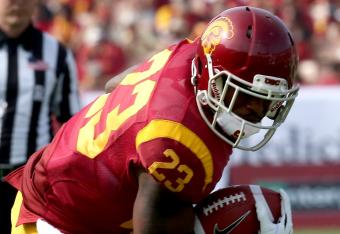 Tre Madden, who was doubtful to be available today, just broke off a 12-yard run for USC. He also has a 13-yard run.
The Trojans' other 24 rushes have gone for 10 yards.
USC announced attendance 64,715 at the Coliseum … … …

— Lindsey Thiry (@LindseyThiry) October 26, 2013
Emphasis on the word "announced."
What kind of a game has this been?
The teams have combined for 370 yards on 114 offensive plays. Yes, an average of 3.2 yards per play.
Need I say more?
USC has done absolutely nothing on these last two drives, and Utah is going to start in enemy territory again. No more field-goal tries for the Utes; they need two scores and some two-point conversions with just over 10 minutes left.
Utah QB sacked by 423 Trojans on that play. Keepin' 'em out of the end zone all day long, and he just missed that FG too! #TrojansD

— USC Trojans Football (@uscfootball) October 26, 2013
It only seemed like that many, but the message is clear: USC's defense is playing lights out this afternoon.
What happened to Andy Phillips?
The Utah kicker made his first 11 field goals this season, then missed twice at Arizona last weekend. He just missed a 32-yarder after the Utes' drive stalled out in the red zone.
USC gets its fourth sack on 3rd-and-goal, forcing Utah to go for a field goal.
Hard to believe, but as bad as Utah has looked today, it is still very much in this game entering the fourth quarter.
All it took was a 40-yard punt return by Geoff Norwood, a (smart) switch to Adam Schulz at quarterback and a nice third-down completion to Anthony Denham, and the Utes start the fourth at USC's 17.
Stay tuned...
And, as predicted, Utah puts Adam Schulz in at quarterback.
Heidari misses a 37-yard FG. Credit to @Utah_Football 's "D" for keeping the Trojans out of the endzone most of this game. #UtahvsUSC

— Pac-12 Networks (@Pac12Networks) October 26, 2013
From the "we don't want any of our teams to look bad" PR department...
Travis Wilson is 0-for-4 since coming back in for Utah. Don't look for him to be back on the next Utes drive.
It was actually from 37 yards out, but you get the picture.
Let's call it the Bleacher Report live blog jinx (sigh).
Andre Heidari just badly missed right on a 35-yard field goal, which would have tied the school record.
If Andre Heidari makes one more FG, he ties the #USC record set by Ryan Killeen in 2004 against UCLA

— InsideUSC (@InsideUSC) October 26, 2013
The way USC's offense is performing so it can only get near the red zone, this record may fall before the day is out.
This article is
What is the duplicate article?
Why is this article offensive?
Where is this article plagiarized from?
Why is this article poorly edited?