Preseason Power Rankings for the NBA's Mid-Market Teams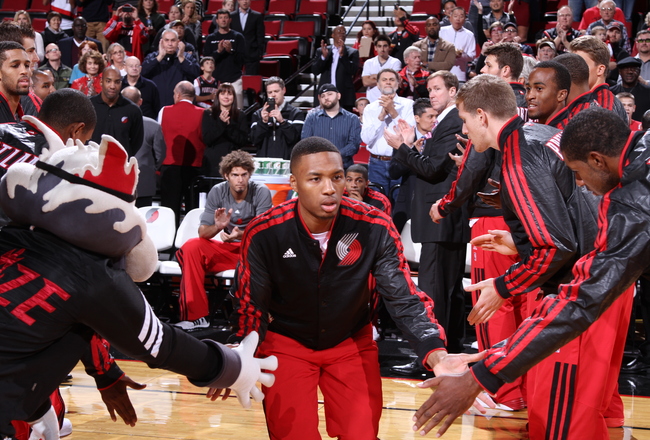 Sam Forencich/Getty Images
The NBA is a business, and that means the 30 franchises populating it must be concerned with more than winning. Obviously championships are the ultimate goals, but making money isn't a bad second option.
Teams can do that by getting fans into the stadium and building their brand, among other things. And that's what these rankings attempt to show.
These are not power rankings based solely on the on-court product, although that's certainly an important component. Instead, these rankings of the 10 mid-market teams, much like the ones for the big-market squads, will look at the overall picture of the franchise's health through a process fully explained on the next slide.
So, how do we determine the 10 franchises that qualify as "mid-market teams?"
It's all about the population in the cities they call home, which you can view here (the data is aggregated by the United States Census Bureau). The teams with the 10 largest hometown populations are considered the big-market teams for the purpose of this article.
Below are the squads we're dealing with, sorted by estimated 2012 population:
Dallas Mavericks
Indiana Pacers
Charlotte Bobcats
Detroit Pistons
Memphis Grizzlies
Boston Celtics
Denver Nuggets
Washington Wizards
Portland Trail Blazers
Oklahoma City Thunder
With that out of the way, read on for the original metric used to rank the teams and then a countdown from No. 10 to No. 1.
How Was Market Score Calculated?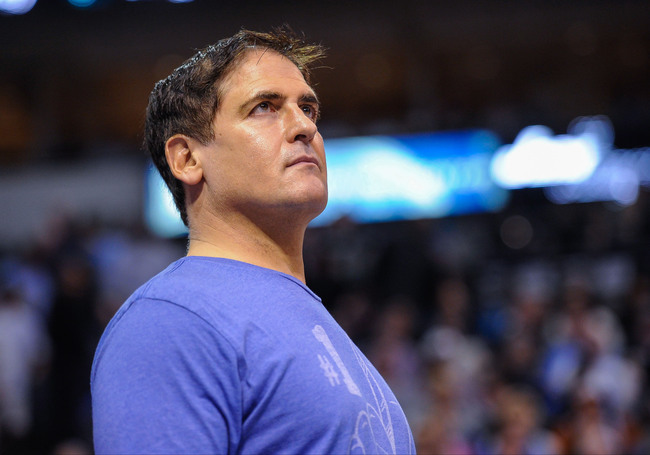 USA TODAY Sports
In order to determine how well off each franchise was, six factors were looked at:
1. Wins
Current success is important to the brand of a franchise, so we couldn't possibly ignore this.
In order to rank each team for the category, I used projected win totals, found by averaging the records predicted by myself, B/R's Dan Favale and ESPN.
These are power rankings, so what's happening now matters most, and as a result, this category was weighted most heavily. Each team's rank was multiplied by three before it was included in the overall market score.
2. Attendance
The best way to measure the interest of fans is to look at home attendance.
By delving into ESPN's numbers for the 2012-13 season, I was able to glean the percentage of the home arena that was filled up throughout the year. Unfortunately, there's no simple way to predict what attendance will look like in 2013-14, so this will have to suffice.
3. Franchise Value
How much is each team worth?
That's what this section boils down to, and Forbes has our answer by providing an estimate of each franchise's value at the end of the 2012-13 season.
This is a pretty important figure, as a lot goes into value. To account for that, the rank in this category was multiplied by two before being added into the overall market score.
4. Profit
I also wanted to isolate the amount of money that a team was making. A product can be great, but it's fairly irrelevant if it isn't actually making money.
Forbes also helps out here, but this wasn't valued as highly as franchise value, so each team's rank was allowed to stand alone without receiving a multiplier.
5. Franchise Growth
There aren't many better indicators of a franchise's recent progress than the one provided by the percentage growth the value has experienced in the last year. On average, according to Forbes, NBA teams experienced 30 percent growth in 2012-13, and we'll be looking at how the mid-market teams stack up in this category.
Once more, the rank stood alone without any sort of multiplier.
6. Future Flexibility
These rankings were lifted directly from ESPN's future rankings of the NBA franchises, according to ESPN Insider (subscription required), so a massive thanks goes out to Chad Ford, Amin Elhassan, Tom Haberstroh and Kevin Pelton.
As they described, this consists of "projected salary-cap situation; ability and willingness to exceed cap and pay luxury tax."
Because the ability to build a team in the future is of high importance, this category received a multiplier of two.
Once all of the categories were calculated, the team's ranks (with relevant multipliers included) were added up, and the lowest total came out on top.
Note: This text originally appeared in the article about big-market teams.
10. Charlotte Bobcats, 86 Market Score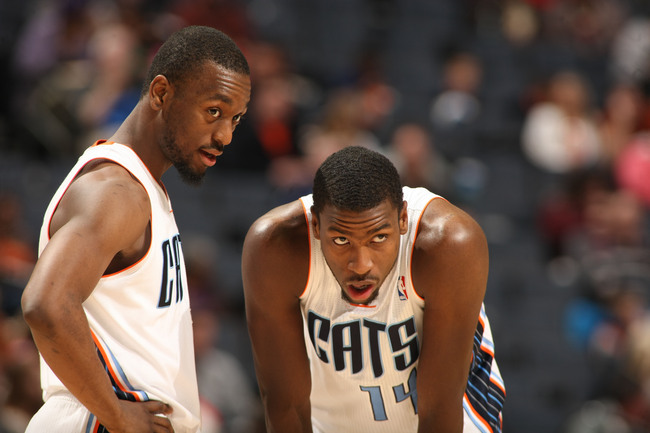 Kent Smith/Getty Images
Wins Rank: No. 10
Attendance Rank: No. 9
Franchise Value Rank: No. 10
Franchise Profit Rank: No. 3
Franchise Growth Rank: No. 10
Future Flexibility Rank: No. 7
The poor Charlotte Bobcats...
They're in last among the mid-market teams, and it's not even close. Their market score of 86 falls well shy of our No. 9 finisher, which checked in at 67, and that 19-point difference is just about as large as the gap between No. 9 and No. 4.
Not only are the Bobcats dead last in projected wins (26 on average among our three sets of record projections), but the franchise in general also isn't particularly valuable and doesn't have all that much hope for the future.
Charlotte may have money to spend, but it's still reliant on landing quality players via the draft because Al Jefferson is just about the most marquee free agent who would ever consider voluntarily signing on with this beleaguered organization.
But there is one positive.
The Bobcats are making money ($13 million in 2012-13), even if that's more the result of low expenditures than everything else. Charlotte's overall fan experience is better than it should be while boasting such a downtrodden product, and that's lured in some precious greenbacks.
9. Washington Wizards, 67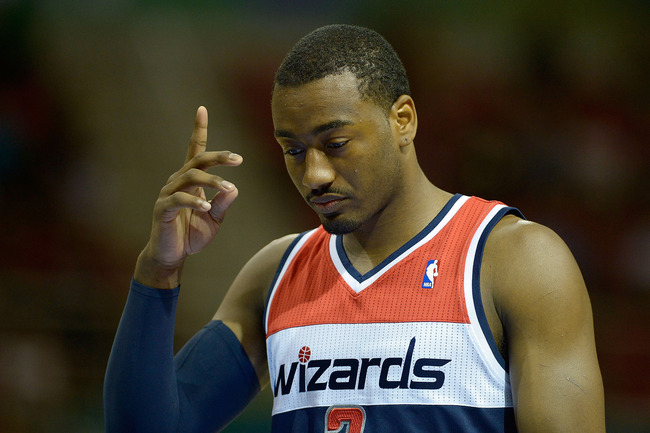 Alexandre Loureiro/Getty Images
Wins Rank: No. 7
Attendance Rank: No. 8
Franchise Value Rank: No. 7
Franchise Profit Rank: No. 10
Franchise Growth Rank: No. 8
Future Flexibility Rank: No. 3
The Washington Wizards are in pretty good shape when discussing the on-court product.
Yes, they finish No. 7 in projected wins among the mid-market teams, but to be fair, it's a stacked selection of squads. Of the 10 teams we're dealing with in this article, eight of them will be highly competitive in the race for a playoff spot.
Going forward, the Wizards are also in great shape.
Not only do they already have John Wall, Bradley Beal and Otto Porter in place, but they'll also have just $36,953,480 in guaranteed money on the books for the 2014-15 season, according to Hoopsworld. The young players will lure guys in, and the financial flexibility gained by losing the salary of Emeka Okafor and Trevor Ariza will give them the means necessary to secure them.
With a better product, the other numbers will rise.
Wins will start drawing in fans, which will help the franchise grow and make money until it's valued more highly than No. 7. Everything is on the right track in the nation's capitol.
At least when we're talking about basketball.
8. Detroit Pistons, 66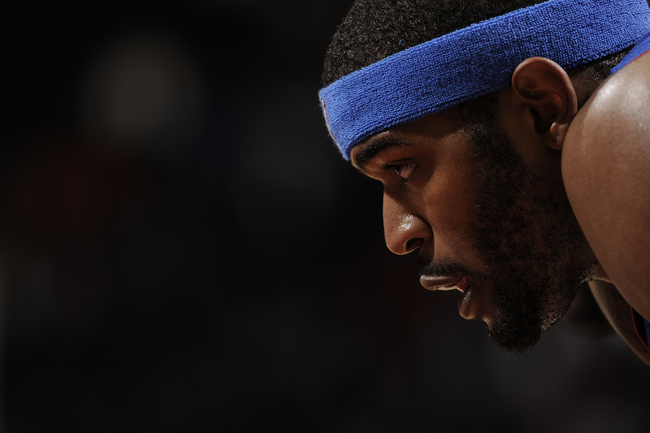 David Liam Kyle/Getty Images
Wins Rank: No. 6
Attendance Rank: No. 10
Franchise Value Rank: No. 6
Franchise Profit Rank: No. 9
Franchise Growth Rank: No. 9
Future Flexibility Rank: No. 4
If you're mad that the Detroit Pistons come in just ahead of the Wizards, you can go ahead and blame B/R's Dan Favale. Please don't be too mean, though. He's actually a good guy.
While my predictions, his forecasting and ESPN's projections all had the Wizards at 39 wins, the Pistons averaged out to 39.3. ESPN and I had them at 38, and Dan was more bullish, going with 42 victories throughout the 2013-14 campaign.
Those extra wins were all the impetus needed to push the Motor City over the top. Detroit and Washington are just that close, unless we're talking about geography.
Detroit has also maintained flexibility on the books going forward and has proven that Joe Dumars and Co. can successfully lure in All-Star-caliber talent. Now it's just a matter of letting the attendance and franchise value catch up.
The Palace of Auburn Hills boasts a ridiculous seating capacity, but it's always strikingly empty. In fact, only 67 percent of the seats filled during the average game in 2012-13. That number should rise now that there's more talent to watch, but it's still embarrassingly low for a mid-market team with a rich history.
7. Indiana Pacers, 57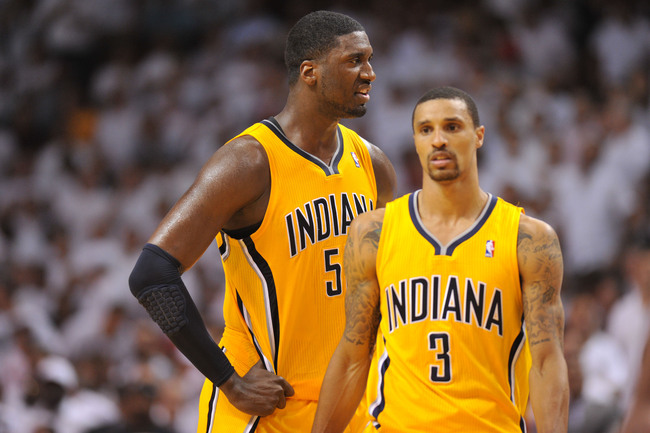 Steve Mitchell-USA TODAY Sports
Wins Rank: No. 2
Attendance Rank: No. 7
Franchise Value Rank: No. 8
Franchise Profit Rank: No. 7
Franchise Growth Rank: No. 5
Future Flexibility Rank: No. 8
The Indiana Pacers are one of a select few mid-market teams that can actually compete for a title right now.
In fact, only they and the Oklahoma City Thunder belong in the category, as the Memphis Grizzlies and Denver Nuggets fall just shy of that elite group in the Western Conference, and all of the remaining power teams in the Eastern Conference are found in larger or smaller market categories.
With Paul George, Roy Hibbert and David West leading the team, they're in great shape. And now that Danny Granger is returning and depth has been added, they're truly dangerous, possessing a solid shot at completing the dethroning of the Miami Heat this year instead of falling a game shy.
But that hasn't resulted in great financial numbers.
Yet.
Attendance was down in Indiana until the playoffs rolled around last year, depressing both the ticket prices and the hardcore fans who actually attended each and every contest.
Plus, while $383 million might seem like a lot of money, it still means the Pacers were worth less than every mid-market franchise except the Charlotte Bobcats and Grizzlies. At least the organization has already shown some demonstrable growth.
6. Denver Nuggets, 55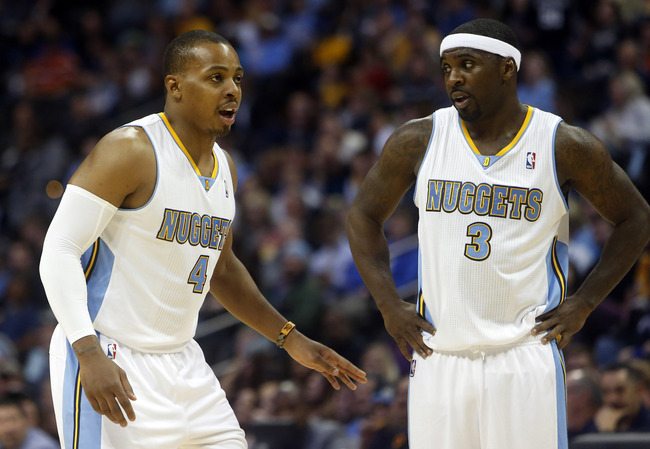 Chris Humphreys-USA TODAY Sports
Wins Rank: No. 4
Attendance Rank: No. 5
Franchise Value Rank: No. 5
Franchise Profit Rank: No. 5
Franchise Growth Rank: No. 5
Future Flexibility Rank: No. 9
Is it possible to be any more middle of the road?
Technically, yes. But it's not like any mid-market team actually managed to finish with a more balanced set of ranks than the Denver Nuggets.
With Ty Lawson, Andre Miller, Nate Robinson, Wilson Chandler, Kenneth Faried and JaVale McGee still on board, the Nuggets should remain a playoff team in the brutally tough Western Conference. But it'll be tougher without Andre Iguodala and George Karl, both of whom departed in the offseason.
That's reflected in the average projected wins (45), which is a far cry from the team that won 38 games at home last year en route to racking up well over 50 victories.
The middle-of-the-road status doesn't carry over to the future flexibility (R.I.P. Masai Ujiri's influence), but it's still reflected in the value of the franchise and the attendance.
The 93 percent attendance, $427 million team value, $12 million profit and 35 percent growth all finished right in the center of the mid-market rankings. There's a lot of potential for change in 2013-14, and the start the team gets off to will play a large part in determining whether this franchise continues growing at the same rate.
5. Memphis Grizzlies, 52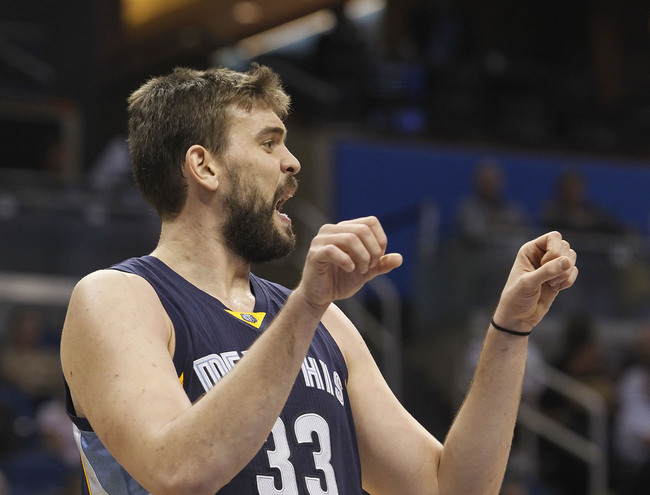 Kim Klement-USA TODAY Sports
Wins Rank: No. 3
Attendance Rank: No. 6
Franchise Value Rank: No. 9
Franchise Profit Rank: No. 5
Franchise Growth Rank: No. 2
Future Flexibility Rank: No. 6
The Memphis Grizzlies are in great shape from a current perspective.
Although the franchise isn't worth very much ($377 million, which beats out only the Charlotte Bobcats among the mid-market teams), the team is doing quite well and helping the organization grow rapidly.
The presence of Mike Conley, Zach Randolph and Marc Gasol has made the Grizz into a fringe elite team in the Western Conference, but now it needs to translate into more attendance. In 2012-13, the FedEx Forum was filled to 91.8 percent of its capacity, and that isn't good enough for a playoff lock that plays entertaining basketball (if you're a purist who likes defense).
But the other reason Memphis can't move up any higher than No. 5 is the future flexibility.
Not only are free agents historically hesitant to join this franchise, but there also isn't much money to spend next offseason. Sure, Hoopsworld reveals that the Grizz have only $39,947,212 committed in guaranteed salary, but that's not including Z-Bo's $17 million player option. Once he's back on board, you can wave goodbye to spending money.
Memphis has everything open up in 2015, but that's not good enough to push the squad into the top half of the flexibility rankings.
4. Portland Trail Blazers, 46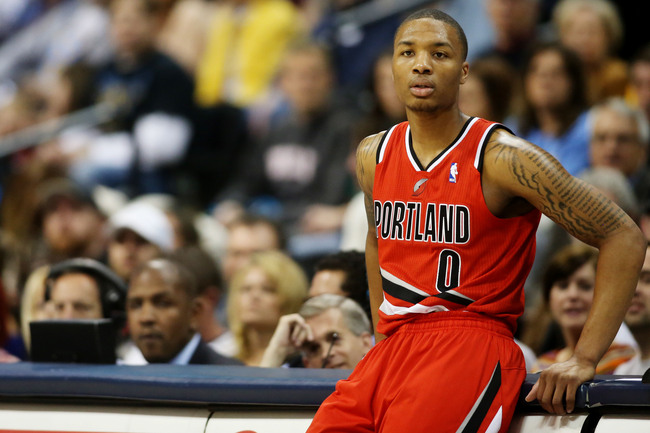 Chris Humphreys-USA TODAY Sports
Wins Rank: No. 5
Attendance Rank: No. 4
Franchise Value Rank: No. 4
Franchise Profit Rank: No. 8
Franchise Growth Rank: No. 7
Future Flexibility Rank: No. 2
The Portland Trail Blazers may not be locks for a postseason berth in 2013-14, but they've still constructed a team prepared to compete now and in the future.
One of the ways to analyze team construction is simply to add together the ranks for wins and future flexibility. The lower the score, the better, as that means a team is well off in the present and for years to come.
Among the mid-market teams, Rip City finishes No. 1 with a score of seven. The Dallas Mavericks and Memphis Grizzlies are tied for second, two points shy of the Blazers.
Having Damian Lillard and LaMarcus Aldridge will help keep up the attendance in the Rose Garden Moda Center (man, that name change is going to be hard to get used to), and with attendance comes profit and franchise value. Plus, the additions (both to the core via drafting C.J. McCollum and through adding depth) will help make this team even more competitive going forward.
Portland is in great shape for a long time, so the franchise value should steadily keep climbing the ranks as the growth accelerates along with the development of the young backcourt studs.
3. Boston Celtics, 44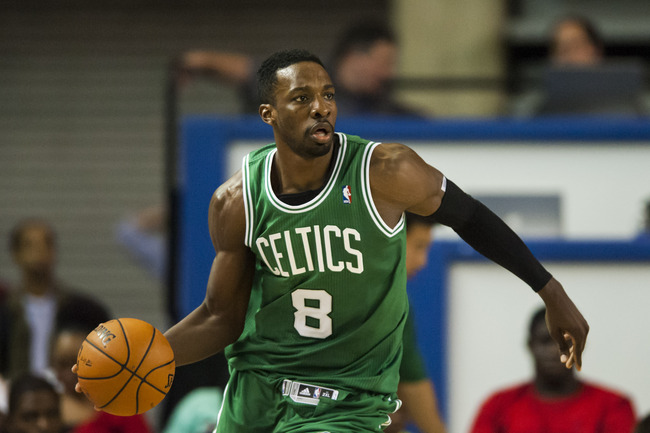 Howard Smith-USA TODAY Sports
Wins Rank: No. 9
Attendance Rank: No. 2
Franchise Value Rank: No. 1
Franchise Profit Rank: No. 2
Franchise Growth Rank: No. 1
Future Flexibility Rank: No. 5
The Boston Celtics are proving you don't have to win games to be in good shape as an organization.
Just as the Los Angeles Lakers overcome the wins rank to finish No. 2 among the big-market teams, the C's are doing just about the same thing with the mid-market squads.
Thanks to an average record projection of 28-54, Boston finishes behind every mid-market team except for the Charlotte Bobcats. And even that was close. Unless Rajon Rondo returns earlier than expected and immediately resumes his All-Star level of play, Boston doesn't figure to threaten any of the top teams in the Eastern Conference.
The offense struggled even with Paul Pierce and Kevin Garnett in town. Now you're removing both of them, leaving Rondo out of the picture for part of the season and expecting to compete with Jeff Green as a No. 1 option?
Please.
But hey, at least the Celtics are, well, the Celtics. One of the two most historically successful organizations in basketball, Boston always draws a large crowd and is still growing at an insane rate. Thanks to a $19 million profit and 51 percent growth last year, the franchise is now worth a market-high $730 million.
2. Dallas Mavericks, 37
Jerome Miron-USA TODAY Sports
Wins Rank: No. 8
Attendance Rank: No. 1
Franchise Value Rank: No. 2
Franchise Profit Rank: No. 3
Franchise Growth Rank: No. 3
Future Flexibility Rank: No. 1
The Dallas Mavericks and the yet-to-be-revealed No. 1 finisher in the mid-market rankings are just in a class of their own.
Each only has one weakness, and the Dallas Mavericks' flaw is more of a fatal one. Remember, winning is the most heavily weighted category, so finishing at No. 8 is a death knell when in the realm of the elites.
Dallas checked in with an average of 38.3 wins, according to the three projections used. Dan Favale and I both had Dirk Nowitzki's squad at 38 victories, and ESPN gave it an additional one. Most likely they both have the same questions about the defense that exist in my mind.
But other than that, Dallas is in fantastic shape.
They have the top attendance among mid-market teams, filling out 104.4 percent of the American Airlines Center for the average home game. Additionally, the franchise is valued at $685 million and still growing at a high rate.
Plus, the Mavs have plenty of financial flexibility going forward, so owner Mark Cuban has yet another chance to make a successful recruiting pitch when trying to lure in one of the biggest fish in the free-agent pool.
1. Oklahoma City Thunder, 36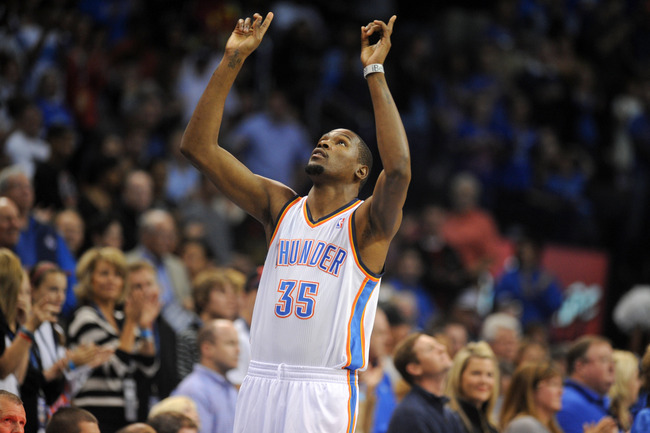 Mark D. Smith-USA TODAY Sports
Wins Rank: No. 1
Attendance Rank: No. 2
Franchise Value Rank: No. 3
Franchise Profit Rank: No. 1
Franchise Growth Rank: No. 4
Future Flexibility Rank: No. 10
If you just added up the rankings without worrying about the multipliers, the Oklahoma City Thunder would finish with a score of 21, one that would leave them trailing the Dallas Mavericks (18).
But fortunately for the Thunder, the categories are weighted, and the most important one is the home of a No. 1 ranking.
Even with Russell Westbrook out for the first few weeks of the season as he recovers from arthroscopic surgery to repair a loose stitch, the Thunder still figure to be an elite team in the Western Conference.
They have Kevin Durant, after all.
Our panel is selecting the Thunder to win just under 58 games, and that's more than any other team featured in this article can boast. It trumps the lack of financial flexibility in a big way, a category that doesn't seem to matter much to Sam Presti because he believes so strongly in quality drafting and internal development.
Even though they're relatively new to the Oklahoma City area, this franchise is still worth $475 million, and it continues to grow quickly as the Thunder remain competitive year in and year out.
Keep Reading