Goldust's Latest WWE Comeback Is the Best of His Career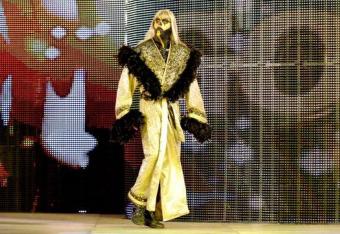 courtesy wwe.com

For the last month and a half, Dustin Runnels has been back as a regular on-screen performer with the WWE. It is his fifth stint with the company using his Goldust persona, and this one is easily the most noteworthy since his pairing with Booker T in 2002 and 2003.
There has always been plenty to love about the Goldust character. WWE first introduced us to "The Bizarre One" back in 1995 courtesy of a handful of eerie promos prior to his in-ring debut.
During his initial run with the company, Goldust won the intercontinental championship three times and briefly ascended into the main-event scene thanks to short feuds with the likes of Shawn Michaels and The Undertaker.
Following a two-year run in World Championship Wrestling, Goldust made his first return to the WWE at the 2002 Royal Rumble as a surprise entrant. Following a brief feud with Rob Van Dam and the WWE's decision to do a roster split, the blond superstar became a member of Monday Night Raw's brand.
It was here that he formed an alliance with Booker T. The duo became immensely popular with fans (though they were originally a heel team) thanks to their many hilarious backstage skits.
Finally, after months of teaming together, the duo won the World Tag Team Championship at the Armageddon pay-per-view in December 2002.
Their reign was short lived, and a couple of months later they split amicably.
Goldust's stock began to drop in the company, and by the end of 2003, he was once again out of the WWE.
From 2005 through 2010, he had two more stints as an active wrestler. The only thing of great significance for him during either tenure was a brief feud in the summer of 2009 with up-and-coming superstar, Sheamus.
During this rivalry, the golden one scored a televised win over the future world champion but ultimately ended up on the losing end of the feud.
Following shoulder surgery in late 2010, Runnels became a backstage producer for the company, a position he would hold until the middle of 2012.
Early in 2013, Goldust made another on-screen return to WWE, again as a surprise entrant in the Royal Rumble. After his elimination from the match, Goldust once more disappeared from television.
The last handful of weeks have seen Goldust's latest return to the company. This time around, he appears to be in great shape, is healthy and has been putting on some high-quality performances.
On the September 9 edition of Raw, Goldust had his first singles match with the company in nearly three years, and he delivered an amazing performance. It was a match against Randy Orton where if the bizarre one was victorious, he would earn his recently fired brother, Cody Rhodes' job back.
After 13 minutes of back-and-forth action that included a couple of near falls for Goldust, Orton got the win. Goldust, however, was the real story.
It was great seeing him return to one-on-one competition, but it was even better seeing him come back with such a strong showing.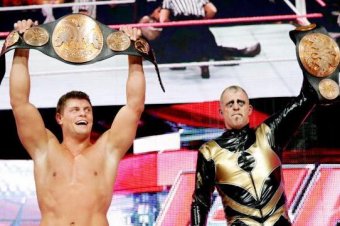 The Rhodes brothers then teamed together at the Battleground pay-per-view earlier this month where they were victorious in a match against The Shield. Per the stipulations of the match, Cody was re-hired, and Goldust was also given a spot on the roster.
The pair would take full advantage of their newfound opportunity. Just eight days after their pay-per-view conquest, they once again defeated The Shield, this time on Raw and earned the WWE Tag Team Championships.
It was Goldust's first title in the WWE in 11 years.
This latest comeback for gold-clad superstar is already the most memorable of all his WWE returns. He came back in the midst of a hot storyline that has helped elevate his brother's career, and quite possibly done the same for his own.
Through all the injuries and many attempts and failed attempts at a WWE comeback, it is nice to see that thus far this one has been very successful for Goldust.
He is performing at a main event-caliber level, and as such has been rewarded with championship gold.
WWE has a good thing going right now with the intertwining stories of Daniel Bryan, Randy Orton, Big Show, Triple H, The Shield and the Rhodes brothers.
For a character that debuted 18 years ago, it is amazing to look back and see what his career has come to. For the fifth different time, Goldust is once again a full-time WWE superstar. The big difference this time, is that he may be more relevant now than he ever has been before.
This article is
What is the duplicate article?
Why is this article offensive?
Where is this article plagiarized from?
Why is this article poorly edited?