Champions League 2013 Groups: Results and Analysis from Tuesday's Action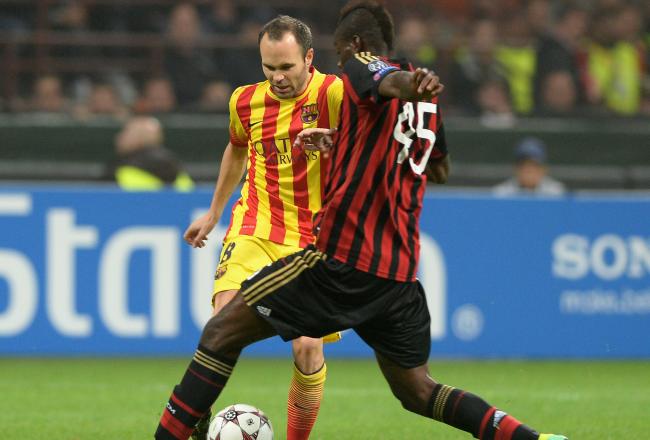 Claudio Villa/Getty Images
Tuesday's UEFA Champions League slate featured some of the best international club matchups possible and we're left with plenty to make of the results.
While Wednesday will only continue what has been an exciting midweek of world football, the impact of Tuesday's scorelines will be felt moving forward. With these groups now three matches in and halfway through the opening stage, the landscape of a couple of groups was altered significantly.
Here's a breakdown of each of Tuesday's matches.
Group E
Schalke 04 0 - 3 Chelsea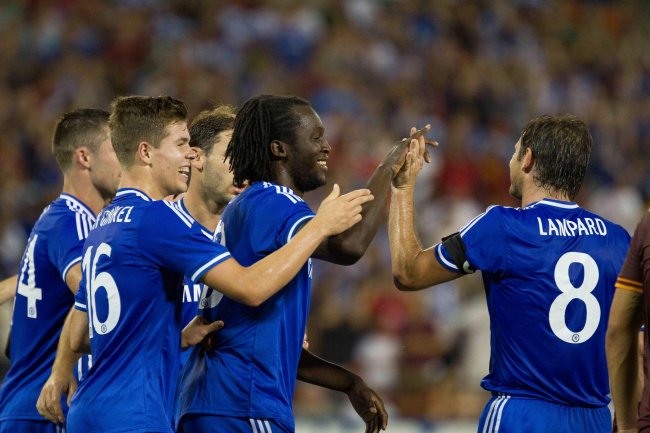 Paul Frederiksen-USA TODAY Sport
In matches that could help decide things down the road, the cream typically rises to the top. That happened in Chelsea's 3-0 win over Schalke 04, as the most talented squad emerged in obvious fashion.
When Fernando Torres scores an early goal, you just know fate will be on Chelsea's side. He scored in the fifth minute and defense led the way for much of it until he seemingly put the dagger in with a 68th-minute goal.
Eden Hazard then made sure everything was cleaned up by adding another in the 87th minute. Oh, and they did so despite holding just 41 percent possession and being outshot 13-9.
Chelsea didn't overpower their opponent with possession, but that's not their style. They play their best when they're opportunistic and take advantage of scoring chances and that's just what happened Tuesday.
The win ties Chelsea with Schalke atop Group E and, just as importantly, skyrockets their goal differential to plus-6.
Steaua Bucuresti 1 - 1 FC Basel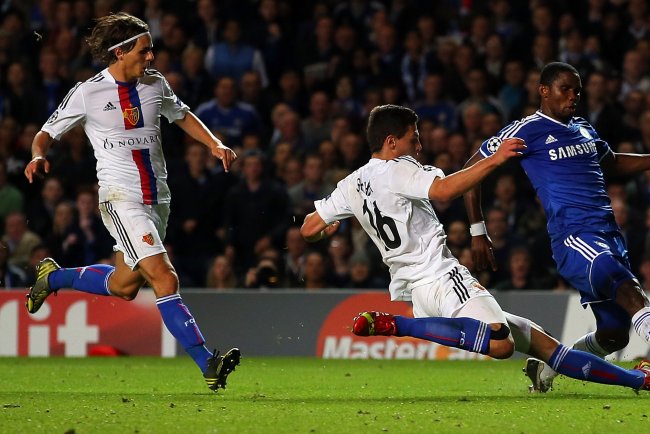 /Getty Images
With Chelsea knocking off Schalke, Basel could force a three-way tie by beating Steaua Bucuresti, who have a minus-7 goal differential and lost their two opening matches. Shouldn't be too hard, right?
Well, they struggled to a 1-1 tie against the foe.
They're far from out of the running, as their 2-1 win over Chelsea in Stamford Bridge still has plenty of implications and they sit just two points back.
But it was a massive missed opportunity for a club that could have really put the pressure on the group's two favorites.
Group F
Arsenal 1 - 2 Borussia Dortmund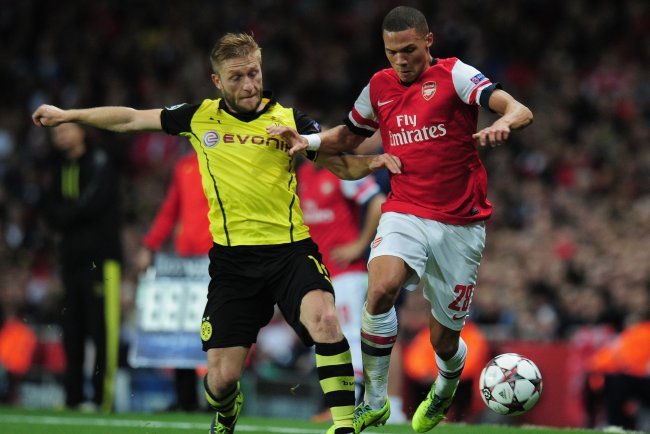 /Getty Images
Seemingly tearing up everyone they play, Arsenal got perhaps their toughest test in a long time against Borussia Dortmund on Tuesday. It ended in defeat, 2-1.
As expected, the Gunners stood tall and the two sides competed in a spectacle of a match that went both ways and wasn't short on excitement.
New addition Henrik Mkhitaryan proved his worth in the 16th minute to put Borussia Dortmund ahead, but it was answered just before half-time by in-form striker Olivier Giroud.
It looked to be anyone's match throughout a back-and-forth second half, but then it was one player who stole the spotlight—Robert Lewandowski. His 81st-minute goal was the difference in a 2-1 win.
Dortmund desperately needed three points after losing to Napoli and with Arsenal running away with the group. Now all three are tied with six points.
Marseille 1 - 2 Napoli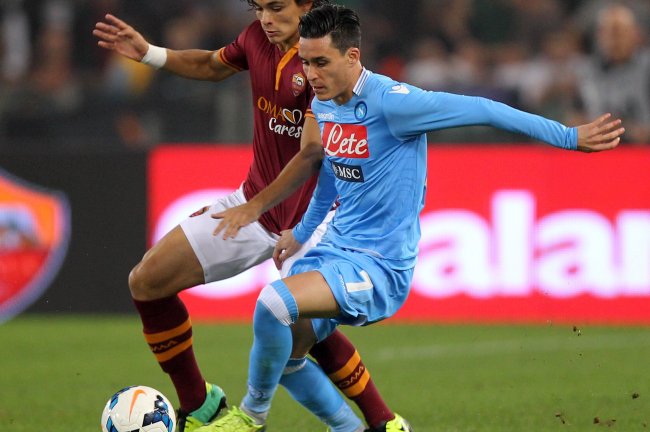 /Getty Images
It hasn't been a year to remember so far for Marseille, and that continued with a disappointing 2-1 defeat to Napoli that looked to have just about ended the French side's chances of advancing in this group of death.
Jose Callejon continued his streaky play with a 41st-minute goal from his right foot that slipped into the bottom left corner off a beautiful pass from Gonzalo Higuain. Then a 61st-minute goal from Duvan Zapata looked to be all Napoli needed to get past their struggling opponents.
Napoli improved to six points with the win and couldn't have asked for much more in Dortmund's victory over Arsenal. It made for a three-way tie between the three sides for the top spot in Group F.
Meanwhile, Marseille is the odd one out with no points in three matches.
Group G
Austria Vienna 0 - 3 Atletico Madrid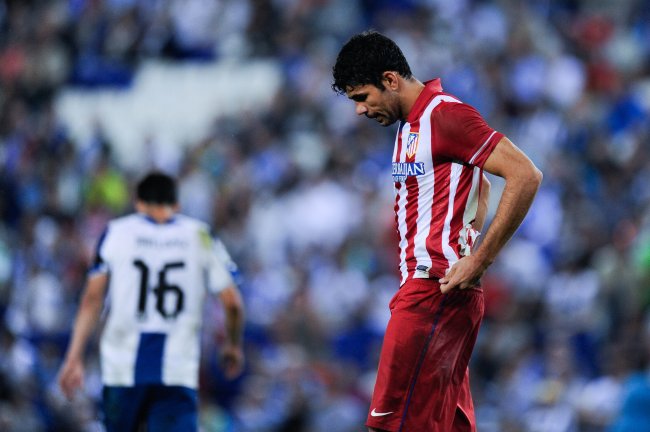 /Getty Images
Most of Tuesday's Champions League matches were down to the wire, but Atletico Madrid vs. Austria Vienna undoubtedly changed the pace of that.
Raul Garcia of Atletico got his squad out to a promising start in the road affair with an eighth-minute score. But it was star Diego Costa who took things from there, scoring in the 20th and 53rd minutes to push Madrid's lead even further.
Austria Vienna needed points Tuesday to start making up ground but now only boast one point in three matches, and their already small chances of advancing seem like a near impossibility.
The Spanish giants, on the other hand, have now topped all three of their Group G foes and have a lengthy lead in the group stage over Austria, FC Porto and Zenit St. Petersburg. It'll take a nightmare finish not to advance.
FC Porto 0 - 1 Zenit St. Petersburg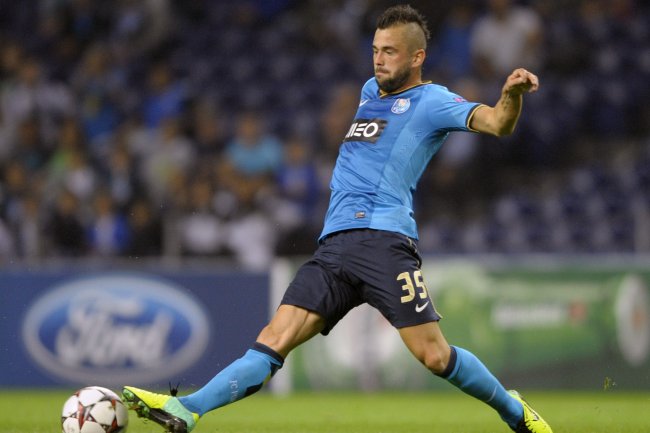 /Getty Images
Porto had a chance to stay just behind Atletico by taking care of Zenit St. Petersburg, but they folded and suffered a 1-0 defeat.
Porto played much of the match with 10 men and even got struck down to nine men in the 90th minute. It didn't seem to stifle completely their offense with 22 shots in total, but only five were on target.
Meanwhile, Hulk was all over the place for Zenit, but it was an 85th-minute header from Alexander Kerzhakov that opened—and closed—up the scoring and clinched the final score.
The Russian side immediately jumped over Porto (three points) in the group standings with four points.
Group H
AC Milan 1 - 1 Barcelona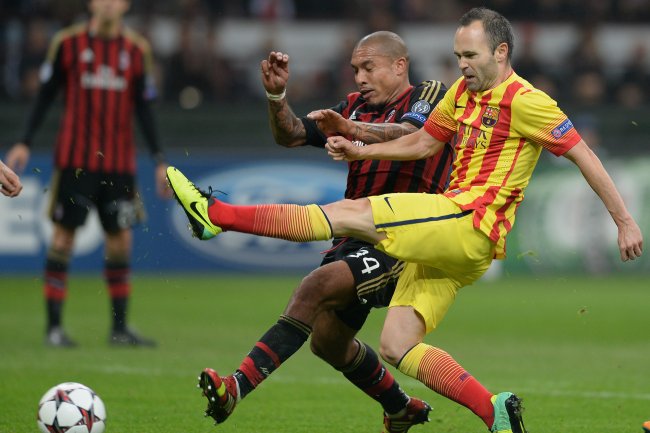 /Getty Images
Milan didn't get the crucial home victory they got last year over Barcelona, but one point will do as a 1-1 draw keeps Barcelona just two points up on the Serie A club.
Milan controlled the match from the get go, not surprising given their home-field advantage. It allowed Kaka and Robinho to combine for a wonderful passing display, highlighted by Robinho's finish in the ninth minute to put Milan on top.
Barcelona wasted very little time getting back, on the swift foot of Lionel Messi in the 23rd minute. A complicated Barca offensive passing attack found its way to Messi in the box and he's just automatic from there.
As many would suspect, La Blaugrana took control of the match later on with 72 percent possession and 17 shots to Milan's six. But that stingy Italian defense stood tall and stifled Barcelona for the most part.
Celtic 2 - 1 Ajax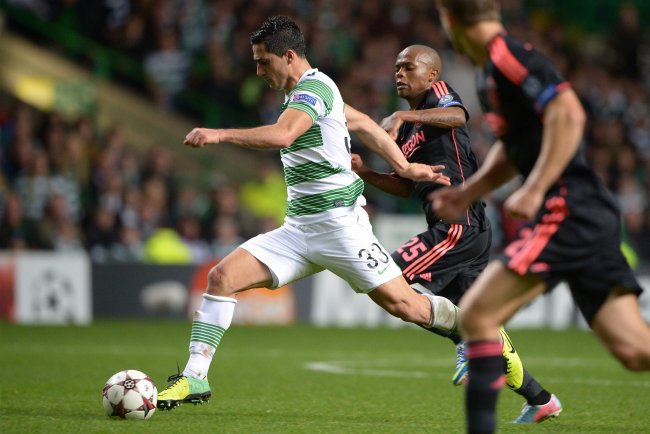 /Getty Images
Celtic played sloppy (15 fouls) and couldn't hold on to the ball to save their lives (31 percent possession), but somehow led 2-0 late and pulled out a 2-1 victory.
The Scottish champions got the scoring started just before half-time with a penalty netted by James Forrest, and a 54th-minute deep strike from Beram Kayal that deflected off a defender turned out to be the game-winner.
Celtic's Nir Biton notched a red card in the 88th minute and gave Ajax some daylight, which they quickly took advantage of with a stoppage-time goal. But it wasn't enough to make things interesting.
It was a clutch result for Celtic, who were pointless through two matches and were losing ground on a star-studded group of Ajax, Barcelona and Milan. At least now they have a chance down the stretch.
This article is
What is the duplicate article?
Why is this article offensive?
Where is this article plagiarized from?
Why is this article poorly edited?