SEC Football 2013 Week 9 Simulation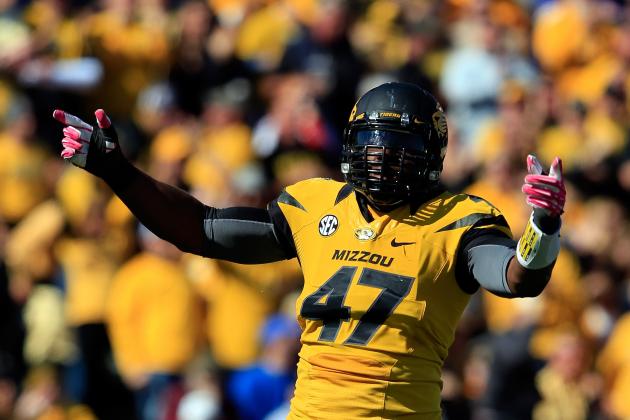 Jamie Squire/Getty Images

I hate to say I told you so, but...okay, no I don't. I don't hate it. I told you so.
Missouri's backup-turned-starting quarterback Maty Mauk proved he and Mizzou belong among the nation's elite with a resounding 36-17 win over Florida.
The Tigers are now comfortably in the SEC East driver's seat with only a handful of games remaining.
In other news, the SEC was absolute carnage. Georgia, Texas A&M, South Carolina and LSU all went down to underdogs, leaving this week's picks a bit of a dumpster fire. Although I increased my wrong picks overall by 50 percent, I oddly fell just short of picking perfectly against the spread.
I'm now on top of the computer in both categories. Let's see if we can keep it that way.
---
| | | |
| --- | --- | --- |
| | This Week | Overall |
| EA Straight-Up | 1-5 | 48-22 |
| Me Straight-Up | 2-4 | 58-12 |
| | | |
| EA vs. Spread | 2-4 | 34-36 |
| Me vs. Spread | 5-1 | 37-33 |
Begin Slideshow

»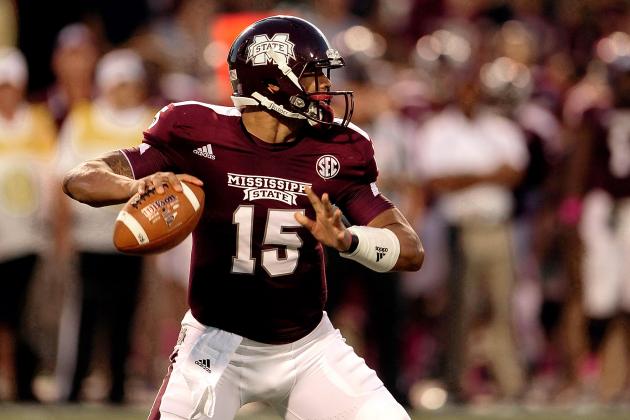 Stacy Revere/Getty Images

The full-on quarterback controversy has settled into a pretty successful two-quarterback system for Mississippi State. Despite Kentucky's underrated offense, this one should easily be the Bulldogs' first SEC win.
Ladarius Perkins racks up over 100 yards of rushing in the first two drives of the first quarter to help MSU lead at halftime 35-0. Much like what should be expected in real life, this one isn't competitive.
Both teams turn the ball over three times, two of those interceptions from Tyler Russell, who passes for 15-of-23 for 230 yards and two scores. Prescott sees limited time after an early interception.
For UK, Maxwell Smith completes 18 of 38 passes for 295 yards, a touchdown and two interceptions.
Robert Johnson catches six for State to rack up 101 yards, and Za'Darius Smith records 10 tackles for the Wildcats.
Mississippi State has been tremendously unlucky this season, squandering away two wins and nearly doing it again versus Bowling Green. The Wildcats are rebuilding, and MSU is underrated. This one goes to the 'Dawgs.
---
EA PICKS: Mississippi State to win, Mississippi State (-10.5)
MY PICKS: Mississippi State to win, Mississippi State (-10.5)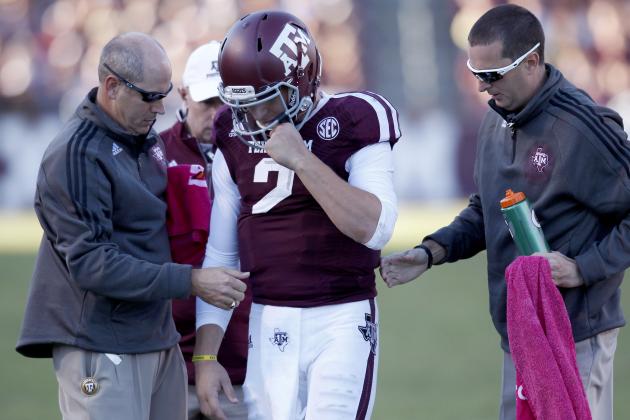 Thomas B. Shea/Getty Images

Texas A&M, victim of the upset in Auburn, is holding its collective breath after reports today that Johnny Manziel's throwing arm was in a sling at the Aggies' practice. This follows a brief period in which Manziel was pulled from this weekend's game after a hit to that arm.
Likewise, Austyn Carta-Samuels is questionable after an injury against Georgia.
This is where it gets tough. If Manziel isn't 100 percent and Carta-Samuels is full-go, things get dicey. The Commodores are coming off a massive upset of Georgia and are going to want to keep that momentum.
In the simulation, Vandy's defense is able to hold tight until the second quarter, where Manziel churns out 21-straight points and A&M leads at halftime 24-0. The 'Dores are never able to recover despite a solid 13-point effort in the fourth.
The teams combine for six turnovers, including Manziel's one interception. He makes up for it with four touchdowns on 17-of-24 passing for 249 yards and a 204.6 QB rating.
Carta-Samuels passes for 246 yards for Vanderbilt on 18-of-37 passing and a touchdown.
Vanderbilt should be able to keep it close if Manziel doesn't play, though I suspect he'll find a way to be on the field.
---
EA PICKS: Texas A&M to win, Texas A&M (-18)
MY PICKS: Texas A&M to win, Vanderbilt (+18)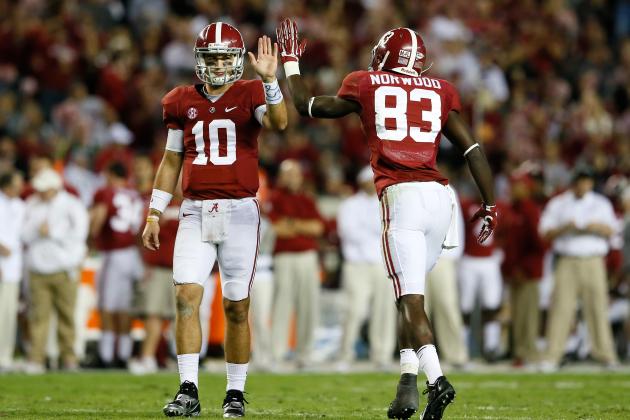 Kevin C. Cox/Getty Images

Much like a third of the SEC, Tennessee is coming off a big upset win, coming at the expense of South Carolina.
Conversely, Alabama put up 52 points on Arkansas without allowing a point.
This one begins as a tight battle. After a quick 45-yard field goal from the Tide, Nathan Peterman hits Howard for a 17-yard touchdown to put UT up 7-3. AJ McCarron responds with a touchdown drive of his own, and the Vols hit a second-quarter field goal to tie the game heading into halftime.
After some defensive adjustments, 'Bama doesn't allow any more points and manages one touchdown per quarter to finish off the win.
McCarron ends the day with 206 yards and a touchdown on 14-of-23 passing, while C.J. Mosley and Xzavier Dickson combine for 20 tackles and two sacks.
Peterman just hits even on 15-of-30 passing for 156 yards and a score, and A.J. Johnson leads the game with 12 tackles.
Alabama has weaknesses this year, yes. The good news for Alabama fans, though, is that losing isn't one of them.
---
EA PICKS: Alabama to win, Tennessee (+28.5)
MY PICKS: Alabama to win, Tennessee (+28.5)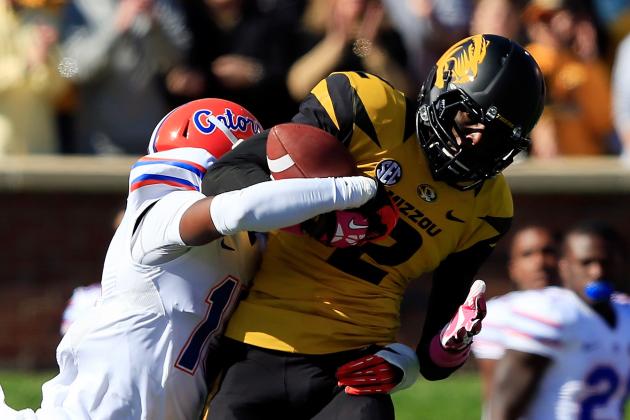 Jamie Squire/Getty Images

Another winner-vs-loser matchup from Week 7 features the suddenly SEC East-leading Missouri Tigers and the disappointing South Carolina Gamecocks.
Everyone in Columbia knows that this win could seal the deal for the Tigers' SEC East bid, while USC badly needs this win to remain part of the hunt.
The computer, of course, goes with James Franklin as the starting Mizzou quarterback, and he quickly puts up 14 in the first quarter to push the team ahead by two scores.
A third touchdown from Henry Josey puts the Tigers up 21-0, and the game begins to resemble a blowout. A pick-six from USC's Kaiwan Lewis reverses the momentum, though, and puts the Gamecocks back within 14 at halftime.
That momentum doesn't slow during regulation, as yet another pick six, this one from Victor Hampton, sparks a 17-3 Gamecock second half to send the game into overtime.
When both teams score a touchdown in the first OT, Franklin connects on a nine-yard pass to Lucas to pull ahead in the second. Despite having all four downs to try, USC can't match and loses a heartbreaker.
I'm not convinced this one will be that close. I can promise I'll be watching it, either way.
---
EA PICKS: Missouri to win, Missouri (-2.5)
MY PICKS: Missouri to win, Missouri (-2.5)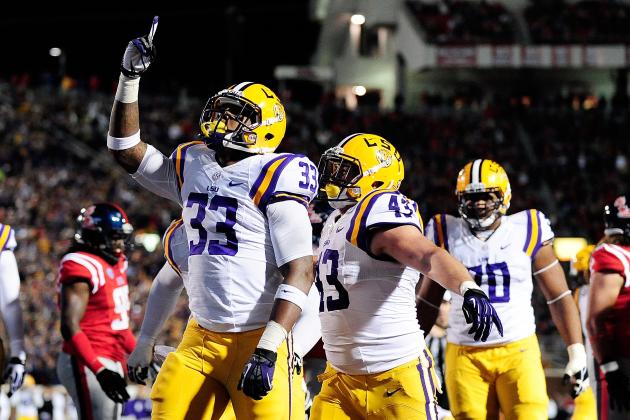 Stacy Revere/Getty Images

The Tigers of LSU are still likely licking their wounds (and recovering from severe hangovers) after this Saturday's loss to Ole Miss.
LSU is now almost assuredly out of the national championship picture and has only one way to vent its frustrations: Furman.
In the simulation, the Tigers struggle to find a rhythm offensively in the first quarter, falling behind 10-0 heading into the second. The rest of the game, though, belongs to LSU.
The Tigers allow just 162 yards and record 463 of their own, as Zach Mettenberger hits on 16-of-32 passing for 267 yards and three touchdowns. Running back Jeremy Hill was responsible for another 121 yards on 21 carries and two scores.
This one'll be ugly.
---
EA PICKS: LSU to win, Furman (+47)
MY PICKS: LSU to win, LSU (-47)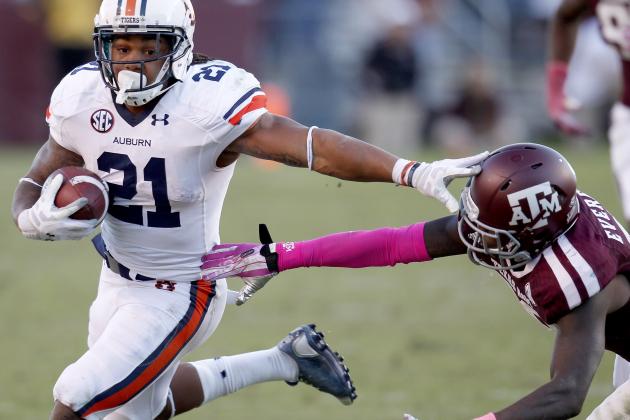 Thomas B. Shea/Getty Images

It's called the let-down game.
The Tigers are enjoying a top-15 ranking after a big upset of Johnny Football and the Aggies, and the computer is calling them unfocused.
Tre Mason runs it in from seven yards out in the middle of the first to put AU up 7-0, and a 42-yard field goal adds three more in the second quarter. After a big touchdown drive from FAU, the Tigers connect on two more field goals to go up 16-7.
A 46-yard field goal from FAU are the only points scored in the second half, and Auburn escapes with an ugly victory.
Jonathan Wallace is 15-of-30 on the day for 179 yards and an interception, while Artis Payne rushes 19 times for 101 yards.
I can't foresee any Gus Malzahn squad scoring just 16 points in a game, particularly against a 2-5 FAU team.
---
EA PICKS: Auburn to win, FAU (+24.5)
MY PICKS: Auburn to win, Auburn (-24.5)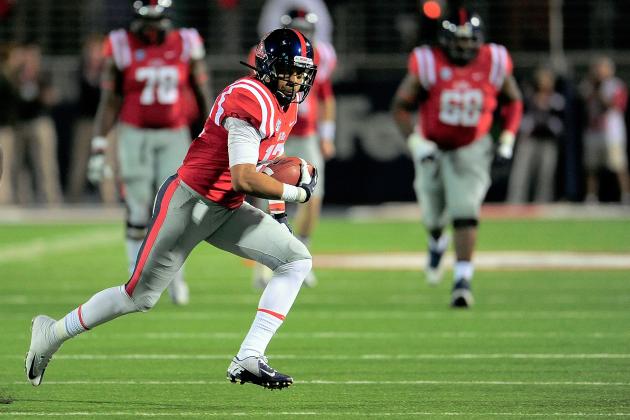 Stacy Revere/Getty Images

Knocking off a national title contender is no small matter. Many teams would be concerned about a let-down, but Idaho is one of the worst teams in the nation.
Very little detail is needed here. The Rebels score 14 points in the first quarter and never look back.
Ole Miss holds the Vandals to 178 yards and accumulate 562 of its own, while Bo Wallace throws for 18-of-33 for 320 yards and four touchdowns.
Of note, Maikhail Miller manages a 682.0 QB rating after coming into the game to throw one pass that was completed for a 30-yard touchdown. That's a stat-buster.
This is one of the softest cupcakes of the season for any SEC team.
---
EA PICKS: Ole Miss to win, Ole Miss (-41)
MY PICKS: Ole Miss to win, Ole Miss (-41)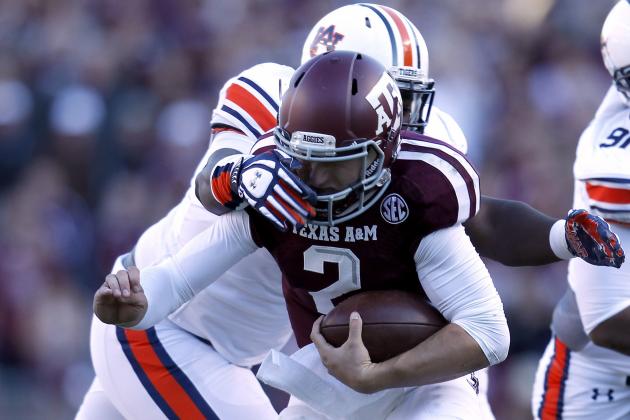 Thomas B. Shea/Getty Images

After a crazy weekend full of SEC matchups and upsets, this weekend brings two major must-sees: Vanderbilt in College Station and South Carolina in Columbia.
Quarterback issues abound, as nearly half the league's starters are out or questionable. Whether Manziel and/or Carta-Samuels return will play an important role for both their teams.
My game of the week, and an easy choice, is USC at Mizzou, which will come close to defining the battle for the SEC Eastern Division.
I'm managing to hold down the computer. So stay tuned, and we'll see if we can keep the streak alive.
Follow me on Twitter @SEC_Nerd.