Biggest Highlights and Lowlights of the 2013 NBA Preseason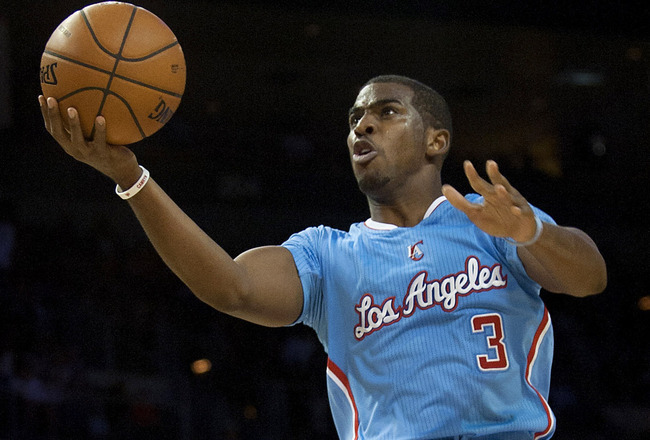 Stephen R. Sylvanie-USA TODAY Sp
The 2013 NBA preseason is just a warmup for the real deal, but it's been an entertaining few weeks.
Chicago Bulls superstar Derrick Rose has already provided us with a bunch of jaw-dropping plays, but he wasn't the only point guard putting on a show.
D-Rose also wasn't the only standout player coming back from a major injury, either.
October featured some intense contests with thrilling finishes, including a couple buzzer-beaters. And for every praiseworthy moment that occurred, there was an equally embarrassing or regrettable moment.
What were the Association's biggest highlights and lowlights of the preseason? Read on to find out.
Highlight: Chris Paul Goes off on the Denver Nuggets
We can never get enough of Chris Paul's mastery, even during preseason play.
It was a neutral-site exhibition in Las Vegas, but the Los Angeles Clippers star launched a playoff-caliber outburst against the Denver Nuggets, dropping 40 points and 11 assists in 42 minutes.
He pushed the pace and made plays from everywhere on the floor, as his jumper was clicking, and a last-minute layup sent the game into overtime. The Clippers ended up losing, but CP3 certainly made his mark in Vegas.
It's not uncommon for star players to intermittently play heavy minutes during the preseason, but performances like Paul's are quite rare. It served as an exciting primer for the rest of the 2013-14 campaign.
Lowlight: Kendrick Perkins Does His Best CP3 Imitation...and Fails
When Scott Brooks told his Oklahoma City Thunder troops they needed to push the pace and find easy buckets in transition, this isn't what he had in mind.
But there was Kendrick Perkins, receiving an outlet pass from Kevin Durant and looking to convert a 2-on-1 opportunity. His off-target lob was a reminder that running a fast break isn't a piece of cake.
Perkins has made some plays in the open floor before, including alley-oops. In this case, he was a bit too ambitious and paid the price.
Highlight: D-Rose Delivers MVP-Caliber Game vs. Indy
You know the old saying, "back and better than ever?"
It looks like Derrick Rose fits the billing.
The Chicago Bulls megastar has enjoyed several impressive games throughout the preseason, but we chose his performance against Indiana as the highlight because it was an MVP-type display: 32 points, nine assists and four rebounds on 9-of-15 shooting.
In just a few short games, he's shown us the full range of his prowess. Rose's jumper is smoother than it has ever been, his dribble-drive finishes are electric, and he is a dangerous facilitator.
His mix of blistering speed, vertical agility and deft touch is something basketball fans—not just Bulls fans—have missed for the last year-and-a-half.
Eastern Conference foes might not be thrilled about it, but D-Rose is more than ready to chase the MVP and Larry O'Brien trophies in 2013-14.
Lowlight: Royce White Commits Four Fouls in 1:27
These four fouls weren't football-esque or flagrant, but they were fouls nonetheless.
In his Philadelphia 76ers preseason debut against the Boston Celtics, Royce White found himself in serious foul trouble just a few possessions after checking into the game.
After the first couple whistles, he should have been a little more cautious about bumping into the guys wearing green.
The Sixers ended up waiving White on Oct. 24, as the young forward's already-rocky career took another tough turn. We'll see if he ever pans out as a productive forward.
Highlight: Kyrie Irving Up to His Usual (Amazing) Tricks
We can't compile a list of great highlights without including Uncle Drew.
Cleveland Cavaliers floor general Kyrie Irving dices up the Philadelphia 76ers defense here, seemingly creating a layup out of thin air. Despite three Sixers trying to contain him, he finds a way to the rim.
It's not a stretch to say that Irving has the best ball-handling skills in the NBA today, as there are few players in league history who can pull off consecutive crossovers and a twisting layup like that.
His magic act against Philly was part of a 17-point, 12-assist night. Everyone's expecting big things out of Irving in 2013-14, and it looks like he's ready to keep amazing us.
Lowlight: Al Harrington Pulls Chair from Andray Blatche
Sometimes the best defense is no defense at all.
Brooklyn Nets forward Andray Blatche was bracing for physical resistance from Washington Wizards veteran Al Harrington, only to find himself stumbling down after Harrington "pulled the chair" on him.
Even though Blatche was bested by a more experienced player, there's still something embarrassing about losing the ball and landing on your rear end.
As a consolation prize, Blatche scored 14 points and helped Brooklyn beat Washington 111-106.
Highlight: Josh Smith Caps off Preseason with Buzzer-Beater
Late-game drama is always compelling, whether it's during the preseason, regular season or some random pickup game; that's the nature of basketball.
So forgive us for enjoying Josh Smith's contested three-point buzzer beater to give his Detroit Pistons a victory over the Minnesota Timberwolves.
Detroit trailed by two after J.J. Barea's driving layup, but J-Smoove would get the last laugh (and a fortunate bounce), as he finished up his preseason with a 20-point effort.
There was nothing on the line other than good old-fashioned team pride, and that's what makes "meaningless" plays like this one so much fun.
Lowlight: Hansbrough Is Tough Until He Sees Who He's Dealing with
Toronto Raptors forward Tyler Hansbrough is an imposing presence on the basketball court, and he's not afraid to throw his weight around.
When Metta World Peace crossed his path, however, his indignation instantly turned into an apology.
It's funny to see the change of heart on Hansbrough's face, and it speaks volumes about World Peace's reputation around the league.
This might not be a true "lowlight," but it's definitely an awkward moment worth a chuckle. Hansbrough got a bit of flack for his scowl-turned-sorry, but World Peace actually took to Twitter to defend the forward's toughness.
Highlight: Greg Oden Rocks the Rim in Long-Awaited Return
The NBA preseason featured a slew of exciting slam dunks, but none were more meaningful than Greg Oden's jam against the New Orleans Hornets.
After waiting nearly four years to return to action, the Miami Heat newcomer appeared in the club's final exhibition tilt. It was fitting that his first basket came on a strong post-up and throw-down.
Oden spoke to reporters about the excitement of returning, via ESPN.com:
It's been a long time and I've been wanting to get out there. It was only a couple minutes, but it was what I needed, what I can handle right now and, you know, small baby steps...I know the guys were happy for me. I definitely felt love. And I'm excited that they were there for me.
His return to the NBA was never guaranteed, and he's overcome countless setbacks in his young career. If his comeback isn't worth a shout-out, I don't know what is.
Lowlight: Hasheem Thabeet Lets Emotions Get the Best of Him
When it comes to after-the-whistle tussles, we've seen much worse than this, but it does deserve a little scolding.
Oklahoma City Thunder center Hasheem Thabeet let his frustration get out of hand, got a bit too chippy and invaded Greg Stiemsma's personal space with a love-tap version of a head-butt.
The "lowlight" aspect of this incident is the fact that it's the preseason and that it was an unnecessary shoving match between the two backup centers. Thabeet's antics cost him a regular-season game, as he was suspended by the NBA for the Thunder's opening-night contest.
OKC coach Scott Brooks hopes the big fella was just getting his extra-curricular behavior out of the way, so now he can focus on business.
Bonus Highlight: Quartet of Dime-Droppers
We're wrapping up our highlights with a series of breathtaking passes.
Above you see Minnesota Timberwolves forward Kevin Love firing a perfectly timed no-look bounce-pass to Kevin Martin. But we're not going to stop there, because a trio of other dimes deserve attention:
These highlights were just some of the dazzling plays we enjoyed throughout October. What did we miss? Who deserved to make our list? Let us know in the comments section below.
Follow Dan O'Brien on Twitter: @DanielO_BR
Keep Reading