Why Texas Tech Could Struggle at Oklahoma
October 22, 2013
Michael C. Johnson-USA TODAY Spo
This week is all about tearing down the Big 12's two best teams: Baylor and Texas Tech.
Monday, the Big 12 blog examined how Baylor could fall from the group of undefeated teams this year. Now, it's Texas Tech's turn to go under the microscope. 
The Red Raiders, 7-0 and ranked No. 10 in the BCS standings, face their toughest test to date when they play at Oklahoma on Saturday. According to VegasInsider.com, the Sooners are a touchdown favorite. 
Of course, the last time Texas Tech traveled to Norman, it shocked all of college football with a 41-38 win—and then proceeded to lose its remaining five games to finish 5-7. 
The 2013 Red Raiders are, shall we say, just a tad better.

Dan Friend-USA TODAY Sports
That doesn't mean they aren't immune to struggling against the Sooners, however. The key matchup will be Tech's passing offense against Oklahoma's passing defense. TTU is No. 2 in the country in yards per game through the air with 416.4; OU is No. 1 in passing yards allowed (149.7) and No. 4 in passing efficiency defense (96.25). 
Those numbers for OU are a bit misleading—of all opponents, only Texas ranks in the Top 50 in passing yards, and the Longhorns ran up and down on Oklahoma in the Red River Rivalry—but this is still a talented secondary with players like Aaron Colvin. 
And within that matchup is a key question: How will Oklahoma limit the impact of Texas Tech tight end Jace Amaro? At 6'5" and 265 pounds, Amaro runs like a big wide receiver.
Covering him will be a nightmare, as it has been for all defensive coordinators this season. Lacking front-line depth, Oklahoma may take more risks and blitz to try to disrupt freshman quarterback Davis Webb.  
More specifically, Oklahoma may let linebacker Eric Striker loose and do, well, this: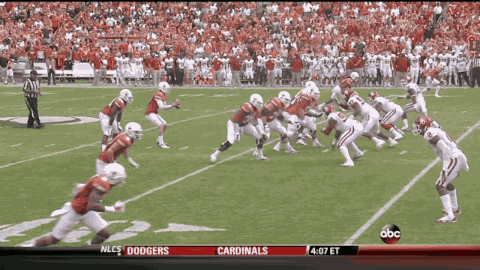 Texas Tech is average at protecting the quarterback and even worse at preventing tackles for loss. This could be a high risk/high reward game plan for Sooners defensive coordinator Mike Stoops. 
That could lead to more screens and draws for the Red Raiders, and keep in mind that head coach Kliff Kingsbury is not opposed to using Amaro in the screen game. 
Since those are essentially extensions of the running game, it should also be pointed out (again) that Oklahoma's run defense has taken a hit with the loss of defensive tackle Jordan Phillips and linebacker Corey Nelson. Meanwhile, Tech quietly has been running the ball much better over the past couple of weeks. 
Throwing Davis off and forcing mistakes will be key. Not only will it help out a Sooners offense that isn't as explosive as in years past, but it also will feed the home crowd, creating a tough environment for Texas Tech.. 
Ben Kercheval is the lead writer for Big 12 football. All stats courtesy of the NCAA. You can follow Ben on Twitter @BenKercheval.