Ranking Arsenal's Greatest Midfield Maestros from Brady to Fabregas to Ozil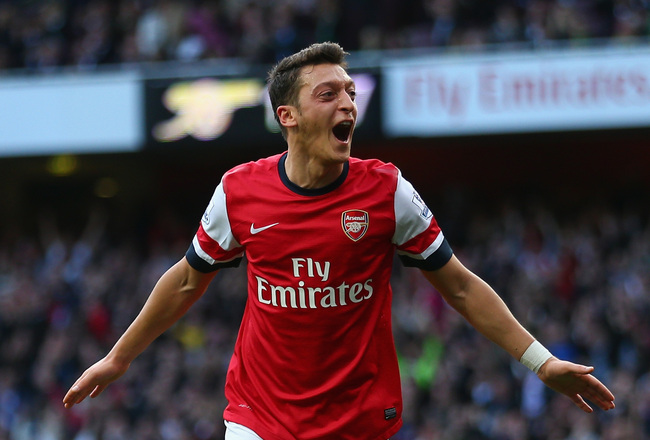 Paul Gilham/Getty Images
Arsenal have been blessed with some remarkable midfielders over the years.
Their current midfield maestro is German international Mesut Ozil. Arsenal fans hope that under his tutelage, the likes of Jack Wilshere and Aaron Ramsey can also progress to become all-time greats.
However, even for players as talented as Wilshere and Ramsey, getting in to this list of Arsenal's top 10 midfielders will be no easy feat. The World Cup-winning pair of Emmanuel Petit and Gilberto Silva have both failed to make the cut, which tells you something about the calibre of player you will see over the coming slides.
Go to the next slide to begin the countdown of the greatest midfield players in Arsenal's history.
10. Ray Parlour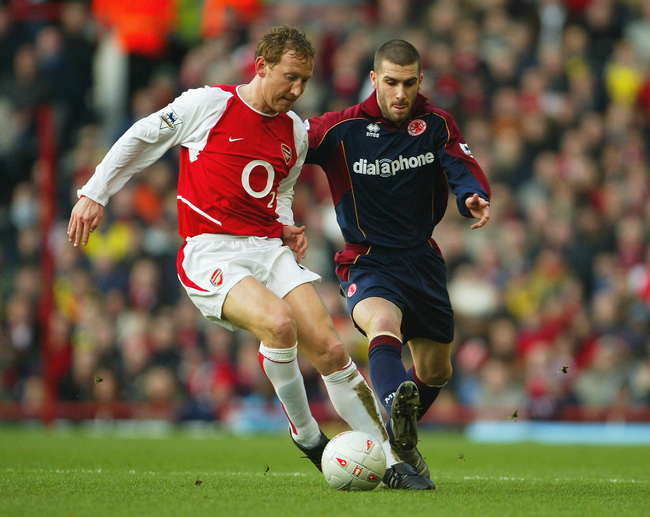 Clive Rose/Getty Images
"Razor" Ray Parlour was a hero among Arsenal fans.
He is a player who holds a strong symbolic value at the club, as his time with Arsenal spanned two eras. He was part of the predominantly British George Graham squad of the early 1990s but survived well in to the Arsene Wenger reign, ultimately departing for Middlesbrough in 2004.
Parlour was not the most naturally gifted of midfield players, but what he lacked in guile he more than made up for with hard graft.
That said, his technique improved dramatically throughout his career. Under Arsene Wenger, Parlour put in performances that did not look out of place alongside the likes of Patrick Vieira, Marc Overmars and Emmanuel Petit. His long-range shooting could be particularly effective, and in the year 2000 he managed hat-tricks against both Werder Bremen and Newcastle.
Parlour left Arsenal with three league titles, four FA Cups, a League Cup and a Cup Winners' Cup under his belt. It's a trophy haul that few can better.
9. George Armstrong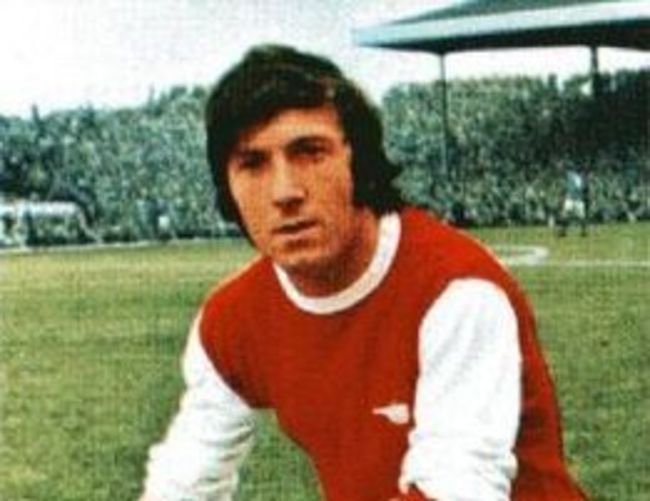 George Armstrong was Arsenal through and through. His time at Arsenal lasted an incredible 16 years, with Armstrong featuring in 621 matches. Only David O'Leary and Tony Adams have made more appearances for the Gunners.
Armstrong was an old-fashioned winger. He wasn't interested in cutting inside to take the glory for himself. His game was all about getting to the byline and swinging in crosses, which he was comfortable doing from either flank.
The likes of John Radford flourished thanks to Armstrong's impeccable service. His diminutive frame was deceptive. He had a powerful upper body and was an irrepressible winner's spirit, the latter of which came in handy when he returned to the club as a coach under George Graham.
Sadly, Armstrong died suddenly in 2006, aged just 56. He will never be forgotten.
8. Charlie George
Charlie George began his career as a forward, but some of his most memorable performances for Arsenal came after his evolution in to an attacking midfield player.
As a youngster, it was clear that George was extraordinarily gifted. He could glide past defenders at will. The only questions about his potential were over his discipline and application.
After an impressive initial spell in the first team as a teenager, George suffered a broken ankle in 1970 that saw him lose his place upfront to Ray Kennedy. George cursed his luck, but the injury proved to be something of a blessing, as it saw him redeployed as an attacking midfielder.
George's intelligence and flair flourished in midfield, and in May 1971 his star exploded as Arsenal won the FA Cup thanks to his magnificent goal against Liverpool.
George arguably never improved upon that moment, but it's a strike that makes him immortal in the eyes of all Arsenal fans.
7. David Rocastle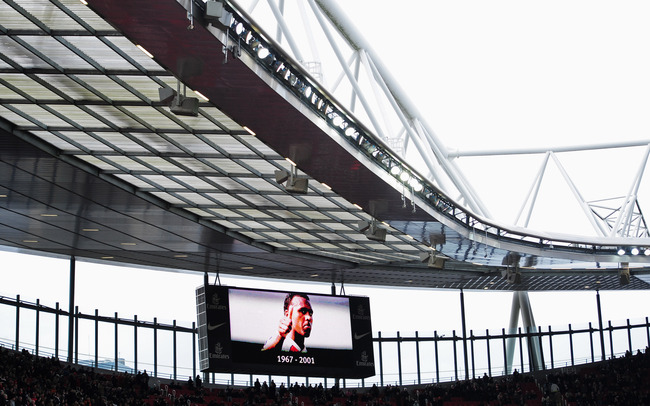 Jamie McDonald/Getty Images
There is a generation of young Arsenal fans who know David Rocastle only as the tragic figure who sadly lost his life to cancer aged just 33.
However, for those who saw him play, the memory of Rocastle the player is impossible to erase.
Rocastle was hugely talented. He was quick, nimble and had an eye for goal. He was versatile too, equally at ease in the centre of midfield or out on the right wing.
We are right to commemorate Rocastle's loss, but we should also remember to celebrate his brilliance.
6. Mesut Ozil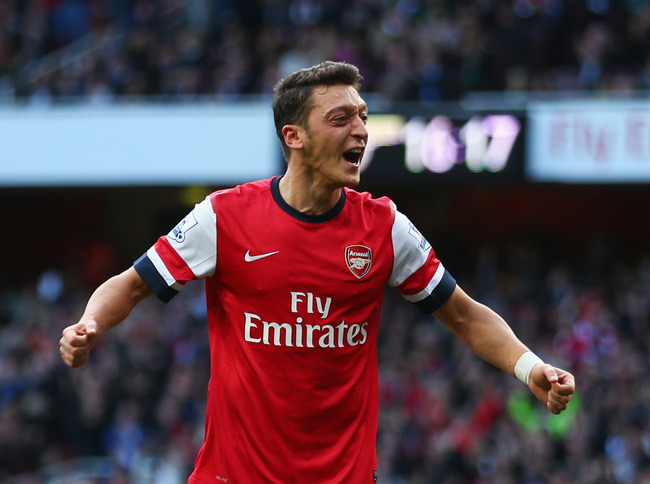 Paul Gilham/Getty Images
Mesut Ozil has only played seven games for Arsenal. However, he is undoubtedly one of the finest footballers to have ever worn the red and white shirt.
Arsenal have never signed a player of Ozil's world-class calibre before. Traditionally they make stars; in Ozil's case they have acquired one. Even Dennis Bergkamp was going through something of a funk when he made the move from Inter Milan to London. Ozil arrives at the peak of his powers.
His impact has been both immediate and impressive. He already has three goals and a host of assists to his name.
Ozil is included in this ranking on sheer talent alone. If he remains at Arsenal for the best years of his career, he will undoubtedly climb even higher up the list.
5. Freddie Ljungberg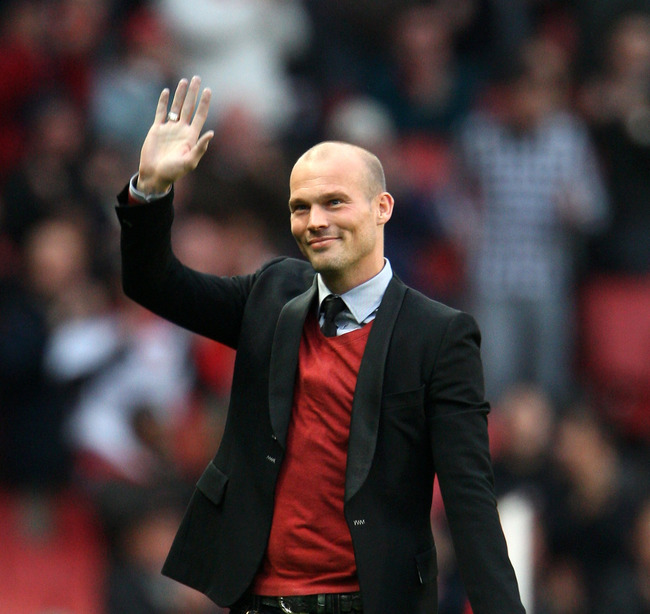 Phil Cole/Getty Images
Freddie Ljungberg's Arsenal career started with a bang. Introduced as a second-half substitute against Manchester United in September 1998, Ljungberg immediately endeared himself to the Arsenal fans by expertly lobbing Peter Schmeichel.
His Arsenal career began with goals, and it continued that way. Ljungberg was particularly instrumental in Arsenal's title-winning campaign of 2002, in which he scored 17 times. He was particularly devastating during the run-in, netting six times in five games as the season reached its climax.
Ljungberg's gift was an extraordinary ability to read the game. His off-the-ball movement was second to none, and with Dennis Bergkamp's delicate passes supplying the ammunition Ljungberg reaped the dividends. He was a great finisher too, as his spectacular goal in the 2002 FA Cup final with Chelsea demonstrates.
Sadly, injuries cut Ljungberg's time at the top short. He lost the sprint that made his movement so dangerous, and was ultimately sold to West Ham. However, his remarkable scoring feats ensure the Arsenal fans will sing his name heartily for years to come.
4. Cesc Fabregas
When Cesc Fabregas finally left Arsenal, he returned to his hometown club of Barcelona. However, he had a built a second home in London. Few players have had such a strong connection with Gunners fans as the Catalan midfielder.
The bond began when Fabregas moved from Barcelona to London aged just 15. Almost immediately, he was making waves, becoming Arsenal's youngest player and goalscorer in the League Cup.
At 16, he began training and playing regularly with the first team. By the age of 21, Fabregas was Arsenal captain.
He was a natural leader but also a natural playmaker. His Catalan DNA allowed him to bring Barcelona's "tiki-taka" style to the Premier League, making Arsenal the most attractive side in the country.
Unfortunately, his talent eventually outgrew the Gunners. Nevertheless, Arsenal fans still dream that one day the prodigal son will return to lead them to glory.
3. Robert Pires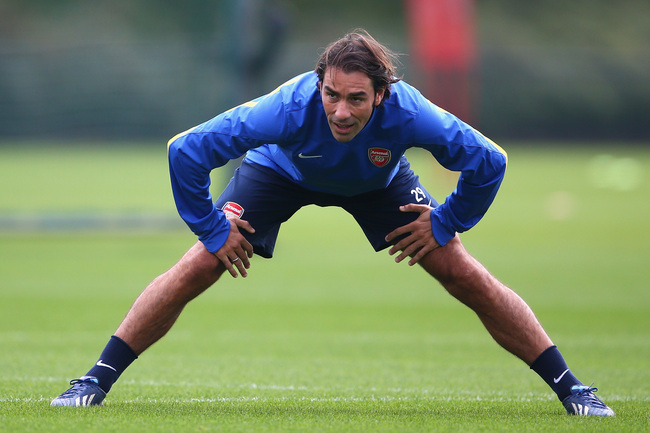 Paul Gilham/Getty Images
Few players have brought such style and swagger to the Arsenal midfield as Robert Pires.
Pires had an inimitable gallic flair. Even his shuffling running style was curiously idiosyncratic. He was a true one-off.
When Pires first shipped up in England, there were doubts about his ability to cope with the physicality of the Premier League. However, after an initial adaptation period, Pires began to show that he could strut his stuff among the flying tackles and aerial assaults.
The Frenchman had everything you want in an attacking midfielder: vision, balance, skill and fantastic finishing.
Drifting in from the left flank, his partnerships with Ashley Cole and Thierry Henry became legendary.
Sadly, Pires' Arsenal career ended on something of a sour note after he was withdrawn from the Champions League final to make way for Manuel Almunia. However, he has since returned to the club as an ambassador and is once again back where he belongs.
2. Liam Brady
Liam Brady is the quintessential Arsenal midfielder.
When people talk about an archetypal Arsenal player, they inevitably check-list attributes that Brady possessed: creativity, flair, vision, and courage. He was also blessed with a wand of a left foot.
Brady could unlock a defence with a single pass. He brought grace and ingenuity to Arsenal's midfield and played with an attractive style that would not look out of place in the modern game.
Like Cesc Fabregas in later years, Brady was the victim of being part on an Arsenal team who were not good enough to support his unique talent. He won just a single FA Cup during his time with Arsenal before departing to Juventus.
Brady is now the head of Arsenal's esteemed academy, schooling young players in the arts that made him a great.
1. Patrick Vieira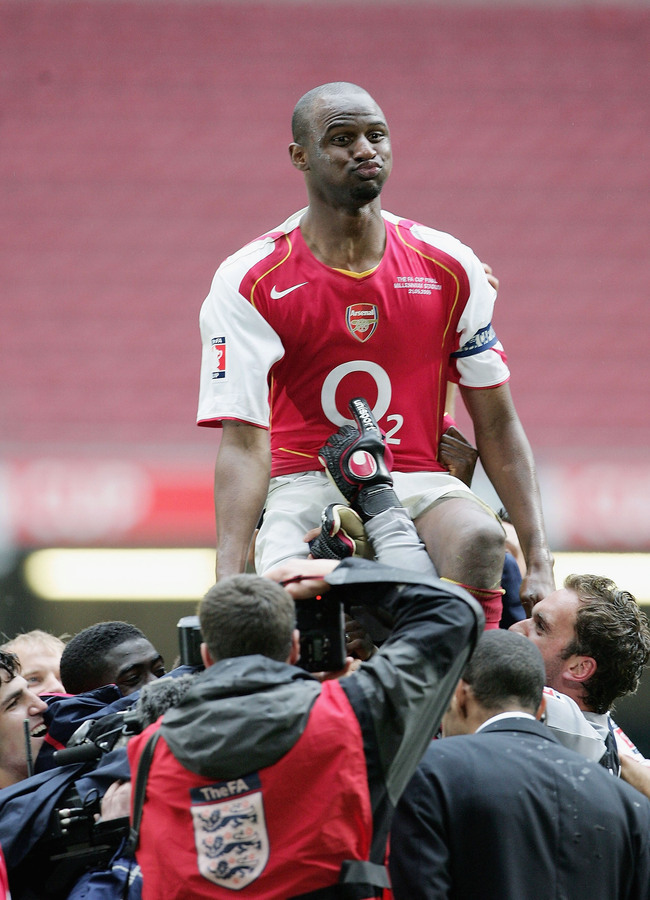 Phil Cole/Getty Images
Patrick Vieira is the greatest midfield player in Arsenal's history.
He arrived as unknown lanky teenager and departed as a titan of the game.
Vieira revolutionised expectations of a central midfielder in England. He was neither a defensive destroyer nor a creator: He could do both. He was a one-man counter-attack, frequently winning the ball back before bursting upfield to get involved in Arsenal's free-flowing attacking game.
His impact at Arsenal was instantaneous. On one of his early starts at Ewood Park he took Blackburn to pieces, playing a one-two with Paul Merson and slipping in Ian Wright with an effortless swing of his right foot. In the course of that move, Vieira covered fully 50 yards in a matter of seconds. Arsene Wenger had uncovered a player who could defend, attack, and was also capable of the moment of football alchemy required to manage the instantaneous transition between the two.
In the course of his career he led Arsenal to three Premier League titles and four FA Cup wins. Fittingly, his final action as an Arsenal player was to score the penalty which won the 2005 FA Cup final.
It is no coincidence that Arsenal have not won a major trophy since Vieira's departure.
What do you think? Who is the greatest midfielder in Arsenal's history? Let us know below.
Keep Reading

Arsenal: Like this team?