Tamim Iqbal: Great Bangladesh Batsman or Underachiever?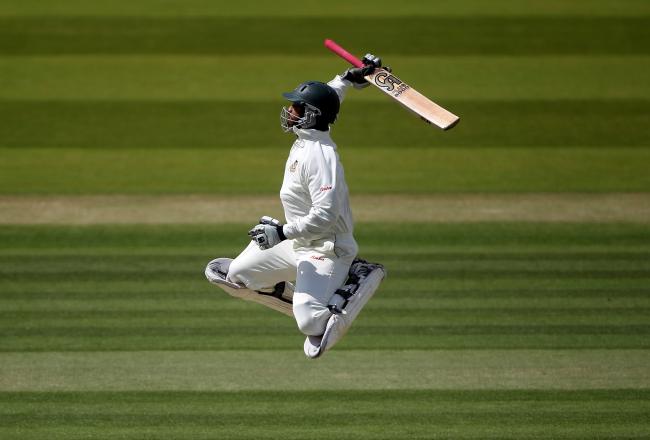 Tamim Iqbal celebrates a historic hundred against England at Lord's in 2010.
Julian Herbert/Getty Images
Tamim Iqbal's innings on the opening day of the second Test against New Zealand on Monday was a rather neat encapsulation of his career thus far.
Style, aggression and talent powered the 24-year-old to a brisk 95, before naive carelessness brought about his downfall. After flaying the Kiwi attack for 17 boundaries (with the aid of some good fortune), the brightest light in the Bangladeshi side threw his wicket away with the very ignorance that may prove to be the handbrake on his career.
With a platform well set at 208-3, Tamim was the batsman that needed to enforce the home side's advantage by ensuring his team pushed on past 400. He'd ridden a degree of luck to that point and was in position to capitalise on the lifelines afforded to him by the tourists.
Yet, instead of inflicting pain on New Zealand, Tamim allowed them back into the game, using his bat as a ramp to spoon-feed a catch to Kane Williamson at gully.
The error of judgement would have been excusable in different circumstances had prior warning not already been given. But after watching a collection of erroneous shots fly past (or through) the hands of the fielders behind the wicket, the left-hander should have been acutely aware of the danger that existed behind point.
An obvious lesson not learnt, the halt in progress that Tamim's dismissal had on his team's innings was much the same that his ingenuousness may have on Bangladesh's overall progress.
While his high stakes approach can be rousing, you can't help but feel that a lack of poise and nous are handcuffing him to a post of underachievement.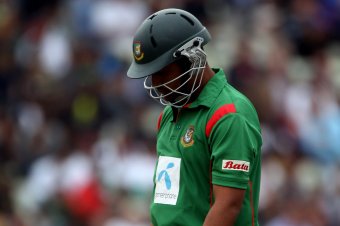 /Getty Images
What comes natural to Tamim are the more difficult elements of batting: Scoring with freedom, sending the ball to all corners and batting with a defined, graceful style. Unusually, it's the mental application and psychological basics that appear to be a challenge.
In fact, Tamim's approach reminds of a young Michael Clarke. The now-Australia captain employed an exuberant, yet brash attitude in his early years, which saw his career flirt dangerously with mediocrity.
However, unlike Tamim, Clarke had all-powerful pillars of example surrounding his existence in the Australian team, which undoubtedly led to the development that has seen him become one of his nation's all-time greats.
Tamim, meanwhile, is embedded in a setup with far lower benchmarks. Bangladesh's ongoing infancy in the Test arena means that the promising 24-year-old will not be shaped by a long history of excellence.
In essence, the dashing opener needs to be the man to set the expectations.
It's that very point which currently separates Tamim from being great by his nation's moderate standards and being great by international cricket's standards.
That difference is represented by the immensely talented batsman's Test record. When comparing Tamim against both his Bangladeshi contemporaries and predecessors, the 24-year-old's record sits as arguably his country's finest.
Batsman
Matches
Runs
Highest Score
Average

Habibul

Bashar

50
3,026
113
30.87
Mohammad

Ashraful

61
2,737
190
24.00

Tamim

Iqbal
30
2,151
151
37.73

Mushfiqur

Rahim

36
2,078
200
32.46

Shakib

Al

Hasan

32
2,073
144
36.36
A superior average that is enhanced by four impressive hundreds should see the emerging talent become Bangladesh's highest run scorer in the near future.
But given the talent at his disposal, that should be the least of his ambitions.
Yet, it's when you compare Tamim's record to other emerging batsmen of a similar age that it becomes clear he's underachieving and, perhaps, restrained by the cricketing stature of his nation.
Batsman
Matches
Runs
Highest Score
Average

Dinesh

Chandimal

(

SL

)
7
583
116*
58.30
Darren Bravo (WI)
23
1,649
195
44.56

Virat

Kohli

(IND)
18
1,175
116
41.96
Joe Root (ENG)
11
763
180
40.15

Tamim

Iqbal (BAN)
30
2,151
151
37.73
Steve Smith (

AUS

)
12
765
138*
34.77
The four players above Tamim (sorted by average) all own less experience in the Test arena than the Bangladeshi, while Steve Smith sitting below has undergone a transformation with regards to his role.
With 30 Test appearances, the 24-year-old should own both the ability and know-how to be jostling amongst the top spots on this list. Certainly, the stroke play and raw talent are there to enable him to rival the likes of Dinesh Chandimal and Darren Bravo.
Frustratingly, it's the manner of his dismissal on day one of the ongoing Test against the Black Caps that perfectly illustrates his predicament.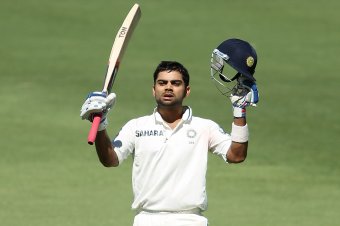 /Getty Images
Prolific run scoring is prevented by moments of calamity. His composure, or lack thereof, threatens to condemn Bangladesh's brightest star to a prison of underachievement.
You can point to two wasted innings against the West Indies in 2011 for examples, when potential centuries were blown. Tamim did much the same against the identical opponent a year later, while another poor shot halted his team's progress against Sri Lanka earlier this year.
It's those lose shots, that lack of application, which are the glaring weaknesses in his arsenal. For the talented 24-year-old to breakthrough the current ceiling in place for Bangladeshi players, Tamim must elevate his own expectations.
Being his nation's star is longer enough. Being an international star should be the next target.
This article is
What is the duplicate article?
Why is this article offensive?
Where is this article plagiarized from?
Why is this article poorly edited?