Machida vs. Munoz: Complete Guide to UFC Fight Night 30 Fight Card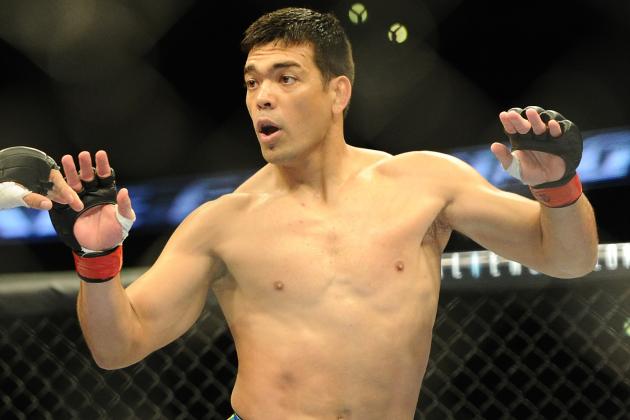 Jayne Kamin-Oncea-USA TODAY Sports

Lyoto Machida has spent his entire UFC career in the light heavyweight division. A 205-pound championship and 11 UFC victories later, "The Dragon" will now set his sights on success in a new weight class.
At UFC Fight Night 30, Machida will drop down to 185 pounds. Welcoming the Brazilian to the middleweight division will be Mark Munoz, who is currently ranked No. 5 among 185-pound contenders competing under the UFC banner.
Beating Munoz would instantly turn Machida into a title threat in his new division. The question is: Would Machida pursue that middleweight title should friend and teammate Anderson Silva reclaim it by beating Chris Weidman at UFC 168?
Before that scenario is considered, UFC Fight Night 30 has to happen. In preparation for Saturday's event in Manchester, England, here is a complete guide to the fight card.
Begin Slideshow

»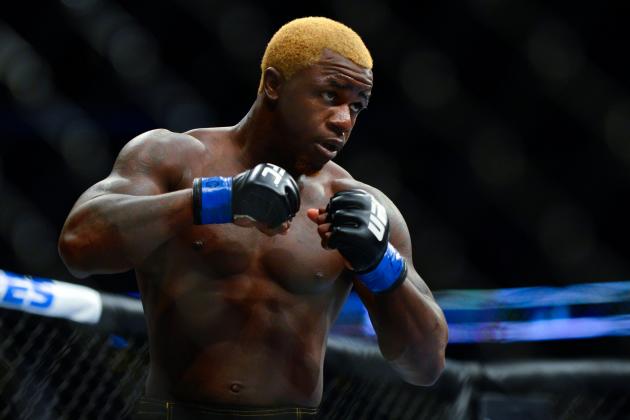 Ron Chenoy-USA TODAY Sports

Main Card: Fox Sports 2 at 3 PM ET
Lyoto Machida vs. Mark Munoz
Melvin Guillard vs. Ross Pearson
Jimi Manuwa vs. Ryan Jimmo
Norman Parke vs. Jon Tuck
Alessio Sakara vs. Nicholas Musoke
Phil Harris vs. John Lineker
Preliminary Card: UFC.com at 12 PM ET
Al Iaquinta vs. Piotr Hallman
Andrew Craig vs. Luke Barnatt
Rosi Sexton vs. Jessica Andrade
Andy Ogle vs. Cole Miller
Jimy Hettes vs. Rob Whiteford
Brad Scott vs. Michael Kuiper
The UFC Fight Night 30 weigh-in will be held on Friday at 11 AM ET.
More than many other UFC weigh-ins, this week's weigh-in is of particular interest, with Lyoto Machida dropping to 185 pounds. This will be Machida's first cut to the middleweight division having spent his whole UFC career in the light heavyweight class.
Hosted by Manchester, England, the UFC Fight Night 30 weigh-in will be available on the above video player as soon as it begins on Friday.
Jayne Kamin-Oncea-USA TODAY Spor

Main Card Odds
Lyoto Machida -360, Mark Munoz +300
Melvin Guillard -140, Ross Pearson +120
Jimi Manuwa -170, Ryan Jimmo +150
Norman Parke -155, Jon Tuck +135
Alessio Sakara -220, Nicholas Musoke +180
John Lineker -380,

Phil Harris +315
Preliminary Card Odds
Al Iaquinta -160, Piotr Hallman +120
Andrew Craig -185, Luke Barnatt +160
Rosi Sexton -145, Jessica Andrade +105
Cole Miller -170,

Andy Ogle +150

Jimy Hettes -600, Rob Whiteford +400
Michael Kuiper -300, Brad Scott +220
Odds via 5Dimes.eu.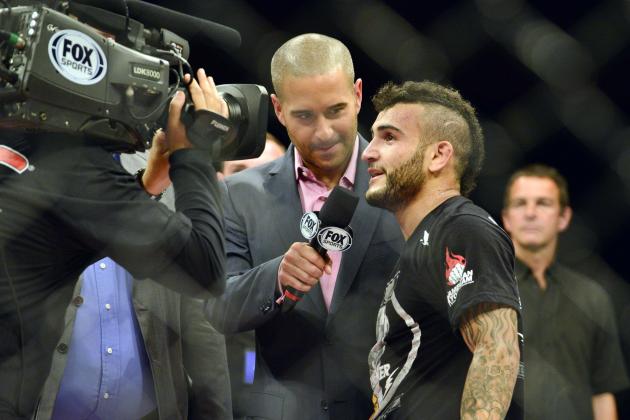 Jason da Silva-USA TODAY Sports

Lyoto Machida vs. Mark Munoz
With his ability to keep distance against wrestlers, Machida should be able to stay upright in this matchup. Munoz is one of the most decorated amateur wrestlers Machida has faced, but that high-level wrestling ability didn't help Dan Henderson or Randy Couture get in tight on the Brazilian with regularity. As those matchups showed, this fight could drag on for five rounds or end spectacularly. Either way, Machida will have his hand raised.
Machida, TKO, Rd. 2
Melvin Guillard vs. Ross Pearson
Guillard has had his share of setbacks inside the Octagon, but almost all of them have been due to his inability to defend submissions. Donald Cerrone is the only fighter to have knocked out Guillard, and "Cowboy" is more dynamic on his feet than Pearson. Though Pearson does own a number of submission wins, all came before his UFC career began. Expect Guillard to land the heavier shots in a wild boxing match.
Guillard, TKO, Rd. 2
Jimi Manuwa vs. Ryan Jimmo
There aren't many light heavyweights who'd opt to stand with Manuwa. Although he owns one of the fastest knockouts in UFC history, Jimmo belongs to that large group of fighters who be best served forcing Manuwa to the ground. The Canadian has scored only one takedown in seven UFC rounds though, which does not bode well for his chances against the lethal striking of Manuwa.
Manuwa, TKO, Rd. 1
Norman Parke vs. Jon Tuck
Fighting in the United Kingdom on Saturday, Irishman Norman Parke appears to have been handed a favorable matchup. Parke's wrestling has played a large role in his first two UFC win, and he'll now meet an opponent, Tuck, who was taken down twice in his UFC debut against Tiequan Zhang. A better wrestler than Zhang, Parke will take this one with top control.
Parke, Unanimous decision
Alessio Sakara vs. Nicholas Musoke
Sakara has had a long UFC run, but he's suffered three straight losses and will be fighting for his roster spot on Saturday. The Italian is highly dependent on his knockout power to win fights, and he's facing a more well-rounded fighter in Musoke. Never knocked out in his 12 MMA bouts, Musoke is a bright prospect capable of pulling off the upset at UFC Fight Night 30.
Musoke, Unanimous decision
Phil Harris vs. John Lineker
Aside from John Dodson, Lineker might be the heaviest hitter in the flyweight division. He sacrifices technique at times to put everything behind his punches, but Lineker only needs to land once to stop Harris, who has been knocked out four times over the course of his career.
Linker, TKO, Rd. 1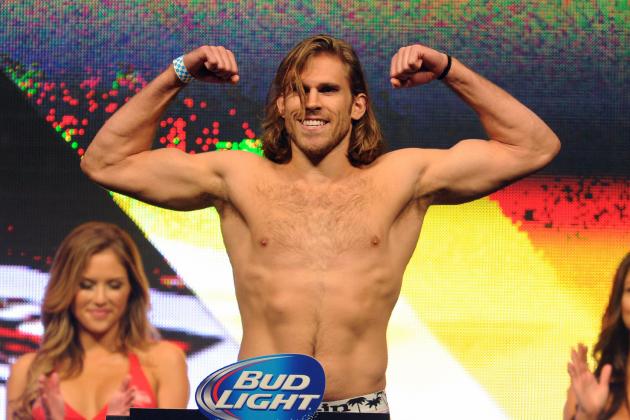 Jayne Kamin-Oncea-USA TODAY Spor

Al Iaquinta vs. Piotr Hallman
Iaquinta appears to have a bright future ahead of him, but is a tough matchup against an opponent who may be an even brighter prospect. In his UFC debut, Hallman submitted Francisco Trinaldo, who had only been previously beaten by UFC veterans Gleison Tibau and Iuri Alcantara. With submission losses in two of his past three official fights, Iaquinta doesn't stack up well stylistically with a grappler like Hallman.
Hallman, Submission, Rd. 1
Andrew Craig vs. Luke Barnatt
Barnatt wasn't granted any favors by UFC matchmakers for his first UFC appearance in his home country of England. Although he's only beaten fellow The Ultimate Fighter 17 participant Collin Hart, Barnatt now finds himself matched up with Craig, who owns a 3-1 UFC record and has beaten veterans like Chris Leben and Rafael Natal. Barnatt may be undefeated, but he's not nearly as proven as Craig is against high-level competition.
Craig, Unanimous decision
Rosi Sexton vs. Jessica Andrade
Andrade is 14 years younger than Sexton, who is probably simply happy to wind down her career on the biggest stage in MMA. While Andrade might have more to look forward to, Sexton seems to be the better fighter right now. In her UFC debut, Sexton won a round against No. 6 contender Alexis Davis, while Andrade showed little to be excited about in a lopsided loss to Liz Carmouche.
Sexton, Unanimous decision
Andy Ogle vs. Cole Miller
Ogle avoided being cut from the UFC roster with a win over Josh Grispi in February, but now he finds himself in a tough bout with a solid veteran. Miller has been slumping lately, losing three of his past four fights, but his submission skills should help him in this matchup. Prior to joining the UFC roster, Ogle's only loss came by submission, and Miller has earned 14 of his 19 victories by forcing opponents to tap.
Miller, Submission, Rd. 1
Jimy Hettes vs. Rob Whiteford
With a full training camp, Whiteford might have a good shot at upsetting Hettes. The Scottish fighter has never been submitted and has the power to put away a developing striker like Hettes. However, with only days to prepare for his UFC debut, it's hard to see Whiteford shocking Hettes on Saturday.
Hettes, Submission, Rd. 2
Brad Scott vs. Michael Kuiper
Scott and Kuiper are both fairly well rounded, but both middleweights do their best work when standing. Having knocked out Jared Hamman, Kuiper has put his knockout power on display at a higher level than Scott has. It could go either way, but Kuiper may be able to quiet the English crowd early.
Kuiper, TKO, Rd. 2