Kyle's 2009 NBA Mock Draft: Lottery Edition, Ver. 2.0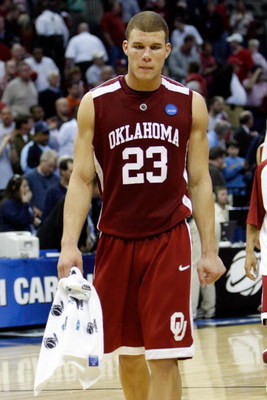 With the anticipation of the Draft Lottery over, we now know who owns what picks. The Lottery has been nice to the Clippers, who have saved much drama in the next few months by already proclaiming that they will select Blake Griffin with the first overall pick in the 2009 NBA Draft.
Well now that we got that out of the way, I have the next 13 picks that will shape out this years draft. Some might come as a surprise, some might not. Your input is greatly appreciated.
The full version of my Mock Draft can be found at: www.5qsports.com
1. LA Clippers: Blake Griffin, F, Oklahoma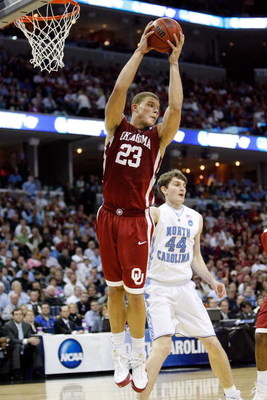 The team with the first pick in the NBA draft always has a lot of thinking to do. This year will be no exception, however, there is not much depth this year behind Griffin, resulting in a little less contemplation.
The 2008-2009 NCAA player-of-the-year is a clear-cut choice to go first overall.
The Clippers have announced that they will choose the 6'10" big man first overall to save much drama in later months. Griffin will be a fan-drawer the second team in LA.
The aging Clippers should look to shop some of their front line in order to make more playing time room for Griffin.
Griffin was a flat-out stud at Oklahoma. He averaged a shade under 23 PPG while grabbing well over 14 RPG. An athletic big man such as Griffin does not come often.
Griffin scored and rebounded with ease in college, and also has plenty of room for improvement at the next level. With games of 40, 35, 33(2), and 32 points, respectively, Griffin has proven skill that will make him a great NBA forward.
2. Memphis Grizzlies: Ricky Rubio, G, DKV Joventut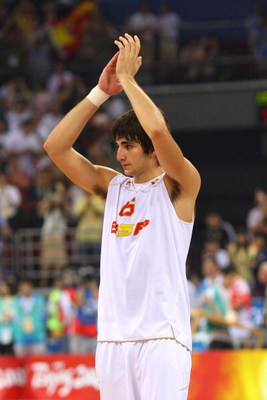 Ricky Rubio is well known for his play in the Beijing Olympics for Spain. He started against the U.S.A. as just a seventeen year-old. He displayed endless skill at the point guard position.
The 6'3", 18-year-old Rubio has a game that is shaped around his incredible ball-handling ability, phenomenal passing, keen court awareness, and quick-handed defense. His weaknesses include his need to strengthen his offensive game. If you look to Rubio for offense, you're in trouble.
However, Rubio turns just nineteen in October giving him ample time to improve. Just like any other international star, Rubio will need time to get affiliated with the NBA, but when he does, he will be a very good player.
Rubio will be a nice fit in Memphis. His premier passing ability will be displayed as he will drop dimes to the likes of guard OJ Mayo and swingman Rudy Gay.
3. Oklahoma City Thunder: Hasheem Thabeet, C, Connecticut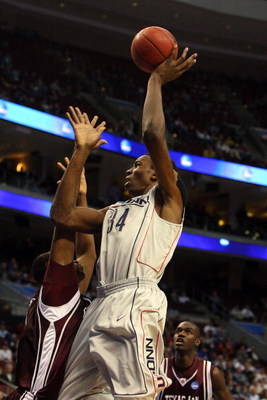 Thabeet is the best Center in this year's draft, and has plenty of size for the position. Standing tall at 7'3", Thabeet is a monster of a load in the paint. The Co-Big East player-of-the-year is much like a less-athletic version of Dwight Howard in that he will block almost anything that comes in the paint.
He also has an offensive game that is improving, and can get him to the free-throw line. There is one thing that is certain with Thabeet, if you get him the ball close to the rim, it will pay off.
Besides Nick Collison, the Thunder do not have much to boast about down low. Thabeet will bring well-needed size to Oklahoma City's front line.
If the Thunder choose this monster, prepare for them to make noise next season, depending on the ever-improving play of star Kevin Durant and swingman Jeff Green.
4. Sacramento Kings: James Harden, F/G, Arizona State
James Harden was an outstanding player in college as just a freshman, he has proven in just one year that he is a true scorer. The 6'4" lefty can flat-out put the ball in the hoop. 20 PPG, 5 RPG, and 4 APG is an impressive line.
Harden can provide energy and the obvious scoring ability to any team in the draft. Crafty is an ideal adjective for Harden in that he can get to the rim at will, or pull up and hit the outside shot, as well as finish in transition.
He does not have a set position that he would fulfill in the NBA yet. He also will need to gel to the NBA game, and learn how to run offense through other players.
Harden will take his scoring ability to the Kings where they have one of the best scorers in the game today, Kevin Martin. He will not get the playing time he wants right away, but he will produce and have himself a great rookie season.
5. Washington Wizards: Jordan Hill, F, Arizona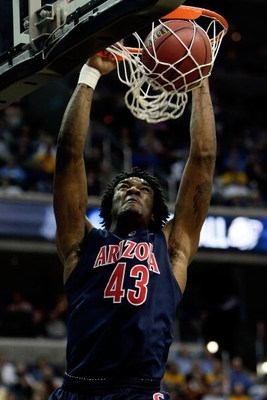 Jordan Hill is a new age power forward that all NBA teams want. The slender Hill is extremely athletic and has tons of leaping ability that shows in this rebounding (11 RPG).
He has quick and explosive moves down low, which is where most of his scoring comes from (18.1 PPG), and has the ability to block a few shots once and awhile. He should be able to add more muscle to his frame in the NBA, as well as become better in traffic to lower his turnovers.
Also, he gets to the line a lot, but needs to improve his free throw shooting.
The Wizards, with Antawn Jamison, have skill at the power forward position, therefore Hill will not get substantial playing time early on. However, he will learn and grow from the veteran Jamison and become an NBA player that no one thought he would.
6. Minnesota Timberwolves: Demar DeRozan, G/F, USC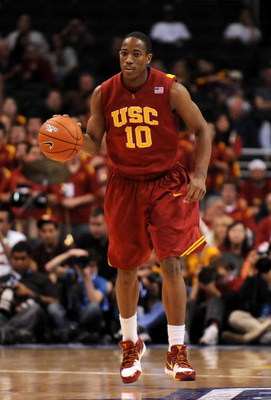 When you watch Demar DeRozan play you think of one adjective: well-rounded. The 6'6" DeRozan is a very fundamental player with God-given athleticism. His high-flying dunks and smooth jumper highlight his game.
He has been compared to Richard Jefferson, which is realistic since both DeRozan and Jefferson are players who can either pull up for a jumper on any spot on the floor, or can use their athleticism and strength to get to the rim.
However, DeRozan will not make an instant difference in the NBA because of his lack of defensive fundamentals and inability to create his own shot.
Composed of Randy Foye and many other exciting point guards, DeRozan will find to be a great fit in the Timberwolves' lineup. He should be able to compete for the starting job immediately.
7. Golden State Warriors: Brandon Jennings, G, Italy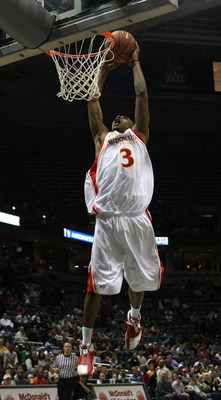 Many scouts rated Brandon Jennings as the best high school senior last year when college teams were making their offers. Jennings was a well-known guard that was set to hit Arizona and play for Lute Olsen.
Then he just disappeared? No, he was the first big name high school player to make a bigger jump than going to the NBA; he went to the Euro League. Jennings might have been the first big name player to do so, but he is not the last.
Jennings is an extremely exciting guard that can push the ball on the break and has great court vision. His strengths include: ball handling, vision, can create for himself, and others.
His experience is lacking even with leaping to Europe and he needs to add strength to his frame.
However, his experience of professional ball will prove to be vital as Brandon Jennings will look to spark the Golden State Warriors and compete for a starting job against the injury-prone Monta Ellis.
8. New York Knicks: Stephen Curry, G, Davidson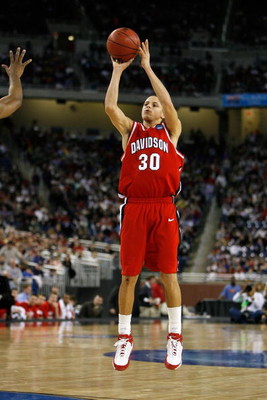 Stephen Curry will grace the 2009 NBA draft with his extremely wide arsenal of offensive talent. He quite possibly may have the best offensive game in the draft class. Averaging over 28 PPG and six assists, Curry has given himself a name.
The 6'3" Curry flip-flopped from shooting guard to point guard in the past season, but is naturally a shooting guard. As a junior at Davidson, Curry hit the 20-point plateau 30 times, the 30-point plateau 15 times, and the 40-point plateau four times.
Weighing at just 185 lbs, he needs to bulk up quite a bit, however, he will be ready to make a statement in the NBA for a team that is in need of a scoring threat.
The Knicks have expressed their intrest in Curry. The scoring machine would bring energy to the Garden and make Spike Lee a happy man.
9. Toronto Raptors: Tyreke Evans, G, Memphis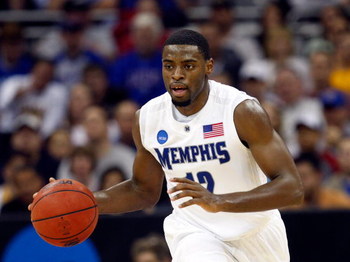 Tyreke Evans had an outstanding freshman season at Memphis, where he started the year as a shooting guard, and ended as a point guard under coach John Calapari.
The transition was clean that proves his versatility that will pay off in the NBA. The 6'5" freshman was a high-energy scorer in college at 17.1 PPG. He energized the crowd by getting to the rim at will, resulting in an acrobatic lay-in or a high-flying dunk.
His shooting form might look unorthodox, but he can dial in from long distance. There are a few kinks in his game that he will iron out in the league. He will need to establish his true position, and when he does, he will be exciting to watch in the NBA.
In Toronto, Evans, behind Jose Calderon, will not start, however in the same case as Jordan Hill, will learn from the ever-improving Calderon and, along with his street game, can quite possibly learn more of the international game to round of his talent.
10. Milwaukee Bucks: Jonny Flynn, G, Syracuse
Johnny Flynn was one of the top three guards last year in college basketball who can make a difference in the NBA quickly.
He has a well-rounded game that includes his strong jump shot and ability to break down defenses in transition and either take in to the basket, or find an open teammate.
At 6'0" his height is a minor concern, and his defense looks to improve as he prepares to forgo the rest of his college career and make the jump to the NBA.
The Bucks should look to draft this guy early. Milwaukee, with the possible departure or Ramon Sessions, behind Luke Ridnour does not have another point on their roster. Flynn will bring energy off the bench to a lowly Bucks team.
11. New Jersey Nets: Tywon Lawson, G, North Carolina
This time last year Ty Lawson was on draft boards just as he is this year. He was a quick, ball-handling specialist that could go coast-to-coast on you in a heartbeat.
He would have been drafted, however, he is probably happy about his choice to come back to Carolina for his junior season. He played extraordinary basketball last year, leading his team to a national championship.
He averaged roughly four more points, one more assist, and less turnovers per game his junior season than he did his sophomore season. Ty Lawson is an explosive guard that lacks size but can make up for it with his lightning-quick explosiveness and finishing around the basket.
If you are a running team and you have an early draft choice, you want this guy on your side.
Lawson, just as he would any other team, will bring excitement and energy to a dull New Jersey Nets team. He will learn behind All-star Devin Harris and be an eventual All-star himself. Look for him to get playing time during his rookie season even with the depth of the Nets.
12. Charlotte Bobcats: Earl Clark, F, Louisville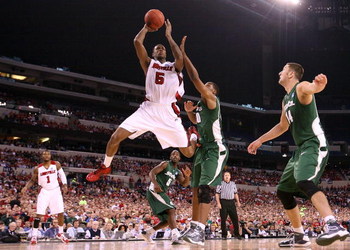 With a disappointing season for the Louisville, Earl Clark has decided to take his talent to the NBA. Talent is something that he does have; he is the rawest of talents in the draft. Clark is an athletic, new age big man that can't score at will, but can face up and score in the post.
At 6'9" Clark has plenty of size for a power forward spot in the NBA. His shot blocking ability is exceptional to go along with his solid all around defensive game. His potential is what is remarkable.
He took bad shots in college and handled the ball too much as a forward.
He will learn and grow in the NBA more than he did in college. He will be a non-factor on any team in his first few seasons, but when he develops a solid jumper, he will be an eventual star.
Clark will come into a situation, in Charlotte, where he will get minutes right away. His weaknesses will be exploited early on, but his athleticism and work ethic will sharpen those weaknesses and make him a 10 point, 10 rebound guy by the end of his rookie season.
13. Indiana Pacers: Gerald Henderson, G/F, Duke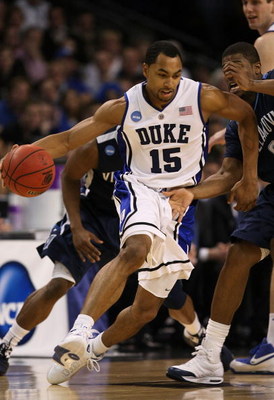 Gerald Henderson was a fan favorite as a Duke Blue Devil. He will bring energy to his NBA destination with his defensive presence and beautiful mid-range game. He is equipped with athleticism, slashing ability, and terrific on-ball defense.
He has been criticized for being passive, but he continued to grow and extend his jump shot resulting in the go-to man for the Blue Devils. He has potential to be a great player in the NBA, but unless he adds more to his arsenal, all indications point to him being a subpar NBA talent.
Henderson will play in Indiana behind talents such as: Brandon Rush and Mike Dunleavy and will have a chance to grow in years to come. I see Henderson being traded in a few years.
14. Phoenix Suns: Terrence Williams, G/F, Louisville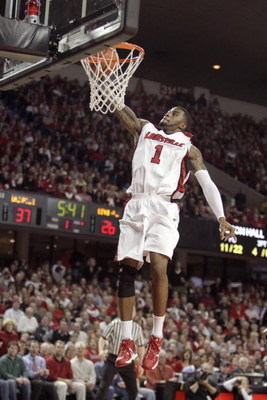 Along with Ty Lawson, Terrence Williams is another player that has improved his draft stock tremendously in just one year. From his junior to his senior season, Williams improved in points, rebounds, assists, turnovers, steals, field goal percentage, and three point percentage.
Basically every aspect of his game was sharpened, and it showed. The biggest problem with this 6'6" freak of an athlete one year ago was that he needed a solidified jump shot.
Well, let's just say he got that improving his percentages from the field and the three point by a combined .7 percent. Williams will be a contributor in just his rookie season.
He will put fans in the seats with his ridiculous leaping ability, which allows him to sky and catch anything near the rim. He will need to learn how to work in an offense that does not always require him to get the ball.
The Phoenix Suns are known for their running style of play. There is no player in this draft that better fits that position than Terrence Williams. The most athletic player in this years draft will get out and run in the Suns offense. In few years, Williams will be a Trevor Ariza-type player for the Suns.
Keep Reading