St. Louis Rams: Kellen Clemens Is the Right Man for the Rest of the Season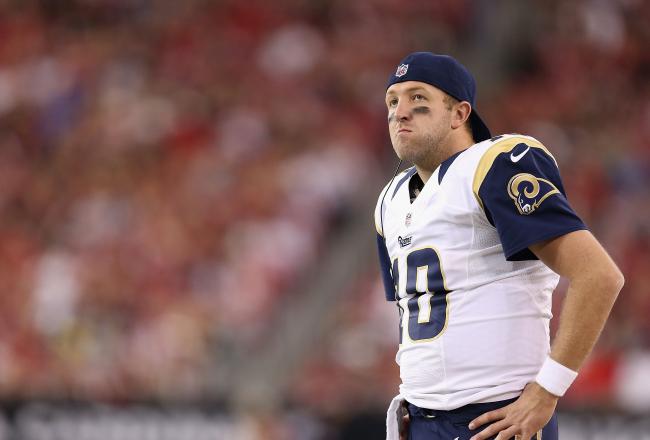 Christian Petersen/Getty Images
Any chance the St. Louis Rams had of making the playoffs in 2013 likely went out the door when Sam Bradford went down with a torn ACL in Sunday's game against the Carolina Panthers. ESPN.com reports that Bradford is done for the season.
Don't write the Rams out of the playoff picture yet, as we have seen stranger things happen in the game of football, but the odds right now are certainly not in St. Louis' favor.
That's very disappointing to say the least for Rams fans. This franchise has been down for so long, and fans truly believed that this could be the year they would see some good football in St. Louis.
Les Snead and Jeff Fisher have done an outstanding job filling holes throughout the roster, making this team deep with young talent and ultimately putting together the pieces together to eventually make this a playoff team.
The word "eventually" is what kills the Rams' faithful, though. They have heard this all too many times. Since the days of the Greatest Show on Turf, things have not worked out in St. Louis and a new regime has had to come in.
The injury to Bradford on Sunday was just another reminder of how football-related matters just do not seem to work out in St. Louis.
This time will be different, though. The Rams are not ready to tear this thing down just because of an injury to one player. They have made it clear time and time again that they are going to stick with Bradford because they believe he is the quarterback who can eventually lead this team to postseason glory.
Why shouldn't they believe that?
Bradford has not blown anyone out of the water with his play in St. Louis, but he really has not been that bad either. In your head, go through some of the other quarterbacks in the NFL.
Sure, right now many teams have it better than the Rams at the quarterback position, but a lot of teams are much worse off too. If you think about the future, the Rams look really good at the quarterback position with Bradford at the helm.
That brings us to Kellen Clemens.
While many people may want Vince Young, Tim Tebow or some other signal-caller to come in and save the Rams' season, the fact is there is not anyone to do that. None of the quarterbacks on the free-agent market are as good as Sam Bradford. Frankly, many of them are not as good as Clemens.
The Rams are a very young team. They don't need a media circus to come to town because Tebow is back in the NFL, nor do they need the antics that Young brings to a football team.
They need a veteran presence who can come in to help lead this team and make it the best it can be for the remainder of this 2013 season.
That guy is Clemens.
He has spent eight seasons in the NFL. Although he does not have that much starting experience in his career, he has always managed to find his way onto an NFL roster because he is a good presence on a football team and coaching staffs know that they can trust Clemens if the starting QB goes down.
Clemens is not just familiar with the NFL, but he is also familiar with the Rams organization and city of St. Louis because this is his third year with the team. That means Clemens knows all the players and playbook well.
Bringing in a new quarterback means that the Rams would have to teach a guy a whole new system during the middle of the season. That could end up being a nightmare to watch.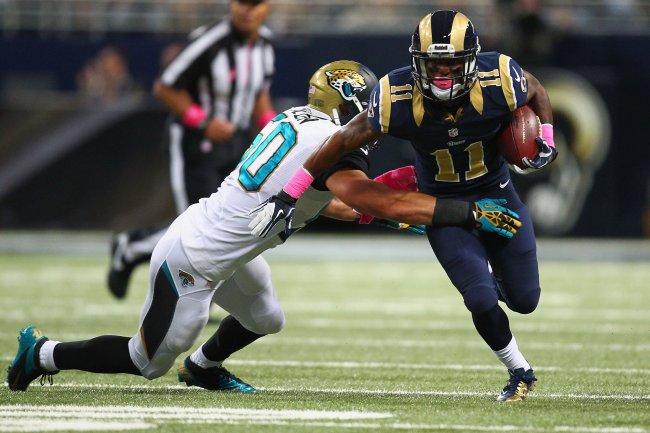 /Getty Images
Sure, Clemens is not a Pro Bowl quarterback. He is probably not going to lead the Rams to the playoffs this season, but he gives the Rams their best chance to win and help develop this offense right now.
The Rams have a lot of young talent on both sides of the football.
The defense will continue to grow and develop this season and it will be Clemens' job to make sure that the offense does the same thing so that it is ready for Bradford's return next season.
Young players like Tavon Austin and Brian Quick need to become more involved in the offense. Zac Stacy needs to continue to build on the success he has already shown this season. Chris Givens needs to get back into the form he displayed in his rookie season last year.
The Rams may not be a playoff team this year. In fact, the end of this season could bring a lot of losses, but the squad is so much better off than it was around five years ago.
This team has a lot of talent, and that will only continue to grow this season as well as in the offseason, as the Rams have two more first-round draft picks that are currently projected to be very high.
Right now, the Rams' job is to improve. The results may not show on the scoreboard this season, but they will pay off in the future.
If this team can be built into a complete football team on offense and defense by the start of next season, then Bradford can step in at the helm and lead this team to the promised land.
The guy the Rams need to step up now, however, is Clemens. He has to do whatever he can to make sure that this team does not quit and does whatever it has to do to be the best it can be every day for the remainder of what could be a difficult 2013 campaign.
This article is
What is the duplicate article?
Why is this article offensive?
Where is this article plagiarized from?
Why is this article poorly edited?

St. Louis Rams: Like this team?