Seattle Seahawks on the Hot Seat
The Seahawks have been aggressive during the offseason, adding depth to the roster and improving positions of need.
T.J. Houshmandzadeh was signed in free agency to add a much needed presence at wide out whilst the likes of Colin Cole, Cory Redding and Ken Lucas were added on defense.
In the draft, Seattle continued their 'win-now' mentality by taking Aaron Curry, Max Unger and Deon Butler in rounds one-through-three. All are expected to contribute during their rookie campaigns.
But how do these moves affect some of the veterans already on the roster?
Here's a collection of names on the 'Hot Seat' as we look towards training camp.
Darryl Tapp, DE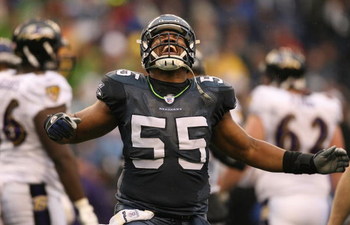 The 2008 season proved a difficult one for Darryl Tapp.
Benched in favor of first-round pick Lawrence Jackson, he started only after injury ended Patrick Kerney's campaign prematurely.
Despite flashes of brilliance in his three-year career with the Seahawks (including a four-sack performance in a 2007 victory over St. Louis), questions remain about Tapp's consistency.
The addition of Cory Redding this offseason does little to aid his cause. Redding will play predominantly at defensive end, only moving inside for passing situations on third down.
Tapp will have to spell time with Lawrence Jackson, limiting his ability to make an impact.
A free agent in 2010, this is an important year for the 270lb defensive lineman.
Brian Russell, FS
Since signing as a free agent in 2007 Brian Russell's performances have received mixed reviews.
Despite being contracted through to 2012, this could be a make or break year for the 2001 undrafted free agent. The back loaded nature of his contract makes him a potential cap casualty in 2010.
Not considered a big hitter or wrap up tackler, the former undrafted free agent is praised for his 'coach on the field' mentality and leadership skills.
The Seahawks added Rutgers' Courtney Greene via the draft and met with Jermaine Phillips during free agency before he re-signed with the Buccaneers.
Russell will likely remain the starter at FS alongside Deon Grant, but he needs a good 2009 to prove the doubters wrong and keep his job.
Chris Spencer, C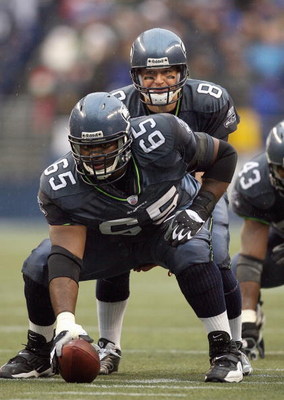 When Tim Ruskell took over as Seahawks GM, one of the first things he did was draft Spencer in the first round of the 2005 draft.
Eventually replacing the retiring Robbie Tobeck in 2007, Spencer has struggled to stay healthy during his time in Seattle.
A free agent in 2010, his position with the team was placed in some doubt when the Seahawks drafted Max Unger (OG/C, Oregon) in the second round of the '09 draft.
An athletic, strong specimen—Spencer's problems have long been technique and execution.
With the team now deploying a zone blocking scheme, he'll have to step up to earn a new contract in free agency and hold off Unger.
Deion Branch, WR
Injuries have severely hampered Branch's time in Seattle, after the Seahawks paid a first round pick to New England to acquire him in 2006.
There were rumors midway through the 2008 campaign that suggested Branch may be cut.
However, a strong end to the season (316 yards, 4 TD's in last five games) seemingly bought Branch another year.
If he can't stay healthy in 2009 though, the team may finally run out of patience.
The high profile signing of T.J. Houshmandzadeh and the drafting of Deon Butler adds to the pressure on Branch.
He needs to justify the six-year $39m contract awarded in 2006. Another year on the sidelines and he'll likely face the chopping block.
Kelly Jennings, CB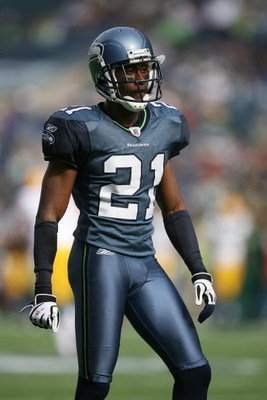 A former first-round pick in 2006, Jennings enters the '09 season in a state of limbo.
Having won a starting job in 2007 opposite Marcus Trufant, the former Hurricane showed flashes of potential.
The wheels came off last season however and after a series of poor displays, was benched in favor of Josh Wilson.
The off season acquisition of Ken Lucas further pushes Jennings down the depth chart and it's unclear what future, if any, Jennings has in Seattle.
He won't be a free agent until 2011 and the modest nature of his contract means the Seahawks can afford to carry him for now.
But with both Lucas and Wilson seemingly slated for a greater role in 2009, it might be difficult for Jennings to make his case.
Keep Reading

Seattle Seahawks: Like this team?