Sometime this week, Zimbabwe would've been in the middle of their ODI series with Sri Lanka.
If luck had gone their way, they might've tasted some success in the Test series that preceded this and performed admirably in the 50-over format. A shock result in the Twenty20 series that is to follow could not be ruled out.
After all, following the thrashing against India, the hosts had come close to upsetting Pakistan in the Twenty20s, pulled one off in the opening ODI and squared the Test series 1-1 with a 24-run win.
Sri Lanka aren't as formidable after the departure of Muttiah Muralitharan, so who knows what could've happened. Adrenaline and confidence does wonders on the cricket field.
But none of that matters as there is no series taking place anyway. Sri Lanka were scheduled to tour from October 6 to November 4 for two Tests, three ODIs and two T20s, but the hosts sought postponement "due to unavoidable circumstances." The culprit: lack of finances.

Lack of finances to blame
Zimbabwe players threatened to pull out of the ODI series and then the second Test due to unpaid dues.
The matches did go ahead as expected—how Pakistan players and fans hoped they hadn't—and part payment was reportedly made to the players, but hosting the two subcontinent giants in quick succession drained out Zimbabwe Cricket's resources. As things stood, they couldn't afford to host Sri Lanka as well and none of the bigger teams want to host Zimbabwe.
absolutely delighted for zimbabwe cricket. come on now zim cricket officials, give them their due. they have shown what they can do

— Harsha Bhogle (@bhogleharsha) September 14, 2013
Cricket and teams do need to be run as a business—and that's where the BCCI is taking lead—but what happens when the sport, and talented but neglected players, are cast aside into the wilderness because the series might not "excite the sponsors"?
Following the wins over Pakistan, Zimbabwe players did set a difficult precedent for themselves—of not only being competitive in future fixtures but also emulating their recent feats against bigger, better opposition.
But their next Test series isn't likely to take place before July. And that is where all the ambition, the adrenaline and the hard work falls flat on its face. How will Zimbabwe, a team comprising exciting youngsters and talented seniors, manage to back up their Test win with something to talk about when there isn't another Test for such a long time?
"You can forget what it feels like to win," coach Andy Waller told ESPNCricinfo following the Test win over Pakistan. "It's hard for the guys because we believe we can compete against sides. We'll just have to work hard in the nets and get better for when we play again."
Zimbabwe's debt rising with each series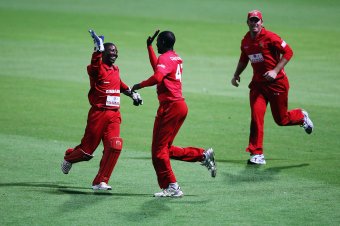 /Getty Images
But that is where Zimbabwe's competitors need to step in.
According to ESPNCricinfo, Zimbabwe Cricket's debt is a staggering $18m and that number increases with each series they host. Other Test nations aren't willing to host Zimbabwe because, financially, the series will not be appealing. Zimbabwe players, the ground staff and the coaches await their salaries.
There just isn't enough cash coming in to settle the mess. In the midst of it all, Zimbabwe's Test cricket, with much promise shown against Pakistan, suffers the most as the players twiddle their thumbs.
The postponement was bad news for Sri Lanka as well, another cricket board not doing well financially.
Their Twenty20 league was also called off earlier this year and debts keep increasing. Its players, too, complained of not being paid around the 2011 World Cup, when the cost of co-hosting grew too big on SLC.
Zimbabwe might host Afghanistan early next year ahead of the World Twenty20, and although that tour will not comprise Test matches, it is a ray of hope nonetheless.
Is the ICC doing enough to help Zimbabwe Cricket?
"We are exploring the possibility of Afghanistan touring Zimbabwe," ZC's media and communications manager Lovemore Banda told NewsDay Sport. "It would come in as part of our preparations for the World Twenty20 next year. Secondly, as a Full Member of the ICC, we are fully behind the organisation's (ICC's) objective of growing the game globally through tours between the FMCs and the Associates such as Afghanistan."
July 2014 is still over nine months away. Invaluable lessons from the India and Pakistan series will be lost by then. Zimbabwe might even lose some players too. The 50-over World Cup will be played a few months after that. Teams will be in preparation for that mega event. We wait and see if Zimbabwe get their chance against South Africa, but, until then, cricket suffers a setback as the 'minnows' are sidelined through no fault of their own.