Are the Rockets Secretly Hoping Jeremy Lin Wins the Starting PG Job?
October 21, 2013

Joe Murphy/Getty Images
Add this to the Houston Rockets' pile of First World basketball problems: Coach Kevin McHale believes the team has two legitimate starting point guards in Jeremy Lin and Patrick Beverley, according to the Houston Chronicle. Since the Rockets aren't likely to send all-world shooting guard James Harden to the bench anytime soon, it would appear that either Lin or Beverley will be sitting when Houston's season kicks off Wednesday, Oct. 1, against Charlotte.
While McHale doesn't seem to be in a hurry to name his starting point guard, Rockets fans would certainly like to know who will join Harden in the backcourt for the opener.
Both players have their own unique strengths, according to Lin:
"(Beverley) is such a good defender and shooter. I am better with the ball in my hands, attacking. "
How did each player fare last season? Since Lin averaged 32.2 minutes per game to Beverley's 17.4, it wouldn't be right to compare their per-game statistics. Instead, let's check out their numbers per 36 minutes.
| | | | | | | |
| --- | --- | --- | --- | --- | --- | --- |
|   | FG% | 3P% | RB | AST | TO | PTS |
| Jeremy Lin | .441 | .339 | 3.4 | 6.8 | 3.2 | 14.9 |
| Patrick Beverley | .418 | .375 | 5.5 | 5.9 | 2.2 | 11.5 |
These numbers tend to support Lin's statement: he is better at getting to the rim and producing high-percentage buckets, like so: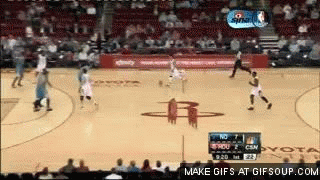 But Beverley is clearly the better shooter from beyond the arc. Overall, the numbers suggest that Beverley is slightly better, at least from an efficiency standpoint.
Of course, the Jeremy Lin experience can never come down to mere basketball. Take it from a guy who spent last year in Beijing, under the gaze of thousands of Jeremy Lin KFC ads: Linsanity is still a big deal in China, and China is still a big deal to NBA teams looking for increased revenue. That shouldn't factor into a strictly-basketball decision, but it could tip the scales should the Lin-Beverley contest be deemed too close to call.
For what it's worth, Houston GM Daryl Morey was quite vocal in his support of Lin this offseason, even taking to Reddit:
"Last year was Jeremy's 1st full year in the league. Essentially his rookie year. If last season would have been his rookie year and he never would have played in New York, right now people would be appropriately talking about him incessantly as one of the top young rookie stars in the league. He was the starting point guard on a playoff team in West at age 24!!! Don't get me started on this. Too late …"
He does have a point: though it seems as if Lin has lived a full NBA lifetime, he and Beverley are actually the same age (24). 
So which player would better fit this year's Houston squad? Last year, the Rockets finished ranked sixth in the NBA in offensive efficiency and 15th in defensive efficiency, so they could probably use the better defender in this spot. But the monumental offseason acquisition of Dwight Howard will probably change this roster in nearly every aspect.
Personally, I would try to pair Beverley with Howard as much as possible. Howard made it to NBA Finals when the Magic surrounded him with quality three-point shooters, so Beverley and his 37.5 percent mark from downtown look like an ideal partner. 
No matter who wins the starting point guard job in Houston, one thing seems clear: Most of the NBA would like to be stuck with the Rockets' "problems."