Doug Martin Injury Is Final Nail in the Coffin for Buccaneers 2013 Season
October 21, 2013

Daniel Shirey-USA TODAY Sports
Tampa Bay Buccaneers running back Doug Martin has a torn labrum in his left shoulder, but the team is going to continue examining Martin, according to Rick Stroud of the Tampa Bay Times, to see if it's possible he can return during the 2013 season.
Martin's injury was sustained in the third quarter of Tampa Bay's Week 7 game in Atlanta when Falcons strong safety William Moore tracked Martin down near the sideline and popped him at the 1-yard line to break up a pass from quarterback Mike Glennon.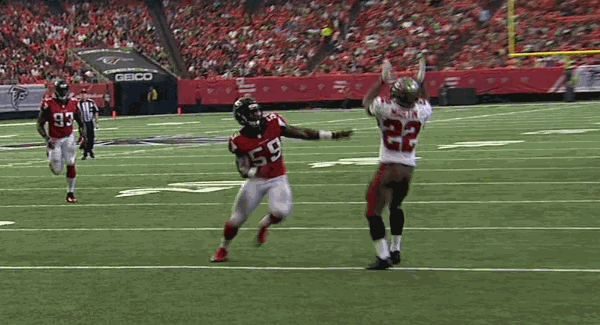 After the injury, rookie running back Mike James took over for Martin. The results weren't pleasing. James carried the ball twice prior to the injury and 12 times after. He gained 45 yards with a 3.2 yards-per-carry average. Before exiting the game, Martin was averaging 4.3 yards per carry.
The Atlanta run defense is formidable, giving up just 99.7 yards on the ground per game. Even though it's not easy to run on the Falcons, Martin was more than a yard per carry more effective than James was. That's cause for concern moving forward.
The sample size is just way too small on James right now. He's only played 53 snaps all season spread over four games, and he's only carried the ball 17 times and caught four passes. But just like the Bucs coaching staff must now evaluate James and decide what he brings to the table as a feature back, so too shall we.
Early impressions are that James isn't as elusive as Martin. According to Pro Football Focus (subscription required), Martin forces a would-be tackler to miss once in every 11.5 tackle attempts. James has only made one tackler miss in 17 attempts. James is also far less effective gaining yards after catching the football.
In James' four receptions, he's averaged 3.8 yards after catch per reception, according to Pro Football Focus (subscription required). Martin averaged 5.1 yards after catch per reception before his injury.
It's still far too early for these numbers to mean everything, but take this quick glimpse as a warning that Tampa Bay's production out of the backfield moving forward could dip drastically.
That forthcoming dip is really going to hurt this Buccaneers offense, quite frankly more so because the offensive ship is being steered by a rookie quarterback in Glennon.
Glennon, who is just two games into his professional career and still not only learning the system but getting in sync with his receiving corps, has had the benefits of Martin being in the backfield with him, a security blanket that ran for 1,454 yards last season as a rookie and was well on his way to another 1,000-yard season.
Now, as Glennon is becoming familiar with the likes of Vincent Jackson (who he hit once long but missed with regularity Sunday), Mike Williams and the rest of his passing targets, he's going to have to build a bond with James in the backfield.
This will definitely slow Glennon's learning curve, and it's the final nail in the coffin that has been a miserably disappointing season for the Buccaneers.
Tampa Bay's offense ranks 31st in the NFL with just 14.5 points per game on average. The Buccaneers rank 29th through the air and 20th on the ground. But that No. 20 ranking is likely going to drop with James getting the majority of the carries and Martin injured.
Unless otherwise noted, all quotes and statements were obtained firsthand.
Knox Bardeen is the NFC South lead writer for Bleacher Report and the author of "100 Things Falcons Fans Should Know & Do Before they Die." Be sure to follow Knox on Twitter.