Why Dwight Howard-Omer Asik Pairing Is Destined to Wind Up an Utter Disaster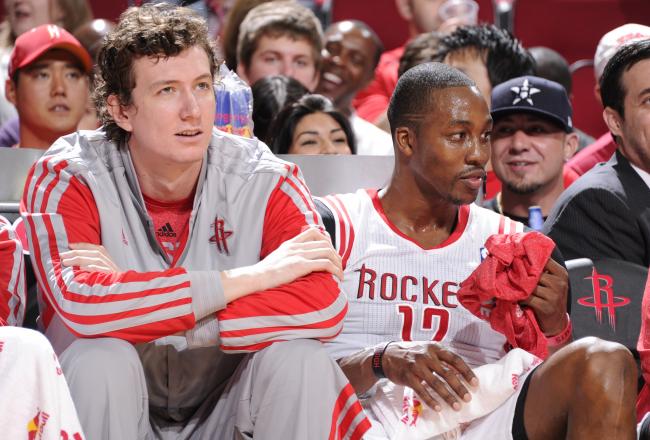 Bill Baptist/Getty Images
The time has come for the Houston Rockets to finally see how Dwight Howard and Omer Asik can fare on the court together. Buckle up Rockets fans, this might not be pretty.
According to Jonathan Feigen of the Houston Chronicle, head coach Kevin McHale will start his two centers together when Houston takes on the Dallas Mavericks Oct. 21:
"McHale said he would start Asik with Dwight Howard against the Mavericks on Monday, in part to see how well either defends the perimeter game of Dallas' Dirk Nowitzki."
Let it never be said that McHale was afraid of failure.
Credit the Rockets for giving the potentially unwieldy frontcourt duo a shot. The team certainly needs to find out just how clunky an Asik-Howard pairing will be before the games actually count in the standings.
The idea of twin towers is hardly new to Houston; Ralph Sampson and Hakeem Olajuwon did pretty well for themselves nearly 30 years ago. But they were a very different pair of bigs, and they played in an era when size was still king.
There's little to suggest that things will work out as well for the Rockets this time around.


Stopping Power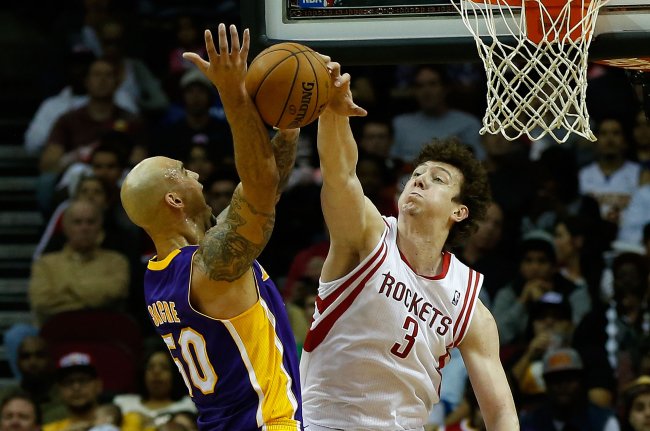 Scott Halleran/Getty Images
Howard and Asik are both terrific defenders, but neither is particularly skilled away from the basket. Yes, both do a good job of harassing guards on pick-and-rolls before retreating to the middle, but actually defending a mobile forward in a one-on-one situation is an entirely different thing.
Few power forwards demand more perimeter attention than Nowitzki, so whichever Houston big man has to venture out to defend him will be well beyond his comfort zone. Chances are, the quicker Howard will be the one to draw the assignment.
This could go badly in a number of ways.
Howard could fail to stay close enough to Nowitzki to contest his deadly jumper. Length is on D12's side here, but he's simply not accustomed to chasing around a perimeter sniper 25 feet away from the basket. If he's a step slow getting around a screen or his instincts prevent him from closing out quickly, Houston could find itself buried under a deluge of long-range bombs.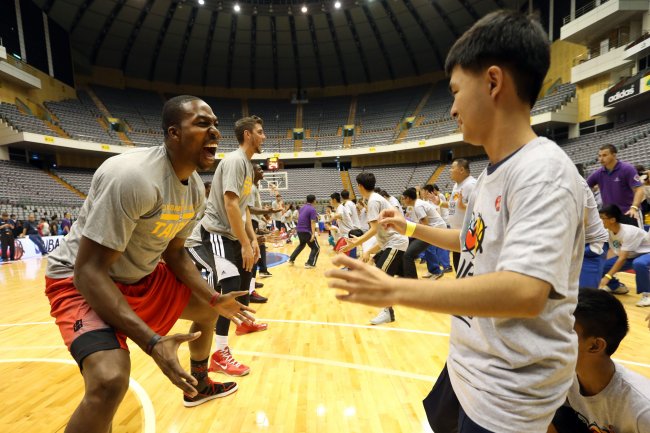 Joe Murphy/Getty Images
Of course, there's also the possibility that Howard is too aggressive in his pursuit of Nowitzki. That could result in the lead-footed Nowtizki blowing by D12, triggering panic rotations from Houston's other defenders. If the Mavs move the ball well in these situations (and they always have), the Rockets will be scrambling to recover all night.
Not only that, but Howard could also wind up in early foul trouble as he attempts to corral his man, which certainly doesn't help Houston's chances either.
On the plus side, Asik will likely still be inside to protect the paint. So even if things fall apart because of Howard's inability to stick with more mobile matchups, there'll be a solid back-line stopper in the lane. But if Asik is constantly in the position of having to help, he'll wind up out of good rebounding position and likely be in danger of foul trouble himself.
For all of those potential issues on defense, the real problems are going to arise on the other end.


Pace and Space No More

Last year, Houston's go-go offense was based on a fast tempo and four perimeter shooters spread beyond the three-point line. Getting Howard this past summer meant the Rockets would have to make a few changes to their offense, but if they're serious about featuring two conventional centers, the alterations are going to be much more drastic.
With Howard replacing Asik, Houston would have had to toss the ball into the post on a few more possessions per game. At every stop, D12 has asked for more post-up opportunities. So Houston was going to have to oblige him with some extra touches this year.
That wouldn't have constituted a huge change for the Rockets, who could still spread the floor with four shooters and allow Howard to work in more space. But with Asik on the court at the same time, not only will Houston's offense feature one less shooter, but whichever big man gets the ball on the block will have far less room in which to work.
Neither Howard nor Asik can score outside the restricted area, so stationing one or the other away from the basket in an effort to create spacing won't accomplish anything. Defenders will simply ignore whichever big man is farther from the hoop, knowing there's no scoring threat to worry about.
And if Houston leaves both bigs near the bucket, there won't be any driving lanes for James Harden, who excels when he gets a head of steam and can draw fouls at the rim.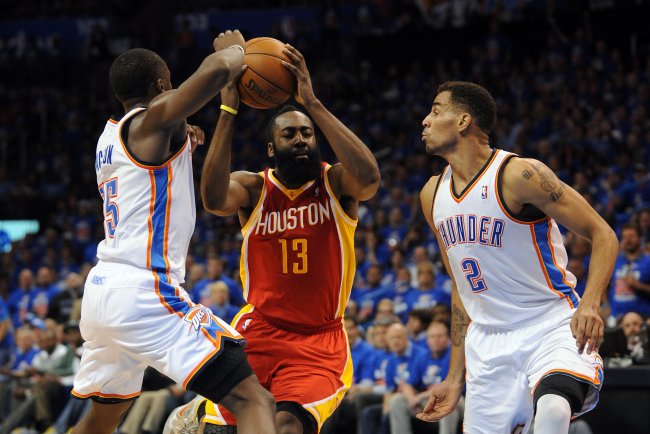 Mark D. Smith-USA TODAY Sports
Offensively, this could be a disaster.


History

A quick look back through the positional splits for both Howard and Asik shows that neither has spent any time guarding power forwards in the past few years. Per 82games.com, Howard and Asik exclusively matched up against opposing centers in 2012-13.
What's interesting to note is that both have had opportunities to play alongside much more skilled centers in the past, but neither enjoyed any success in the process.
Asik and Joakim Noah almost never saw the floor together when they were teammates with the Chicago Bulls in 2011-12. According to NBA.com, Asik played just one minute with Noah on the floor in that season.
So either Asik and Noah were literally allergic to one another, or Bulls head coach Tom Thibodeau knew that there was no value to be had by putting his two best centers on the court at the same time.
And Howard spent an entire season trying to work out chemistry with Pau Gasol in LA last year, with little consistent success to show for it.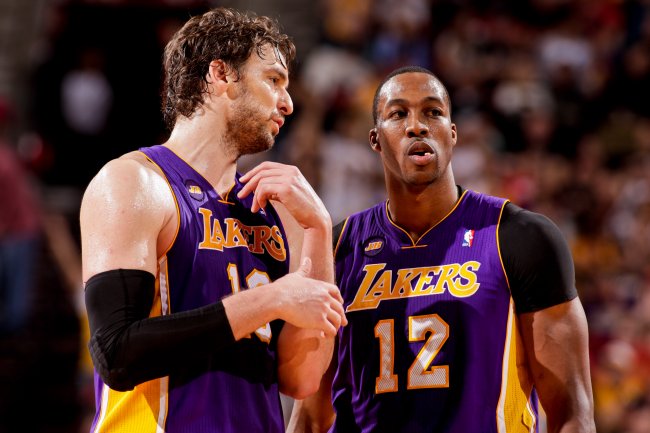 Cameron Browne/Getty Images
Both Noah and Gasol are exceptionally skilled big men, far better-suited to play as de facto power forwards alongside conventional centers like Asik and Howard, respectively. Yet Asik never saw the court with Noah and Howard failed to play his best with Gasol.
For the sake of contrast, consider Howard's best seasons as a pro: his years spent with Ryan Anderson and Rashard Lewis spacing the floor in Orlando. Those are the kinds of frontcourt partners D12 needs, and the same is true of Asik. He was at his best in Houston when the Rockets used a smaller 4 to space things out.


Who's Happy About This?

We know Asik hasn't been especially jazzed about Howard's arrival because he demanded a trade moments after news broke that the Rockets had landed the prized free agent. Since then, he's been quiet about his feelings, but his situation hasn't changed.
Either he'll have to sit behind Howard, or he'll be stuck in an ill-conceived frontcourt pairing with him.
And if the Rockets are serious about playing both bigs together during the regular season, Howard is sure to complain at the first sign of trouble. It's just what he does.
According to Sara Eckert of CSN Houston, Howard said: "We're teammates. It's basketball. We have to learn how to play together."
Hooray for diplomacy! Don't be fooled though, this is an arrangement that benefits nobody. It's much easier for all parties involved to keep an open mind at this juncture. But when problems arise (and they most certainly will), the combination of Asik's simmering discontent and Howard's notorious immaturity are going to pose a major issue.


Why Do This At All?

Most NBA teams would kill for one defensively dominant center, but the Rockets have two.
If Houston scrapped the notion of using both bigs at the same time, it could assure its defense of having an elite back-line stopper on the court at all times. Howard could play about 30 minutes as a starter, while Asik could get 20 off the bench.
Besides, "going big" is dead in today's NBA. Yes, the Rockets might need Asik and Howard on the court together in some instances—games against the Memphis Grizzlies and San Antonio Spurs come to mind—but by and large, one conventional center is plenty.
Maybe McHale is secretly a genius. Maybe he's planning to trot out this lineup against Nowitzki—perhaps the toughest matchup imaginable—in an effort to show Asik that he'll be much better off as a bench player who gets to go to work on second-unit centers.
All right, I'll admit that's a far-fetched theory.
If you've got a better explanation, or can make a strong case for why a Howard-Asik pairing makes sense, I'd love to hear it.
This article is
What is the duplicate article?
Why is this article offensive?
Where is this article plagiarized from?
Why is this article poorly edited?

Houston Rockets: Like this team?