UFC Fight Night 30: How Can Mark Munoz Get to Lyoto Machida?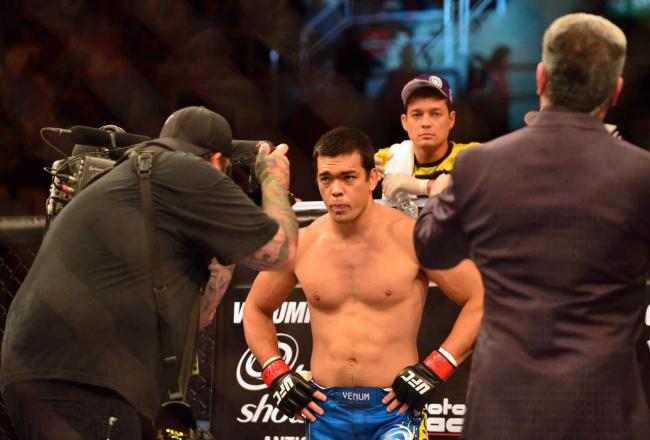 Jason da Silva-USA TODAY Sports
The card has been chopped and changed, and swapped around, but the main event for UFC Fight Night 30 in Manchester, England has now been filled. "The Filipino Wrecking Machine," Mark Munoz, will take on Lyoto Machida, who is making his middleweight debut.
This is not an easy matchup for Munoz. Taking on the elusive Brazilian will be a challenge.
Munoz has an exceptional wrestling pedigree, and in his fights he's a grinder who looks to take things to the mat and proceed with strikes. That's likely to be his game plan going into this fight. However, no one has used that strategy successfully against Machida before.
The real question going into the fight is whether or not Munoz can get close enough to "The Dragon" to take him down.
Machida is the most elusive and difficult-to-grapple-with fighter in the division. He's also used to dancing circles around accomplished wrestlers; a list which includes Randy Couture, Dan Henderson, Ryan Bader, Rashad Evans, Jon Jones and Phil Davis.
Those last two were fights he lost, but even then, both Davis and Jones struggled to put Machida on his back. He's proven time and again that he has some of the sturdiest takedown defense and quickest feet to easily neutralize the style of game Munoz will bring.
What's more, both Davis and Jones had reach as an advantage, helping them close the distance on Machida. But Munoz is slightly smaller. Worse, he's never shown the explosive takedown ability that can cut the distance on a man like Machida.
We've seen the shortcomings in Munoz' wrestling in his fight against the much bigger, Chris Weidman.
Still, that was a year ago, and you'd hope that Munoz would have patched some of those holes in his game—not that he's likely to face many takedown attempts coming from Machida.
What could ultimately slow Machida down is the weight cut. This is unknown territory for the Brazilian, and whether he can keep things standing and pick Munoz apart depends on how strenuous the weight cut is for him. Otherwise, for Munoz to get close to him, he would require a willingness to trade in the pocket and hope he can find a way into the clinch or score a takedown from there.
This article is
What is the duplicate article?
Why is this article offensive?
Where is this article plagiarized from?
Why is this article poorly edited?