Tennessee Titans Owner Bud Adams Passes Away at Age 90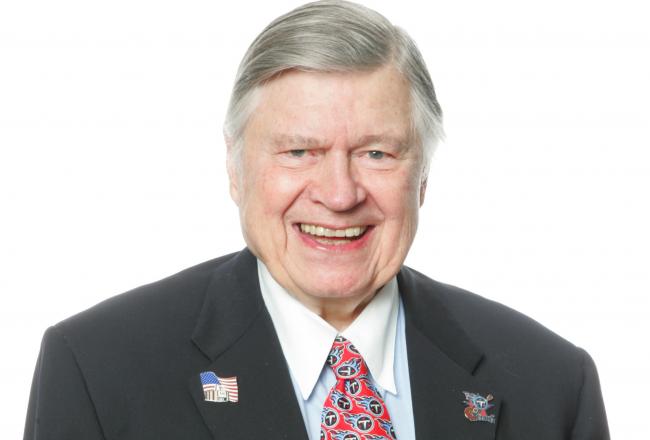 Handout/Getty Images
Tennessee Titans owner K.S. 'Bud' Adams, whose mark on the sport of football is indelible due to his status as one of the AFL's charter members, passed away on Monday at the age of 90, according to the team's official Twitter account:
Titans/Oilers founder and owner K.S. "Bud" Adams, Jr. passed away peacefully from natural causes at his home this morning in Houston.

— Tennessee Titans (@TennesseeTitans) October 21, 2013
Adams' death was first reported by Brent Zwerneman of the Houston Chronicle, who said that it was due to natural causes:
All early indications are that Bud Adams' death is of natural causes, source said. Also stressed 'early indications.'

— Brent Zwerneman (@BrentZwerneman) October 21, 2013
Adams' son in law Tommy Smith will take over as president and CEO of the Titans.
From the Titans Facebook page:
STATEMENT FROM THOMAS (TOMMY) SMITH ON BEHALF OF THE ADAMS FAMILIES

"We want to thank all of the friends, family and fans who have reached out to us over the past week to give their condolences and share their stories. It has been a difficult week for all of us and those conversations and letters have kept us going.

As for the Titans organization, we are moving forward with the same goals and a similar structure. As a family, we have agreed that I will be President and CEO of the Titans; and additionally Susie Adams Smith and Amy Adams Hunt will serve as Co-Chairpersons and Kenneth Adams IV will join the Titans board as a Director.

As an organization, we started the year with a plan and we will continue to work towards the goals we have laid out, including a winning season, the playoffs and ultimately building a consistent winner. Through the years, our families and I have been consistently updated on all aspects of the organization from football operations to the business side from those who run those areas and we will continue those interactions on a daily basis. We will be taking all the necessary steps, in concert with the league office, to remain in compliance with league rules in our ownership structure. That process will not be immediate, but it has begun. Until we gain that approval, we will stay out of the spotlight, but know that we are directing the organization and staying informed of daily activities. The continuity and knowledge I have gained in decades of being involved with the team will aid our organization during this transition.

We want our fans to know that we have the best interest of the franchise in mind and we share both Bud's passion for the game and his commitment to the city of Nashville and the Mid-South Region. We are excited for what lies ahead for this franchise and our fans."
Original Text
The native of Bartlesville, Okla., was a true football pioneer, as he became the original owner of the AFL's Houston Oilers in 1960. Houston won the AFL championship in both 1960 and 1961 before joining the NFL as part of the AFL-NFL merger in 1970, but that was just the tip of the iceberg in terms of Adams' accomplishments as an owner, according to Gregg Rosenthal of NFL.com.
Bud Adams' Accomplishments
Co-founder of the American Football League
Longest tenured NFL owner
Presided over 409 wins (NFL record)
Teams made the playoffs 21 times
Won two AFL titles (1960, 1961)
Oilers first team to play indoors (Astrodome)
Houston reached the NFL playoffs 10 times before Adams moved the team to Tennessee in 1997. Adams achieved his greatest success as an NFL owner in 1999 when the Titans won the AFC championship and played the St. Louis Rams in Super Bowl XXXIV.
Tennessee famously came one yard short of pushing that game into overtime as Rams linebacker Mike Jones stopped Titans wide receiver Kevin Dyson just short of the end zone. Unfortunately for Adams, his team was never able to get that close again under his watch.
The loss of Adams is particularly tough for the organization on the heels of legendary Oilers head coach Bum Phillips passing away on Friday, according to Bum's son and Houston Texans defensive coordinator Wade Phillips:
Bum is gone to Heaven-loved and will be missed by all -great Dad,Coach, and Christian

— Wade Phillips (@sonofbum) October 19, 2013
Adams and Phillips were an eccentric and successful duo in Houston, and they will forever be remembered by fans of the Oilers.
Former player Blaine Bishop, who spent nine seasons playing with Houston and Tennessee, also took a moment to remember and thank Adams for giving him a chance to play in the NFL:
Thanks to Bud Adams for giving me the opportunity to live out a dream to play in the NFL! R.I.P Bud.

— Blaine Bishop (@bbishop23) October 21, 2013
Adams made one last push to accomplish two longstanding goals this year. Building the Titans into a potential playoff and Super Bowl contender was chief among them.
Adams emptied his pockets this offseason as the Titans signed guard Andy Levitre, tight end Delanie Walker and safety Bernard Pollard. According to The Tennessean, via Josh Alper of Pro Football Talk, Adams expected big things this season:
We have the talent in there, and now we have to put it to work. I think we're going to have a good team, and I'll be real unhappy if we don't. We put out a lot of money to get what we got, and I think we have some people who can get us in the championship. If we don't make the playoffs, then we're sitting [still]. We have some great talent we brought in, and we paid a lot of money to get them in there. I am banking on us getting it done this year.
While the Titans are just 3-4 following Sunday's loss to the San Francisco 49ers, there is reason for optimism moving forward. The defense has been excellent, and quarterback Jake Locker has played well when healthy.
In addition to winning a Super Bowl, Adams wasn't shy about wanting to make the Pro Football Hall of Fame. According to The Tennessean, via Eric Snyder of the Nashville Business Journal, Adams was named to the 126-nominee list back in September, and he was hopeful that this would be his year despite failing to come close in previous attempts:
I don't like tooting my own horn. But at my age, and now being the senior NFL owner, there is no one from back in those days than can really speak up for me now. I really feel this year could be a year I get serious consideration after 53 years. I'm sure hoping that's the case.
Unfortunately, Adams won't get to see either of those things come to fruition. Even so, he accomplished a great deal as a professional football owner, and it is likely only a matter of t
This article is
What is the duplicate article?
Why is this article offensive?
Where is this article plagiarized from?
Why is this article poorly edited?