NFL Power Rankings: Updated Look At All 32 Teams Heading into Week 8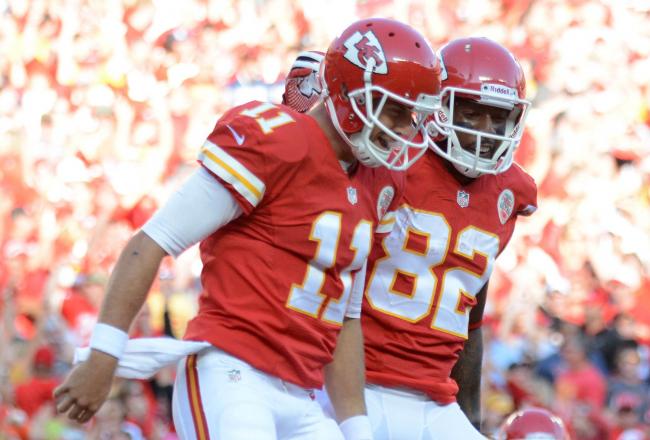 Denny Medley-USA TODAY Sports
The NFL is an ever-evolving league in which momentum can shift in the blink of an eye. Heading into Sunday's slate of games, there were a few things we thought we knew, but a weekend of chaos utterly destroyed many of those ideas.
Injuries.
They happen every week in this league, but many teams are reeling after losing key players in Week 7.
Jay Cutler, Sam Bradford, Reggie Wayne, Jermichael Finley, Leon Hall, Brian Cushing and Doug Martin all suffered season-ending or potential long-term injuries, putting their respective teams in a tough spot with more than half the games yet to play.
These injuries, along with a few big upsets, put an interesting spin on the league's power structure heading into Week 8.
1. Kansas City Chiefs
Kansas City's defense is a thing of beauty.
Which team deserves the top spot?
Sacks and turnovers are this unit's calling card, and while the Chiefs haven't yet been tested against one of the league's elite offenses, it has the look of a championship defense.
Alex Smith isn't flashy, and the team's offense isn't often pretty to watch, but the undefeated record speaks for itself.
2. Indianapolis Colts
There are other teams with better records in the league, but no team has been tested like Indy, which has now taken out three potential Super Bowl contenders in the San Francisco 49ers, Seattle Seahawks and Denver Broncos.
Injuries could present a problem, however. The Colts were hit hard in Week 7 with multiple injuries—none of which is as devastating as losing Reggie Wayne for the season with a torn ACL, as reported by ESPN's Adam Schefter:
Confirmed and crushing: tests showed Colts WR Reggie Wayne has a torn ACL. His season and streak of 189 straight games is over.

— Adam Schefter (@AdamSchefter) October 21, 2013
This will test Indy's depth, along with Andrew Luck's abilities as both a quarterback and leader. Somehow, I'm betting the Colts will continue to thrive.
3. Denver Broncos
Famous last words: Mistakes were made.
Credit goes to the Colts for playing well, but Denver continuously shot itself in the foot on Sunday night, sullying Peyton Manning's return to Lucas Oil Stadium.
This team will bounce back and learn from its mistakes, however. Washington is visiting in Week 8, and the Redskins should be the salve Denver needs to recover from the loss to the Colts.
4. Seattle Seahawks
Seattle's defense is getting hot, which is a scary thought. Chris Clemons is healthy, and he, along with the rest of the Seahawks' impressive corps of pass-rushers, can bring pressure to opposing quarterbacks as well as any team in the league.
The Seahawks must figure out a way to fix the offensive line, however. Russell Wilson has been hit far too often this year on passing plays, as the Seahawks have allowed 20 sacks in seven games.
5. New Orleans Saints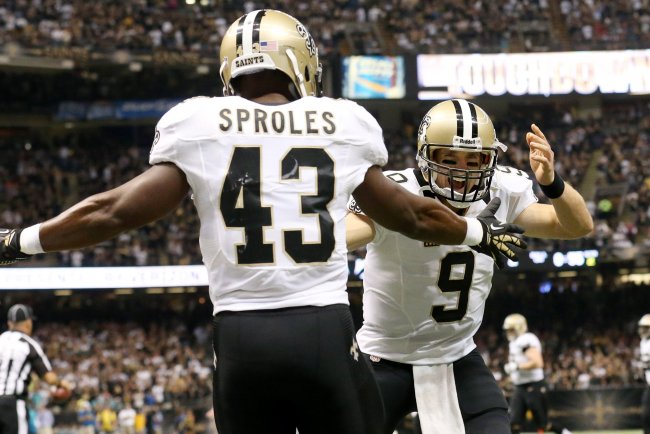 Crystal LoGiudice-USA TODAY Spor
A bye week was just what the doctor ordered for the Saints. As the rest of the league suffered heavy casualties, New Orleans was at home getting healthy for the playoff push. If not for some late-game heroics by Tom Brady in Week 6, the Saints would still be undefeated.
6. San Francisco 49ers
The 49ers have bullied their opponents the past four weeks after losing two straight games early in the season. Frank Gore is "grinding meat" as well as any back in the league right now, and San Francisco's defense has feasted on inferior opponents.
The scary part for the rest of the league is that the 49ers are still missing some key players on both sides of the ball. Come December—barring any further injuries—the 49ers will be as formidable as any team in the league.
7. Green Bay Packers
The Packers have not been fortunate on the injury front this season. Clay Matthews, Brad Jones, James Starks, Randall Cobb and James Jones are just some of the key players Green Bay has lost for at least a short time. And Jermichael Finley was stretchered off the field on Sunday with a neck injury.
He stayed overnight at a local hospital and was still there as of Monday morning. ESPN's Chris Mortensen reported he hadn't had surgery but that the situation was still being monitored:
Packers TE Jermichael Finley in ICU after his neck injury. He has not had surgery as of early this a.m. and status uncertain. Monitoring.

— Chris Mortensen (@mortreport) October 21, 2013
The Packers have still managed a 4-2 record, despite these challenges, and are atop the NFC North by a half-game over the Detroit Lions and Chicago Bears.
8. New England Patriots
For the Patriots and their fans, that was a tough loss to stomach against the New York Jets on Sunday.
Tom Brady and his receivers are still struggling to connect with regularity, but the return of Rob Gronkowski should improve things on this front.
The biggest concern facing New England, however, is the team's inability to shut down New York's running game. The Jets rushed for 177 yards in the win, highlighting the absence of Vince Wilfork in the middle of the Patriots defense.
9. Cincinnati Bengals
Andy Dalton had himself a game against the Detroit Lions on Sunday, passing for 372 yards with three touchdowns and zero picks. If he can build off this performance going forward, then the Bengals will have a fighting chance to meet Super Bowl expectations.
10. New York Jets
What a difference a year makes.
Rex Ryan should have been fired, by most accounts, last season for the dysfunctional environment he fostered. But he appears to be the perfect man for the job this year, guiding the Jets to a 4-3 record.
Two huge tests await this team, however, as it travels to Cincinnati next weekend before heading back home to host the Saints in Week 9.
11. Dallas Cowboys
Ever an enigma, Dallas is always one of the most exciting teams to cover. The Cowboys secured a one-game lead over the Philadelphia Eagles with a big road win on Sunday, but nobody will be surprised to see this team tank next weekend at Detroit.
Still, there's no doubt the Cowboys have the talent on both sides of the ball to win the NFC East and make a run in the playoffs.
12. Detroit Lions
The Lions lost a tough game at home to the Bengals in Week 7, but there's still a lot to like about this team. Calvin Johnson went off for 155 yards and two scores in a losing cause, and Reggie Bush should get back on track with another big game against Dallas next weekend.
13. Chicago Bears
Jay Cutler was injured on Sunday against Washington (groin), and he's expected to miss four weeks, as noted by the Bears on Twitter. Linebacker Lance Briggs is also out for six weeks, which will test the team's defensive depth:
LM: #Bears QB Jay Cutler out at least 4 weeks with torn groin muscle. LB Lance Briggs out 6 weeks with small fracture in shoulder.

— Chicago Bears (@ChicagoBears) October 21, 2013
It appears the Bears could be without Cutler for at least a few games, and his absence will be keenly felt. However, Luke McCown played admirably in his stead on Sunday against Washington, passing for 204 yards and a touchdown.
Chicago is still a dangerous team—albeit one that is wounded.
14. San Diego Chargers
San Diego out-muscled the Colts two weeks ago at home and then systematically dismantled the hapless Jacksonville Jaguars on the road on Sunday.
Philip Rivers continues to look fantastic after suffering a couple of let-down seasons in the final two seasons under Norv Turner. If San Diego's offense can continue to run the ball like it has the past two games, the Chargers will continue winning games.
15. Baltimore Ravens
It's been a rough couple of weeks for Baltimore, which has been narrowly beaten by the Packers and Pittsburgh Steelers in consecutive games.
The team's inability to get Ray Rice going on the ground has been a huge problem in both losses. Though he's played well, Joe Flacco hasn't been able to carry the team on his back.
Still, the Ravens feature one of the league's top defensive front lines, and if Rice ever gets going in the running game, things will open up for Flacco and his receivers.
16. Buffalo Bills
Feisty.
Buffalo is fun to watch, and it's remarkable how this team continues to stay competitive without a starting quarterback and with a banged-up corps of running backs.
Mario Williams has 10 sacks already this year, and rookie inside linebacker Kiko Alonso is the early NFL Defensive Rookie of the Year.
17. Pittsburgh Steelers
After losing four straight games to open the season, Pittsburgh is suddenly showing signs of life with two wins in a row against two good teams—the New York Jets and Baltimore Ravens.
The Oakland Raiders are up next, and given the way the Steelers have shut down offenses of late, Pittsburgh should pick up win No. 3 on Sunday.
18. Atlanta Falcons
No Julio Jones, no Roddy White—no problem for Matt Ryan and the Falcons.
Granted, the Tampa Bay Buccaneers defense isn't exactly stellar, but Harry Douglas put on a show, racking up 149 yards and a touchdown to help Atlanta win its second game of the year.
If Steven Jackson ever returns healthy, the Falcons could scrape and claw their way back into the NFC playoff picture.
19. Carolina Panthers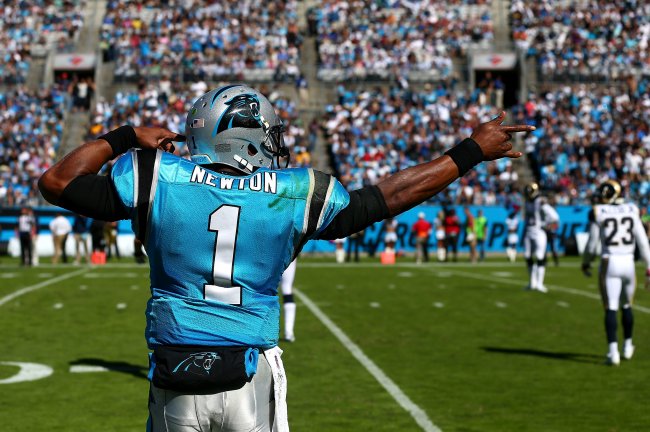 Streeter Lecka/Getty Images
Cam Newton has played exceptionally well for two weekends in a row. If he continues to play turnover-free football, then Carolina will win more games than it loses. The Panthers feature one of the league's best defenses, and they should feast next Sunday against Tampa Bay.
20. Tennessee Titans
Tennessee was supposed to be a tougher challenge for San Francisco on Sunday, but the 49ers manhandled the Titans for three quarters, building up a 24-0 lead before Jake Locker and his offense scored 17 points in garbage time.
The loss was brutal, but this team can bounce back. San Francisco is a league powerhouse, and the St. Louis Rams should be an easier test in Week 9 after Tennessee's bye.
21. Miami Dolphins
After winning three games in a row to open the season, Miami has lost its last three games.
Ryan Tannehill can't continue taking hits like he has this year. Even though he's played in one less game than many of the league's starters, he's been sacked more than any other quarterback in the NFL.
With games upcoming against the Patriots and Bengals, the Dolphins could be staring 3-5 in the face.
22. Philadelphia Eagles
So, maybe Nick Foles isn't the answer for the Eagles after all.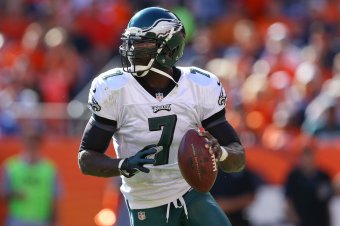 Justin Edmonds/Getty Images
Before leaving Sunday's game with a head injury, he had only managed 80 yards passing on 29 attempts.
Rookie Matt Barkley was even worse, throwing three interceptions after he took over.
Michael Vick needs to get healthy quick, or the Eagles will miss out on a prime opportunity to win the extremely weak NFC East.
23. Arizona Cardinals
Carson Palmer has been atrocious for Arizona this year, throwing 13 interceptions on the season—at least one in every single game—and 11 in his last five games.
The Cardinals feature an impressive defense, but it isn't good enough to overcome Palmer's egregious mistakes.
Arizona is now 0-3 in the division, and it's almost a given this team will miss the playoffs.
24. Washington Redskins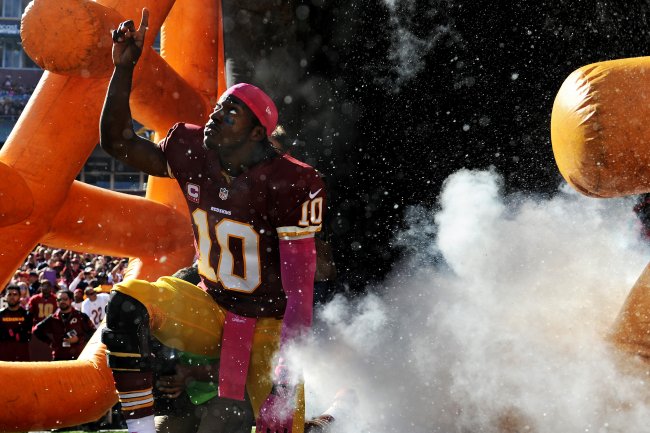 Patrick Smith/Getty Images
Don't look now, RGIII haters, but the second-year quarterback finally put together a breakout game for the first time this season against a turnover-happy Chicago defense.
Unfortunately, Washington also gave up 41 points.
This team's defense will be its undoing in 2013. Teams have been able to move the ball at will, grinding up yards on the ground and throwing touchdowns with ease.
25. Cleveland Browns
Someone needs to explain to me why Jason Campbell continues to occupy a spot on Cleveland's sideline instead of a spot behind center.
Brandon Weeden is not good, and he's killing his team's chances of winning nearly every time he steps onto the field.
26. St. Louis Rams
Sam Bradford was playing extremely well for the Rams before suffering a season-ending ACL injury on Sunday against the Panthers, as noted by the Rams on Twitter:
An MRI confirmed that #Rams QB Sam Bradford suffered a torn Anterior Cruciate Ligament (ACL). He will miss the remainder of the 2013 season.

— St. Louis Rams (@STLouisRams) October 21, 2013
With a record of 3-4, the Rams' playoff hopes were crushed with that injury.
27. Oakland Raiders
Oakland's offensive line is atrocious, and its defense is riddled with holes. However, Terrelle Pryor makes the Raiders not only watchable, but downright exciting.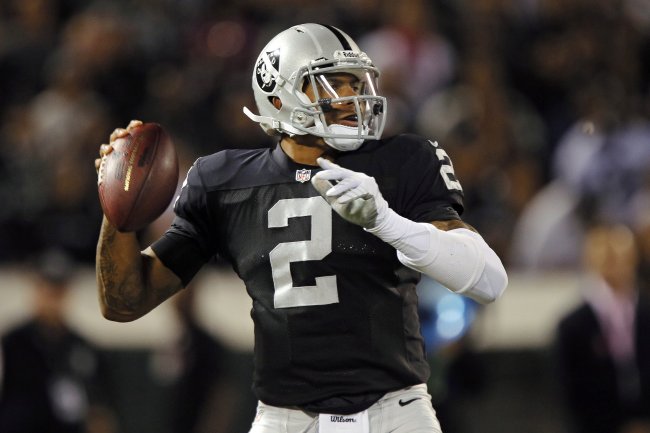 Brian Bahr/Getty Images
He gives the franchise a cornerstone to build upon in the years to come, but the Raiders are still a couple of seasons away from contending for a playoff spot.
28. Minnesota Vikings
Josh Freeman may or may not be the answer for Minnesota at the quarterback position, but the team's pitiful offense isn't its biggest concern. The Vikings can't stop anyone from moving the ball on offense. If things don't change for the better in Minnesota soon, Leslie Frazier's job could be in jeopardy.
29. Houston Texans
Houston is a couple of huge plays away from being 0-7 this year.
The Texans have some excellent players on both sides of the ball, but injuries have had an impact. However, the real issue right now is that this team appears to be without a competent quarterback.
30. New York Giants
General manager Jerry Reese needs to be held accountable for failing the Giants. The team's lines on both sides of the ball are in disrepair, and the team's defense is particularly devoid of talent at the linebacker position.
Eli Manning's turnover-happy ways haven't helped either.
31. Tampa Bay Buccaneers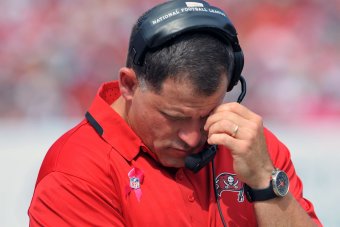 Al Messerschmidt/Getty Images
Is there a single coach with a hotter seat than Greg Schiano?
No, there isn't.
If Freeman ends up working out for the Vikings, and if the Bucs continue losing, then Schiano won't last until the end of the season.
32. Jacksonville Jaguars
Gus Bradley's job should be safe, but his team is undoubtedly the worst in the league, as illustrated by ESPN Stats & Info:
The Jaguars have been outscored by 146 points through 7 games. Only team outscored worse thru 7 games since 1970 merger- 2009 Rams (151)

— ESPN Stats & Info (@ESPNStatsInfo) October 20, 2013
Follow me on Twitter @JesseReed78
This article is
What is the duplicate article?
Why is this article offensive?
Where is this article plagiarized from?
Why is this article poorly edited?