UFC Rankings for Each Weight Division Following UFC 166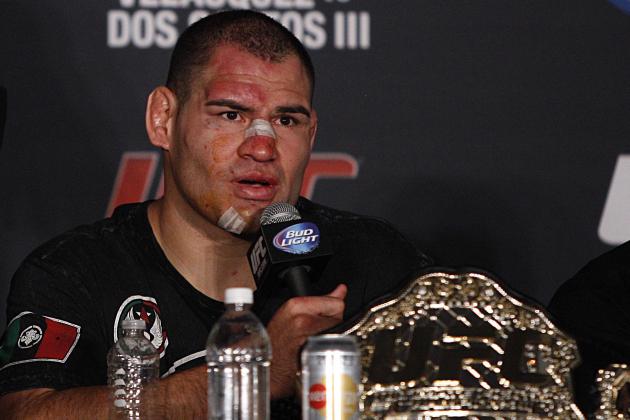 Andrew Richardson-USA TODAY Spor

Cain Velasquez is on his way toward becoming one of the best heavyweights in MMA history.
By beating Junior dos Santos on Saturday, Velasquez moved within one win of breaking the UFC heavyweight record for consecutive title defenses. At two straight title defenses, it's a somewhat unimpressive record, but it's one that's stood since Randy Couture bested Pedro Rizzo in November 2001.
Velasquez will have his chance to make history against Fabricio Werdum at an upcoming UFC fight card to be determined. Until then, where does Velasquez stand among the best pound-for-pound fighters in MMA today now that he is being mentioned among the greats?
With UFC 166 in the books and UFC Fight Night 30 ahead, here are the latest official UFC rankings.
Begin Slideshow

»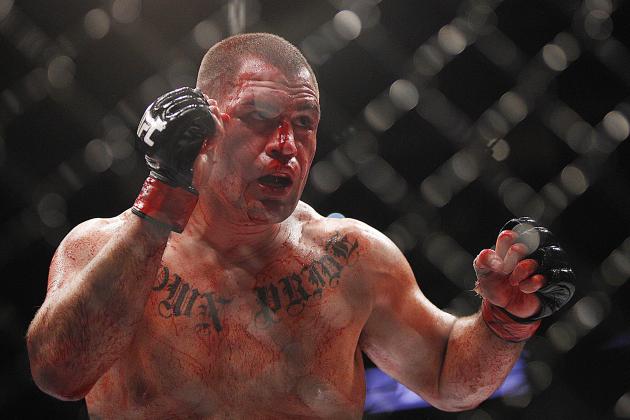 Andrew Richardson-USA TODAY Spor

Cain Velasquez's win over Junior dos Santos at UFC 166 cemented his status as one of the best overall fighters in the UFC today.
There are six current UFC champions who have defended their belts consecutively during their present reigns, and Velasquez is one of them. With two of those fighters being bantamweights not currently labeled undisputed champions, Velasquez has a firm hold on a Top Five position in the pound-for-pound rankings.
Being that no title fights are happening until UFC 167 on November 16, Velasquez and the rest of the Top 10 pound-for-pound fighters should be locked into their positions for at least a few weeks.
Official UFC Pound-for-Pound Rankings
Jon Jones

Georges St-Pierre
Jose Aldo (+1)
Anderson Silva (-1)
Cain Velasquez
Renan Barao
Demetrious Johnson
Anthony Pettis
Chris Weidman
Benson Henderson
Good Call
Aldo Moving to No. 3
With five UFC title defenses, Aldo is only behind Jones and St-Pierre in terms of current title defense streaks. Though Anderson Silva is a win away from proving he might still be the best pound-for-pound fighter in the world, he's still a former champion right now. Unless he proves his loss to Weidman was a fluke at UFC 168, Silva belongs below Aldo.
Bad Call
Silva Falling After UFC 166
While Silva does belong below Aldo for now, this is odd timing for the rankings panel to drop him. Silva didn't compete at UFC 166 on Saturday, and his pound-for-pound stature in comparison to Aldo did not shrink as a result of Velasquez's win over Junior dos Santos. This move may have to do with a fluctuating rankings team. If so, the rankings facilitators should put together a more static list of voters.
Results and Upcoming Fights
UFC 166 Pound-for-Pound Fights
No. 5 Cain Velasquez defeated Junior dos Santos by (T)KO in the fifth round.
UFC Fight Night 30 Pound-for-Pound Fights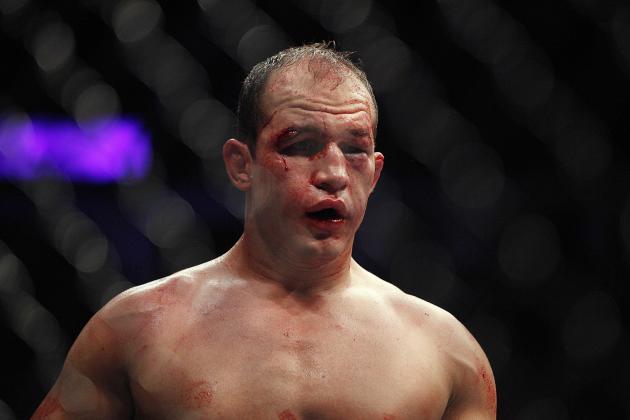 Andrew Richardson-USA TODAY Spor

Junior dos Santos failed to reclaim his spot atop the heavyweight division at UFC 166, but the Brazilian remains one of the best in the weight class.
Since joining the UFC roster, dos Santos has steamrolled nearly every opponent he's faced other than Cain Velasquez, and he even stopped the titleholder in the first round in their initial meeting. Dos Santos will now have to go on a lengthy winning streak or hope for a Velasquez loss in order to get another crack at the heavyweight championship.
Over the weekend, Daniel Cormier also defeated Roy Nelson in heavyweight action. Cormier is now headed to 205 pounds. While it may seem counter-productive for Nelson to follow a fighter he was just defeated by, "Big Country" may want to seek a change in scenery before he falls out of the Top 10 and loses value.
Official UFC Heavyweight Rankings
Champion: Cain Velasquez
Junior dos Santos
Daniel Cormier
Fabricio Werdum
Antonio Silva
Travis Browne
Josh Barnett
Alistair Overeem (+1)
Frank Mir (-1)
Stipe Miocic (+1)
Roy Nelson (-1)
Good Call
Miocic Surpassing Nelson
It took four months and another Nelson loss, but Miocic is finally ranked ahead of the man he beat in his last outing. In Stefan Struve, Miocic may have lost to an opponent Nelson knocked out, but athletes compete so infrequently in MMA that most recent performances need to weighed most heavily.
Bad Call
None
These rankings are pretty solid. It's odd seeing Overeem and Mir flip-flop despite not competing over the weekend. However, Overeem probably deserves to be ranked higher. One could also argue Mir's stock took a hit with Nelson's loss, as Big Country accounts for one of his most recent victories.
Results and Upcoming Fights
UFC 166 Heavyweight Fights
(C) Cain Velasquez defeated No. 1 Junior dos Santos by (T)KO in the fifth round.
No. 2 Daniel Cormier defeated No. 10 Roy Nelson by unanimous decision.
Gabriel Gonzaga defeated Shawn Jordan by (T)KO in the first round.
UFC Fight Night 30 Heavyweight Fights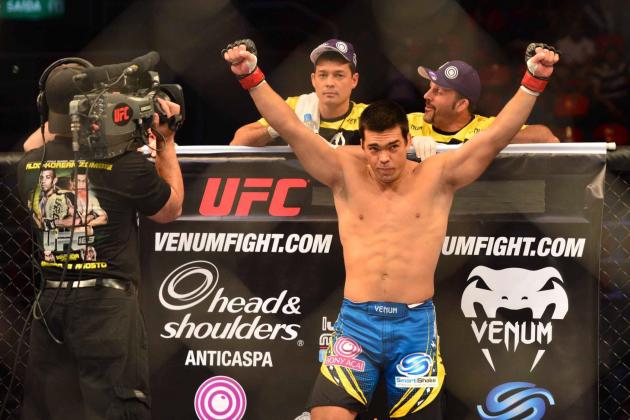 Jason da Silva-USA TODAY Sports

Set to compete at 185 pounds against Mark Munoz on Saturday, Lyoto Machida's plunge in the light heavyweight rankings has begun.
Machida has quite a run at 205 pounds, but the former light heavyweight champion now has his sights set on conquering a new division. All that could change in a hurry, though. If teammate Anderson Silva reclaims his 185-pound crown at UFC 168, Machida could quickly return to the light heavyweight class.
The 205-pound division is in a major transitional period. Recent champions Machida and Mauricio "Shogun" Rua are falling quickly, while heavyweight Daniel Cormier will soon join a group of contenders headed by 26-year-old Swede Alexander Gustafsson.
Official UFC Light Heavyweight Rankings
Champion: Jon Jones
Alexander Gustafsson
Glover Teixeira
Phil Davis
Rashad Evans
Antonio Rogerio Nogueira (+1)
Lyoto Machida (-1)
Dan Henderson
Chael Sonnen
Gegard Mousasi
Mauricio Rua
Good Call
None
Only one change was made to the light heavyweight rankings this time around, and it wasn't a good alteration.
Bad Call
Machida's Inclusion
If Machida is to be included in the light heavyweight division, all voters should work under that assumption.
With Machida being ranked below fellow Brazilian Antonio Rogerio Nogueira, it's clear some panelists believe the now-middleweight should be removed from light heavyweight rankings consideration, while others have continued to list him. That's resulted in a funky ranking for a fighter who would be in the Top Five, at minimum, had he remained at 205 pounds.
Results and Upcoming Fights
UFC 166 Light Heavyweight Fights
UFC Fight Night 30 Light Heavyweight Fights
Jimi Manuwa vs. Ryan Jimmo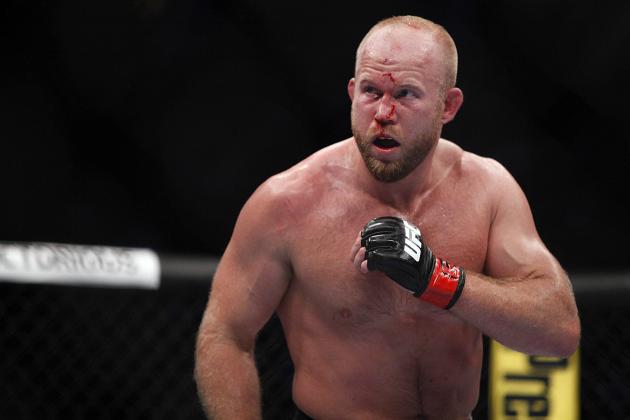 Andrew Richardson-USA TODAY Spor

Tim Boetsch faced adversity at UFC 166, but he pulled out a win to remain among the Top 10 fighters in the middleweight division.
Despite being poked in both eyes by CB Dollaway on Saturday, Boetsch was able to squeak by with a split-decision win. In doing so, "The Barbarian" avoided a third straight loss and denied Dollaway a surprise entry into title contention.
Boetsch's spot in the Top 10 may not be safe for long. At UFC Fight Night 30, Machida will look to make a splash in his middleweight debut, as he looks to beat an opponent who recently defeated Boetsch in Mark Munoz.
Official UFC Middleweight Rankings
Champion: Chris Weidman
Anderson Silva
Vitor Belfort
Ronaldo Souza
Michael Bisping
Mark Munoz
Luke Rockhold
Francis Carmont
Costa Philippou
Tim Boetsch
Chael Sonnen
Good Call
Boetsch Remaining at No. 9
Even had he scored a dominant win over Dollaway, Boetsch wasn't moving up in the middleweight rankings. Ranked one spot above "The Barbarian," Philippou defeated Boetsch less than one year ago. That said, Boetsch didn't deserve to fall as a result of his subpar outing. He did enough to pick up a middleweight win, something the fighter ranked below him hasn't done in 21 months.
Bad Call
Sonnen Still Being Considered a Middleweight
If a middleweight at all, Sonnen is one of the best at 185 pounds. However, 15 months removed from his last appearance in the middleweight division, Sonnen should be ranked exclusively as a light heavyweight right now. He may make a return to middleweight eventually, but Sonnen is currently preparing for a third straight fight in the 205-pound class.
Results and Upcoming Fights
UFC 166 Middleweight Fights
No. 9 Tim Boetsch defeated CB Dollaway by split decision.
UFC Fight Night 30 Middleweight Fights
No. 5 Mark Munoz vs. Lyoto Machida
Alessio Sakara vs. Nicholas Musoke
Luke Barnatt vs. Andrew Craig
Bradley Scott vs. Michael Kuiper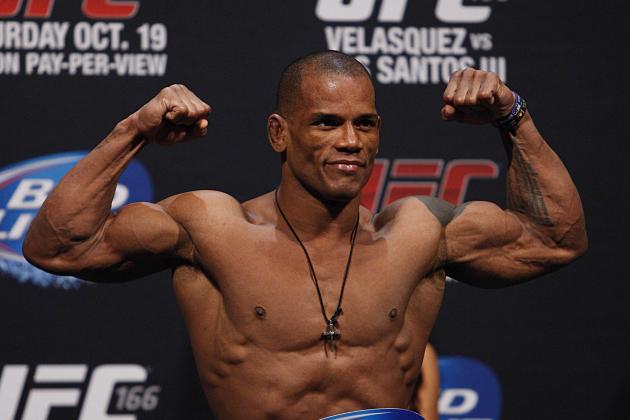 Andrew Richardson-USA TODAY Spor

Hector Lombard made a successful transition to the welterweight division on Saturday, knocking out Nate Marquardt in the first round.
The former Bellator MMA champion looked like a title threat in the making in his 170-pound debut at UFC 166. Joining Anderson Silva and Jake Ellenberger as one of only three fighters to knock Marquardt out, Lombard has the power to put away any welterweight in the world.
Lombard wasn't the only promising welterweight to score a quick finish over the weekend. At 26 years old, Adlan Amagov showed he's a fighter to keep an eye on by stopping TJ Waldburger in the opening stanza.
Official UFC Welterweight Rankings
Champion: Georges St-Pierre
Johny Hendricks
Carlos Condit
Rory MacDonald
Jake Ellenberger
Demian Maia
Nick Diaz
Martin Kampmann
Jake Shields
Matt Brown (+1)
Robbie Lawler (-1)
Good Call
For Now, Keeping Hector Lombard Out of the Top 10
While Lombard's performance against Marquardt was impressive, he's going to need another big win to break into the Top 10 of an extremely deep welterweight contender pool. Knocking out Marquardt is an accomplishment, but it isn't quite as meaningful as stopping Josh Koscheck, which No. 10 contender Lawler did in February.
Bad Call
Brown Moving Above Lawler
With a six-fight winning streak going for him, Brown is deserving of a top-10 ranking in the welterweight class. His most impressive wins coming against Mike Pyle, Jordan Mein and Mike Swick, Brown may not be worthy of more than the No. 10 position, though.
Stopping those three fighters in succession is an excellent feat, but none of them have ever reached the heights Koscheck has, and Lawler put Koscheck away just as decisively as Brown did any of those fringe contenders.
Results and Upcoming Fights
UFC 166 Welterweight Fights
Hector Lombard defeated Nate Marquardt by (T)KO in the first round.
Adlan Amagov defeated TJ Waldburger by (T)KO in the first round.
UFC Fight Night 30 Welterweight Fights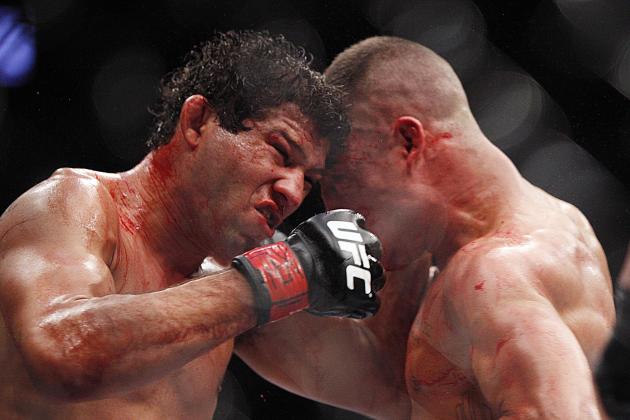 Andrew Richardson-USA TODAY Spor

Gilbert Melendez took a big step toward another title shot by beating Diego Sanchez at UFC 166.
Sanchez may not be ranked as a Top 10 lightweight, but he's, undoubtedly, one of the toughest fighters to beat in the 155-pound division. A wildly entertaining win over Sanchez puts Melendez in a battle with TJ Grant for the title shot against the winner of an upcoming championship bout between Anthony Pettis and Josh Thomson.
With Pettis and Thomson not squaring off until December, there's a chance Melendez and Grant could meet one another in a title-shot eliminator.
Official UFC Lightweight Rankings
Champion: Anthony Pettis
Benson Henderson
Gilbert Melendez
TJ Grant
Josh Thomson
Gray Maynard
Rafael dos Anjos
Khabib Nurmagomedov
Nate Diaz
Jim Miller
Donald Cerrone
Good Call
Keeping Melendez Behind Henderson
While Melendez impressed against Sanchez, it wasn't enough for him to surpass Henderson. Many believe Melendez should have won against Henderson at UFC on Fox 7; the ranking panel rightly respected the judges' call to award Henderson a split-decision win. Rankings should be based on results rather than personal opinion on a narrow decision.
Bad Call
None
These rankings are accurate from top to bottom. It could be argued Pat Healy deserves a spot in the Top 10 due to what was previously a win over Jim Miller. However, whether marijuana should be considered a performance enhancer or not, that win was erased because Healy failed a drug screening.
Results and Upcoming Fights
UFC 166 Lightweight Fights
No. 2 Gilbert Melendez defeated Diego Sanchez by unanimous decision.
KJ Noons defeated George Sotiropoulos by unanimous decision.
Tony Ferguson defeated Mike Rio by submission in the first round.
UFC Fight Night 30 Lightweight Fights
Ross Pearson vs. Melvin Guillard
Norman Parke vs. Jon Tuck
Al Iaquinta vs. Piotr Hallman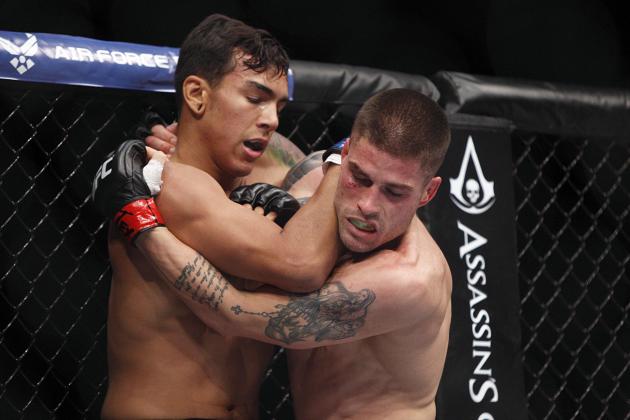 Andrew Richardson-USA TODAY Spor

The newest addition to the featherweight division, Andre Fili looked good on short notice against Jeremy Larsen. Fili missed weight at Friday's weigh-ins, but he made up for it with a strong showing and second-round knockout on Saturday.
At UFC Fight Night 30, four featherweights will step into the Octagon.
None of them are likely to threaten the standing of the Top 10 featherweights, though. Andy Ogle will battle Cole Miller, with the latter looking to avoid a fifth loss in seven fights. Also, Jimy Hettes will try to avoid back-to-back defeats in a bout with UFC newcomer Rob Whiteford.
Official UFC Featherweight Rankings
Champion: Jose Aldo
Chad Mendes
Ricardo Lamas
Frankie Edgar
Cub Swanson
Chan Sung Jung
Dustin Poirier
Dennis Siver
Nik Lentz
Clay Guida
Erik Koch
Good Call
None
No changes were made to the featherweight rankings.
Bad Call
None
No changes were made to the featherweight rankings.
Results and Upcoming Fights
UFC 166 Featherweight Fights
Andre Fili defeated Jeremy Larsen by (T)KO in the second round.
UFC Fight Night 30 Featherweight Fights
Andy Ogle vs. Cole Miller
Jimy Hettes vs. Rob Whiteford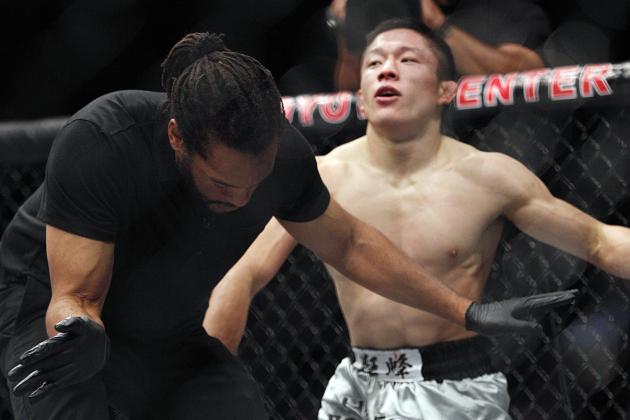 Andrew Richardson-USA TODAY Spor

The bantamweight division is going through a bit of a lull right now.
Only Kyoji Horiguchi and Dustin Pague competed at 135 pounds over the weekend. While Horiguchi picked up an impressive come-from-behind win, he still has a long way to go before he reaches title contention.
No bantamweight contests will be on display at UFC Fight Night 30, so these rankings are likely to remain the same for at least a few more weeks.
Official UFC Bantamweight Rankings
Champion: Dominick Cruz
Renan Barao (interim champion)
Urijah Faber
Michael McDonald
Raphael Assuncao
Eddie Wineland
Brad Pickett
Scott Jorgensen
TJ Dillashaw
Mike Easton
Takeya Mizugaki
Good Call
None
No changes were made to the bantamweight rankings.
Bad Call
None
No changes were made to the bantamweight rankings.
Results and Upcoming Fights
UFC 166 Bantamweight Fights
Kyoji Horiguchi defeated Dustin Pague by (T)KO in the second round.
UFC Fight Night 30 Bantamweight Fights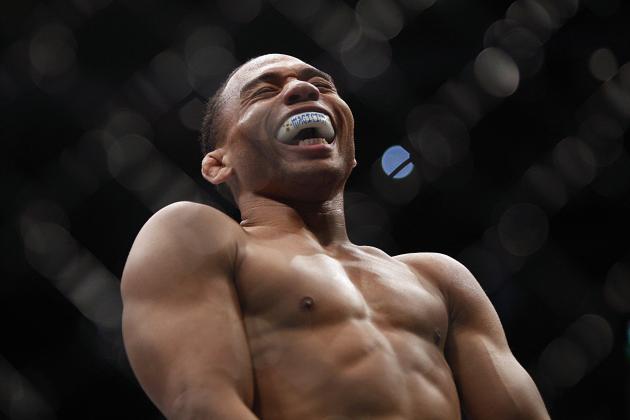 Andrew Richardson-USA TODAY Spor

John Dodson continues to showcase unique finishing ability in the flyweight division.
While flyweights routinely put on exciting fights, many don't possess the power needed to stop opponents with one punch. Dodson does, and he put that power on display at UFC 166, where he finished highly touted UFC newcomer Darrell Montague in the first round.
With upcoming title challenger Joseph Benavidez being the only fighter ranked ahead of him, Dodson may be in line for another shot at the 125-pound championship.
Official UFC Flyweight Rankings
Champion: Demetrious Johnson
Joseph Benavidez
John Dodson
Ian McCall
John Moraga
John Lineker
Jussier Formiga
Tim Elliott
Chris Cariaso
Louis Gaudinot
Darren Uyenoyama
Good Call
Dodson Remaining Behind Benavidez
Dodson looked great on Saturday, but he didn't do anything to prove he's better than Benavidez. While Dodson and Benavidez have had similar results against Johnson and Formiga, Benavidez's victory over Ian McCall gives him an edge over Dodson, who has been slightly less active since the introduction of the flyweight division.
Bad Call
None
No changes were made to the flyweight rankings.
Results and Upcoming Fights
UFC 166 Flyweight Fights
No. 2 John Dodson defeated Darrell Montague by (T)KO in the first round.
UFC Fight Night 30 Flyweight Fights
No. 5 John Lineker vs. Phil Harris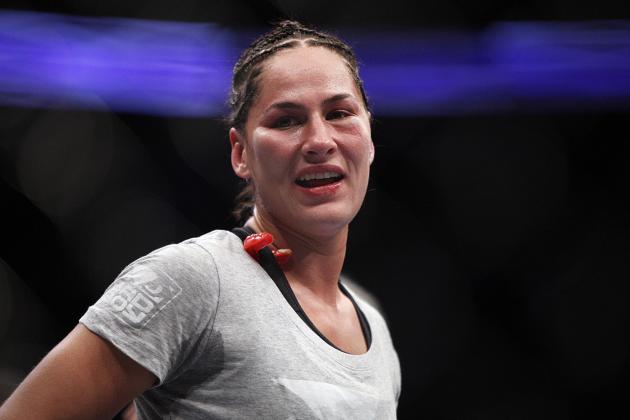 Andrew Richardson-USA TODAY Spor

Jessica Eye is suddenly one of the top contenders in the women's bantamweight division.
While the former Bellator MMA flyweight lacks size in the 135-pound class, her speed helped her to a narrow victory over former Strikeforce champion Sarah Kaufman. In a developing division, Eye may only be another win away from battling for the belt.
At UFC Fight Night 30, two more women will look for their first UFC wins in a bout between non-ranked fighters Rosi Sexton and Jessica Andrade.
Official UFC Women's Bantamweight Rankings
Champion: Ronda Rousey
Cat Zingano
Miesha Tate (+1)
Sara McMann (+1)
Liz Carmouche (+1)
Sarah Kaufman (-3)
Alexis Davis
Jessica Eye (NR)
Amanda Nunes (-1)
Germaine de Randamie (-1)
Julie Kedzie (-1)
Good Call
None
While Eye rose and Kaufman fell, as expected, the spots they landed in are puzzling.
Bad Call
Kaufman Falling Below Carmouche, Not Eye
While Kaufman may be without a win inside the Octagon, she's only two years removed from a win over Liz Carmouche and has only lost to Rousey and Eye since then. It seems rash to drop Kaufman three spots for a controversial decision loss to a talented fighter with only one loss.
Eye, meanwhile, should probably be ranked ahead of Kaufman. At the very least, she should be ranked above Alexis Davis, who has suffered multiple losses to Kaufman over the years.
With eight straight wins, Eye is a fighter to be taken seriously. The fact that she's ranked outside the Top Five following a win over Kaufman suggests some voters may not have been paying attention to Eye prior to her UFC entry.
Results and Upcoming Fights
UFC 166 Women's Bantamweight Fights
No. 7 Jessie Eye defeated No. 5 Sarah Kaufman by split decision.
UFC Fight Night 30 Women's Bantamweight Fights
Rosi Sexton vs. Jessica Andrade