A rough year for the St. Louis Rams just got a little rougher in the wake of news reporting that franchise quarterback Sam Bradford will miss the remainder of the 2013 season with a torn ACL.
An MRI confirmed that #Rams QB Sam Bradford suffered a torn Anterior Cruciate Ligament (ACL). He will miss the remainder of the 2013 season.

— St. Louis Rams (@STLouisRams) October 21, 2013
Bradford left in the fourth quarter of the Rams' 30-15 loss to the Carolina Panthers in Week 7.
In the short term, St. Louis will have to figure out how they can get by for the remainder of the season. Yet more importantly, the Rams may be looking at what the long term implications will be for the franchise and what their future with Bradford will be.
2013 was looking like a make-or-break season for the fourth-year quarterback. In some ways, this season was supposed to be a turning point for the Rams in the tough NFC West. It was not long ago that St. Louis was discussing the possibility of a contract extension.
St. Louis Rams Want to Talk Contract Extension with QB Sam Bradford, But They Should Reconsider http://t.co/NcRyPcbLbb #RantNFL #NFL

— Rant Sports 24/7 (@RantSports247) September 29, 2013
While Bradford was putting together the best season of his career—boasting a 60.7 completion percentage and a 90.9 quarterback rating—the injury might prove to be his biggest setback at the professional level.
Who knows how those contract discussions will go after the injury.
Rams announce Sam Bradford has torn ACL. Curious to see what the future holds for Bradford with St. Louis

— Niners Nation (@NinersNation) October 21, 2013
Bradford is in the midst of a six-year, $78 million contract with guaranteed money lasting through the 2015 season. That could be potentially good news for the Rams who do not necessarily have to decide immediately whether or not they want to shift their future plans away from Bradford.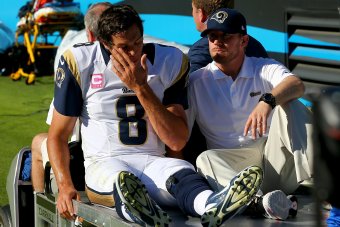 Streeter Lecka/Getty Images
Still, he is an expensive commodity and the Rams want to avoid future salary cap trouble.
It is worth noting however that St. Louis holds two picks in the upcoming 2014 NFL draft. This draft class is also pretty rich with quarterback prospects.
The question remains which direction the Rams will go. They will have to get by with someone else for the duration of the 2013 season—maybe Tim Tebow, maybe not.
From @MikeSilver: Rams have discussed signing Tim Tebow. Post to come.

— NFL: AroundTheLeague (@NFL_ATL) October 20, 2013
The Rams have no desire to bring in Tim Tebow. Are not mulling it. Jeff Fisher would not consider it.

— Jason La Canfora (@JasonLaCanfora) October 21, 2013
Bradford, on the other hand, will not have the opportunity this year to show he is deserving of a contract extension.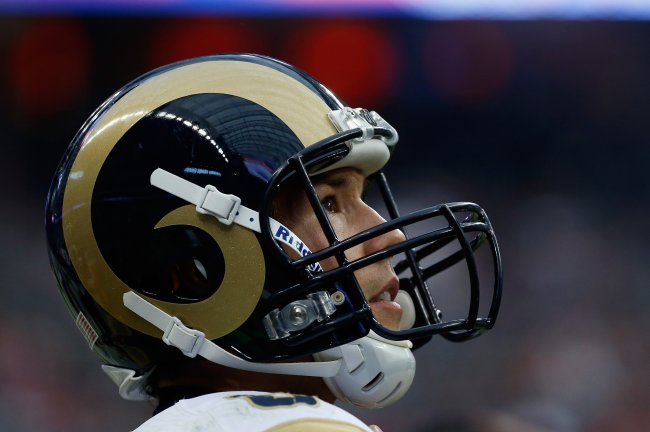 Scott Halleran/Getty Images
It is feasible to assume the Rams continue to build their offense around Bradford for the foreseeable future and hope that he recovers well enough to continue his upward trend in 2014.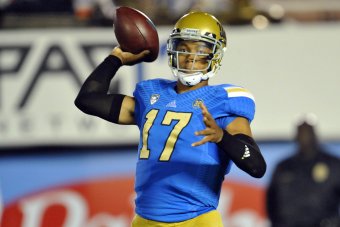 Gary A. Vasquez-USA TODAY Sports
Or St. Louis may elect to pass on the continued maturation and development of Bradford, recognizing that his term with the team did not work out in the way both parties envisioned. The team's draft position gives them the flexibility to decide on this.
If the Rams lacked early picks in the upcoming draft, St. Louis would have likely been forced to stick with Bradford under center. His slow development has certainly been a cause for frustration, but given the Rams' number of picks heading forward, a change of pace could prove to be beneficial.
What are the long term implications for Bradford and the Rams?
Collegiate quarterbacks like Marcus Mariota, Brett Hundley and Johnny Manziel could be on the board when the Rams are called. Each one could provide the difference that St. Louis needs—something Bradford has failed to do up to this point.
In any case, this injury does not bode well for Bradford's future. It also presents the Rams with a choice heading forward.
We might not know that choice right away, but Bradford's prospects for staying in St. Louis shall remain cloudy at best.
Peter Panacy is a featured columnist for Bleacher Report. Follow him @PeterMcShots on Twitter.