BCS Poll 2013: 1 Game That Could Derail Each BCS Contender's Title Hopes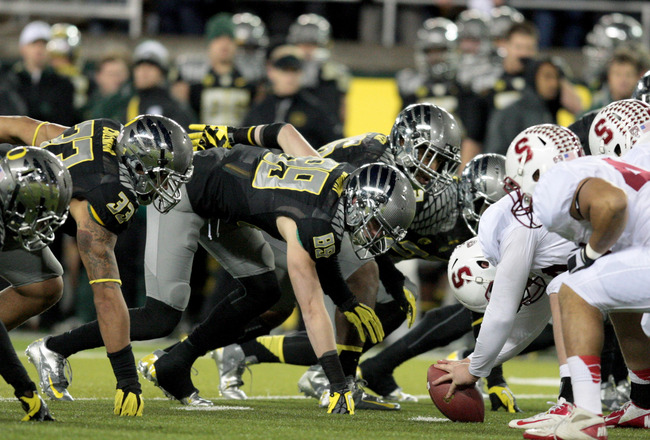 Scott Olmos-USA TODAY Sports
With half the season in the books and the first BCS rankings released, many of the top college football teams in the country are feeling good about themselves. But if previous seasons have taught us anything, it's that the rankings won't remain the same for long.
Many of these teams play one another later in the year, some teams will suffer upsets and a couple of underdogs near the bottom of the totem pole will go on a long winning streak to enter the BCS discussions.
The path to the BCS is just getting started, and every contender has at least one difficult game that could knock it off track.
Below are the first BCS rankings in their entirety, courtesy of ESPN:
| | | |
| --- | --- | --- |
| Ranking | Team | BCS Avg. |
| 1 | Alabama | .984 |
| 2 | Florida State | .935 |
| 3 | Oregon | .932 |
| 4 | Ohio State | .855 |
| 5 | Missouri | .822 |
| 6 | Stanford | .741 |
| 7 | Miami (FL) | .720 |
| 8 | Baylor | .712 |
| 9 | Clemson | .625 |
| 10 | Texas Tech | .622 |
| 11 | Auburn | .506 |
| 12 | UCLA | .481 |
| 13 | LSU | .455 |
| 14 | Virginia Tech | .441 |
| 15 | Oklahoma | .420 |
| 16 | Texas A&M | .367 |
| 17 | Fresno State | .338 |
| 18 | Northern Illinois | .303 |
| 19 | Oklahoma State | .269 |
| 20 | Louisville | .256 |
| 21 | South Carolina | .216 |
| 22 | Michigan | .164 |
| 23 | UCF | .139 |
| 24 | Nebraska | .135 |
| 25 | Oregon State | .104 |
10. Texas Tech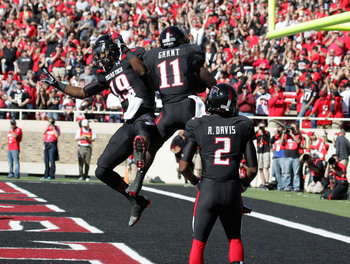 Michael C. Johnson-USA TODAY Spo
Team: Baylor

When: Nov. 16
Where: AT&T Stadium, Arlington, Texas
Is Texas Tech capable of dropping 50-plus points? We may soon find out when it plays high-scoring Baylor, a team that leads the country with an average of 64.7 points per game. Baylor has scored at least 69 points in five of its first six games.
The last two games against Texas Tech, Baylor has scored a combined 118 points. As if the nonstop offensive attack wasn't enough, the Bears are also second in Big 12 defense, allowing just 317 yards per contest and racking up 55 tackles for loss.
Baylor has solidified itself as the Big 12 favorite and will be tough to beat the rest of the way. The Red Raiders will have their hands full.
9. Clemson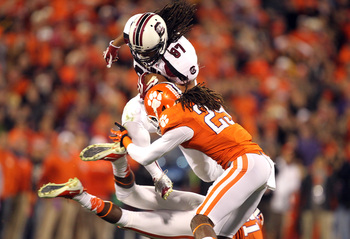 Streeter Lecka/Getty Images
Team: South Carolina

When: Nov. 30
Where: Williams-Brice Stadium, Columbia, S.C.
Clemson couldn't do much of anything against a physical Florida State team. What makes you believe the Tigers will have much success against South Carolina, another team that is tough on both sides of the ball?
The Gamecocks have the third-best defense in the SEC, have picked up 53 tackles for loss and have forced 10 turnovers. The defensive front gets after it and could create a long day for Clemson quarterback Tajh Boyd. South Carolina also has a physical running back in Mike Davis, who has rushed for more than 100 yards in six of seven games this season.
It's also important to note that Clemson has lost its last four games against South Carolina. No pressure or anything.
8. Stanford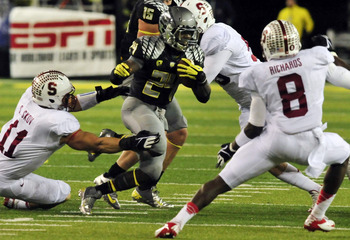 Steve Dykes/Getty Images
Team: Oregon

When: Nov. 7
Where: Stanford Stadium, Stanford, Calif.
There's no team in the country that actually wants to play Oregon. The offense seems to be moving faster than ever before, and the defense has also improved its level of play. While the offense is averaging more than 57 points per game, the defense is only allowing 17.3 points per game, which is by far the best in the Pac-12.
The Ducks are flying without a care in the world.
If that wasn't enough for Stanford fans to digest, their team has also lost nine of the last 11 meetings against Oregon. Yikes! The Ducks have their mind set on playing for a national title and should be considered one of the favorites to do just that.
7. Baylor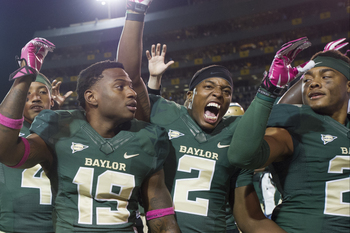 Cooper Neill/Getty Images
Team: Oklahoma

When: Nov. 7
Where: Floyd Casey Stadium, Waco, Texas
Baylor has lost 20 of 21 games all time against Oklahoma. The only time the Bears knocked off the Sooners was when they had some guy named Robert Griffin on their side. He's now busy making noise in the NFL and won't be around to help this time.
For much of the season, Oklahoma has looked like one of the more complete teams in the Big 12. The offense is physical and led by a two-headed monster at running back in Brennan Clay and Damien Williams. The defense is also the best in the conference, with less than 300 yards per game allowed. Needless to say, it may be a little difficult for the Bears to score 50-plus points.
Baylor continues to impress, but it still has a little work to do before being crowned the best in the Big 12.
6. Miami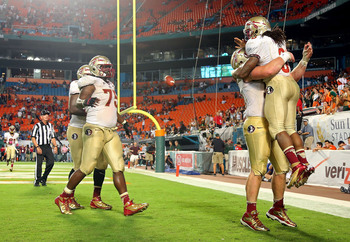 Mike Ehrmann/Getty Images
Team: Florida State

When: Nov. 2
Where: Doak Campbell Stadium, Tallahassee, FL
Miami has lost three of the last four games against Florida State, including three straight. Now, Florida State has the more complete football team and will have the home crowd in support. This is a tough situation for the Hurricanes.
Al Golden's team is capable of scoring a touchdown every 30 seconds, but the defense is questionable at best. We're talking about a unit that allowed 413 yards to Florida and a combined 901 yards to Georgia Tech and North Carolina. As for the Seminoles, they still have that nasty, physical defense that is ranked second in the ACC.
This rivalry is always highly competitive, but Miami will be the slight underdog for obvious reasons.
5. Missouri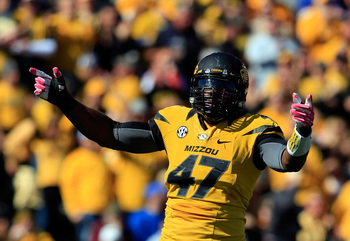 Jamie Squire/Getty Images
Team: Texas A&M

When: Nov. 30
Where: Faurot Field, Columbia, Mo.
In last year's meeting, Texas A&M racked up 59 points and 647 yards in a 30-point victory over the Tigers. That's the type of production Johnny Manziel and Co. can have against any team in the country on any given Saturday.
He's the toughest quarterback to defend in college football and has even more weapons around him than last year. The Aggies are averaging 47 points per game, and most of that production has to do with last year's Heisman winner.
Missouri has good reason to feel confident in its defense, but even Alabama allowed 628 yards, 31 first downs and 42 points to Texas A&M this season.
Although the Tigers have won three of the last four meetings, this game won't be easy.
4. Ohio State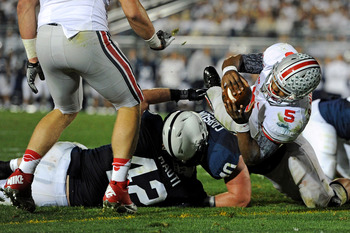 Patrick Smith/Getty Images
Team: Penn State

When: Oct. 26
Where: Ohio Stadium, Columbus, Ohio
It looked like Ohio State's biggest threat this season was going to be Michigan. But after the Wolverines struggled against teams you have probably never heard of, the Buckeyes shouldn't be too concerned with their hated rival.
That leaves Penn State.
The Nittany Lions have improved drastically on offense under quarterback Christian Hackenberg and star wide receiver Allen Robinson. The defense is ranked fifth in the Big Ten behind a physical defensive line and athletic linebackers who cover a lot of ground.
Ohio State should also respect the Nittany Lions because this is pretty much their bowl game. Being banned from the NCAA has made this matchup the biggest game on their schedule.
Watch out for Penn State.
3. Oregon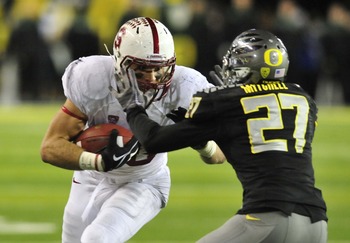 Steve Dykes/Getty Images
Team: Stanford

When: Nov. 7
Where: Stanford Stadium, Stanford, Calif.
With the way Oregon has played this season, it looks like there isn't a team in the Pac-12 that can spring the upset.
Not so fast! Didn't we learn anything from last season?
Stanford held Oregon to just 14 points and was the only team to beat the Ducks all season long. The Cardinal defense is one of the best in the country and is the perfect match to slow a high-flying attack. The linebackers are quick, the defensive line is physical and the defensive backs are ball hawks just waiting for the quarterback to make a mistake.
Only a great defensive team has a chance against Oregon. The Ducks will have to pass the test of Stanford before being given a shot to play Alabama.
2. Florida State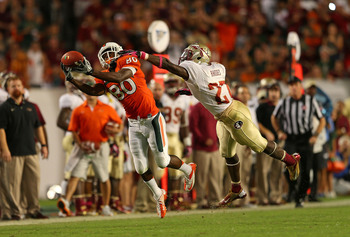 Mike Ehrmann/Getty Images
Team: Miami
When: Nov. 2
Where: Doak Campbell Stadium, Tallahassee, Fla.
This rivalry is one of the most intense in college football, and that won't change with both programs at the top of their game. These in-state rivals know each other well, and the players usually have past relationships with members of the opposing team.
With so much on the line, this year's meeting is going to be an absolute blood bath.
Florida State can't get too excited just yet. Yes, Jameis Winston and his teammates seem to firing on all cylinders, but Miami's Stephen Morris and Duke Johnson may be the perfect combination to match the Seminoles stride for stride.
Ten of the last 12 meetings have been decided by less than 10 points, and you can expect much of the same this time around.
1. Alabama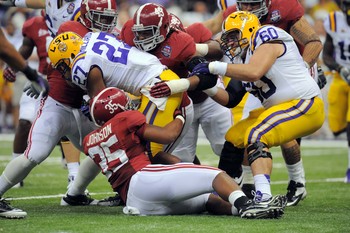 John David Mercer-USA TODAY Sports
Team: LSU
When: Nov. 9
Where: Bryant-Denny Stadium, Tuscaloosa, Ala.
LSU and Alabama are identical twins. The only way to beat up the best team in college football is to play exactly like it. That's what the Tigers do so well, which is why they've won two of the last four games against the Crimson Tide.
Only this season, LSU is a much better football team. The defense and running game are the same as they've been in years past, but under offensive coordinator Cam Cameron, the Tigers are now a potent passing team that can shred a defense through the air. That hasn't been said since Les Miles became head coach.
Nick Saban and Co. have the most trouble preparing for LSU, and this season won't be any different.
Keep Reading