The New Orleans Saints have a firm, two-game lead in the NFC South and should be in no hurry to get injured superstar tight end Jimmy Graham onto the field for Week 8's clash with the Buffalo Bills.
Head coach Sean Payton's team is coming off of a brutal two-game road trip in which it nearly won both—a victory at Chicago and a last-second loss at New England.
A bye week couldn't have come at a better time, and now the Saints return to the friendly confines of the Superdome to take on a Buffalo club that has its faults.
ESPN's Adam Schefter reported on Monday that Graham would have had difficulty playing in Week 7 if the Saints were in action due to a foot injury:
Had Saints played Sunday, it would have been difficult for TE Jimmy Graham to play with his foot injury. Status for Sunday vs BUF uncertain.

— Adam Schefter (@AdamSchefter) October 21, 2013
Graham is the most dynamic of the myriad of weapons elite quarterback Drew Brees has at his disposal in the Saints' No. 2-ranked passing attack, but Brees can survive a week without him.
Beyond the exotic defensive looks coordinator Rob Ryan can throw at inexperienced Bills quarterback Thad Lewis—and the awful production Lewis got from his running backs in a road win over Miami—let's just focus on New Orleans' offense.
What the Saints should be able to do on Sunday is establish the run against a Bills defense that ranks in the bottom five in the league against that dimension of the opposing offense. Plus, the secondary is suspect, and an ideal one for Brees to exploit.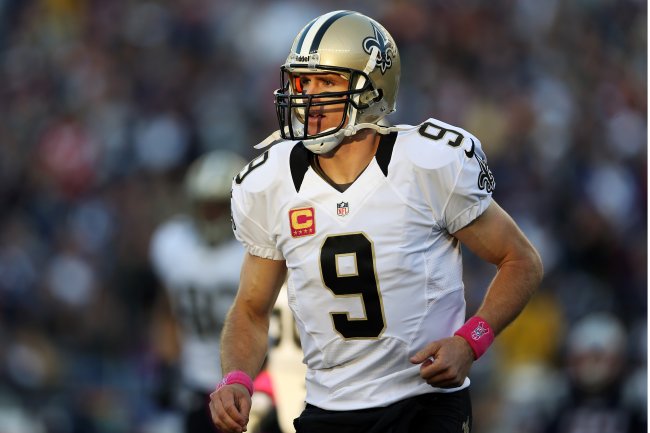 Rob Carr/Getty Images
A lot of the burden in the passing game will fall on running backs getting favorable matchups.
Bills rookie sensation Kiko Alonso can help curb some of that, but with Brees' quick release and how slippery Darren Sproles and Pierre Thomas are in the open field, Buffalo will be hard pressed to stop them.
Who must step up most if Jimmy Graham doesn't play in Week 8?
The emergence of
Khiry
Robinson—who ran for 53 yards on seven carries and a touchdown in the New England game—is another welcome development, adding to the depth of the backfield vying to complement Brees better.
Saints receiver Marques Colston continues to be one of the most underrated stars in the league at his position.
Despite the absence of a legitimate No. 2 threat opposite him, Colston keeps producing. His 54 yards per game are solid, not spectacular, but have him just slightly off pace for a 1,000-yard season.
If a red-zone target like Graham is out, it will be the 6'4" Colston who gets the majority of looks in those situations, when Brees looks vertical with the end zone in sight.
Rookie Kenny Stills' stock is also rising, as he led the team with 64 yards in Week 6's loss to the Patriots.
Drew Brees on a DIME. Perfect throw, great catch by Kenny Stills for his first career TD. Saints up 24-23 on New England with 3:30 to play.

— SportsCenter (@SportsCenter) October 13, 2013
Graham is a key cog in whatever success New Orleans is meant to have in the second half of the season, and if he were to miss any game, this would be the one.
With his status up in the air at this early juncture in the week, it's hard to speculate how severe Graham's ailment is.
However, with the leaky nature of the Bills defense, the fact that the Saints are rested up after a week off and that they haven't lost at home in 2013 affords them the luxury of sitting Graham to ensure that he's healthy.