Notre Dame fans are on the edge of their collective seat this morning, crossing their collective fingers and holding their collective breath that Tommy Rees might be fit enough to start at quarterback the rest of this season.
Seriously.
That's how bad Andrew Hendrix looked in relief of Rees on Saturday, going 0-of-4 for zero yards against the USC Trojans but managing—somehow—to preserve the lead in a second half where neither team was able to score points.
According to Tom Davis of the News-Sentinel, head coach Brian Kelly gave an encouraging update on Rees, saying that although his QB is "a little sore," he is also "feeling better" and being viewed as a "day-to-day situation."
If his strained neck proves more serious than that, though, and Rees is forced out of action for an extended period of time, Hendrix should not be allowed to step back onto the field.
It would officially be time to burn Malik Zaire's redshirt.
Zaire, for those uninitiated, is a highly touted recruit from Ohio who may or may not be Notre Dame's quarterback of the future.
Built a little bit like Everett Golson—that is, not big enough to be considered an elite NFL prospect—his redshirt is valuable since he's likely to remain in school for each year of his eligibility. If he doesn't play this season, he could theoretically be Notre Dame's starter until 2017.
But a bird in the hand is worth two in the bush.
College football is a tricky and fickle business, as Notre Dame learned the hard way with Golson's academic suspension. Injuries and unforeseen happenings can alter any prospect's outlook—no matter how rosy and promising.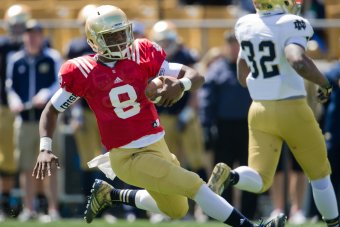 USA TODAY Sports
The Irish, like every FBS team, are wise to keep one keen eye on the future, but they shouldn't let that blind them from the season at hand.
For all the drama and strife this season, the Irish are still 5-2 with losses against two currently ranked teams. And two of their wins, over Michigan State and Arizona State, came against teams that could realistically be ranked in Week 10.
The door has not closed on them crashing the BCS.
Starting Hendrix, after what he showed (or didn't show) against USC, would move that door closer to slamming in their face. Even against 1-5 Air Force next week, who would feel confident with that guy under center?
Zaire, with his ability to move around, would give this team a dimension that it's lacked since losing Golson for the year. Rees is the best option for this team right now, but even he can't match Zaire's out-of-pocket ability.
The problem with starting Zaire wouldn't be talent; it would be experience. Throwing him into the fire, at first, might yield some freshman mistakes and interceptions.
Which is precisely why—if Rees can't go—Zaire should get the call against Air Force this Saturday.
The Falcons are the closest thing to a traditional, cupcake Week 1 opponent left on Notre Dame's schedule. If ever Zaire is going to get his feet wet, this would be the weekend to do it.
"Malik will have to get some reps obviously if Tommy can't practice," Kelly told reporters, per Davis' piece. "Malik would have to get as many reps as necessary to get him ready to compete."
If Rees is Injured, Who Should be the Starting Quarterback?
As much as Kelly doesn't want to burn a valuable redshirt, he understands the task at hand.
Had Notre Dame lost to USC last weekend, this might have been a different story. The ceiling of this season would have been markedly lower; its reward would have been markedly less potent.
But it didn't lose. It won. The Irish tiptoed past one of their biggest remaining land mines and should be favored to win four of their five remaining games.
The season is not over. It's not even close. Rees or no Rees, Kelly has an obligation to play his best healthy quarterback and do whatever necessary to win.
Whoever gives this team the best shot of winning the next four games and heading to Stanford at 9-2 should be the starting quarterback.
And Hendrix is not that "whoever."