Redskins Defeat Bears: Postgame Notes for Washington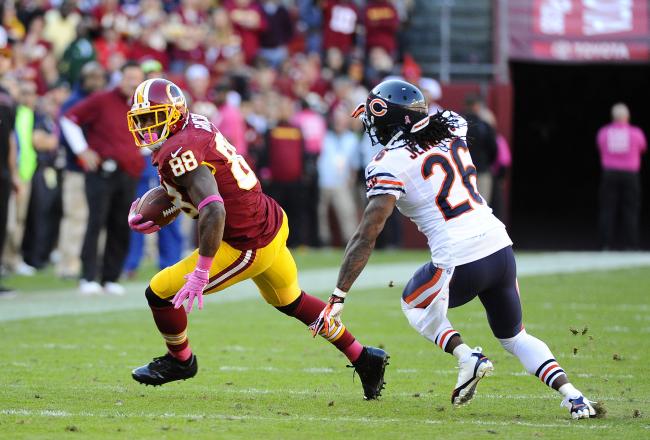 Brad Mills-USA TODAY Sports
The Washington Redskins defended home field yesterday to improve to 2-4 on the season, defeating the Chicago Bears 45-41 in quite the shootout.
Here's my six-pack of notes from Washington's Week 7 win.
1. Jordan Reed
Nine catches, 134 yards and a touchdown. And rookie tight end Jordan Reed didn't even start the game.
Since being drafted last April, the fascination and excitement surrounding Reed has grown exponentially. He came in as a solid athlete who couldn't block and has since transformed into one of the most threatening players on the Redskins offense. He's a natural pass-catcher, a threat with the ball in his hands and he appears to be a quick learner.
In a game built on creating mismatches and executing them, we can all expect Reed to remain a key piece in the Redskins offense and favorite target of Robert Griffin III.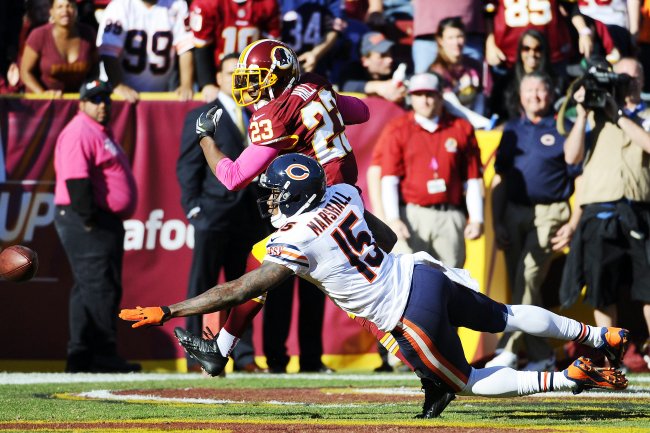 Brad Mills-USA TODAY Sports
2. Redskins defense
In the first half of yesterday's game, the Redskins held the Bears offense in check and dominated their handful of rushing attempts. The Bears' 17 first-half points came by way of a Devin Hester punt return, an RG3 interception that set up a score and a badly fielded punt by Joshua Morgan that would eventually give the Bears good field position and lead to a field goal. None of which is specifically on the Redskins defense.
Fact is, this Redskins defense is has played very well over the past two weeks. And if that kind of thing continues, this team has a chance to surprise some people a la last season.
My only complaint as it pertains to the Redskins defense is defensive coordinator Jim Haslett's decision to scale back the pass rush after halftime, thus leading to big production by the Bears in the second half.
I'm obviously no coach, but I lean more toward keeping my foot on the gas in a game that was far from over at halftime. Continue to try and confuse the opposing offense at the line, bring blitzers from different angles and stay tight in coverage.
3. Special teams...still
Despite a Redskins victory, Washington's struggle on special teams can't be ignored. Not only did the Redskins allow a punt return score to one of the game's all-time most threatening returners, but the decision-making of their own return man, Joshua Morgan, was questionable and, at times, damaging.
Without Devin Hester's punt return TD and the poor decision by Morgan, the Redskins, one could argue, would've led the Bears 24-7 at halftime.
As I mentioned last week, if this "thing" isn't corrected, the special-teams unit will cost the Redskins at least one more chance at victory this season.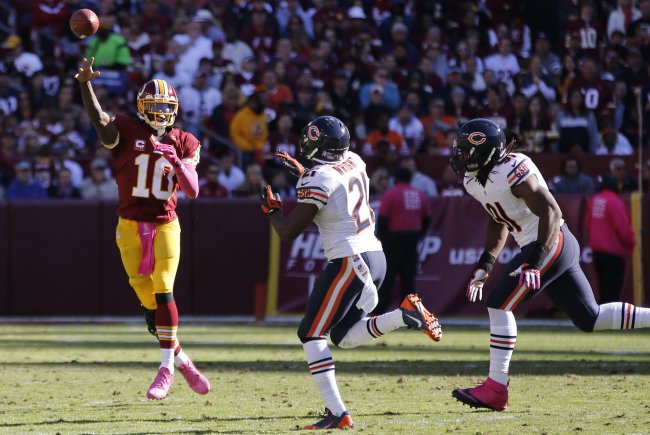 Geoff Burke-USA TODAY Sports
4. Robert Griffin III
Yesterday's was Griffin's best game of the season in terms of mobility, pass command and confidence. He showed good zip and accuracy on most of his passes, he had no problem getting out of the pocket and using superb field vision to gain positive yards, and he didn't allow a terrible interception to keep him down, even working efficiently and courageously in the final two minutes of the game trailing by three.
Is Griffin flawless? Not by a long shot. Refinement is clearly necessary when it comes to him being a pocket passer. But his improvement is what's notable and most important.
5. Sticking with the run
The Redskins ran the ball 43 times yesterday, putting an end to the airwave ridicule that offensive coordinator Kyle Shanahan is a bonehead who strays away from Washington's bread and butter.
The most effective runs, however, were Griffin's 11 carries for 84 yards. His running created a viable read-option threat, it opened up passing lanes and it helped to establish play-action. As a result, we saw Alfred Morris take a season-high 19 carries for 95 yards, as well as Roy Helu Jr. rush for 41 yards and three touchdowns on 11 carries.
An effective run game also helps the Redskins' offensive line. When Washington gets after it on the ground and finds success, the opposition is kept on its toes and makes for easier blocking on passing plays.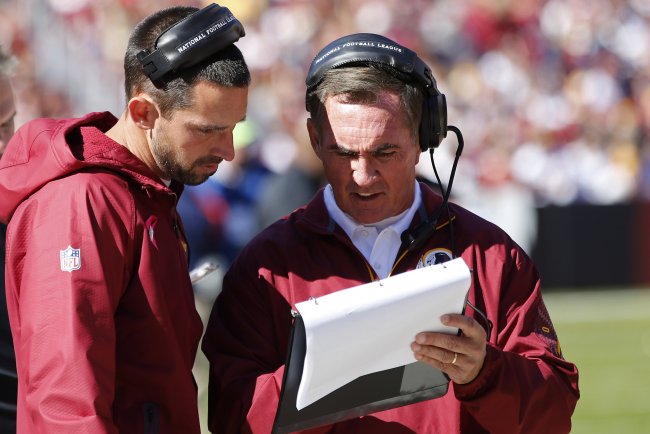 Geoff Burke-USA TODAY Sports
6. Coaching in a crunch
Head coach Mike Shanahan and his staff are often beat up for their bad clock management. But in yesterday's win, a deserved hat tip goes to Mike and Kyle for the way they handled the final two minutes of the game while trailing by a field goal, ultimately outshooting the Bears 45-41.
The Redskins are going to need this moving forward. Competent clock management and efficient play-calling.
And one more thing...
Not that anyone's complaining (unless you're a Bears fan), but the Redskins were blessed with a horseshoe on Sunday. They got lucky on a number of plays, including Aldrick Robinson's touchdown catch in which Charles Tillman was knocked over, a debatable missed field goal by Robbie Gould and an extremely close offsides call on what would've been a successful onside kick for Chicago.
This article is
What is the duplicate article?
Why is this article offensive?
Where is this article plagiarized from?
Why is this article poorly edited?

Washington Redskins: Like this team?