Early 2013-14 Grades for Each Montreal Canadiens Line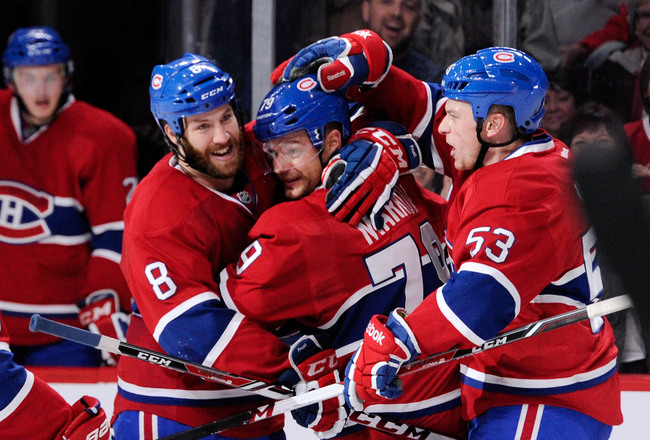 The Montreal Canadiens celebrate a goal against Columbus earlier this season.
Richard Wolowicz/Getty Images
Although the Montreal Canadiens have only played eight games to date in 2013-14, their lines have seen countless changes and in-game adjustments.
This, of course, has not been by choice. The injury bug has bitten the Habs early this season, and coach Michel Therrien has been forced to respond.
Forwards Max Pacioretty, Brandon Prust, Daniel Briere and George Parros are currently sidelined, and their injuries all seem to be of the multiweek variety.
Despite the constant line juggling, there has been some impressive play by Montreal's forward units so far this season. There has also been some not-so-impressive play.
Here are the early 2013-14 grades for each Montreal Canadiens line.
Line 1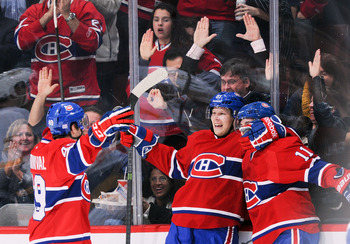 Lars Eller and Brendan Gallagher celebrate a goal.
Francois Lacasse/Getty Images
Grade: A+
Let's begin by noting that this grade only applies to the current top line of Lars Eller, Alex Galchenyuk and Brendan Gallagher. If the opening-night first line of David Desharnais, Max Pacioretty and Daniel Briere had been graded, they would all be headed to summer school come July.
Montreal's kid line has been nothing short of spectacular this season. They have been Montreal's top unit in every game they have played together. Their skating and tenacious forechecking have helped them create more offensive opportunities than the other three lines combined.
They've worked harder than any other line, and they've been rewarded.
The three youngsters sit second, third and fourth in team scoring—Eller has five goals and three assists, Galchenyuk has six assists and seven points and Gallagher sports a 4-2-6 line. P.K. Subban leads the Habs with 10 points (two goals, eight assists).
Added together, the EGG trio has 21 points on the year. Montreal's 11 other forwards combined? Just 24 points.
The surprising combination of Eller, Galchenyuk and Gallagher (and Carey Price's stellar play) has been a big reason why Montreal is off to a good start in 2013-14.
They've been counted on to supply the offense on a nightly basis, and with the recent rash of injuries up front, that isn't going to change any time soon. They'll have to continue their hot play if the Canadiens hope to stay in the win column in the coming weeks.
Line 2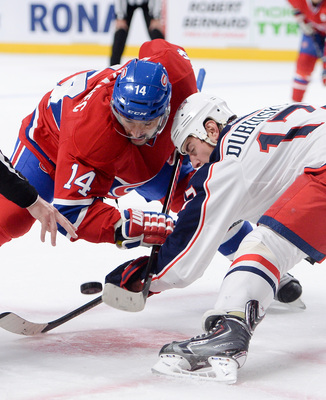 Tomas Plekanec takes a faceoff against Columbus.
Francois Lacasse/Getty Images
Grade: B
Montreal's second line has been a carousel for wingers—Rene Bourque, Brian Gionta, Daniel Briere and Brandon Prust have all seen time there so far this season. Nothing has worked quite yet for Coach Therrien.
Veteran Tomas Plekanec has been the only constant on the Canadiens' second unit, and he's also the only reason this line's grade isn't lower.
Plekanec has been his usual, solid self while not having much of a chance to develop any chemistry with his linemates. The veteran Czech is fourth among Canadiens forwards in scoring with four points. He's also been one of their top penalty-killers and has played solid defense against opposing teams' top lines.
The Canadiens probably haven't had as much scoring as they had hoped from their second line in 2013-14. The wingers have failed to do much of anything alongside of Tomas Plekanec. His solid play is the only reason this unit receives an average grade.
Line 3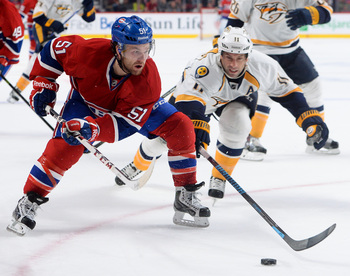 David Desharnais skates with the puck against Nashville.
Francois Lacasse/Getty Images
Grade: C
Coming out of training camp, the Montreal Canadiens had the kid line penciled in as their third unit. Their hot start quickly got them promoted, and as a result, David Desharnais was relegated (well, and because he started the season by playing horribly).
Much like the second line, the Habs' third unit has basically been any two wingers thrown next to a center—Desharnais in this case. In addition to Bourque, Gionta, Briere and Prust, Michael Bournival and Travis Moen have also seen time on the third line.
The results have been more of the same, except that Tomas Plekanec hasn't been there to bail them out.
The third line has been largely ineffective for Montreal so far this season. There has been virtually no offensive push, they haven't been physical and they're certainly not a shut-down defensive line.
In fact, the only thing the third line seems to be doing well is winning faceoffs (Desharnais leads the team with a 53.8 percent win rate).
Montreal's depth is being tested early in the season. With all the injuries, the third line is going to need to step up and play better hockey if Montreal hopes to keep it's early-season momentum.
It all starts with the team's former No. 1 center. Desharnais needs to start playing as if his roster spot is in jeopardy. And if he doesn't, it very well could be once Montreal returns to full strength in a month or so.
Line 4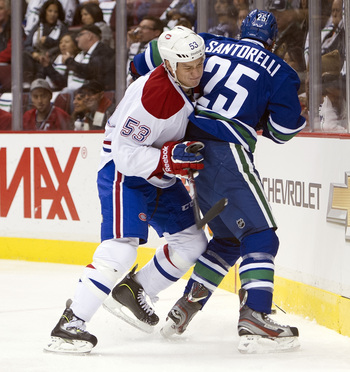 Ryan White with a hit on Mike Santorelli.
Rich Lam/Getty Images
Grade: A
The fortunes of the fourth line did not look so bright when George Parros was injured in that scary opening-night incident. But in sports, injuries create opportunities for players to shine, and that has been the case in Montreal this year.
Coach Therrien has mostly used center Ryan White between wingers Travis Moen and Michael Bournival on the fourth unit, and each has played extremely well.
White, who spent most of last season in the doghouse of all Canadiens fans for his late-game foolishness, has bounced back with a nice start to 2013-14. The 25-year-old Manitoba native does not have a point yet, but he has played physical, fourth-line hockey. He has even dropped the gloves a couple of times in Parros' absence.
Moen plays an unspectacular yet effective brand of hockey. His defensive play is consistent, and his 2:38 of penalty-killing ice time per game has helped Montreal improve while down a man. He controls the puck well in the offensive zone and has even chipped in with two assists.
Bournival had to wait a little longer to make his debut, but he has certainly made the most of his time. The rookie has played in just five games but has managed two points, including his beautiful first NHL goal on a one-timer from Andrei Markov.
The former Shawinigan Cataractes captain has been so impressive that he has earned a long-term roster spot with the Habs. "We told Michael Bournival this morning that he can start looking for an apartment," coach Michel Therrien told reporters in Brossard, via Stu Cowen of Hockey Inside/Out.
Montreal's fourth line has been great so far in 2013-14, but it could look very different in the coming weeks. The recent injuries to Prust and Briere will likely lead to increased ice time for both Moen and Bournival. They've earned it.
It will also create an opportunity for other young players to try and impress Montreal's management. Canadiens.com reports that Patrick Holland and Michael Blunden will be given first crack at doing that.
Keep Reading

Montreal Canadiens: Like this team?