Houston Rockets Won't Be Title Contenders Until They Fix Asik and Lin Problem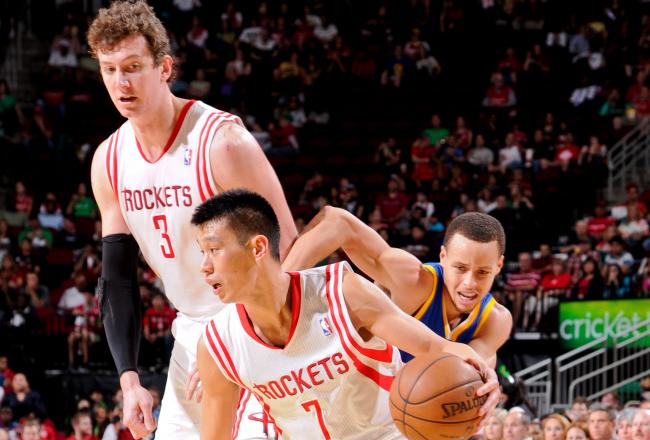 Bill Baptist/Getty Images
The Houston Rockets' championship hopes are hindered by the uncertainty of center Omer Asik and point guard Jeremy Lin. Both men are talented players who may not be ideal fits with the way the team is currently set up.
Asik averaged a double-double per game (10.1 points, 11.7 rebounds) in his debut with the Rockets last season. He also did his part on the defensive end to the tune of 1.1 blocks per game, which helped establish the Turkish big man as one of the league's best rim-protectors.
As for Lin, his first season was either a moderate success or an abject failure depending on your expectations. He scored 13.4 points and dished out 6.1 assists a night while playing in all 82 games last season. He also averaged nearly three turnovers a game and struggled with consistency in his jumper.
Of the two, Asik is the biggest question mark. Despite his breakout season, the team still opted to bring in Dwight Howard to be its franchise big man. The arrival of Howard compelled the ex-Bulls backup to demand a trade, according to ESPN's Brian Windhorst.
Rather than give in to his request, the Rockets' brass spent the summer pitching the idea of playing their two high-priced bigs together. However, there are a number of flaws in that strategy.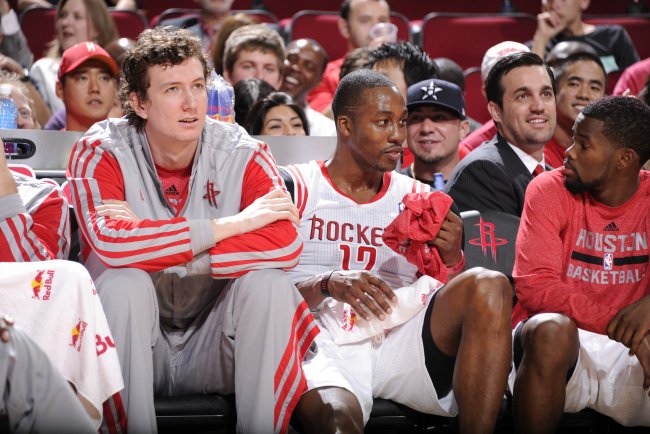 Bill Baptist/Getty Images
First, for a team determined to contend immediately, the Rockets are drastically underestimating how long it will take to make this Asik-Howard tandem work. Making matters worse, Asik has been sidelined with a calf injury and hasn't had a chance to play with Howard until recently.
Secondly, playing the two together causes problems stylistically on both ends of the court. On offense, both men excel near the basket and neither has a soft touch from outside to stay out of the other's way. Furthermore, their presence inside clogs up the paint for the team's bevy of penetrating guards.
Defensively, it is tough to see the benefit of asking a guy like Howard to step away from the basket and guard power forwards. Howard may not have a problem with it, but it doesn't seem like the best way to utilize his talents.
The Rockets would be better-served with playing Omri Casspi (who has been stellar in the preseason) or Terrence Jones at the 4 and letting Howard man the middle.
Lastly, for this to work, both men have to be on the same page. Howard may be all smiles, but he's not the one who lost his job. When asked by a reporter at media day if he still wanted to be traded, Asik had no comment.
Omer Asik on if he wishes to be traded: "I have no comment on any of these things. I'm just going to do my job. That's all I can say."

— Jonathan Feigen (@Jonathan_Feigen) September 27, 2013
He also added: "I'm just going to do my job. That's all I can say."
That doesn't sound like a guy who is thrilled with his current situation. Truth be told, we won't know how this experiment will work until Houston's next preseason game against Dallas. Howard and Asik are expected to start together, giving coach Kevin McHale his first look at his twin towers in game action.
Omer Asik and Dwight Howard starting together tomorrow vs. Mavs. Lin starting at point.

— Jonathan Feigen (@Jonathan_Feigen) October 20, 2013
The move could surprise skeptics and pay huge dividends to a team that needs a defensive boost, but it won't happen overnight.
The question is, how long is Houston willing to wait? It has a hot commodity in Asik, and there are plenty of teams that could use a starting center. ESPN TrueHoop's David Thorpe mentioned the Miami Heat and the Golden State Warriors as possible suitors. There's also the New Orleans Pelicans, who could offer Howard's old teammate Ryan Anderson in return.
Do the Rockets stubbornly hold on to one of their best trade chips until they are convinced the experiment won't work, or do they cash in early and get someone who is a better fit? Only time will tell, but the smart move is to strike while the iron is hot and move Asik.
That brings us to Jeremy Lin. While the focus has shifted away from the much-maligned point guard, he is still the team's X-factor and there is an expectation for him to improve in his second season. The Houston Rockets are a win-now team and Lin is pretty green.
Joe Murphy/Getty Images
Last year was his first full NBA season, and he's played a total of 150 games (including playoffs) in his three-year career. With a hefty cap hit the next two seasons and a capable backup in Patrick Beverley, it will be interesting to see how patient the team will be with its starting point guard.
The Harvard product made some adjustments to his shooting touch, which should come in handy with all the extra looks he's expected to get. The addition of Dwight Howard will also lead to an uptick in Lin's assist numbers.
Change in Lin's stroke -- smoother throughout the jump, rather than rushed at the top -- should help get out of bad stretches more quickly.

— Jonathan Feigen (@Jonathan_Feigen) October 1, 2013
Where Lin must improve the most is cutting down turnovers. The Rockets were the most mistake-prone team in the league last year. As the conductor of this offense, it is imperative that Lin is careful with the basketball this season.
It isn't likely that the Rockets trade Lin this season (if at all). There aren't many teams that need a point guard, and Lin is among the league's most popular (albeit most scrutinized as well) players in the league. With Beverley breathing down his neck, though, the Rockets would be wise to make a change if Lin can't deliver.
On paper, Houston has everything you'd want in a contender. It has two of the NBA's 10 best players in James Harden and the league's best center Dwight Howard. It has a rising star in forward Chandler Parsons. It also has a deep bench littered with proven veterans (Francisco Garcia, Omri Casspi) and intriguing prospects (Terrence Jones, Donatas Motiejunas).
It has a coach in Kevin McHale who is no stranger to winning titles (granted, as a player, not as a coach) and arguably the best general manager in the game in Daryl Morey.
How will things turn out for Omer Asik and Jeremy Lin?
Unfortunately, championships aren't won on paper. The talented trio of Howard, Harden and Parsons will be a huge part of Houston's success, but a champion is only as good as its role players. Asik and Lin, as of right now, look like the proverbial square pegs in the round hole.
Asik's ability to be happy and productive playing alongside Howard, even if it's only for a few minutes a night, will be an interesting dynamic to watch all season. The same for Lin's second season in H-Town. As a player who can't seem to do anything without generating criticism, the pressure is on Linsanity to be the starting point guard he's being paid to be.
It all depends on Houston's patience. If it really is determined to win now, what is the timetable on how long it is willing to wait on these experiments? Also, if the Rockets do decide to cut their losses, will it be too late?
All of the attention went to the team's big moves this summer, but it will be the little things that will tell the story for the 2013-14 Houston Rockets.
This article is
What is the duplicate article?
Why is this article offensive?
Where is this article plagiarized from?
Why is this article poorly edited?

Houston Rockets: Like this team?