College Football 2013 Week 9 Simulation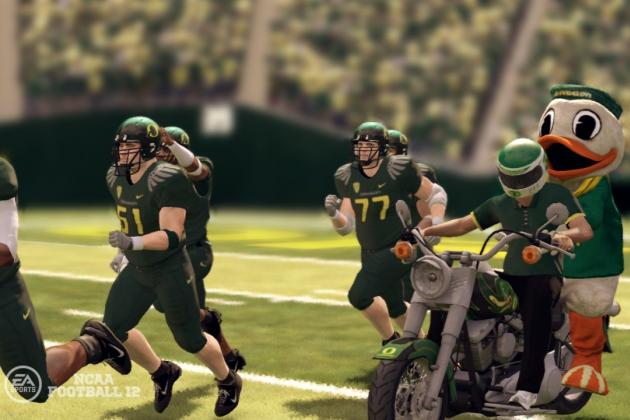 Image via EA Sports
Sometimes you have to tip your cap to chaos and move on.
That was the required approach to Week 8, and NCAA Football 14 could not overcome the tremendous upset powers. It was indeed a rough simulation, although it's how you respond that counts (I'm sorry if this feels like an ad for a sports drink, we're pumping ourselves up accordingly.)
For those new to these parts, here's the skinny: Using the video game NCAA Football 14, all games from the college football weekend are simulated. Those results are reported—and never doctored—and the most important preview of the weekend is created.
Now it's time to get back on track. All chaos from this point on will start here.
Updated Record Through Week 8: 24-16
Begin Slideshow

»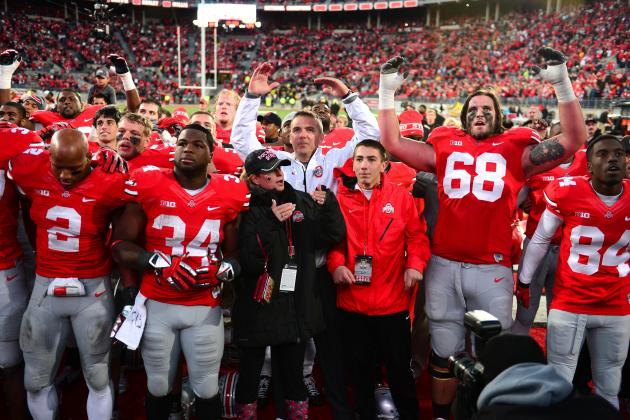 Andrew Weber-USA TODAY Sports

The total yardage tells the story: Ohio State 517, Penn State 198.
Braxton Miller is superb for the Buckeyes, finishing with 301 yards passing, 53 yards rushing and five touchdowns. Running back Carlos Hyde racks up 88 on the ground and also finds the end zone.
Young Christian Hackenberg will have better days than this, that's for certain. The talented freshman throws for 165 yards, one touchdown and three interceptions. Nittany Lions RB Bill Belton rushes for 107 yards in the loss.
If only "Blowout Simulation Predictions in NCAA Football 14" factored into the BCS rankings. Maybe next... never mind.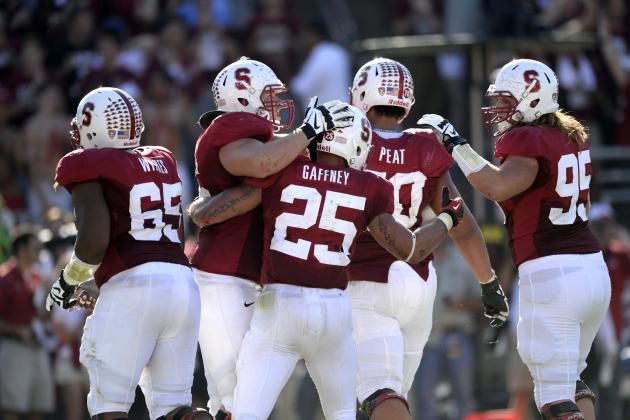 Bob Stanton-USA TODAY Sports

Stanford outscores Oregon State 20-3 in the second half to get a massive come-from-behind road win.
Quarterback Kevin Hogan struggles, completing just 15 of 32 passes for 193 yards. Running back Tyler Gaffney picks up the slack, however, finishing with 127 yards rushing and three touchdowns.
For Oregon State, quarterback Sean Mannion is finally held in check. Well, relatively in check. Mannion throws for 278 yards and three touchdowns, which is pretty much a down game for him at this point.
While we have a moment, why aren't we talking about Sean Mannion? If he played for Oregon and not Oregon State, we'd be prepping the Heisman parade and creating "HE'S A MAN-NION AND HE'S NOT 40" T-shirts.
Side note: Make those shirts.
Tim Heitman-USA TODAY Sports

The Sooners get back on track thanks to 521 yards of total offense and three Texas Tech turnovers.
Multiple quarterbacks see the field for Oklahoma, and they throw for a combined 301 yards and two scores. Running back Brennan Clay runs for 155 yards and two touchdowns.
Texas Tech QBs pass for 219 yards, finding the end zone once. This is the good news. The bad news is the Red Raiders run for 19 yards on 17 carries, which isn't a pleasant statistic. (It also explains the score.)
A bet is a bet, and Kliff Kingsbury lets Bob Stoops try on his sunglasses after the game. The whole exchange is incredibly awkward, although that didn't stop Stoops from doing Terminator impressions with them on. Also, awkward.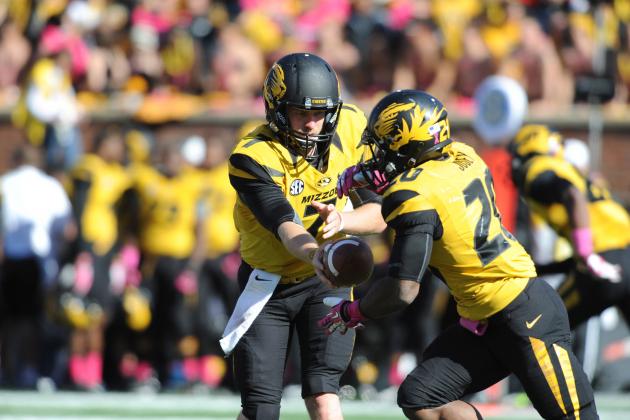 Denny Medley-USA TODAY Sports

Missouri racks up 548 yards of total offense, and the Tigers cruise in yet another SEC test.
Wideout Dorial Green-Beckham has a monster game, finishing with 12 catches for 204 yards and three touchdowns. Running back Henry Josey also plays a significant role, running for 101 yards and two scores.
Mike Davis does Mike Davis things for South Carolina, running for 148 yards and three touchdowns. Multiple QBs see the field in this sim—a fitting Spurrier tribute—and they throw for 189 combined yards and two interceptions.
How does Steve Spurrier feel about losing to Tennessee and Missouri in back-to-back weeks? Oh, someone needs to ask him this and then run before he begins hitting 1-irons into the crowd.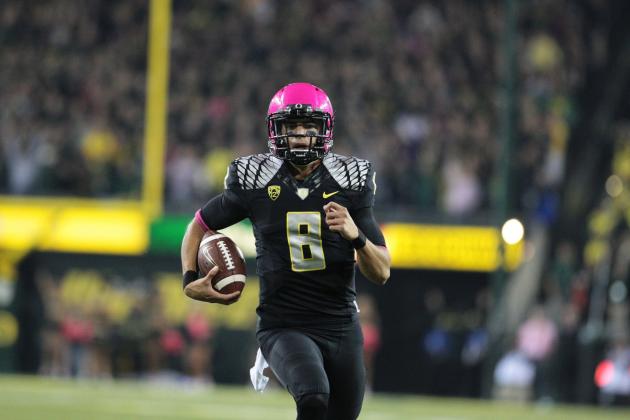 Scott Olmos-USA TODAY Sports

The Bruins jump out to a 21-0 lead, although that lead is erased quickly. It is Oregon, after all.
Quarterback Marcus Mariota throws for 225 yards, three touchdowns and an interception. He also adds 65 yards and another touchdown on the ground. Human cheat code De'Anthony Thomas returns, and he is effective. Thomas runs for 58 yards and catches four passes for 70 yards and a score.
UCLA QB Brett Hundley delivers a quality performance in the loss. Hundley throws for only 181 yards, but he adds 94 rushing yards on the ground and finishes with three touchdowns.
How do you stop Marcus Mariota? No, this isn't the part where I tell you. I, along with many other coaches, virtual or not, would honestly like to know.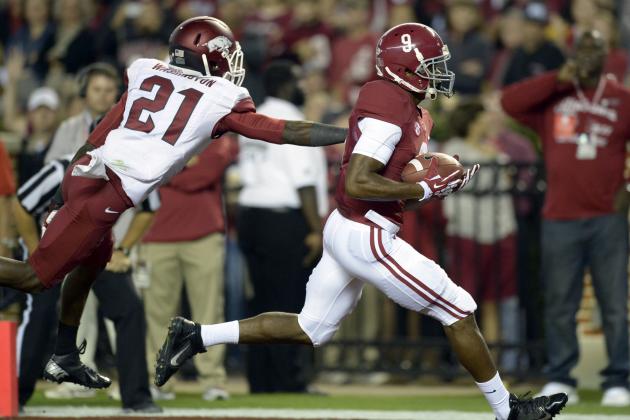 John David Mercer-USA TODAY Spor

Iowa 24, Northwestern 21
Miami 31, Wake Forest 30 - Things almost got really weird again. Not weird enough, though.
Clemson 31, Maryland 28
Michigan State 34, Illinois 10
Washington 45, Cal 28
Notre Dame 34, Air Force 0
Texas A&M 36, Vanderbilt 33
Kansas 38, Baylor 21 - No words. The game has since been punished. No video games for a week.
Virginia Tech 42, Duke 6
Kansas State 22, West Virginia 3
BYU 45, Boise State 31

Florida State 31, NC State 24
Iowa State 24, Oklahoma State 21 - And while we're blowing up the Big 12, there's this.
Utah 23, USC 20
Boston College 43, North Carolina 27
Louisville 35, USF 31
Texas 35, TCU 21
Alabama 44, Tennessee 14
Nebraska 32, Minnesota 16