25 Key Storylines to Watch Heading into Week 9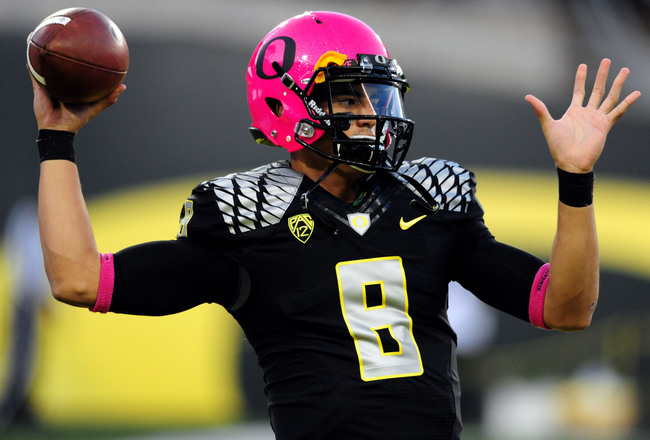 Steve Dykes/Getty Images
For the last two weeks, upsets have dominated the college football headlines. Then the BCS rankings were released and "controversy" became every pundit's new favorite word.
Now in Week 9, all of college football's storylines come with BCS and bowl implications attached to them at no cost to the viewer.
Is Florida State the true No. 2 over Oregon? Can Ohio State build the resume of a national title contender? Will the Oregon vs. Alabama national title dream matchup play out?
All of those questions and more will come closer to an answer this week, while the Heisman Trophy race carries on and conference title battles are waged.
Note: All rankings based on the Week 9 BCS standings.
How Will the First BCS Standings Play Out?
The first BCS standings of the year were released Sunday, and debate will rage on all week about which teams were snubbed and which are overrated.
However, those debates won't see their answers until this weekend at the earliest. If the last few weeks are a preview of anything, the turmoil of 2013 is far from over.
Which teams will handle their BCS rankings, and which will fall? Which teams will use their low rankings to spark late runs?
Tune in this weekend to find out.
Heisman Favorite: Mariota or Winston?
Bleacher Report's Adam Kramer sees the Heisman Trophy race playing out like this as of Week 9:
1. Marcus Mariota: QB, Oregon
2. Jameis Winston: QB, Florida State
3. Johnny Manziel: QB, Texas A&M
4. Lache Seastrunk: RB, Baylor
5. Mike Evans: WR, Texas A&M
Right now the race is shaping up to be a three-horse battle between the three signal-callers at the top of the list.
Johnny Manziel fell in this week's rankings after his team was dropped at home by Auburn. He still has a shot at his second Heisman, though it will be tough since Texas A&M is no longer in the BCS race. The Aggie signal-caller is No. 2 in the nation in total offense, averaging 396.4 yards per game.
Jameis Winston made an emphatic statement by thrusting his name further into the Heisman race after leading Florida State to a 51-14 win over Clemson. The redshirt freshman is No. 2 nationally with a quarterback rating of 210.4.
There really isn't much question who is No. 1 in the race right now, though. Oregon's Marcus Mariota has been lights out all season, accounting for more than 2,500 yards of offense at a rate of 10.34 yards per play. He has 19 passing touchdowns, nine rushing touchdowns and no interceptions.
If UO keeps winning and Mariota keeps ripping apart opposing defenses, no player will be able to keep the Heisman out of his hands.
All of the top competitors will be in action this week.
Is Biletnikoff Award a Two-Man Race?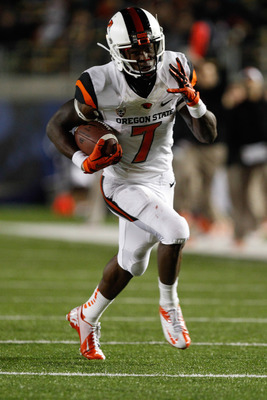 Kelley L Cox-USA TODAY Sports
There is no shortage of talented receivers in college football this season, but two have separated from the pack.
Texas A&M's Mike Evans is undoubtedly the most physically dominant receiver in the nation and is averaging 23.8 yards per reception. At 6'5", 225 pounds, Evans has been uncoverable this season and will be a hot commodity when he enters the NFL draft.
Evans is one of just two receivers to eclipse 1,000 receiving yards this year—the other is Oregon State's Brandin Cooks. At the current rate, Cooks will break 2,000 yards if he keeps up with his average of 168 yards per game. He'll also notch 20 touchdowns, which will be hard to top in the race for the Biletnikoff Award.
While Evans is clearly the most dominant receiver in college football today, it will be tough for him to keep up statistically with Cooks.
Race for the Nation's Top Rusher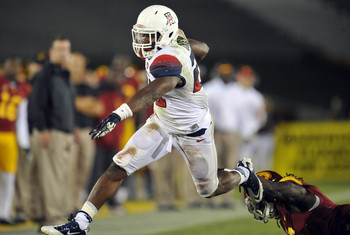 Gary A. Vasquez-USA TODAY Sports
While the Biletnikoff race might be down to just two players, the battle for the crown as the nation's top rusher is far from decided.
Arizona's Ka'Deem Carey took over last week after a slow day from Washington's Bishop Sankey
(22 yards) and an enormous day of his own. Carey amassed 236 yards on the ground versus Utah and has 125 yards or more in every game this season.
As the season rolls along, he'll have to fight off Western Kentucky's Antonio Andrews (148 YPG, 10 TD), Melvin Gordon of Wisconsin (144.6 YPG, 11 TD), along with Sankey, Lache Seastrunk, Ameer Abdullah and others.
As proven by Georgia's Todd Gurley and Miami's Duke Johnson, health will play a major factor in this race.
For now, there are plenty of running backs to keep an eye on.
More Upsets Afoot?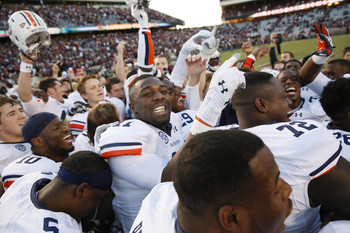 Soobum Im-USA TODAY Sports
All good things must come to an end, but that hopefully won't hold true when it comes to college football upsets.
Weeks 7 and 8 brought huge upsets: Texas over Oklahoma, Utah over Stanford, Missouri over the entire SEC East, Tennessee over South Carolina, Auburn over Texas A&M and Ole Miss over LSU.
Not coincidentally, the past two weeks have been quite the thrill ride. If college football gods exist, they'll keep the upsets rolling.
On upset watch this week: Florida State against North Carolina State, Texas A&M against Vanderbilt, Oregon against UCLA and perhaps many more.
Of course, Week 9 could always just end up as a chalk week, in which the higher ranked teams roll. But where's the fun in that?
Oregon: We Want 'Bama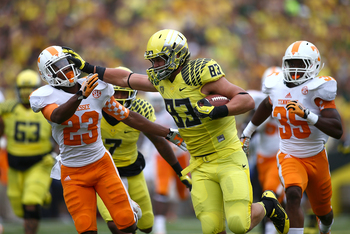 Jonathan Ferrey/Getty Images
When Oregon rolled over Tennessee, the UO fans started chanting, "We Want 'Bama." Now the Duck faithful have even made T-shirts to state their national title hopes.
While that potential matchup is still far off in the distance, the comparisons of Alabama and Oregon won't stop. The Ducks smashed the Volunteers 59-14, and this week Alabama will have its crack at the only common opponent between the two teams.
The Ducks put up nearly 700 total yards on UT and effortlessly flicked the Vols right out of Autzen Stadium, though a lot has changed for Tennessee since that mid-September date.
UT is flying high after knocking off South Carolina last week and could be poised to challenge the Tide as well. Then again, this is Alabama, not South Carolina.
After this weekend, the Ducks can better be compared side-by-side against the Crimson Tide. While that isn't an ideal comparison, it's the best we will have until January.
Alabama Countinues Three-Peat Dreams Without Vinnie Sunseri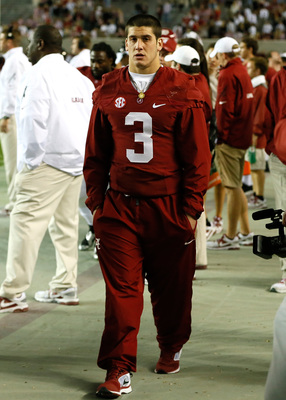 Kevin C. Cox/Getty Images
As Alabama continues its quest to be the only team in college football history to win three straight national titles, it will have to do so without star safety Vinnie Sunseri.
Crimson Tide head coach Nick Saban confirmed that Sunseri will be out for the season with a torn ACL on Monday, via Alex Scarborough, ESPN:
Vinnie has done a great job for us. He's an outstanding player and a very good person, a good leader. You can't say enough about the job he's done throughout the year and in his career.

I always hate it when guys get injuries. It's a tough part of the game.
Sunseri had tallied 20 tackles, six pass breakups and two interceptions (both of which he returned for touchdowns) before going down last week against Arkansas.
Thanks to his efforts, UA had vaulted into the top 10 of all major defensive categories: rushing, passing, total and scoring defense.
The Tide aren't with a lack of depth, but Sunseri will still be extremely difficult to replace.
Can Oregon Overtake Florida State in BCS?
While Oregon comes in at No. 2 in all the major polls, the computers gave the nod to Florida State and ranked the Seminoles second in the BCS.
However, as USA Today's Dan Wolken pointed out, the 'Noles might not be able to keep a hold of No. 2 for long:
Florida State came in at No. 2 on Sunday in the initial BCS standings, behind only Alabama. But that spot could be short-lived as Oregon, which is ranked second in the human polls, will get a strength-of-schedule infusion over the next three weeks. If the Ducks can beat UCLA and Stanford, 12th and sixth in the BCS standings, respectively, Florida State could very well be back to third place, hoping to somehow convince voters to move them in front of Oregon.
FSU will also take on No. 7 Miami (Fla.) on Nov. 2 and Florida on Nov. 30, but the Ducks should still not only have favor in the polls, but in strength of schedule as well.
UO could jump FSU as early as this week after it takes on UCLA.
Will Brett Hundley, UCLA Bounce Back?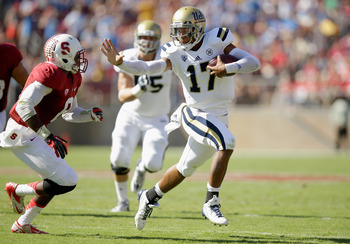 Ezra Shaw/Getty Images
The UCLA offense clearly hasn't been the same since the absence of starting running back Jordon James.
James missed two full games since sustaining an ankle injury against Utah. The Bruins were able to lean on the play of star quarterback Brett Hundley to close out the Utes and later beat Cal, but their luck ran out against Stanford.
Hundley had arguably the worst game of his career in UCLA's 24-10 loss to the Cardinal. He logged just 192 passing yards, 27 rushing yards and threw two interceptions as his offense sputtered.
James' status for this weekend's game with Oregon is unknown and the Bruins may go into battle with one of the nation's best team without him.
If James isn't available, Hundley will need to play out of his mind to top the Ducks.
FSU Looks to Avoid Letdown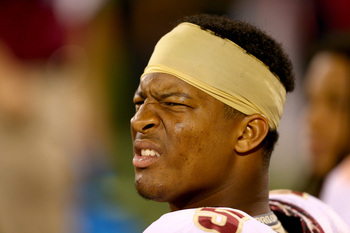 Streeter Lecka/Getty Images
We've seen it before: The week after notching a monumental win, a team sleepwalks to its next game and loses (or, at least, nearly loses).
Florida State faces the trap "sandwich game" this week when it takes on a North Carolina State team in desperate need of a win, in between games against Top 10 foes Clemson and Miami.
The Seminoles not only face a potential letdown game after an emotional win over Clemson, but they also might be caught looking ahead to the next big challenge against the Hurricanes.
Quarterback Jameis Winston has displayed some impressive confidence and poise thus far and will need to make sure his team brings the intensity against NC State.
FSU is an enormous favorite (as high as -30 according to VegasInsider.com) and rightfully so. But it can't expect to just walk onto the field and be given a win.
Ohio State's Chance at Style Points in Prime Time
Ohio State is well on its way to heading into the bowl season as the soon-to-be 13-0 Big Ten champion, a resume deserving of a national title berth, right?
Not so; OSU sits at No. 4 in the BCS and will have a tough time climbing the polls with a weak schedule. The Buckeyes are running out of time and will need to not only win, but win big with as many people as possible watching.
As Bleacher Report's Andrew Coppens pointed out, close games are a lose-lose for OSU, no matter the reality of how strong the Big Ten really is:
The simple fact is Ohio State needs to win pretty almost every week and get some help if it is to make the BCS title game.

Despite the perception that is playing out nationally, two things were made clear in Columbus on Saturday afternoon: Ohio State has taken everyone's best shot and is making statements by finding ways to still win, and the Big Ten is far better than outsiders give it credit for.
Ohio State will have a chance to notch some style points this weekend against Penn State. The Buckeyes will host PSU at 8 p.m. ET on ABC and yes, they'll take the Nittany Lions' best shot.
However, if they want to make the BCS title game, they'll have to post some big points on PSU.
Missouri Looks to Shut the SEC East Door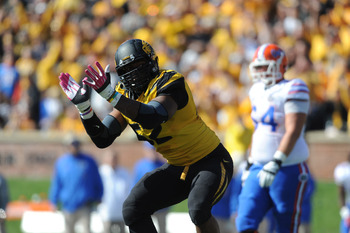 Denny Medley-USA TODAY Sports
From out of nowhere, Missouri is now in full control of its own destiny in the SEC East.
This weekend, Mizzou has a chance at essentially locking down the division crown against South Carolina. A win would give the Tigers the head-to-head tiebreaker over the other top contenders in the East: South Carolina, Georgia and Florida.
Missouri would also remain as the only East team still undefeated in league play. It will be interesting to see how Jadeveon Clowney and the frightening South Carolina defensive front pressures the Tigers' redshirt freshman quarterback Maty Mauk.
Don't count the Gamecocks out after losing to Tennessee; if they win this game, they're right back in the race.
However, the Tigers aren't No. 1 in the SEC East just by chance—they have been playing some great football lately. The two will kick off at 7 p.m. ET on ESPN 2.
Can Stanford Slow Oregon State?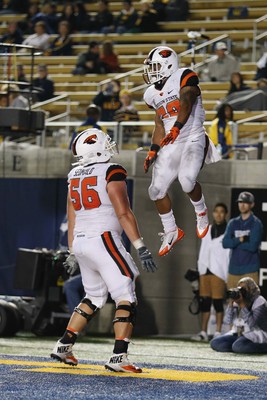 Kelley L Cox-USA TODAY Sports
No team has been able to stop Sean Mannion, Brandin Cooks and the prolific Oregon State offense yet this season.
But if any team can, Stanford can. The Cardinal just shut down UCLA, which was previously one of the top five offenses in the nation, and they'll look to do the same against OSU, which leads the nation in passing.
Mannion has been incredible, throwing for more than 425 yards per game on average, while his favorite target, Cooks, has averaged 168 receiving yards per contest (both tops in the nation). Stanford, meanwhile, is No. 4 in the Pac-12 in total defense and scoring defense and has the talent and speed on defense to hang with OSU.
The Beavers have an excellent chance to prove they are legit, while the Cardinal will continue to look to prove that their loss to Utah was a fluke. They'll kick off at 10:30 p.m. ET on ESPN 2 in one of the weekend's can't-miss games.
Miami Needs Momentum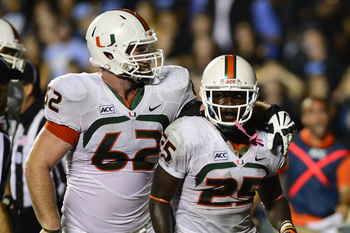 Bob Donnan-USA TODAY Sports
Miami will head to Tallahassee next week to take on Florida State in arguably its biggest game in the last decade.
However, before the Hurricanes are ready to challenge the Seminoles, they need to put to rest the issues that plagued them in a narrow, 27-23 win over North Carolina. Fortunately, they'll be taking on the Wake Forest Demon Deacons Saturday with a chance to do just that.
However, Wake Forest isn't as much of a pushover as in seasons past. The Deacs are last in the ACC in total offense but are fifth in scoring defense.
If Miami can generate some offensive momentum this week, it will go a long way toward challenging FSU next week.
How Badly Will Baylor Beat Kansas?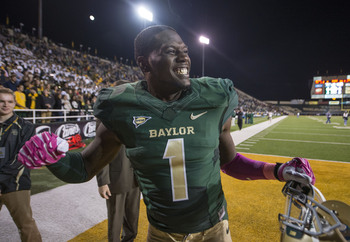 Jerome Miron-USA TODAY Sports
Baylor opened up as 35.5-point favorites against Kansas (via VegasInsider.com), but even that might be a bit conservative.
The Bears are fresh off a 71-7 annihilation of Iowa State and make scoring 70 points look routine. The Topeka Capital-Journal summed up Kansas' chances very succinctly:
The Bears, averaging 64.7 points per game, are going to score. The Jayhawks aren't equipped for a shootout, so keepaway might be Charlie Weis' best bet. If not, KU's Big 12 slide will hit 25 games.
It could get pretty ugly in Lawrence, but tune to ESPNU at 7 p.m. ET Saturday if you must.
Will Maryland Catch Clemson Pouting?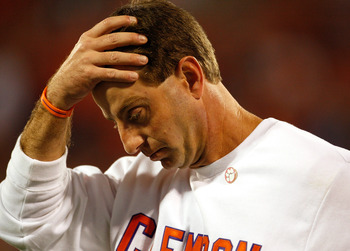 Tyler Smith/Getty Images
Clemson took "Clemsoning" to a whole new level when it choked miserably in perhaps the biggest game in school history, losing by 37 to Florida State.
The Tigers won't have too much time to sulk about their heartbreaking loss to FSU, as they'll take on a Maryland team in desperate need of a win this week.
UMD is on a slide of its own, losing two of its last three games. There will be no questioning the Terrapins' motivation at home this week, as a win over the Tigers will serve to turn their season around.
If Clemson is caught in an unfortunate hangover from its loss, it could incur another one.
Texas Tech's First Test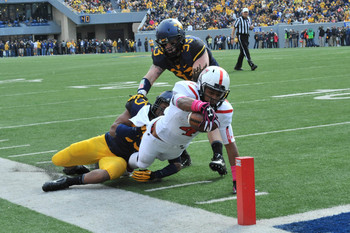 Dan Friend-USA TODAY Sports
Texas Tech wasn't even expected to seriously compete for a Big 12 title this year, but now the Red Raiders sit at No. 10 in the BCS and are in control of their own destiny.
Though they are undefeated at the moment, they haven't even begun the tough stretch of their schedule. That process will start this week when they host No. 15 Oklahoma. The Sooners still have a shot at the league crown as well but must beat TTU to make that happen.
ESPN's KC Joyner (Insider subscription) wrote this week that Texas Tech's luck might be coming to an end soon:
The hit-or-miss potential seen in several of the team's offensive metrics will likely derail the Red Raiders' hopes for an undefeated season and could potentially cost them a shot at the Big 12 title, depending on how their rivals fare in coming weeks. That's not to take away from what has already been an impressive debut campaign for Kingsbury, but we may have already seen the high-water mark of Texas Tech's season.
Given the Red Raiders' struggles against Big 12 bottom-feeders Iowa State and West Virginia, that unfortunate fate could come as early as this week.
OU and Texas Tech will square off at 3:30 p.m. ET on Fox.
Will Texas Continue Resurgence?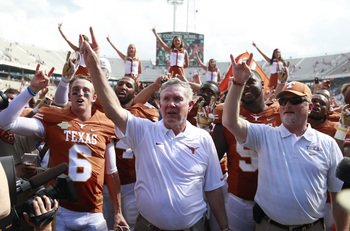 Tim Heitman-USA TODAY Sports
Texas sparked a wealth of chaos two weeks ago when it knocked off Oklahoma in the Red River Rivalry, then sat back and watched last week as that disorder played out.
Now, the Longhorns are one of just three teams still undefeated in Big 12 play and could be on a collision course to decide the league title with Baylor in the final week of the season.
UT has a few winnable games in the next few weeks against TCU, Kansas and West Virginia. If the 'Horns can remain balanced and efficient on offense while successfully defending the run, they might end up bursting Baylor's BCS bubble.
Texas can prove that the win over OU wasn't just a rivalry fluke this week. The Longhorns and Horned Frogs will tangle at 7:30 p.m. ET on Fox Sports 1.
UCF: The New AAC Favorite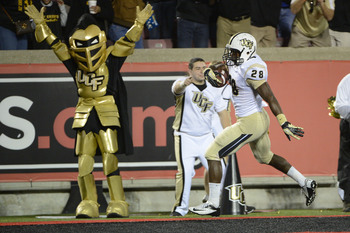 Jamie Rhodes-USA TODAY Sports
Louisville was thought to be a lock for the American Athletic Conference title and a BCS bid, but Central Florida blew that up on Friday night.
The Knights scored in the final 30 seconds to notch a massive 38-35 upset of the Cardinals. Now UCF is in control in the AAC and can even afford a loss on the way to the league crown.
However, that loss might not even come against the soft league slate. UCF can't be too full of itself this week against Connecticut. The Huskies are 0-6, but they have shown some promise at times and will be looking to knock the Knights off their perch.
Behind the solid play of quarterback Blake Bortles and running back Storm Johnson, the Knights are the best team in the AAC, but now they'll have to deal with the new dynamic of being the conference favorites.
Injuries Mount for Manziel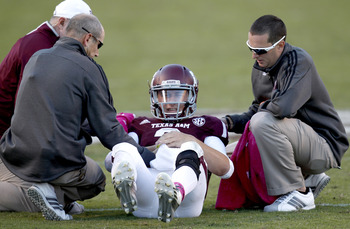 Thomas B. Shea/Getty Images
Johnny Manziel has shown his toughness in recent weeks but has also shown that he is, in fact, human.
The reigning Heisman winner tweaked his knee in a win over Ole Miss and was forced to wear a soft brace against Auburn. Against the Tigers, he hurt his (right) throwing shoulder and stayed in the game despite being in obvious pain.
Per CBS Sports' Bruce Feldman, Manziel is out of his sling and will play against Vanderbilt. Johnny Football has carried the Aggies through their defensive struggles, but if he doesn't play well, where will A&M be?
Fresno State's BCS Quest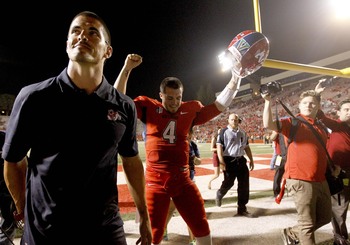 Cary Edmondson-USA TODAY Sports
Fresno State has been a BCS hopeful all season, but now it's for real. The Bulldogs came in at No. 17 in the first BCS rankings of the year and will now have to live up to that pressure.
Every team in the Mountain West Conference will be gunning for the 'Dogs from here on out, starting this week against San Diego State—a team that nearly knocked off an impressive Oregon State squad earlier this year.
Fresno head coach Tim DeRuyter told Robert Kuwada of The Fresno Bee that his team is ready for the challenge, though he is fully aware of his team's razor-thin margin for error:
I think our guys knew back in January that we had the potential to have this kind of a season and so they know — and it gets magnified during the season when you see teams that are favored get upset — that if we're not being held accountable, if we're not going out and practicing efficiently, that this whole thing can vanish in the blink of an eye.
The Bulldogs have their defensive deficiencies, so if quarterback Derek Carr and the offense have an off day, Fresno State's BCS hopes will quickly be in jeopardy.
Win No. 2 for Iowa State?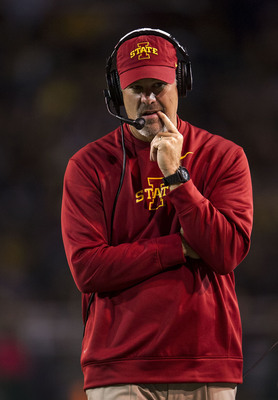 Jerome Miron-USA TODAY Sports
Iowa State isn't exactly a Big 12 juggernaut, but it is still better than its record shows.
The Cyclones are at 1-5, with four of those losses coming by just one possession. Aside from a landslide loss to Baylor last week, they've been in every game they have played.
Given ISU's penchant for playing close, its luck has to turn sooner or later. That could happen this week when it takes on an Oklahoma State team that hasn't been particularly impressive, especially on offense.
John Hensley of The Oklahoman identified quarterback, running back and offensive line play as the three biggest question marks for OK State, perfectly explaining the Cowboys' offensive deficiencies.

If OSU can't answer those questions this week, Iowa State just might notch its second win of the year and first in Big 12 play.
Louisiana-Lafayette's Sun Belt Title Bid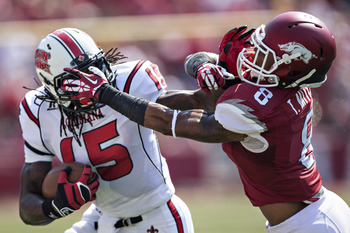 Wesley Hitt/Getty Images
The Sun Belt Conference has a few legitimate contenders, but Louisiana Lafayette is the front-runner right now.
The Ragin' Cajuns can take full control of the conference this week against Arkansas State, the only other team left undefeated in league play.
The matchup favors ULL, which ranks No. 1 in the conference in rushing offense. The Cajuns have averaged nearly 225 yards per game on the ground, while the Red Wolves are second-to-last in the league against the rush, allowing more than 190 yards per contest.
The two are slated together in a Tuesday night tilt at 8 p.m. ET on ESPN 2. The game could end up deciding the Sun Belt champion.
C-USA Still Up for Grabs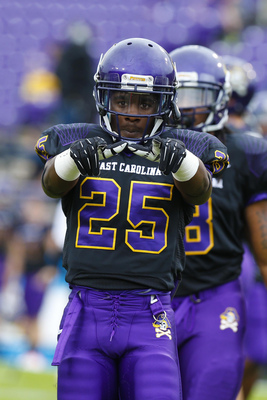 James Guillory-USA TODAY Sports
While the Sun Belt could be close to being decided, Conference USA is not.
East Carolina was thought to be the outright favorite but was dropped in overtime by Tulane two weeks ago. ECU looks like the best team on paper but will have to see some other contenders fall.
Marshall is ahead of ECU in the C-USA East, but the two will be each other's season finale.
In the West Division, Rice and Tulane sit at the top, both 3-0 in conference play. Like the East favorites, Rice and Tulane won't play until the conclusion of the regular season. Don't count out Tulsa, either. The Golden Hurricane are 1-1 in league play and will take on the Green Wave this weekend.
Is Northern Illinois Really That Far Ahead in the MAC?
Mike DiNovo-USA TODAY Sports
Northern Illinois has BCS hopes at No. 18 thanks to the incredible play of quarterback Jordan Lynch.
However, it remains to be seen if NIU is really that much of a favorite in the MAC. Ball State, Buffalo and Bowling Green are all still unbeaten in league play and present the biggest challenges to the Huskies.
NIU really has just two tests left in the regular season, against Ball State and Toledo. If it makes it out of the West Division, it'll likely take on Bowling Green or Buffalo out of the East in the MAC title game.
Though it's Northern Illinois' to lose, don't ink the conference crown in its favor just yet.
Keep Reading