College Football All-Week 8 Team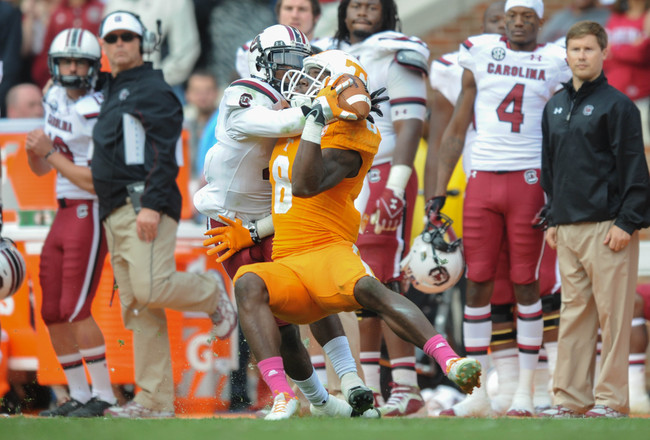 Randy Sartin-USA TODAY Sports
Now that we've had a couple of days to recover from a wonderful week of college football, it's time to give credit to some of the biggest studs of Week 8. And there were plenty to choose from, as last Saturday provided more upsets than the Washington Redskins name changing controversy.
How do you think some of college football's giants fell so hard?
Players stepped up like never before!
A first-year quarterback led his team to victory in a hostile environment, an ACC tight end broke a school record and two Big Ten defensive players forced timely turnovers to help their teams squeeze out a late conference win.
Quarterback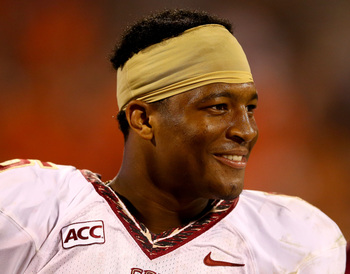 Streeter Lecka/Getty Images
Jameis Winston, Florida State
If you weren't a believer in Winston before, you are now. Forget the numbers for a second, the redshirt freshman knew that his team was going to win before his teammates even took the field. Just check out his confidence pregame.
He backed up those words by throwing for 444 yards and three touchdowns. He completed 64.7 percent of his passes and also rushed for a touchdown. His poise in the pocket, decision-making and playmaking ability is downright scary for somebody who only has six games under his belt.
Winston has Florida State back in the national championship conversation with this performance.
Running Back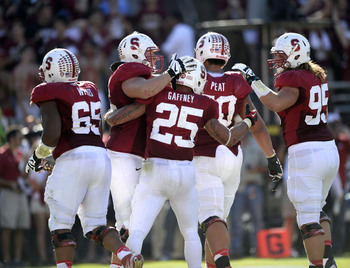 Bob Stanton-USA TODAY Sports
Tyler Gaffney, Stanford
Gaffney finally had a chance to become the workhorse running back for Stanford, and he didn't let his team down in a 24-10 win over UCLA. He carried the ball 36 times for 171 yards and two touchdowns. His rushing yards was a new career high and more than 80 of those yards came in the fourth quarter.
The senior running back put his team on his shoulders and simply overpowered a tired Bruins defense when it mattered most.
Dallas Crawford, Miami
Duke Johnson down? No problem. Just give the ball to Crawford.
That's what the Hurricanes did in their narrow 27-23 win against North Carolina. The sophomore touched the ball 33 times for 137 yards and two touchdowns. He got the team going when quarterback Stephen Morris was having an off night and players around him were leaving the game due to injury.
Crawford made sure Miami wouldn't lose and kept his team in contention for its first ACC title.
Wide Receiver
Marquez North, Tennessee
North only caught three passes, but he's the main reason Tennessee had a chance to pull off the upset against South Carolina. His one-handed catch on 3rd-and-10 was the catch of the year, and it put the Volunteers in position late in the game for Michael Palardy to drill a 19-yard field goal.
North finished the game with 102 receiving yards, and it was easily the biggest performance of his freshman season.
Jeremy Gallon, Michigan

Where did that come from? Gallon had a monster performance in the 63-47 win over Indiana. In fact, he was so impressive, he set a Big Ten single-game record with 369 receiving yards, which is also second in FBS history.
He caught 14 passes for two touchdowns and helped the Wolverines pull away in this classic Big Ten shootout. Thanks to this game and a few other solid showings, Gallon is having his best season in a Michigan uniform.
Tight End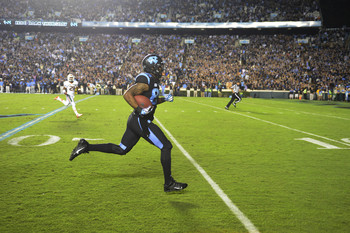 Bob Donnan-USA TODAY Sports
Eric Ebron, North Carolina
NFL scouts came to watch North Carolina and Miami play on Thursday night, and Ebron didn't disappoint. He made plays all over the field and was giving Miami's defense all it could handle in a near upset. He caught eight passes for 199 yards and one touchdown that came on a 71-yard play downfield.
Ebron made a spectacular one-handed grab, displayed great athleticism and also now holds the North Carolina single-game receiving record for a tight end. With nearly 200 receiving yards in one game, it's hard to imagine that record being topped anytime soon.
The junior established himself as the best tight end in college football.
Offensive Lineman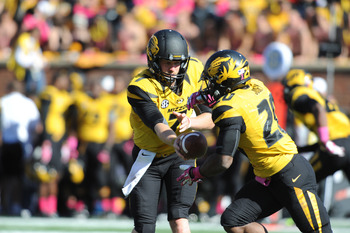 Denny Medley-USA TODAY Sports
Missouri's Offensive Line
Missouri continues to impress more and more each week, but it's the offensive line play that should have gained your attention in the 36-17 beatdown over Florida.
The Tigers rushed for 205 yards, including 136 to junior running back Henry Josey. The team averaged 5.5 yards per carry and scored two touchdowns on the ground. The big uglies were also the second straight team that didn't allow a single sack against the Gators defensive front.
Say what you will about Florida's injuries, but Missouri outplayed the Gators at every level. The big boys deserve major kudos for their performance in overpowering one of the more talented defenses in college football.
Defensive Lineman
David Banks-USA TODAY Sports
Ra'Shede Hageman, Minnesota
Hageman showed why he is one of the most underrated defensive players in the country, and why more scouts should take notice. In the 20-17 upset over Northwestern, the senior defensive lineman had one tackle, one quarterback hurry, three passes batted down and a one-handed interception.
The former high school tight end tried his best to return the turnover for a touchdown, but came up just short. Per Marcus R. Fuller of the Pioneer Press, "When I snagged that, it just brought me back to my high school days," Hageman said. "But I'm 310. I can tell I'm not like I used to be because I was real heavy running."
Still, Hageman was key in Minnesota's biggest win of the season.
Linebacker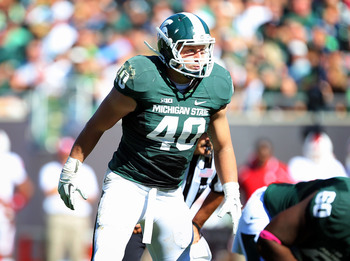 Mike Carter-USA TODAY Sports
Max Bullough, Michigan State
That's the Bullough that Michigan State fans are used to seeing!
The senior linebacker has been the leader of this defense for quite some time but has gotten off to somewhat of a slow start. In a 14-0 win over Purdue, Bullough showed up big time and made the most critical play of the game.
Not only did he lead the team with 10 tackles and two tackles for loss, but he also hammered the Purdue quarterback, which forced a fumble and allowed Denicos Allen to score a 45-yard touchdown to put the game away.
Bullough had his best game of the season.
Defensive Back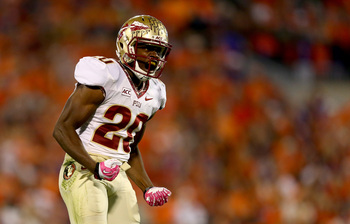 Streeter Lecka/Getty Images
Lamarcus Joyner, Florida State
Jameis Winston wasn't the only Florida State player who made his presence felt under the bright lights. Florida State's senior cornerback also made his fair share of big plays to help the Seminoles blow out Clemson on the road.
It all started when Joyner forced a fumble on the first play of the game, which instantly quieted the crowd and gave Florida State momentum. But that wasn't it. Joyner ended up forcing another fumble and coming away with an interception. All three turnovers took place in the first half!
Besides the turnovers, Joyner also had a sack and eight tackles. It's safe to assume he secured his NFL draft stock with this performance.
Keep Reading